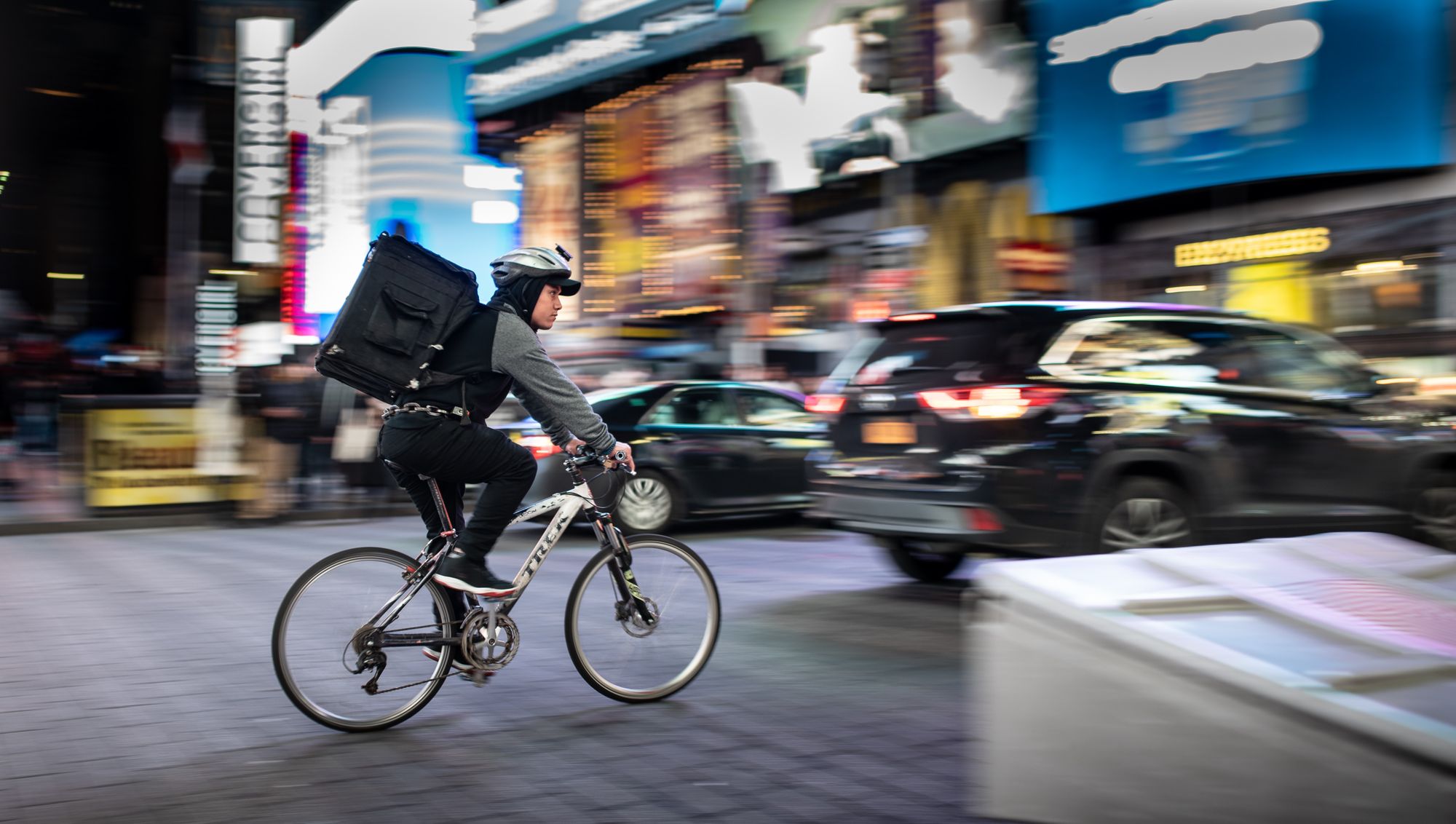 Consumer buying behaviors have changed, especially when it comes to online shopping.
Today's consumers expect cheap—or, better yet, free—and fast delivery.
Just to repeat for emphasis: free, fast delivery.
So, in order to stay competitive, companies need to find a way to improve efficiency and cut costs in order to fund their shipping logistics.
A big part of this boils down to a company's last mile delivery process. That means, for a company to survive in this market, they need to find ways to improve efficiency in this area.
In this article, we'll take a deep dive into the logistics of last mile delivery, identify the biggest challenges of last mile deliveries you'll face heading into the future, and discuss how technology can be used to solve these and give your company a competitive advantage.
Want to skip ahead? Here's a table of contents:
What is the "Last Mile Delivery Problem"?
5 Ways Technology Can Solve Your Biggest Challenges
7 Trends That Will Continue to Shape (and Change) Last Mile Delivery in 2023
---
What is Last Mile Delivery?
Last mile delivery refers to the very last step of the delivery process when a parcel is moved from a transportation hub to its final destination—which, usually, is a personal residence or retail store.
This is the most critical step in the delivery process, and the one that businesses want to ensure is as quick and efficient as possible. This is to keep up with the continually increasing consumer demand for speedy shipping, especially in e-commerce, food, and retail industries. It also happens to be the most expensive leg of the journey that goods take to reach their ultimate destination.
5 Key Steps in the Last Mile Delivery Process
The last mile delivery process can be broken down into the following five steps.
Step #1
Orders are digitally entered into a centralized system
This is the step where orders and requests are monitored both by the sender and the end recipient, who is likely following the status of their delivery through a tracking number.
Step #2
Orders arrive at the transportation hub and await delivery to their end recipient
This is where the last mile delivery process truly begins—businesses need to ensure the order gets from the transportation hub to the customer as quickly as possible.
Step #3
Orders are designated to delivery personnel based on routes and recipient addresses
Strategically sorting and designated the parcels for delivery is essential to having an optimized, cost-effective delivery last mile logistics solution.
Step #4
Orders are scanned before being loaded onto delivery vehicles
This updates the status of the order for the sender, as well as the end recipient tracking the shipment. It also reduces the risk of packaged goods getting lost along the way.
Step #5
Orders successfully reach the end recipients, and proof of delivery is obtained
At this stage, the parcel has arrived at its final destination. The delivery personnel then updates the tracking information accordingly to verify and confirm that the delivery has been completed.
---
What is the "Last Mile Problem"?
By now, we've established that an efficient last mile delivery process is essential to keeping your customers happy.
The paradox is: while customers want shipping that's free and fast, it also happens to be the most expensive and time-consuming part of the shipping process.
But with how easy it is for customers to find an alternative place to shop, companies can't afford to disappoint them.
Which means companies have to foot that cost.
And that right there, is the last mile delivery problem.
Last mile shipping can account for 53% of a shipment's total costs. Companies typically eat about 25% of that cost themselves, but this number is increasing as supply chain inefficiencies are becoming more and more costly.
What is the biggest challenge with last mile deliveries?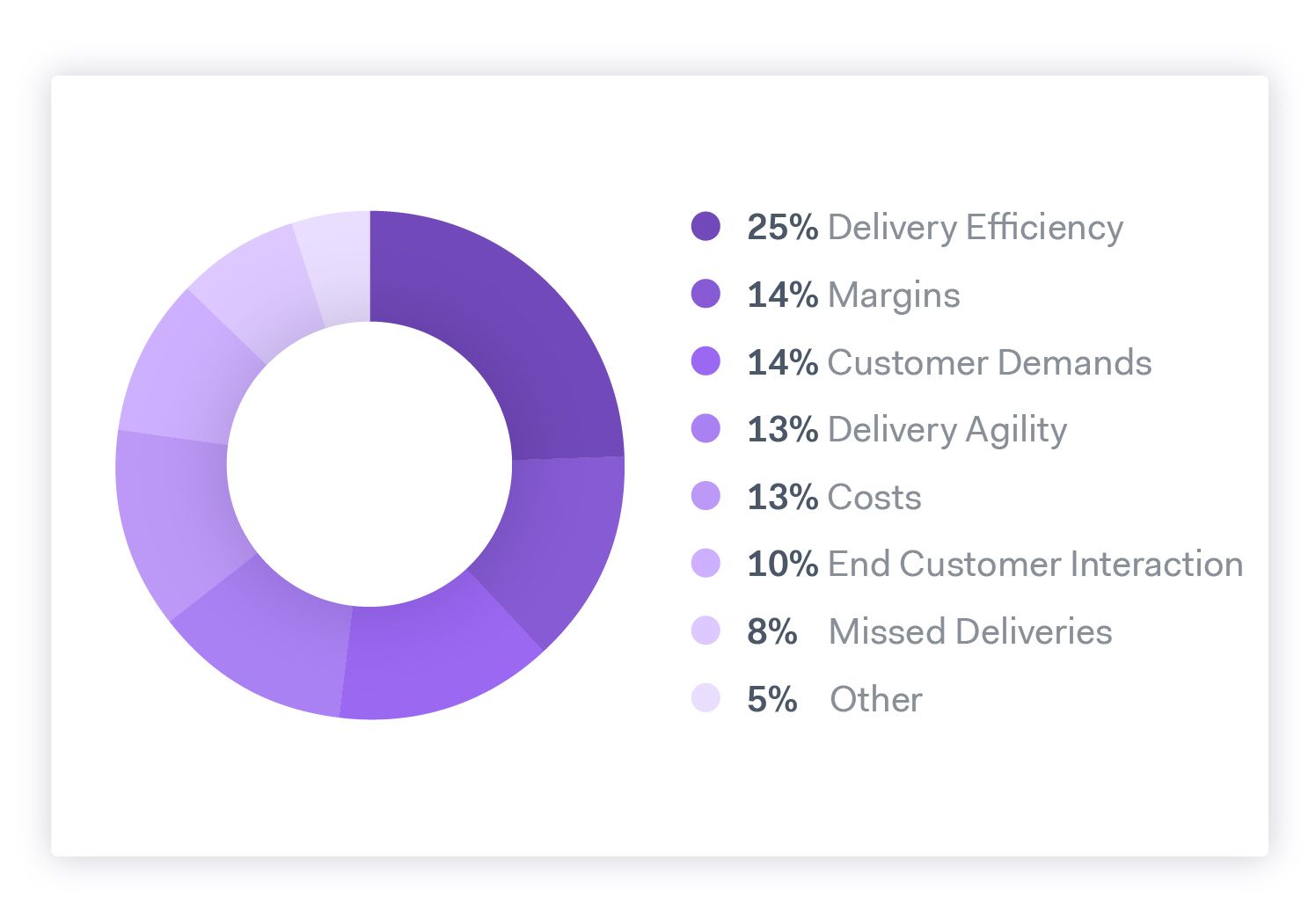 Optimizing last mile delivery can result in significant savings for ecommerce businesses and retailers, especially as the number of shipments across most industries continues to skyrocket.
We'll dive into the best practices for optimizing your last mile logisticsj in the next section.
---
5 Ways Technology Can Solve Your Biggest Last Mile Delivery Challenges
Perfecting your last mile delivery in order to provide speedy, on-time delivery is critical to providing a delightful customer experience. But how exactly does one perfect last mile delivery?
Having an effective fleet management tool is a solid place to start.
Enter: Onfleet.
Onfleet is a last mile delivery platform designed to help you perfect that oh-so-important last mile, trusted by big names including GAP, Total Wine & More, MedMen, Imperfect Foods, and United Supermarkets, among many more. The software serves as a "complete toolkit for last mile delivery," boasting features like end-to-end route planning, dispatch, real-time driver tracking, communication, and analytics.
In other words, the technology does the heavy lifting for you, so you can focus on your customers.
Here are five ways a last mile delivery solution like Onfleet can help optimize your delivery process.
1. Use route planning to cut delivery times
Every driver that delivers packages has a route to follow. In a perfect world, these routes are nice and straightforward, with parcel drop-offs all along the way.
In reality, however, a route could be several miles long with only a few drop-offs in total, especially in rural areas. That means a lot of time and gas spent on only a few deliveries.
Similarly, in heavily urbanized areas, the congestion of traffic can use up just as much time and gas, even though the drop-offs are closer together.
Onfleet optimizes delivery routes by automatically factoring time, location, vehicle capacity, and traffic to recommend efficient routes. Any updates on traffic that could affect these routes are sent to the drivers via SMS in real-time, optimizing route times and empowering end users with real-time information.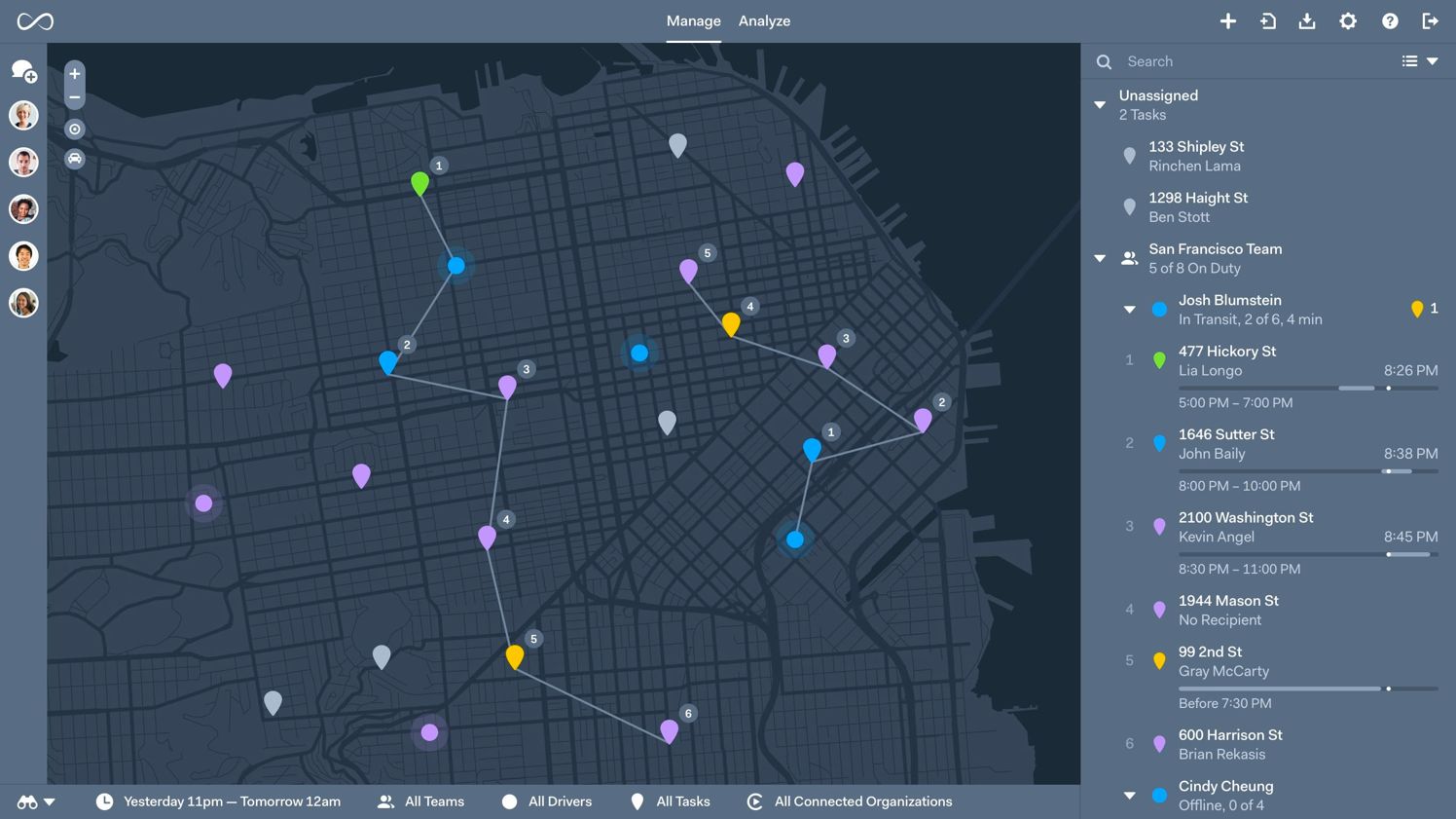 2. Reduce service time and labor costs with auto dispatching
Adding on to the first point, having software plan your routes not only saves the time that would be required to do so manually but, because routes are updated in real-time, can also decrease the number of drivers needed in a day to complete the deliveries.
Managers can set auto-assignment rules based on driver location and route distance, while limiting the number of tasks per driver.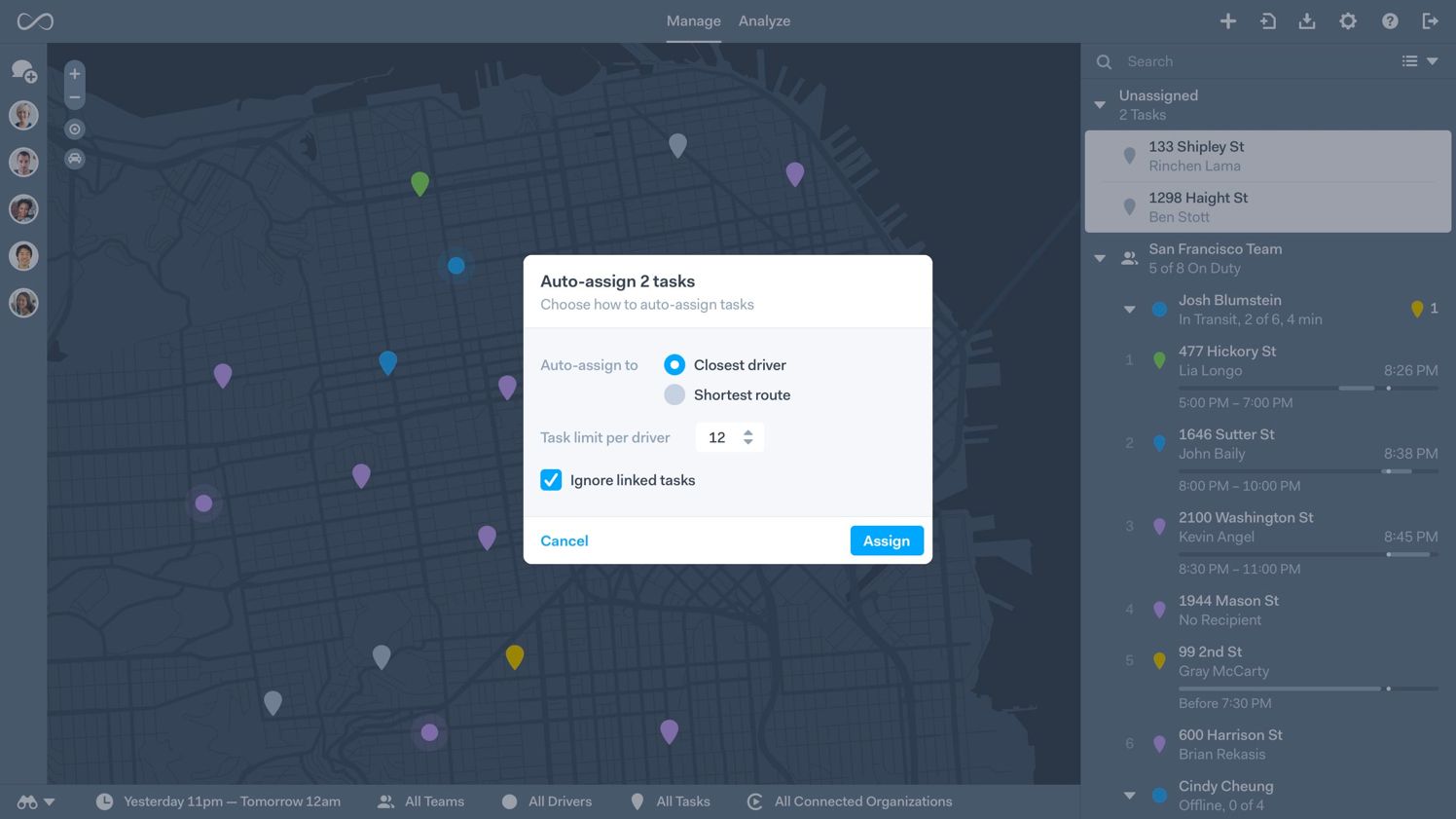 This dispatch feature adds a new level of automation helps save time, enables efficient resource allocation, and allows managers to spend time optimizing other areas of the delivery process. This level of automation not only simplifies last mile logistics, but also helps reduce inefficiencies that drive up last mile delivery costs.
Related Reads You Can't-Miss:
In an industry study, 56% of consumers demanded greater transparency in the delivery process.
What other elements are your customers demanding most from their last mile services: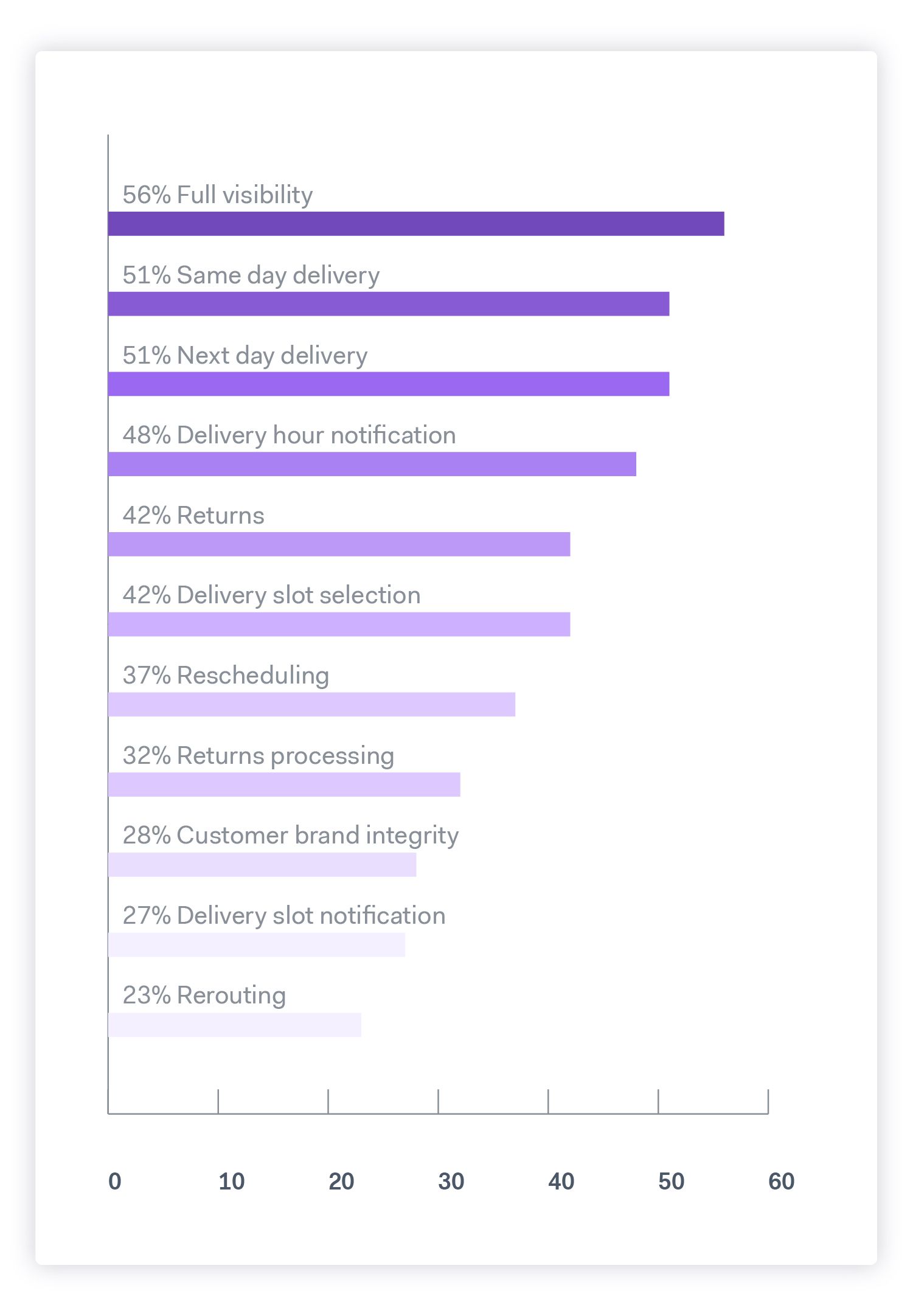 Proof of delivery is documentation that verifies an item has been delivered, like a signature from the recipient or a photo of the package being left at the door along with a date and time stamp.
With Onfleet, proof of delivery is made easy. Drivers can complete the entire process via a mobile app, which supports photo collection, signatures, barcode, and notes.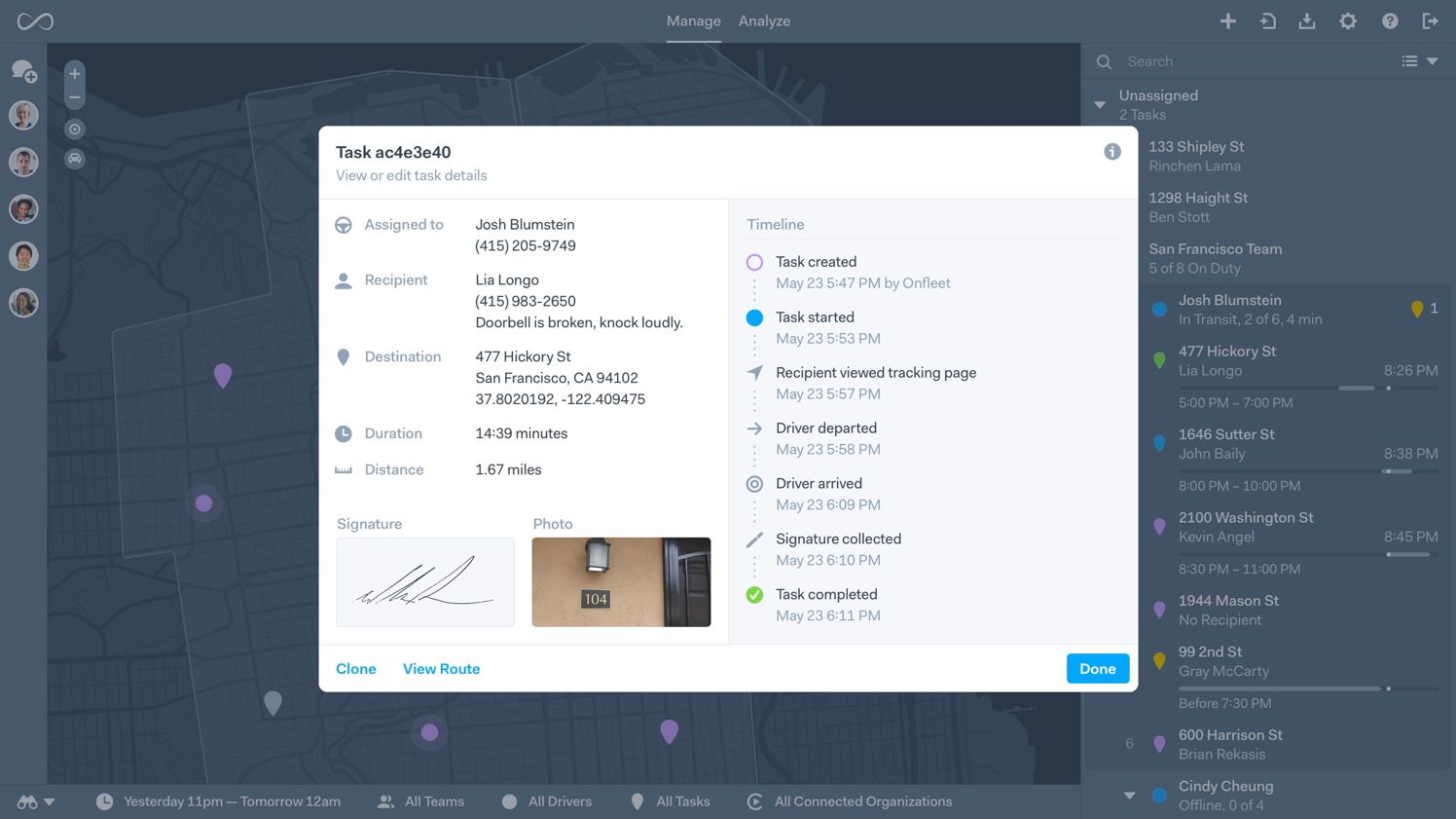 4. Use reporting to increase accountability
Reporting helps you identify bottlenecks and weaknesses before they become larger issues, as well as opportunities for improvement.
With Onfleet, you can monitor key metrics including success rates, on-time rates, service times, feedback scores, distance traveled and more. You can filter this data by teams, drivers, day, week, or even by the hour of the day.
You can export this data at any time to produce custom, comprehensive reports.
By recording and monitoring these KPIs, you can track your company's last mile delivery supply chain and see just how time is being allocated.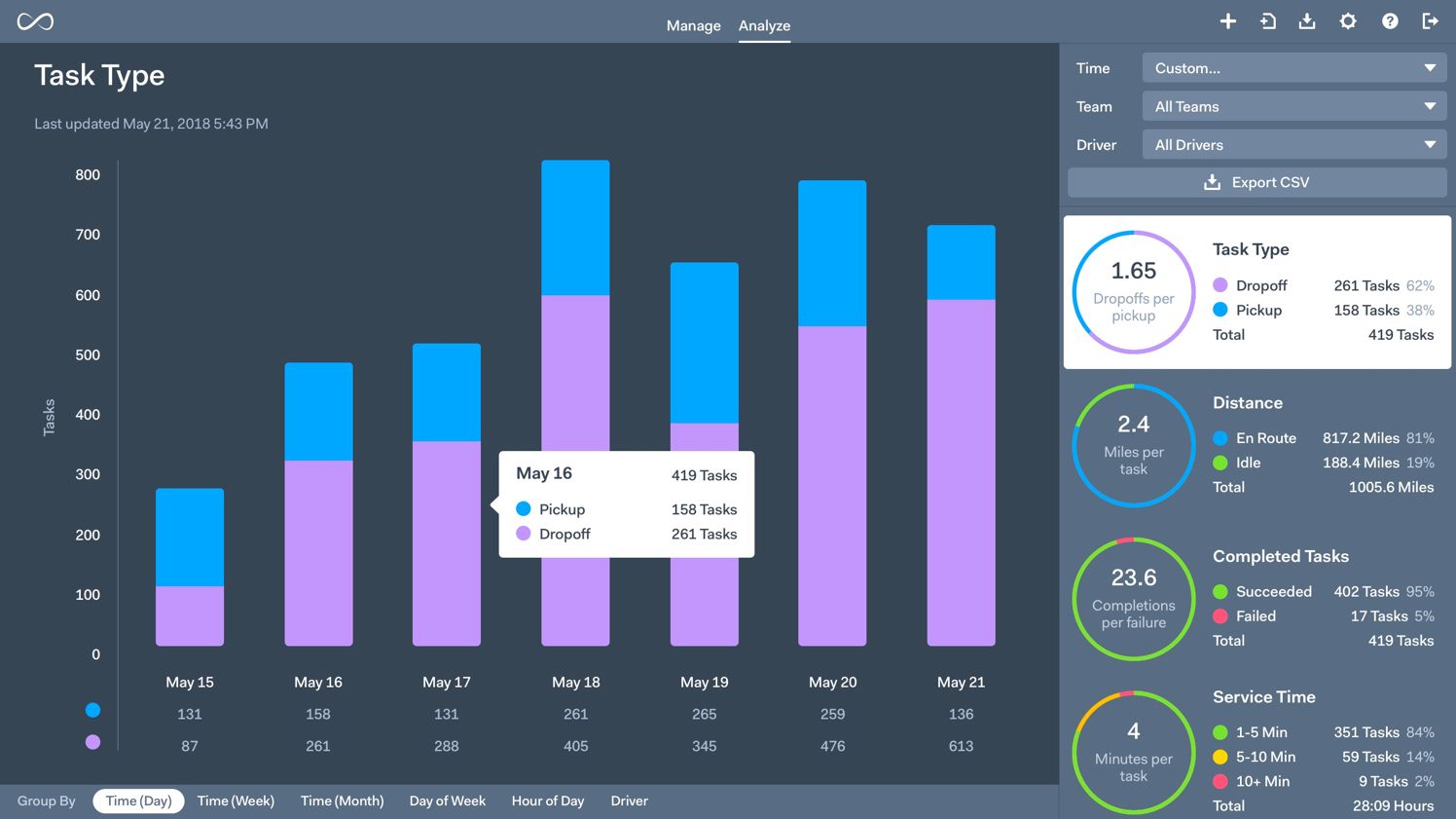 5. Improve the customer experience
Making meaningful improvements to your customer communications requires going beyond simply providing customers with a static tracking number.
Consumer surveys found that customers are expecting more and more from a standard delivery service to be satisfied: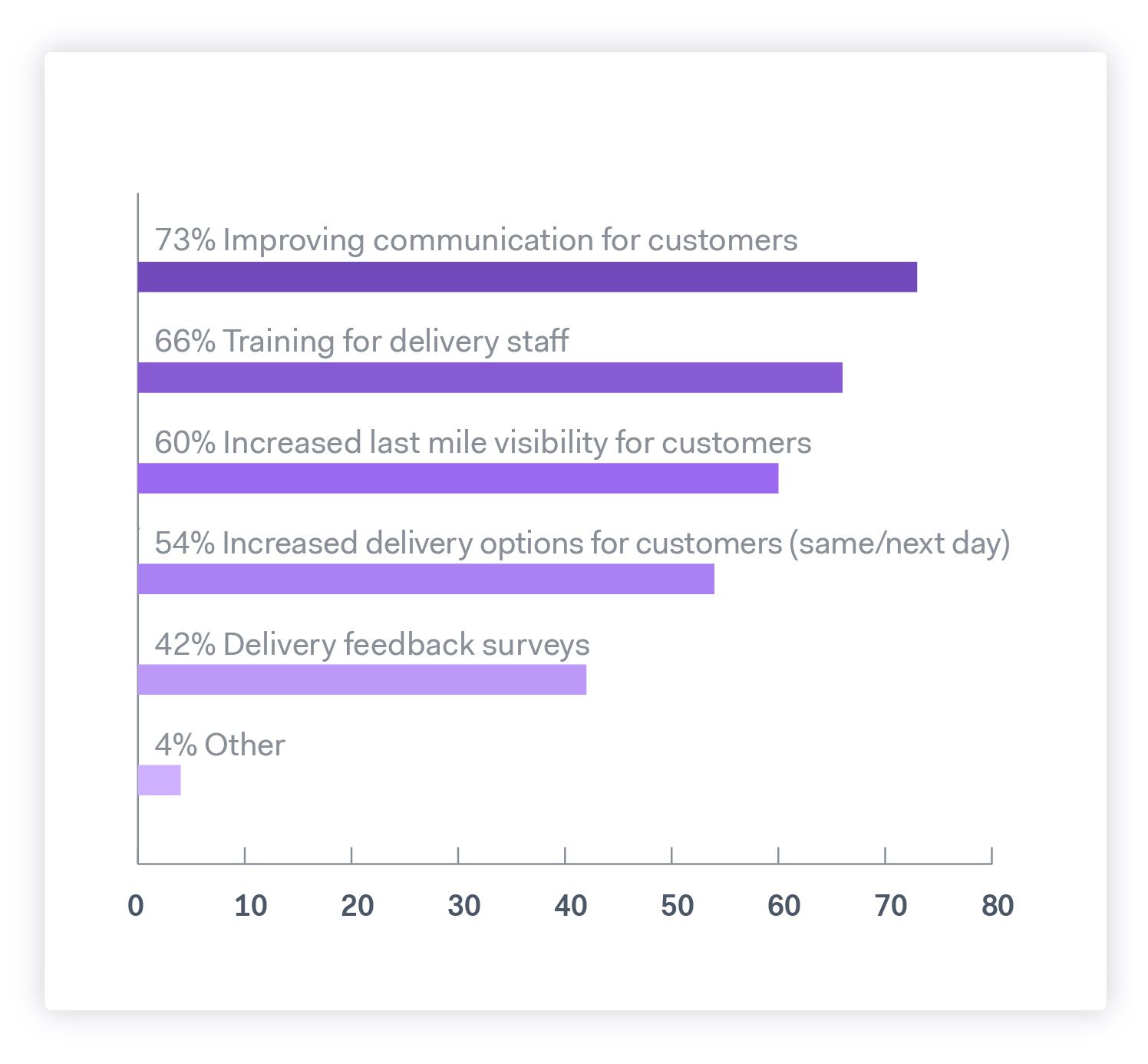 When you use Onfleet's platform, your customers will be able to not only track their order, but talk to the driver directly, track the vehicle their package is on with SMS notifications, and be part of a real-time feedback loop.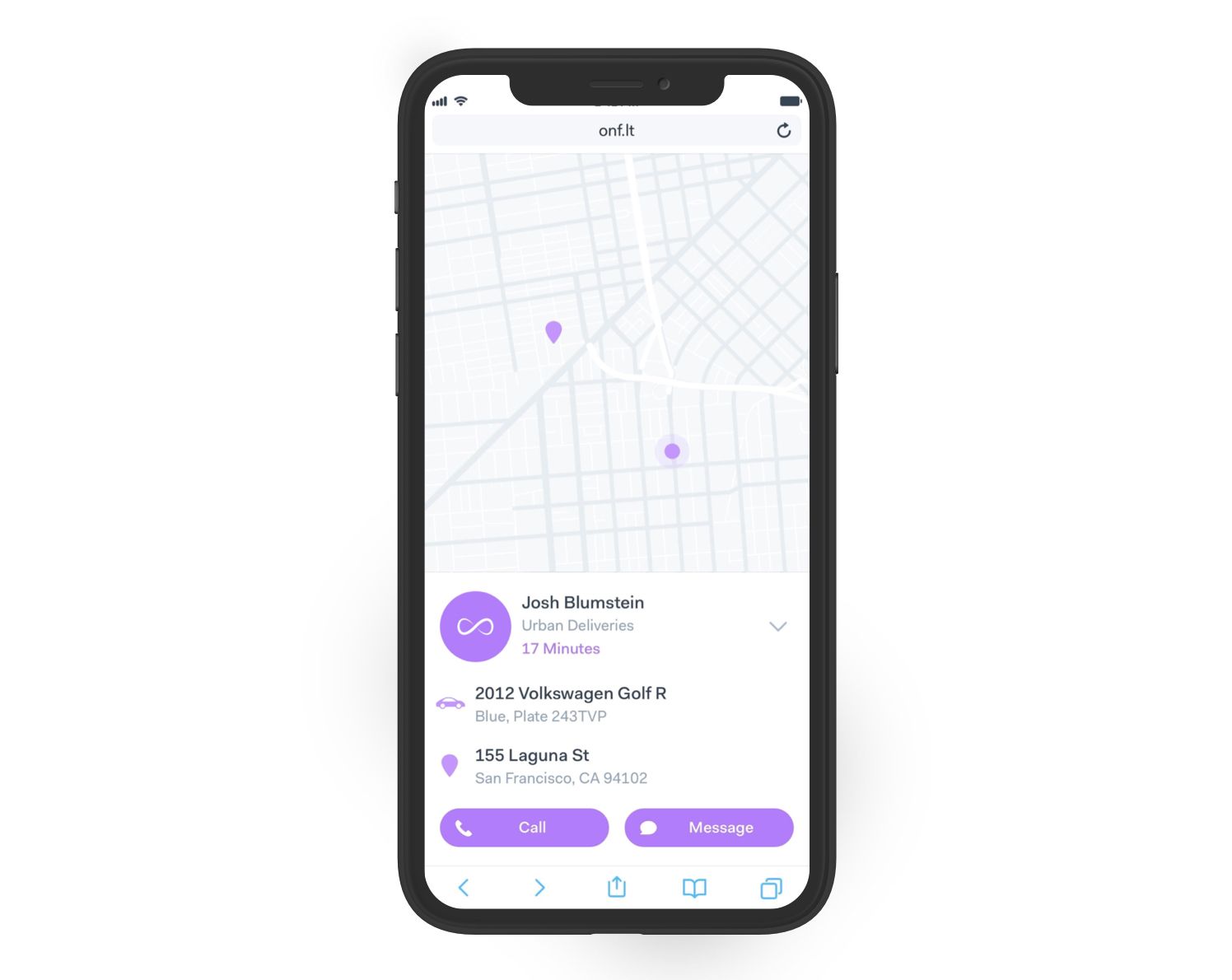 ---
7 Trends That Will Continue to Shape (and Change) Last Mile Delivery in 2023
Here are seven trends that companies are actively testing and executing in an effort to perfect the last mile delivery process and keep up with consumer demands.
1. Rapid order fulfillment
An increasing number of consumers now expect on-demand or same-day delivery, meaning there's more emphasis than ever on logistics and fulfillment.
Businesses today need to turn orders around, fast—sometimes faster than a lot of technology is capable of keeping up with.
"What normally would have taken less than an hour, all of the sudden needs to go out within minutes, which poses challenges in terms of planning", Michael Armanious, vice president of sales and marketing at Datexcorp, a third-party logistics (3PL) company, says in an article in Supply Chain Dive.
2. Improved traceability
Old-school last mile delivery carriers have improved their package traceability, adding features like proof of delivery and tracking information.
This is an important part of making sure packages don't get lost, or figuring out where they are when they do get lost. New smartphone apps have also changed the way we track packages, with some solutions like Onfleet even featuring GPS functionality, allowing people to monitor exactly where on the map their package is and how far the driver is from reaching their home.
Plus, with proof of delivery, data like whether or not a package was signed for, or where and when the package was left if no one is home, reduces disputes between carriers and customers and enhances the overall last mile delivery experience for both parties.
3. In-house delivery services
More and more companies have started using their own in-home delivery service—including e-commerce giant, Amazon.
In-house delivery means a company has its own fleet of delivery vehicles and salaried drivers to get shipments from their warehouses out to customers. This allows companies to control costs and customer experience and expand their delivery window, some even opting to deliver late in the evenings and weekends.
4. Micro warehousing
Using Amazon as an example again: the e-commerce company employs upwards of 58 transportation hubs in the US alone dedicated to their Prime Now service, for customers who wanted their order delivered on the same day.
This has started a trend of more and more organizations allocating or purchasing additional warehouse space dedicated to these extra-fast deliveries.
However, while many retail companies have been able to bring their delivery time down to two days, Amazon is still in the lead, delivering parcels in as little as two hours. So competitors have a ways to go.
5. Carrier upsells
Many e-commerce stores use data to recommend similar products to you when you've viewed or purchased something previously from them in an attempt to upsell you. This tactic is making its way down to last mile delivery carriers, some of whom are now upselling products right at the door.
For example, if a consumer has ordered oral hygiene products every month for the past three months, the delivery driver could bring toothpaste along with their order and ask if they're interested in purchasing it. If they've ordered a lot of garden supplies, some grass seeds or fertilizer may be good upsell opportunities.
6. Smart technology
The range of products being ordered online is growing every day. Many consumers now order fresh and frozen foods online, or even livestock like plants and pet fish. These are products that must be shipped in certain conditions to maintain their integrity and well-being. For this reason, many fulfillment centers have taken measures in their warehouses to control temperature, humidity levels, air quality and more.
It also means more factors are considered during route planning, like the weather. Additional packing materials may be required to account for variations in temperature.
7. Robots and drones
Okay, robots and drones aren't quite trending yet—but we'll bet they will be soon.
Andre Pharand, Accenture's global management consulting lead for the postal and parcel industry, says in a Supply Chain Dive article: "If parcels can be delivered by autonomous vehicles or drones, that will change the game considerably. The highest cost in delivery is labor, which accounts for 60% of the cost. Deliveries are currently limited by labor cost, availability, and shifts. Robotic delivery could be done 24 hours a day."
---
Final Thoughts
And there you have it. We have covered what last mile delivery is, the challenges and costs that come with it, tips to optimize your last mile delivery process, and trends to look out for in the future.
Ready to optimize your last mile delivery operation? Get in touch with our sales team or start your 14-day free trial.
---
Thanks for reading! Can we ask you a quick question to improve our content?
*Don't worry, this optional survey will not trigger a sales call* 💜