How critical is delivery to your customers?
70% of customers will gladly pay more for faster, more convenient delivery. 57% demand same-day delivery.
Let those numbers sink in for a moment.
Customers today expect an on-demand delivery experience. Yet, delivery efficiency is the top challenge for last mile delivery companies.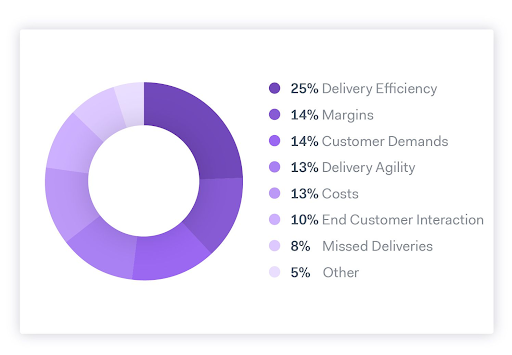 ---
So what do these businesses need to do?
Simple. If a company wants to keep their customers—and ultimately stay in business—they need to find a way to provide a delivery experience that's competitive to industry behemoths like Amazon and Walmart.  
In this post, we're going to talk about what businesses can do to provide a great delivery experience, no matter what size or industry.
---

---
Why Companies Fail to Provide a Great On-Demand Delivery Experience for Customers (and Drivers)
Put frankly, most companies just aren't set up to deliver a great delivery experience.  This is due to process, infrastructure, tech restraints and inefficiencies.
The most basic reason why most businesses fail to execute a solid on-demand delivery and fulfillment experience is they simply don't understand how complicated it really is to manage one. Not to mention how expensive it is to deliver large amounts of products at high speeds.
On-demand delivery works by coordinating all of your different resources, systems, and processes across the supply chain to create streamlined delivery flows. If all of these things aren't in order, same-day delivery won't be possible.
---
Here are some of the challenges companies face in providing a great on-demand delivery experience for customers and drivers:
More orders, shorter time frames
The demand for fast delivery has never been more so than during the COVID-19 world, as couriers are seeing a record amount of parcels stacked in warehouses just waiting to go out. Throw the holiday rush on top of that and it's no secret that businesses are struggling now more than ever to make their deliveries on time.
With on-demand deliveries, drivers have very short time frames between accepting orders and sending them out, and even less room for error.
Disconnected operations
How large of an order volume you process on a daily basis will determine how many separate functional teams you have working to fulfill deliveries. This can mean multiple carriers and multiple fleets, each with its own delivery flows and KPIs.
The problem is, the different teams are not connected with one another, leaving more variables up in the air. The fleets need to somehow be synchronized to ensure that your orders are fulfilled according to your own company workflows and KPIs as well, not just others.
Failure to harness automation
On-demand delivery is often measured in hours if not minutes, not days. Any inefficiency in your delivery flow will impede your SLA and result in negative customer experiences.
An example of how things could go wrong due to human error and manual batching is, say an order isn't ready to be sent out yet, but your delivery driver has already been notified to pick it up and arrive. They arrive at the scene only to have to wait around until that order is ready. Not only is this a waste of the driver's time, but it's also precious time that could be spent getting orders to customers.
Poor customer communication
Customers today expect access to real-time information about their orders, like the ability to track their drivers and get estimated delivery dates and times. A large percentage of companies are now investing heavily into technologies that provide delivery visibility and communications: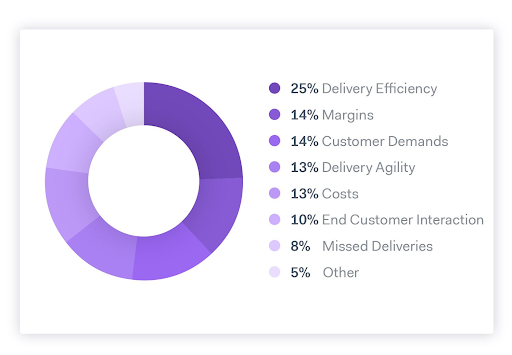 When customers are able to track the location of their package as it's being delivered, they'll be more likely to be at home to receive the package, meaning the likelihood of failed deliveries significantly decreases.
For example:
Onfleet offers automatic status updates. Customers receive a message when the delivery has started, along with predicted arrival time.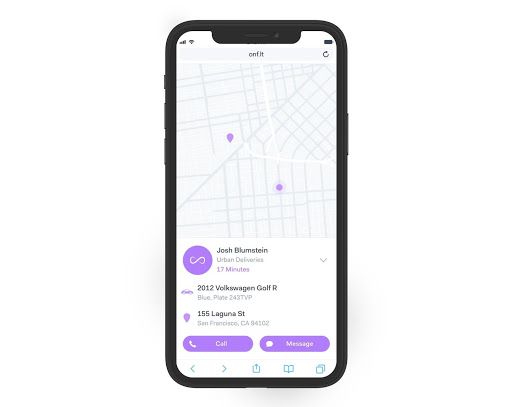 Customers can also get a real-time view of their driver's location (like Uber, but for deliveries), and communicate directly with drivers via phone or messaging.
Unfortunately, many companies aren't set up with the right technologies to make these customer communications possible.
Lack of operational insight
Insights into driver tracking and operational KPIs are key to spotting bottlenecks and boosting efficiency. Without this visibility, you're essentially shooting in the dark with your delivery operational strategy.
It's important to use a tool that lets you visualize success rates, on-time rates, service times, feedback scores, distance traveled, and more. This data can then be broken down even more through segmentation by teams, drivers, day, week, and even hour of the day.
---
How to Provide a Great On-Demand Delivery Experience
Now that we've gone over why companies fail to provide great delivery experiences, we'll go over how they can.
Harness the power of automation
If there's one thing to take away from this post, it's that if you can't get a customer their order quickly, you'll lose them.
Time is literally money in the on-demand delivery space.
To make on-demand delivery possible, you need to weave automation into every corner of your delivery operations. Two especially-critical things to automate are routing and dispatching.
With an automated routing and dispatching system, you can let software make the best decisions to find the right fleet and optimize their route. These decisions are based on cost, volume, and other smart business rules, like knowing when to extend delivery times or provide alternative delivery options. All decisions need to happen in real-time.
An automated routing and dispatching system can also integrate with your other tools, including your external providers' software, to serve as a centralized source of truth. Having all this information accessible and in one place puts you in control of your business's delivery experience.
In short, automating routing and dispatching will help get more of your orders out quickly without increasing the number of drivers needed.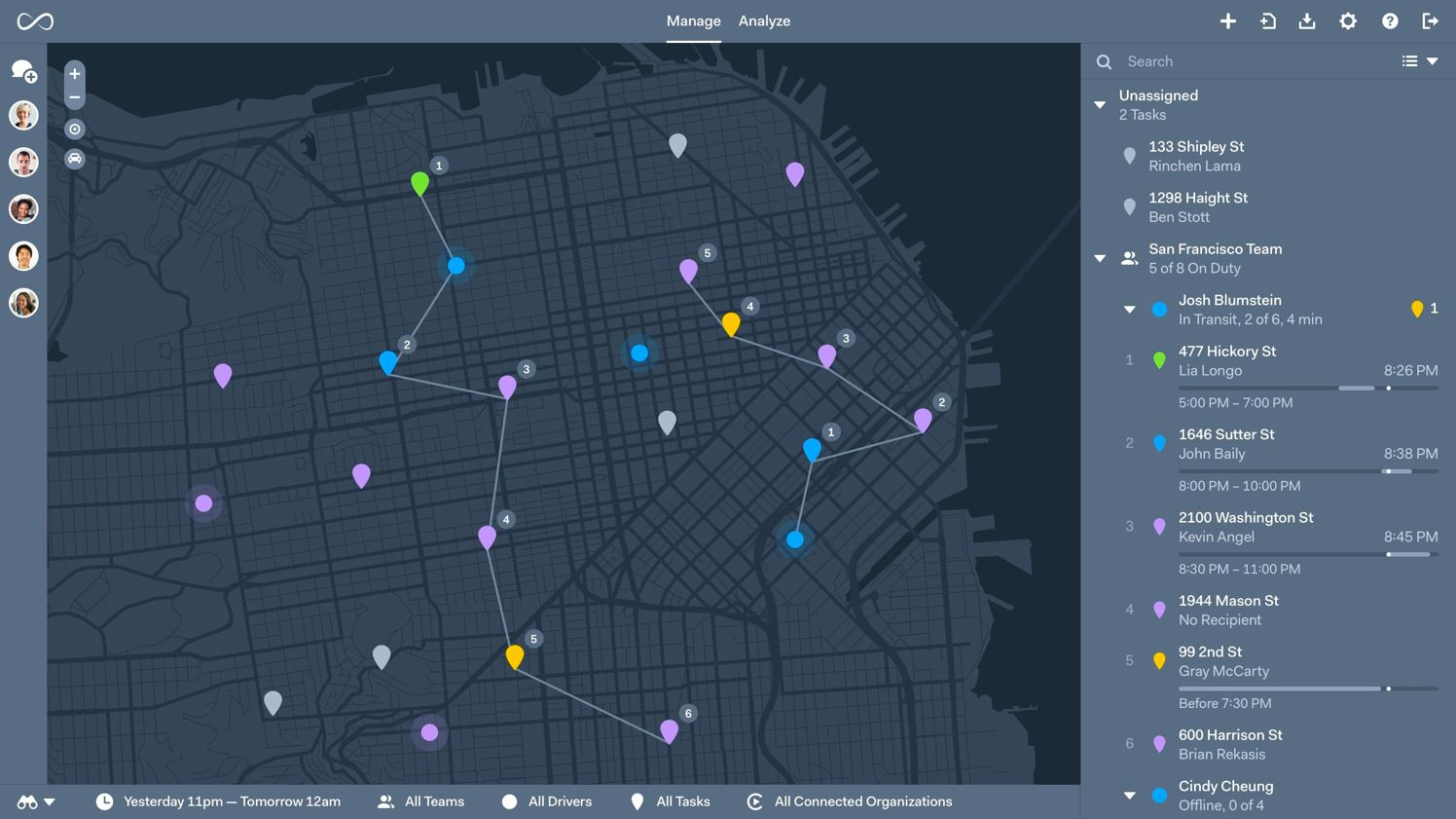 A tool like Onfleet can help automate routing and driver dispatch. For example, the route optimization engine will factor in variables such as time, location, capacity, and traffic to map out the most efficient routes for drivers. If a fleet manager needs to change a route, updates are sent to drivers in real-time.
---
Contract delivery networks
Hiring third-party delivery companies has its advantages because it provides you with extra resources for peak demand periods.
Dispatchers are available on a need-by-need basis, so you can pay them on an as-needed basis versus a subscription fee or salary. Having these contracted delivery networks not only alleviates stress off your own fleets but ensures you have enough drivers on hand for on-demand delivery.
Enable driver communications
Using delivery management software is awesome because it lets your drivers get in touch with one another using an application actually meant for business communications.  
With Onfleet, for example, your entire team can have access and visibility to each others' communications through a private, secure chat form.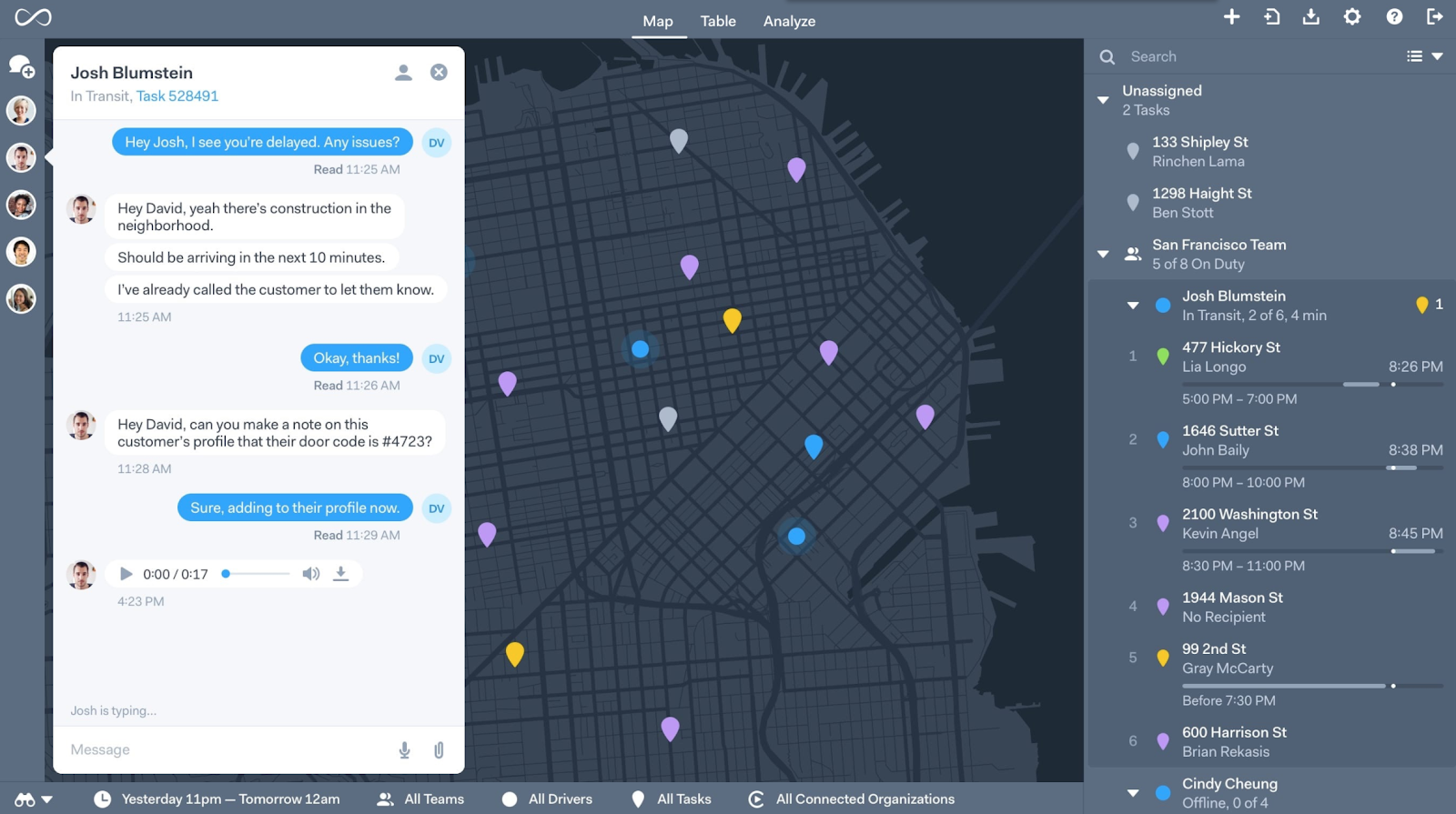 Ensure all data sources are synced in real-time
When you're delivering things on-demand, there isn't a whole lot of time to do quality checks or find an available driver. You need to know the orders are error-free and that you have a driver ready.
Having this information in a centralized location with a delivery management program will help make sure that all your teams are synced up in real-time. This way, any changes like an order cancellation or change in the delivery driver is updated right away and communicated to your team instantly, preventing disruption of the delivery flow and preserving a positive customer experience.
Ship-from-store to fulfill local orders
If your business has brick-and-mortar locations, you can use these stores' local inventory to fulfill nearby orders, reducing delivery times, and lowering delivery costs.
On top of the advantages this has for your business, it also allows you to offer your customers faster delivery at lower rates or even for free. Wins all around.
Provide digital proof of delivery
Proof of delivery (POD) is documentation that verifies an item has been delivered, like a signature from the recipient or a photo of the package being left at the door along with a date and time stamp. POD covers your driver in the event that packages go missing as well as helps prevent fraudulent loss claims.
With Onfleet, proof of delivery is made easy. Drivers can complete the entire process via a mobile app, which supports photo collection, signatures, barcodes, and notes.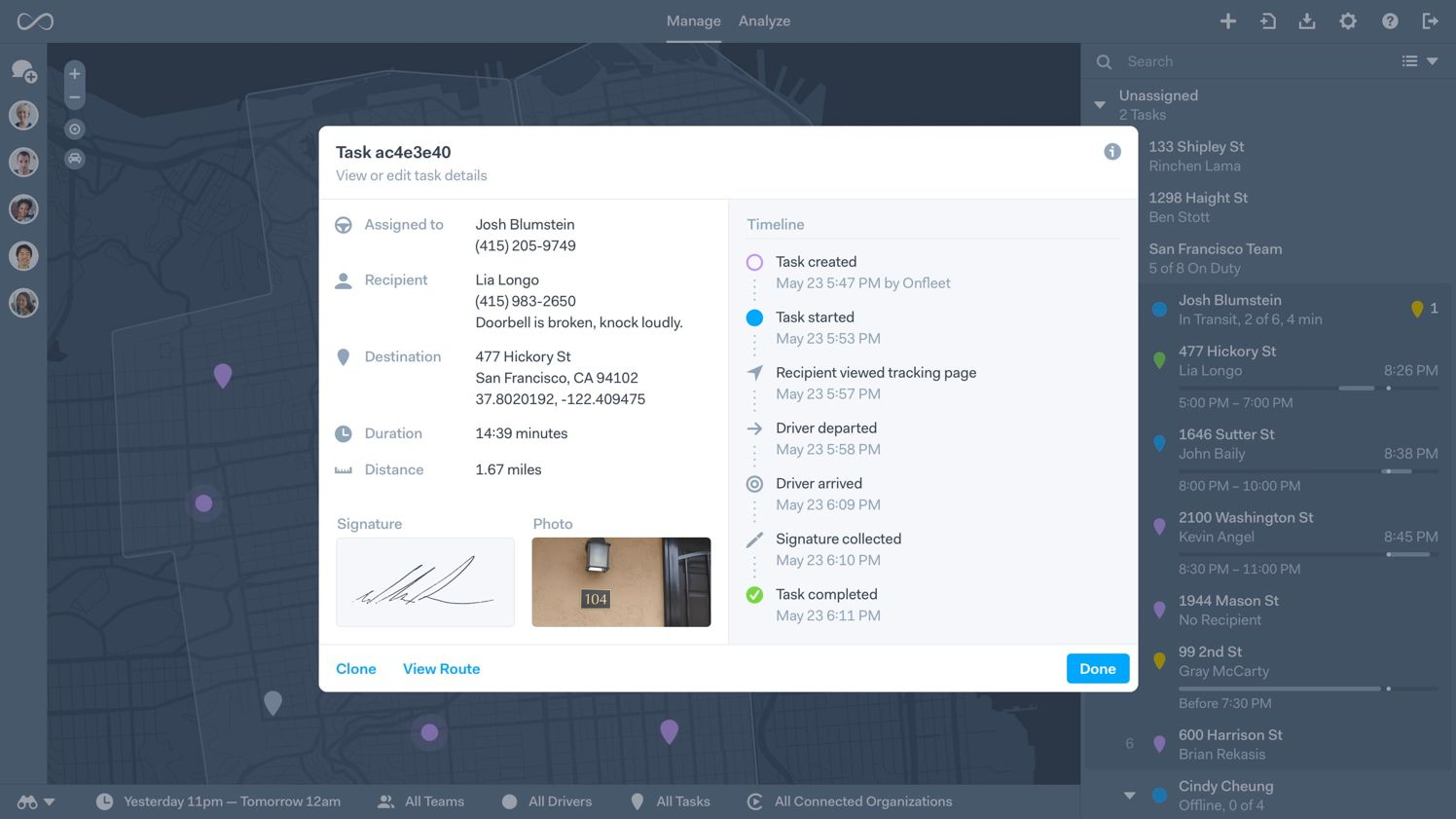 Enable customer tracking and communications
When shopping for delivery management software, look for options that can send push notifications to customers as their order moves through the delivery flow, from leaving the warehouse to arriving at their doorstep. Customers should also receive an estimated delivery date with real-time visibility into their order's whereabouts.
Onfleet sends real-time updates directly to customers via SMS notifications and provides that critical feedback loop for both your customers and drivers.
When a driver is running late, for example, or something unexpected happens on the road, customers will be alerted automatically. This helps alleviate any anxiety on the customer's part and makes life easier for your drivers as well since the notifications are sent automatically.
Onfleet also has the option to let customers to call or message the driver, dispatcher, or call center quickly and easily through the mobile app allowing for two-way communication. All part of a great delivery experience for both customers and drivers.
Capture first-hand feedback
Lastly, whether you're working with in-house delivery teams or contracted fleets, being able to capture driver ratings is super important because they provide insights into what customers thought about their delivery experience and what can be improved.
With Onfleet, you can get a first-hand account of each customer's experience after their delivery with the integrated feedback form.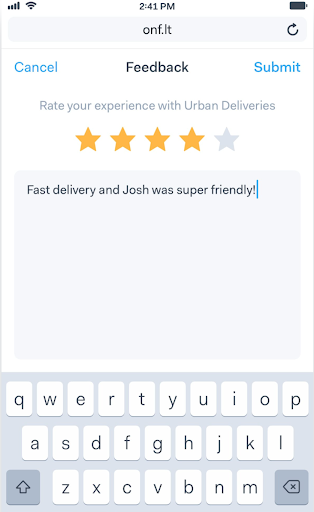 ---
Delight Your Customers
No matter what your approach is to providing great on-demand delivery experiences, the key thing to remember is that your goal is to make your customers happy. Happy customers turn into loyal customers after all.
Using the right delivery software and technology will be invaluable in your overall delivery service and fulfillment strategy.
Want to learn how Onfleet can help? Get in touch with our sales team or start your 14-day free trial today.