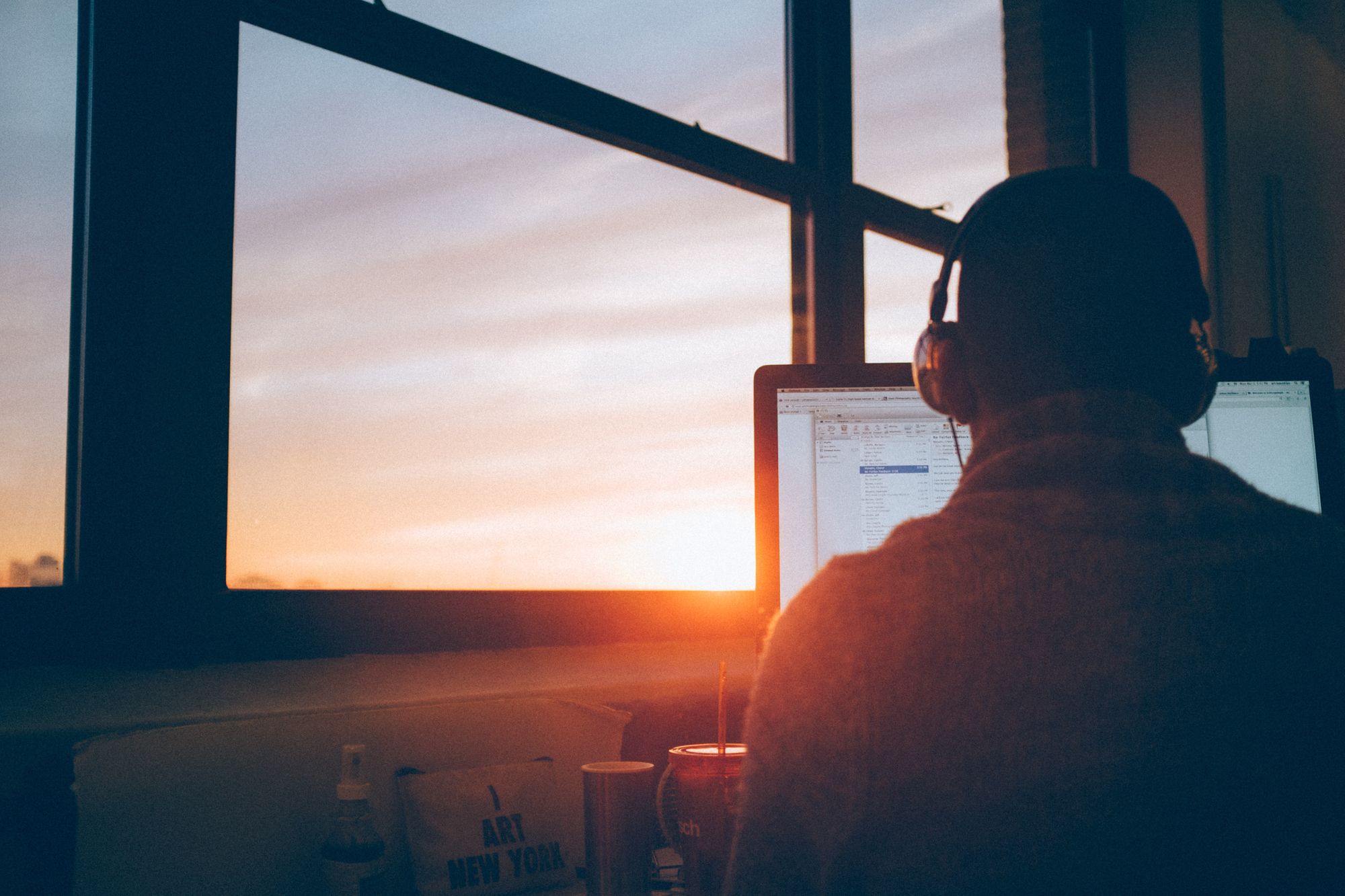 Historically, most e-commerce orders have been fulfilled by the traditional last mile delivery companies we all know and recognize: FedEx, UPS, and USPS. These companies deliver 95% of all e-commerce orders in the United States.
But with even more e-commerce sales taking place—especially off the back of environmental factors like COVID-19—there has been an explosion in the demand for last mile delivery. Legacy shippers can't keep up with the demand to deliver parcels at the speed that consumers expect.
This gap presents an ideal opportunity for last mile delivery startups to jump in and seize their share of the market.  
In this article, we will look at the top 7 last mile delivery companies and startups that are leading the way in incorporating technology to accommodate this shift in buyer behaviors.
What to look for when choosing a Last Mile Delivery Company
Researching the last mile delivery solutions available can lead you down a rabbit hole. While it's crucial to find a company that suits your immediate needs, you also want to ensure that your customers will have a positive experience because, ultimately, they will be the end user of your preferred last mile software, not you. Keeping customer expectations in mind can help reinforce the vital goal of making the delivery process accessible at every step.
One of the most requested and expected features for last mile delivery is real-time tracking, allowing customers to monitor the delivery process from the moment it is in transit. One study found that 93% of consumers expect this, while another found that 20% of respondents tracked packages multiple times daily.
Features like real-time delivery, driver chat functionality, and electronic proof of delivery (ePOD) guarantee a transparent customer experience while simplifying delivery management - making the right last mile delivery company a win-win for you and your customers.
---
ONFLEET RAISES $23M TO POWER LAST MILE DELIVERY SERVICE
---
7 Last Mile Delivery Companies and Startups to Watch
Here, we're going to look at several different last mile delivery companies, from platforms and autonomous delivery to drones and crowd-shipping for the final mile.
Some of these are startups, and others are more established leading companies in their respective areas. We've provided an overview of each and the type of last mile delivery service they specialize in.
---
#1. Onfleet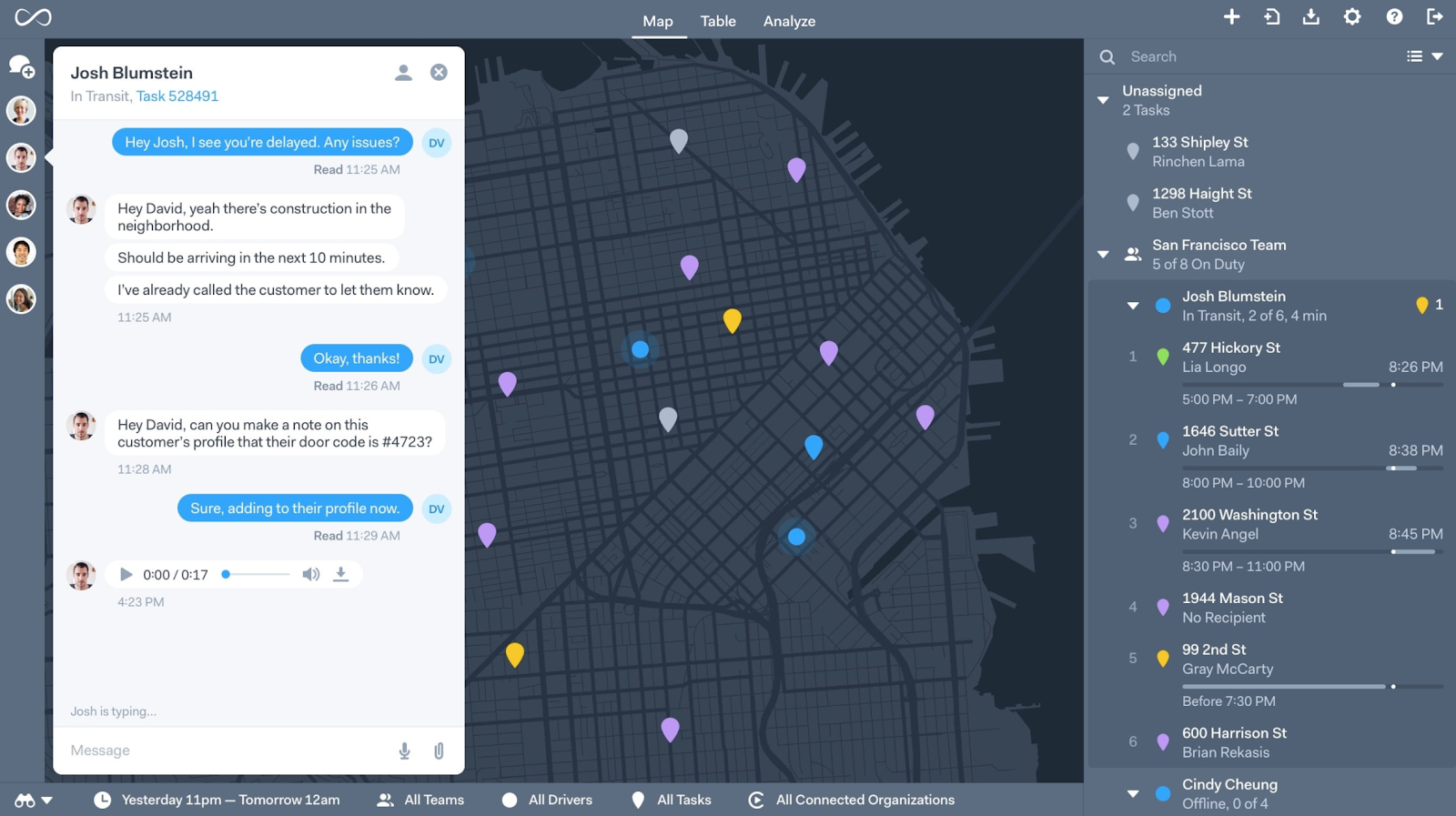 Company overview
Founders: Khaled Naim, Mikel Cármenes Cavia, David Vetrano
Started: 2015
Headquarters: San Francisco, California
Onfleet is the #1 last mile delivery platform, designed to help businesses perfect that oh-so-important final mile. It empowers businesses like Gap, MedMen, United Supermarkets, and more to conduct leaner operations, make smarter decisions, and improve customer experience.
Key features
Route optimization: Onfleet optimizes delivery routes by automatically factoring time, location, vehicle capacity, and traffic to recommend efficient routes. If anything changes, real-time updates are sent to drivers via SMS.
Auto-dispatching: Onfleet dispatches fleets according to planned routes, saving organizations the time to do so manually (and potentially decreasing the number of drivers needed daily).
Electronic Proof of Delivery (ePOD): With Onfleet, drivers can complete the ePOD via a mobile app, which supports photo collection, signatures, barcodes, and notes and sends all the information back to your admin team in real-time.
Predictive ETAs: Onfleet lets companies stay proactive and catch fires before they can start with accurate predictive arrival times and real-time alerts powered by machine learning.
Driver chat: Onfleet users are able to communicate with their entire team inside a private, secure chat platform made for businesses.
Real-time tracking: Onfleet provides live driver locations with accurate ETAs in a beautiful, branded, and responsive web tracking experience.
Last mile reporting: With Onfleet, businesses can monitor key metrics including success rates, on-time rates, service times, feedback scores, distance traveled, and more and export this data at any time to produce custom reports.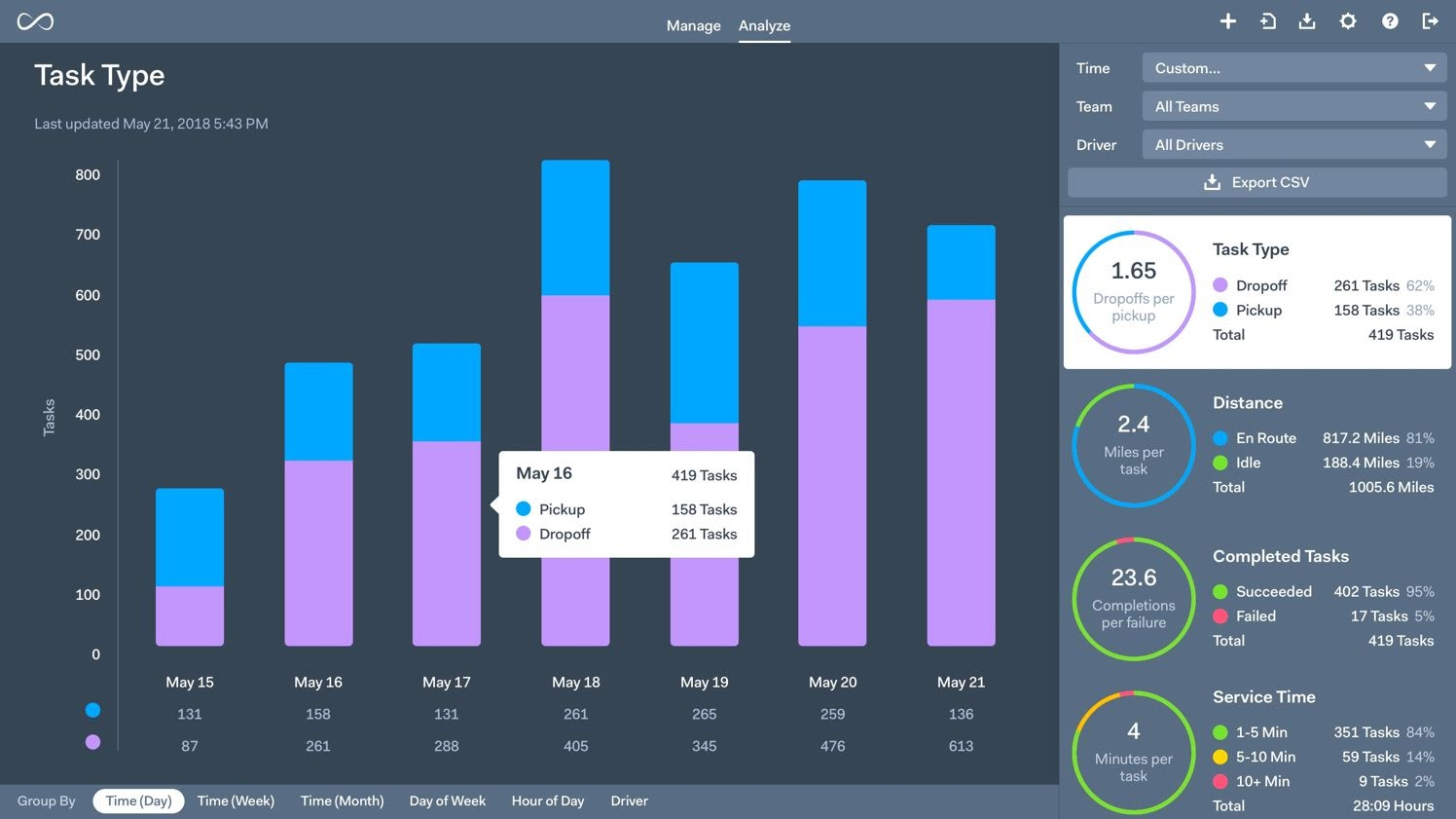 ---
#2 Nuro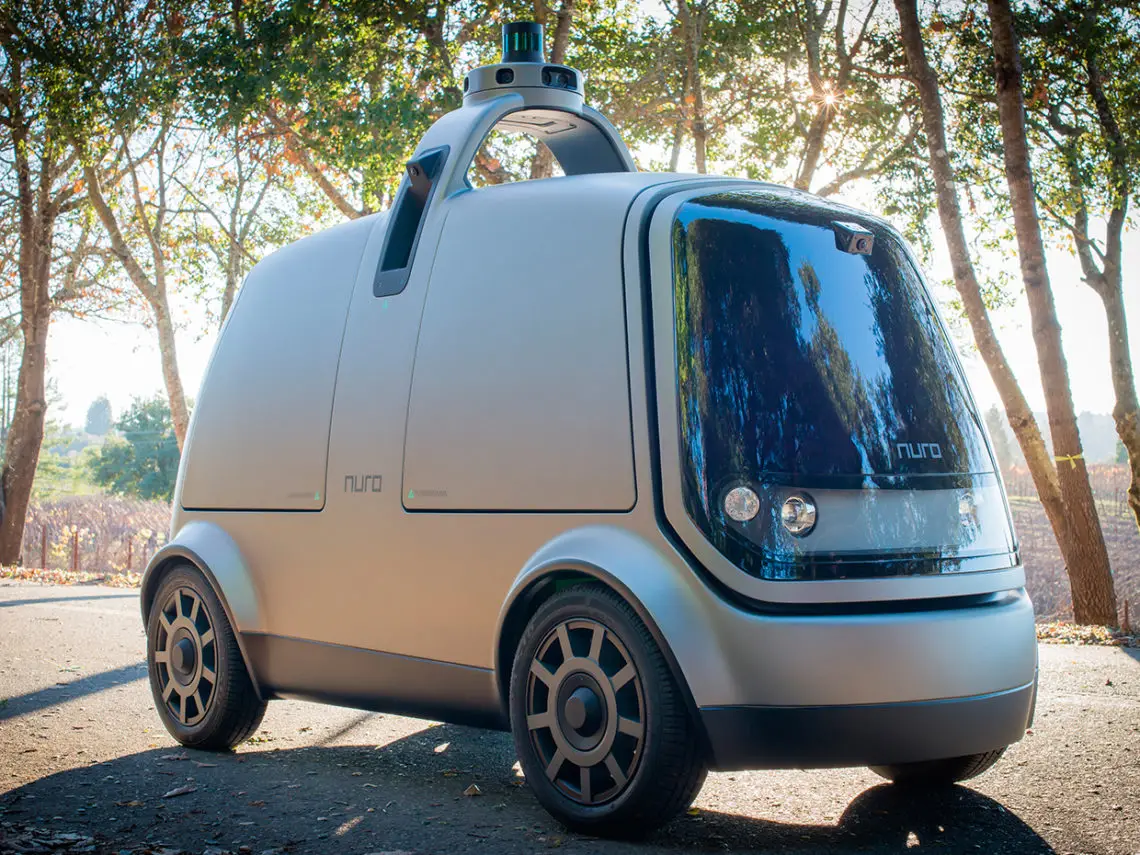 Company overview
Founders: Dave Ferguson and Jiajun Zhu
Started: 2016
Headquarters: Mountain View, California
Nuro is a fully autonomous delivery vehicle built especially for the last mile. It's believed by its founders to be the future of door-to-door delivery.
The Nuro vehicle is about the height and length of a typical SUV but only a meter wide and able to hold a cargo load up to 115 kg. The company currently employs over 500 people dedicated to improving human life through robotics.
---
#3. Postmates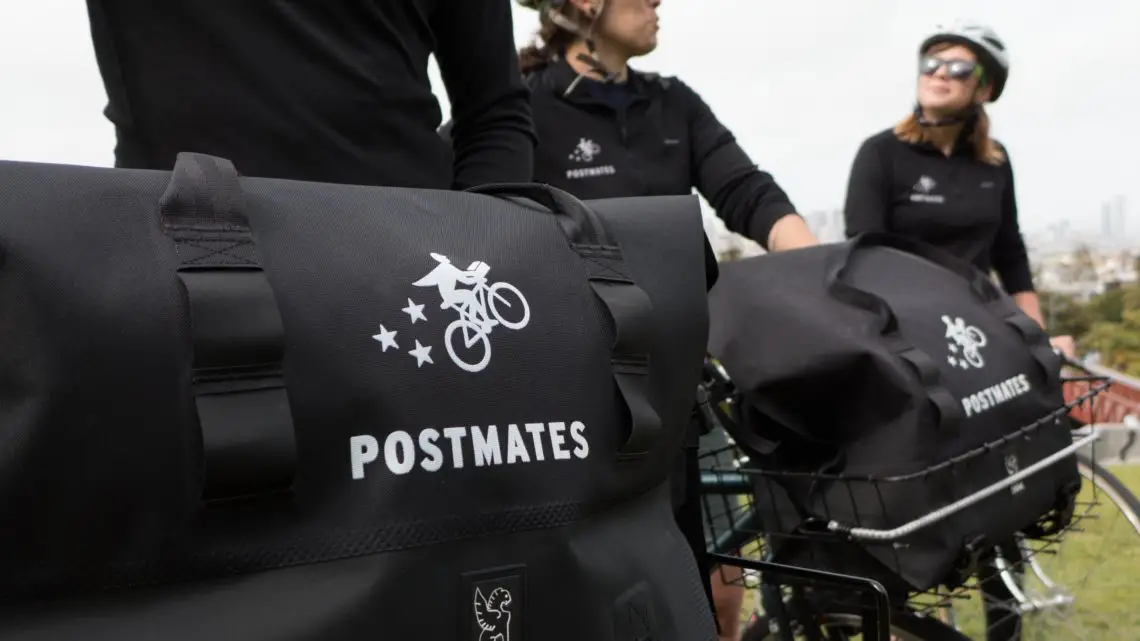 Company overview
Founders: Bastian Lehmann, Sean Plaice, Sam Street
Started: 2011
Headquarters: San Francisco, California
Postmates is pretty much a household name at this point. Their mission statement of "enabling anyone to have anything delivered on demand" sums up their business model.
Established just under a decade ago, Postmates has completely changed the way consumers receive common goods, making it possible to get almost any local product you want delivered to your home in under an hour. Postmates does this by connecting customers with local couriers based on the location of the product they wish to have delivered and its final destination.
Similar to a meal delivery service, all you need to do is install an app on your mobile phone to open the gateway to on-demand products at your doorstep.
Not only does Postmates help empower communities by promoting shopping locally, but it also eliminates wait times and gives small businesses a fighting chance to hold their own against larger retailers. Postmates' "fleet" of drivers and bike riders are currently operating in 40 major metropolitan markets throughout the United States.
---
#4. Starship Technologies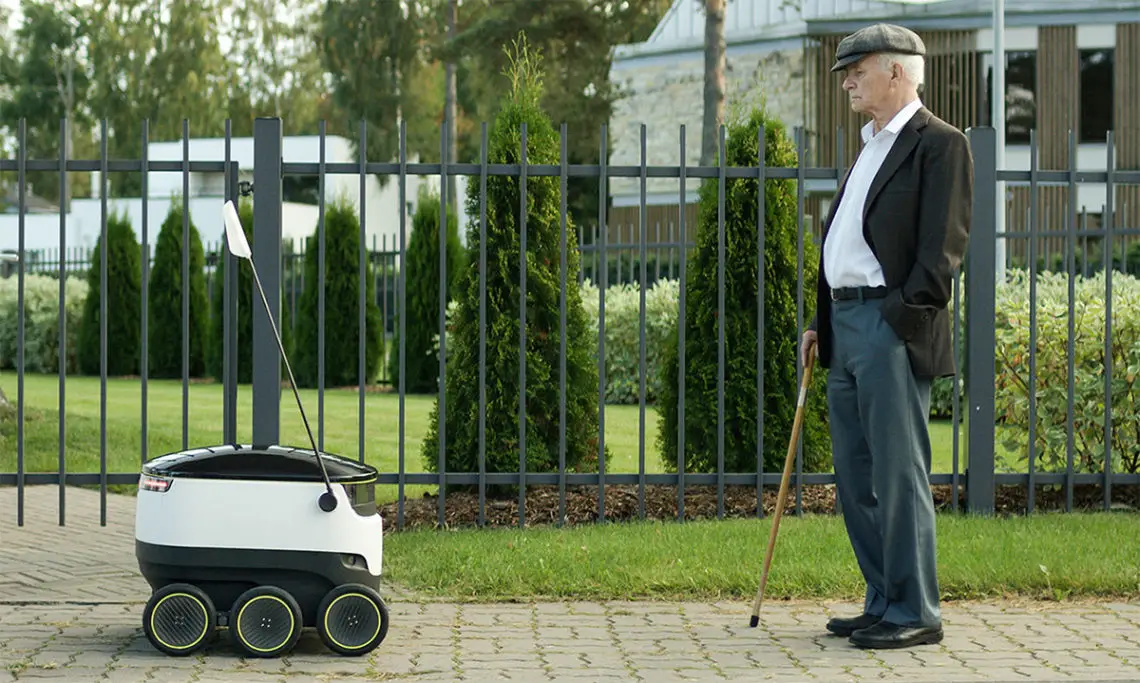 Company overview
Founders: Ahti Heinla and Janus Friis
Started: 2014
Headquarters: San Francisco, California
Starship Technologies is a last mile delivery startup launched by the co-founders of Skype. The idea was originally conceived in London but is now headquartered in San Francisco.  Today, Starship Technologies is one of the most well-known robot delivery companies to exist.
These self-driving robots were designed with a vision to change the way consumers receive deliveries. Similar to Postmates, the consumer downloads an app and places an order for a product in their area to be delivered to them,  wherever they are. A robot is then dispatched to complete the order, trackable on the mobile app by the consumer.
The robots weigh less than 100 lbs, currently have a range of about 4 miles, and are able to complete deliveries within 30 minutes. As far as speed goes, the self-driving bots move at pedestrian speed. They're built with safety in mind, designed to navigate around objects and people. For security, the cargo bay remains locked throughout the journey and can only be opened by the recipient with their smartphone app.
This delivery model is a great opportunity for small or cramped cities, as it removes a portion of the traffic on the roads due to their compact size and lack of need for a driver.
---
#5. Matternet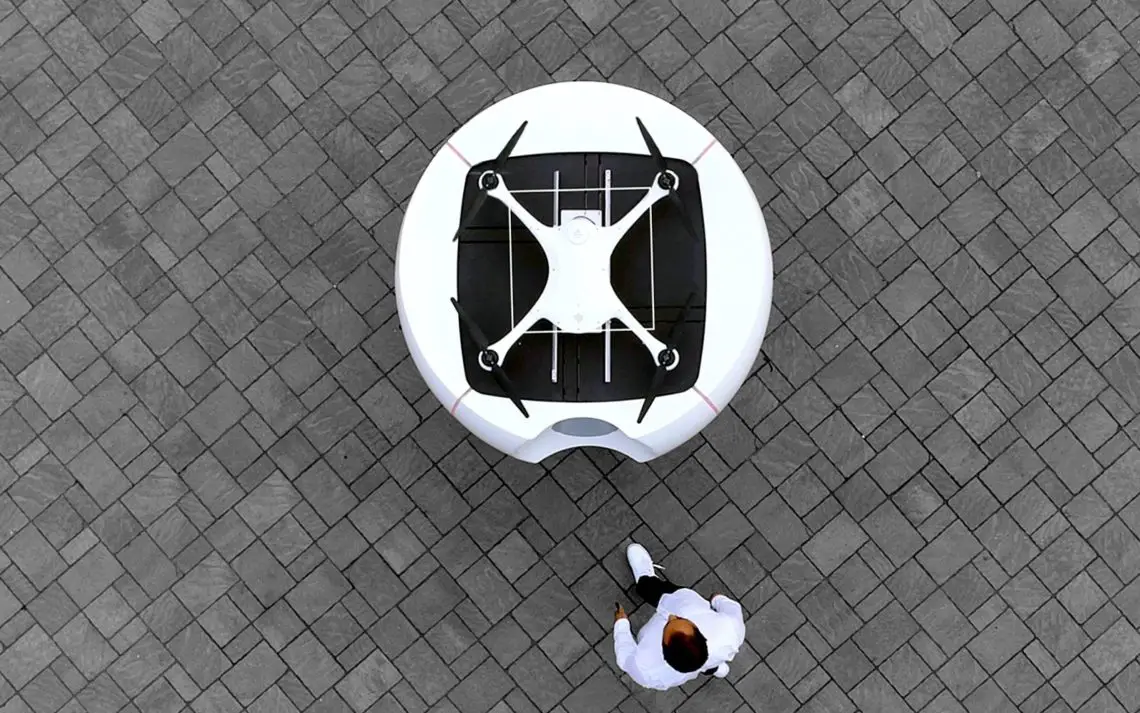 Company overview
Founders: Andreas Raptopoulos, Dimitar Pachov, Paola Santana
Started: 2011
Headquarters: Menlo Park, California
Matternet is taking a whole different approach to solving the challenges of last mile delivery by changing the way they travel the mile itself—by taking to the sky. Their drone deliveries are made possible through a combination of smart drones, cloud software, and safe landing stations all programmed to a convenient mobile app. Matternet is currently operating in both the USA and Switzerland.
---
#6. Amazon Flex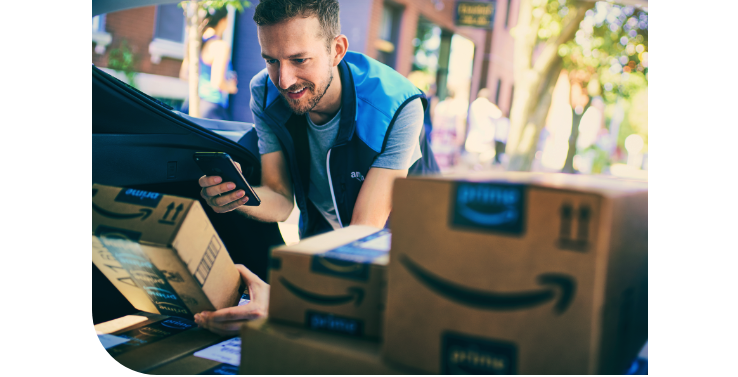 Company overview
Founder: Amazon
Started: 2015
Headquarters: Seattle, Washington
Amazon Flex is owned by none other than Amazon itself. It's essentially a network of contracted last mile delivery drivers that Amazon uses to complete some of the pickups from their distribution centers and drop-offs to the customers' homes.  
Drivers need to meet certain requirements to work here, however, Amazon advertises that they'll be able to make their own schedule but will need to pay for their own gas and vehicle requirements (similar to businesses like Uber Eats and  Postmates).  
Amazon Flex isn't available everywhere yet but Amazon is planning to continue rolling it out as the program grows.
---
#7: PiggyBee

Company overview
Founder: David Vuylsteke
Started: 2012
Headquarters: Brussels
PiggyBee is a crowdshipping community that lets users search for travelers by browsing departures and arrivals in different cities—similar to how one searches for flights—in order to find someone to drop off a product for them on the way.  
When the user finds a traveler headed to their location, they send them a message to talk about the product they're looking for, how much they'll pay for it, and the tip.  The price isn't always monetary; users can also trade product deliveries for accommodations, transport costs, and local advice making the entire trip a win-win for both parties.  
After the delivery is complete, the traveler is tipped and rated through PiggyBee,  allowing them to build a reputation for future deliveries, similar to an Airbnb or Uber profile.
PiggyBee is based out of Brussels and was originally focused on Europe, but has since expanded globally.
---
Final Thoughts
We hope you enjoyed this list of the top 7 last mile delivery startups and companies.
Want to learn what Onfleet's platform can do for your company's last mile delivery operations? Get in touch with our sales team or start your 14-day free trial.
---
Thanks for reading! Can we ask you a quick question to improve our content?
*Don't worry, this optional survey will not trigger a sales call* 💜