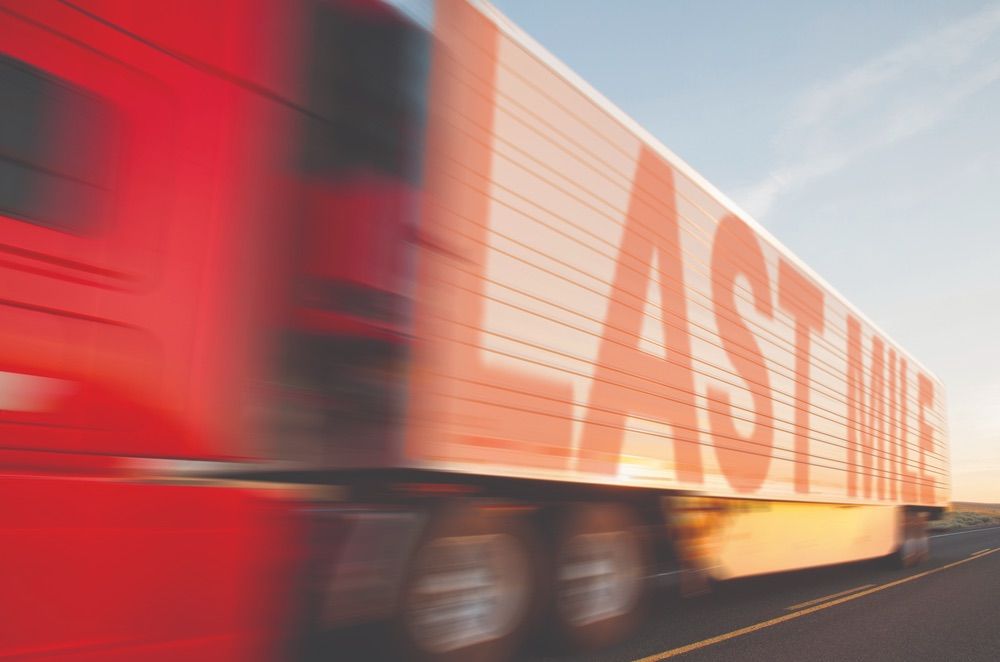 Looking to improve your last mile logistics? Read on.
Consumer demand for outstanding delivery experiences is higher than it's ever been—and only growing. Studies show 80% of customers expect to be able to track their delivery in real-time, and 45% of them expect a delivery window of 2 hours or less. As a result, businesses have been forced to change the way they operate to meet and accommodate to adjust to a new market mindset.
Smart businesses are evolving to meet the ever-rising demands of consumers, especially as online shopping numbers continue to multiply every year. This investment has never been more critical to a business's success. Your business's conversion rate, brand loyalty, and ability to achieve long-term growth will be benefit from
That's where last mile delivery logistics come in.
Keep reading to learn:
What last mile logistics is
Why last mile logistics is so important
The top challenges of last mile logistics
7 ways to improve last mile logistics
---

---
What is Last Mile Logistics?
Last-mile logistics refers to the very last step of the delivery process and how it's carried out.
The "last mile" is the step where a parcel goes from a distribution center to its final destination: the customer who ordered a product online.
The logistics part refers to the physical spaces, software, delivery fleets, shipment staff and delivery drivers, and anything else that goes into making the delivery of that parcel possible.
According to McKinsey and Company, parcel shipment is valued at over $83 billion—and is expected to double within 10 years. Which brings us to the value of last mile logistics.
---
The Importance of Last Mile Logistics
The last mile is an extremely important part of the delivery process and typically makes up about 53% of a shipment's total cost, and not uncommon to account for half the total cost of delivery, so it's definitely something worth optimizing.
To optimize your final mile logistics, however, your organization needs to have an understanding of what the challenges are and how they impact the way you do business.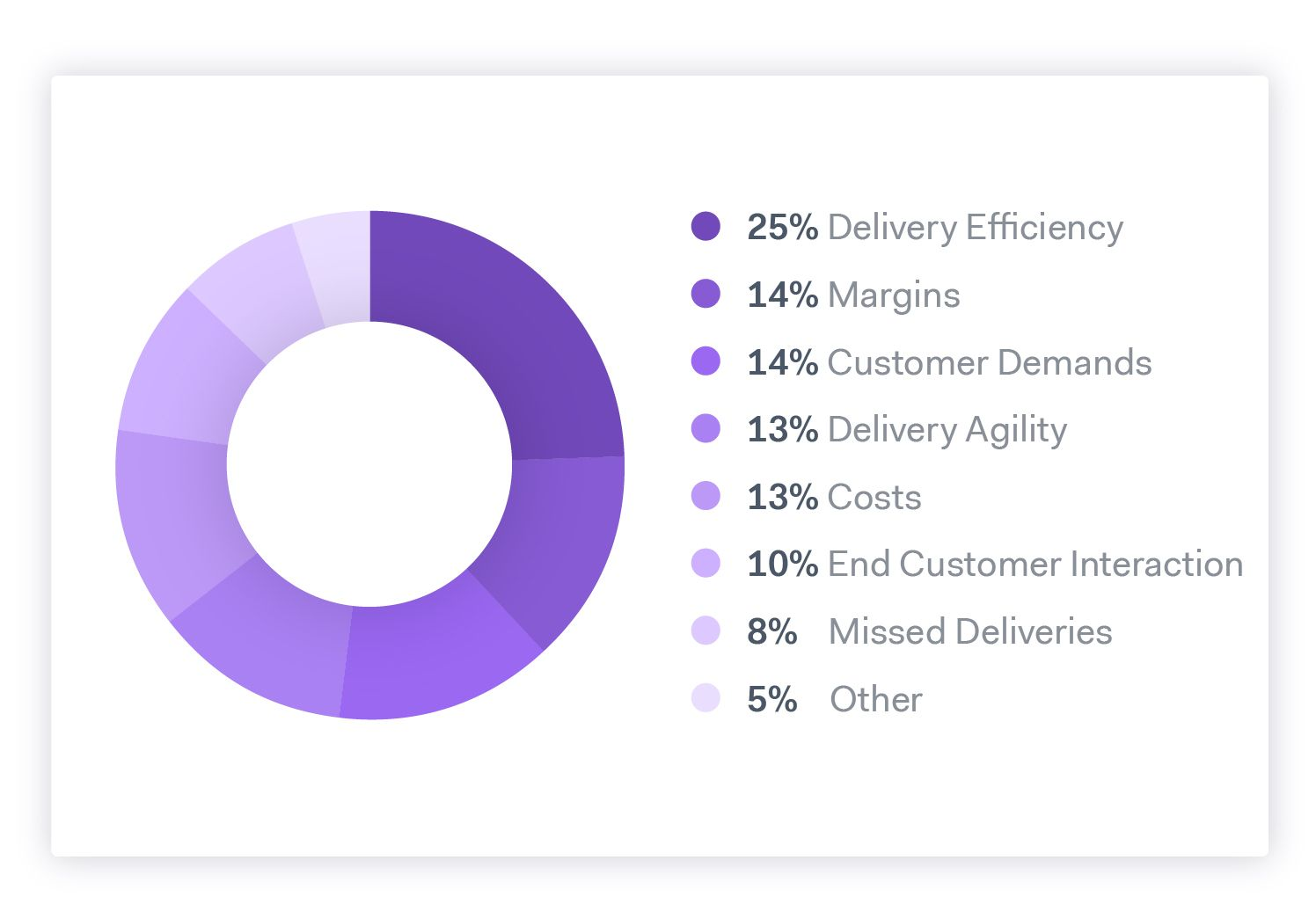 With this knowledge, you can continuously evolve and improve your delivery experience to keep up with consumer demand.
---
The Top Challenges of Last Mile Logistics
Competing with Amazon's delivery rates
Amazon is a retail giant, and Prime is its most powerful weapon. With same-day delivery available on a large number of orders, Amazon is getting its products into consumer's hands within hours of their orders being submitted.
As a result, many retailers are decreasing their own delivery time by beginning to ship from stores versus only distribution centers to decrease the distance between shipper and receiver, therefore shortening the last mile delivery time.
Large products that come in multiple boxes
Large products, like furniture, often come in multiple boxes to distribute the weight of the item. Shippers need to consider how these pieces are packaged and shipped to make sure unpacking is made easy for customers and that no pieces get lost in transit.
If you're a business that offers assembly service to your customers, you'll need to be more selective about your last mile carrier because not all of them offer assembly options or offer it at an additional fee.
Also, depending on what the product is, the installation may need to be done by a trained technician, e.g. gas ranges or appliances requiring electrical or plumbing work. So something to consider when assigning drivers as well.
Capacity limitations
A delivery vehicle can only fit so many parcels, and there are only so many drivers to operate those vehicles. There's a fine balance that must be struck and maintained by shippers to effectively allocate resources. This is especially true for small to medium-sized shippers, who have fewer resources overall and therefore less room for error.
Capacity limitations are another reason why many companies are now choosing to ship from stores: to distribute the number of parcels being shipped out in one geographic location.
Visibility into the supply chain
As a business, you need to have up-to-date information on exactly where all your orders are in transit, which orders are yet to be shipped, and when the original order date was made. This is what is know as your last mile supply chain.
If using an external carrier, you should also have visibility into the fleets that are available to make your deliveries, the number of drivers available, and targeted delivery times to make sure they align with the delivery promise you're providing your customers.
Having access to all this data ensures you understand and maintain control of your business's last mile logistics and can spot inefficiencies quickly and easily.
Managing multiple fleets
While retail giants like Amazon have their own fleet, most businesses are working with external fleets—sometimes with multiple carriers. This means a portion, or all, of you last mile logistics are dependent on people outside of your organization.
The key here is to find ways to maintain control of the experience of the last mile (like the points mentioned in the previous section on visibility) since customers will assign blame to the business for any poor experiences, not the carrier company. This is also something to keep in mind when posting delivery promises and SLAs on your website or throughout your customer experience.
---
7 Ways to Improve Your Last Mile Logistics
1. Centralize all logistics data
No matter how much data you have coming in about your fleets, aggregator sites, external carriers, etc., if it is not organized there's only so much you can do with it.
By putting all of this data in one centralized location, businesses can better understand the ins and outs of their last mile delivery process and make adjustments as needed to continually improve it.
2. Automate driver dispatch
You can reduce your service time and labor costs with auto dispatching. In other words, by letting software do the work for you.
Not only does automatic driver dispatch save time since you won't need to operate it manually,  but software like Onfleet even updates routes for you in real-time to make sure they're as efficient as possible. This can decrease the number of drivers needed in a day to complete deliveries and provide a more streamlined route.
You can choose to let Onfleet do all the work for you or set auto-assignment rules based on driver location and route distance which can limit the number of tasks per driver.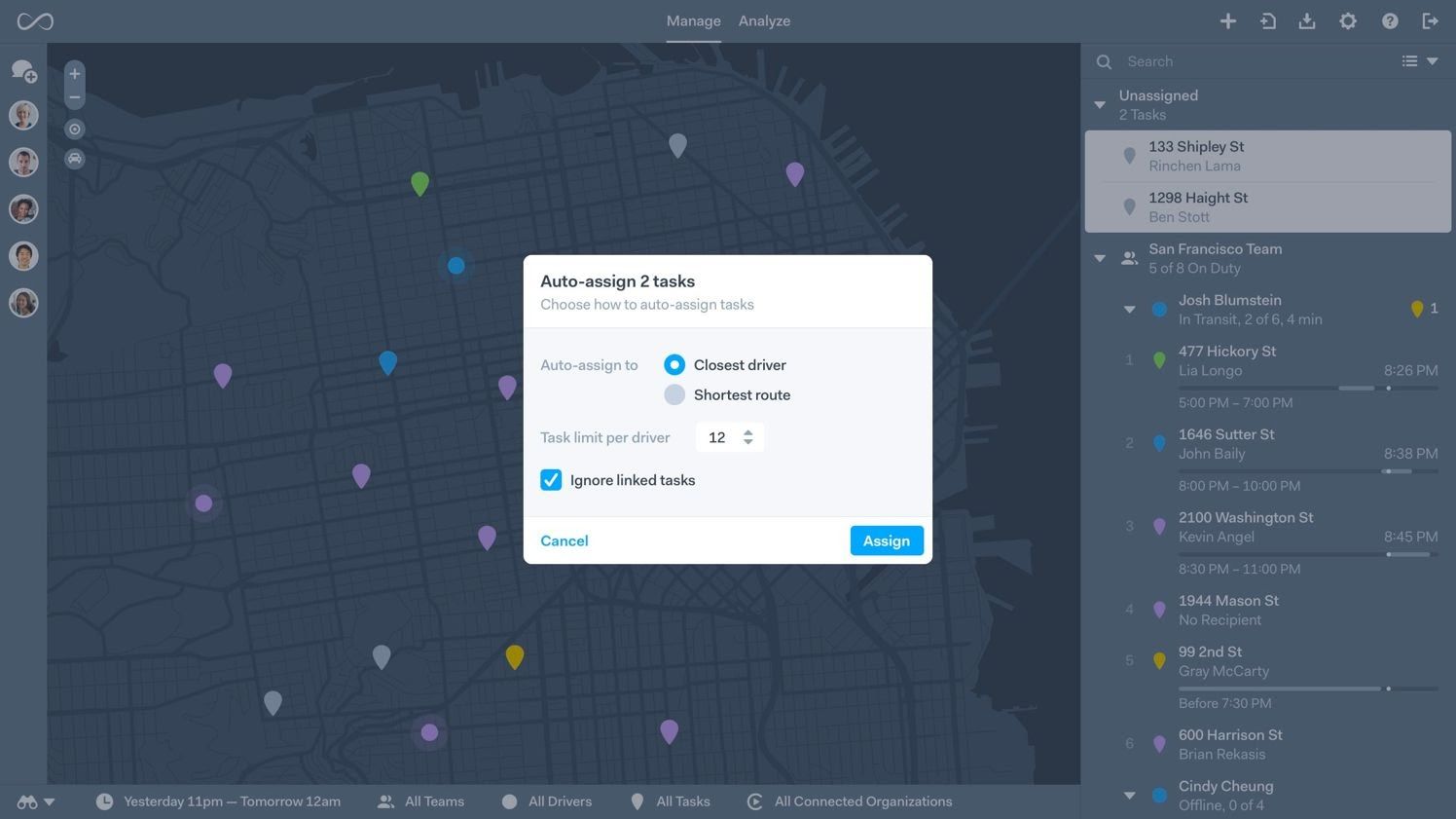 3. Automate route planning
When drivers are dispatched to make deliveries, their routes are far from a straight line. Rather, they're often twisty-turny with one parcel dropped off here, fifty parcels dropped off there, and so on. By the end of a shift, drivers have traveled miles and spent time as well as gas.
Automating route planning can optimize the routes drivers take and ensure that drivers are allocated as effectively as possible. Onfleet does this automatically by factoring in time, location, vehicle capacity, and traffic conditions to generate the most efficient route. And if anything changes, Onfleet adjusts the route and updates the driver in real-time via SMS.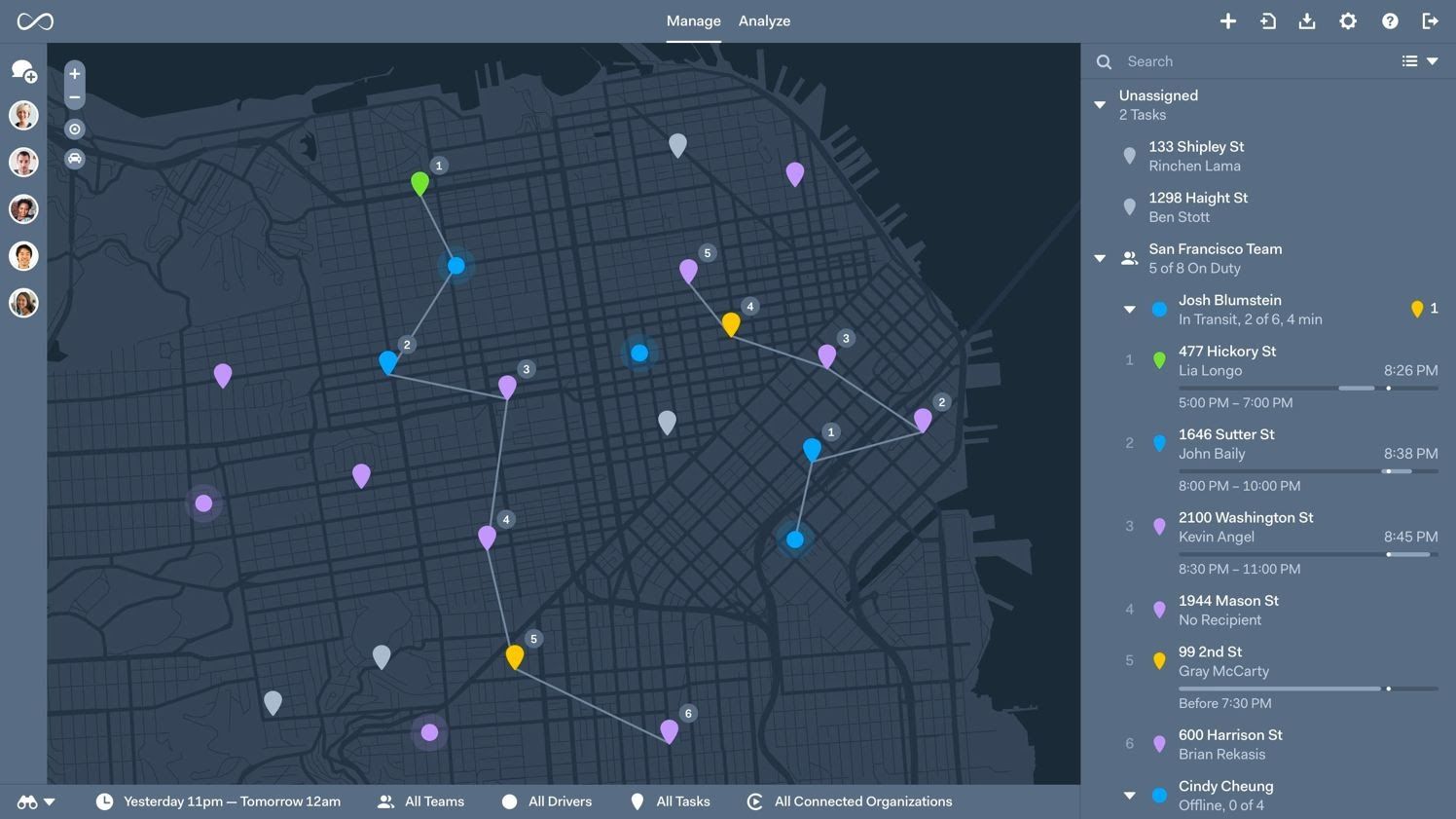 4. Provide real-time driver tracking
Set your business apart from competitors by giving customers more than just a static tracking number. Your customers will appreciate an superior tracking experience with live driver locations and accurate ETAs all in a convenient app.
Onfleet can make it happen by not only letting your customers track their order, but track the vehicle their parcel is on and talk to the driver via SMS.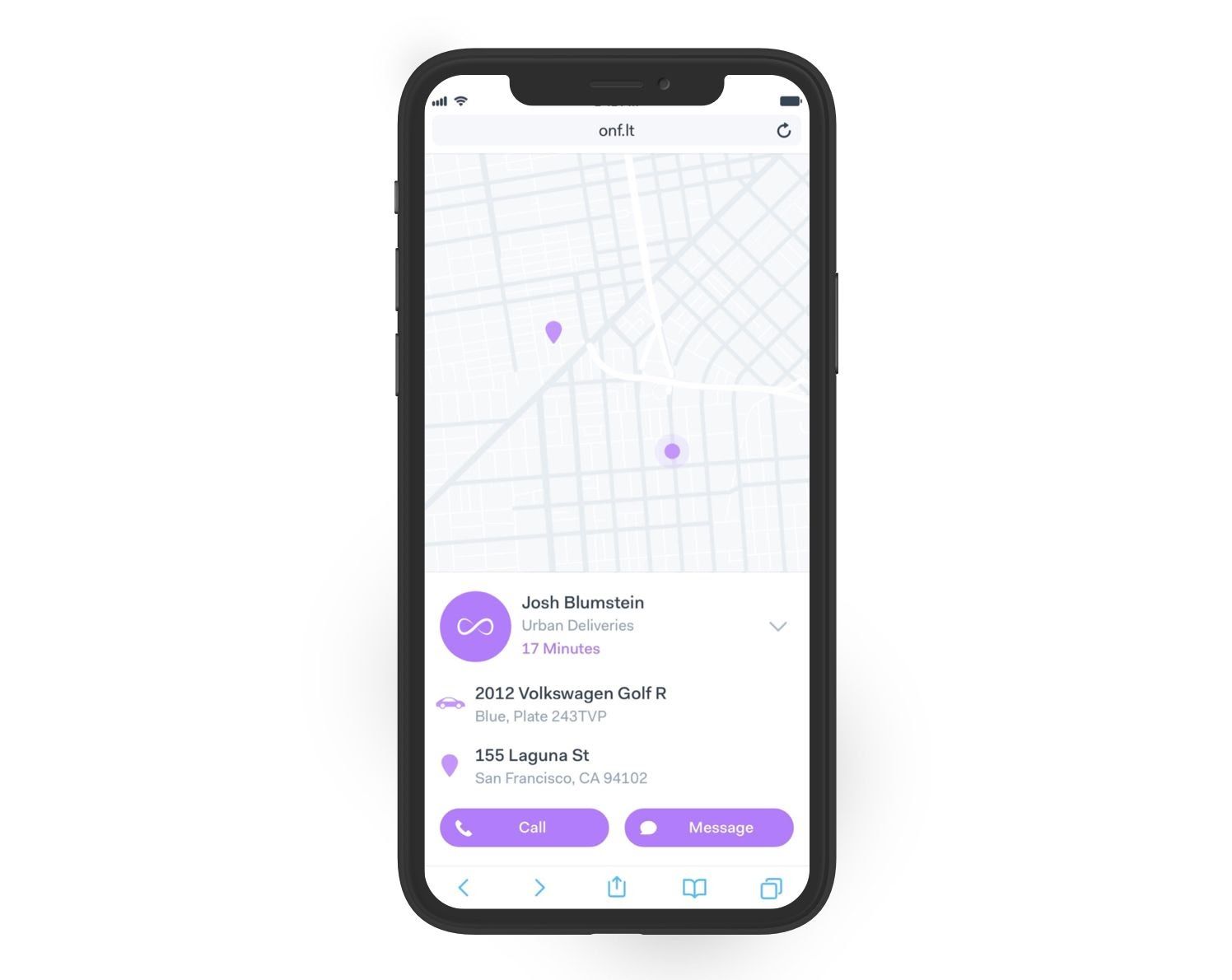 5. Improve driver communications
Not only do you want your customers to be able to communicate with your driver, but you also want to be able to communicate with them as well, no matter where they are.  This will help surface issues and solve them in real-time—or better yet, catch them before they have a chance to become issues.
6. Automate status updates
We mentioned earlier that the majority of customers expect to be able to track the status of their orders.
A last mile logistics tool like Onfleet fills this need by letting your customers know when a delivery has started, when it should be expected, and when it's arriving with automatic SMS notifications.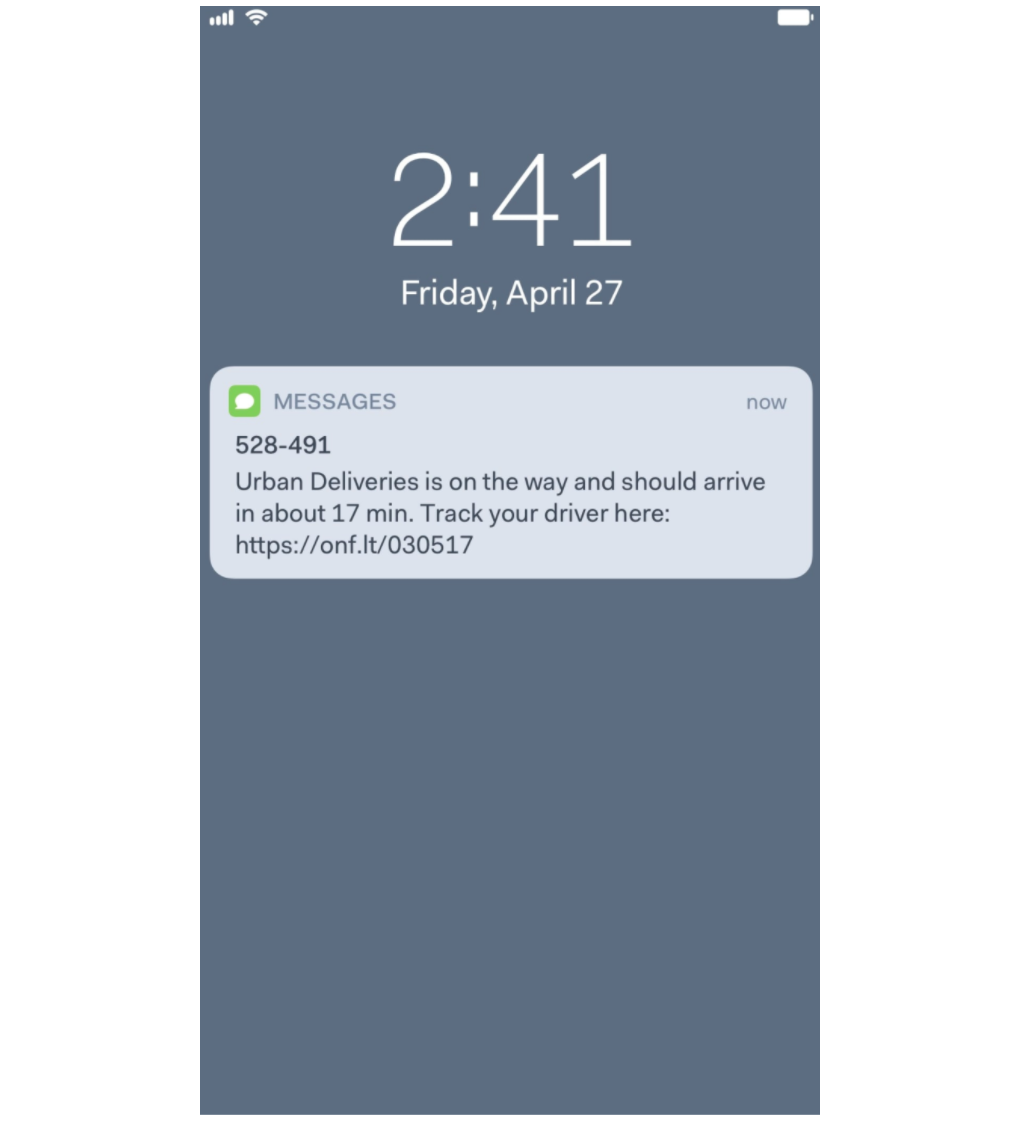 7. Monitor driver performance
One of the key metrics to keep an eye on is the performance of your drivers. This includes on-time rates, service times, customer feedback, the number of parcels delivered and total distance traveled. Recording this data will help your business identify opportunities for improvement as well as concerns for driver safety.
With Onfleet, you can monitor all this and filter data by teams, drivers, day, week, or even by the hour of the day.  You can also export the data to produce detailed reports that you can pull regularly to keep track of the health of your final mile logistics and how you're improving over time.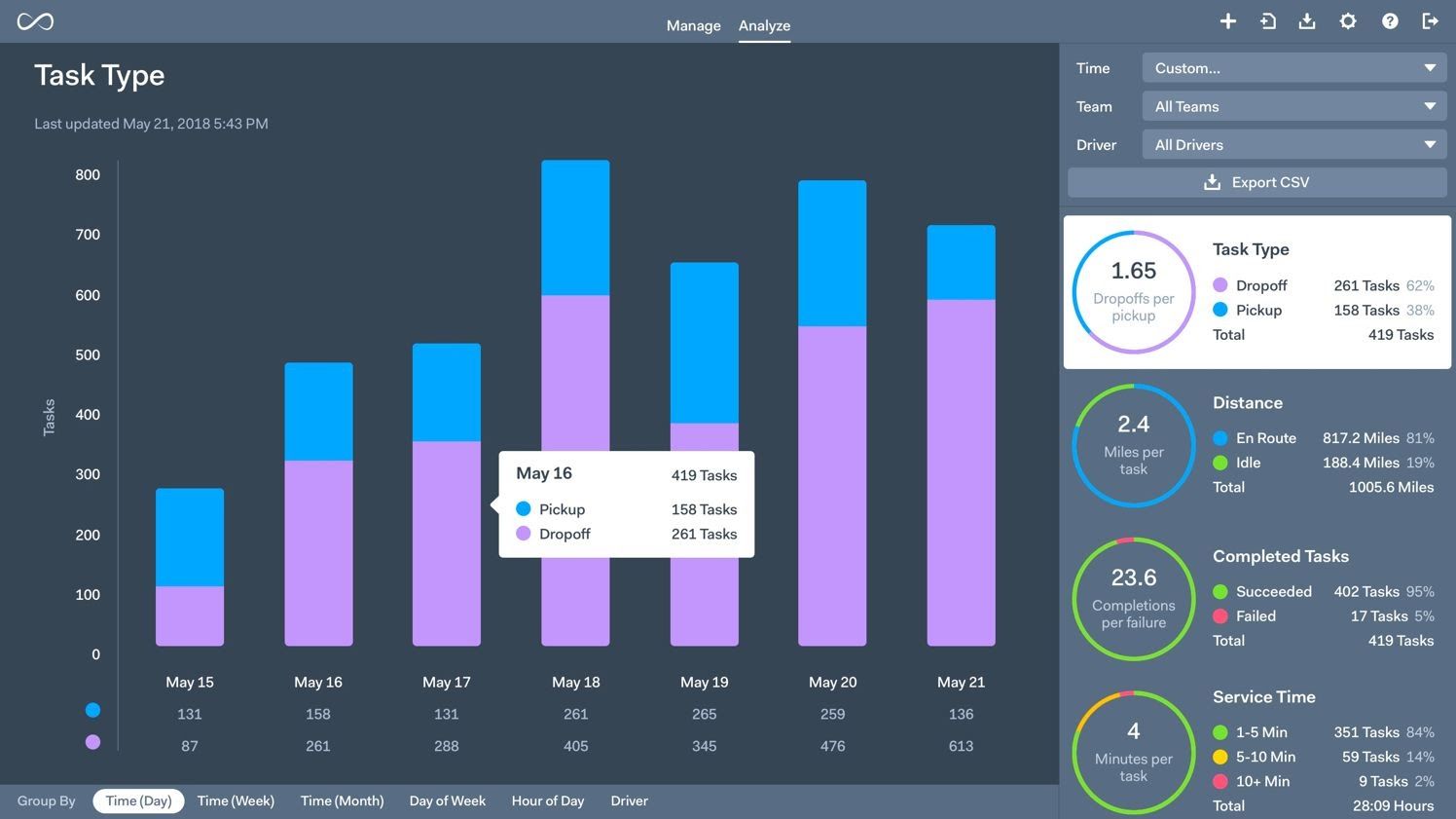 ---
Use Last Mile Logistics to Gain a Competitive Advantage
We covered what last mile logistics is, the challenges that come with it, and different ways to optimize your last mile logistics.
There's no one-size-fits-all solution to the last mile logistics problem but businesses need to make a conscious effort to figure out efficient, cost-effective ways for them to grow and meet the demands of their customers.
---

Ready to optimize your last mile logistics? Get in touch with our sales team or start your 14-day free trial and see what Onfleet can do for your business.