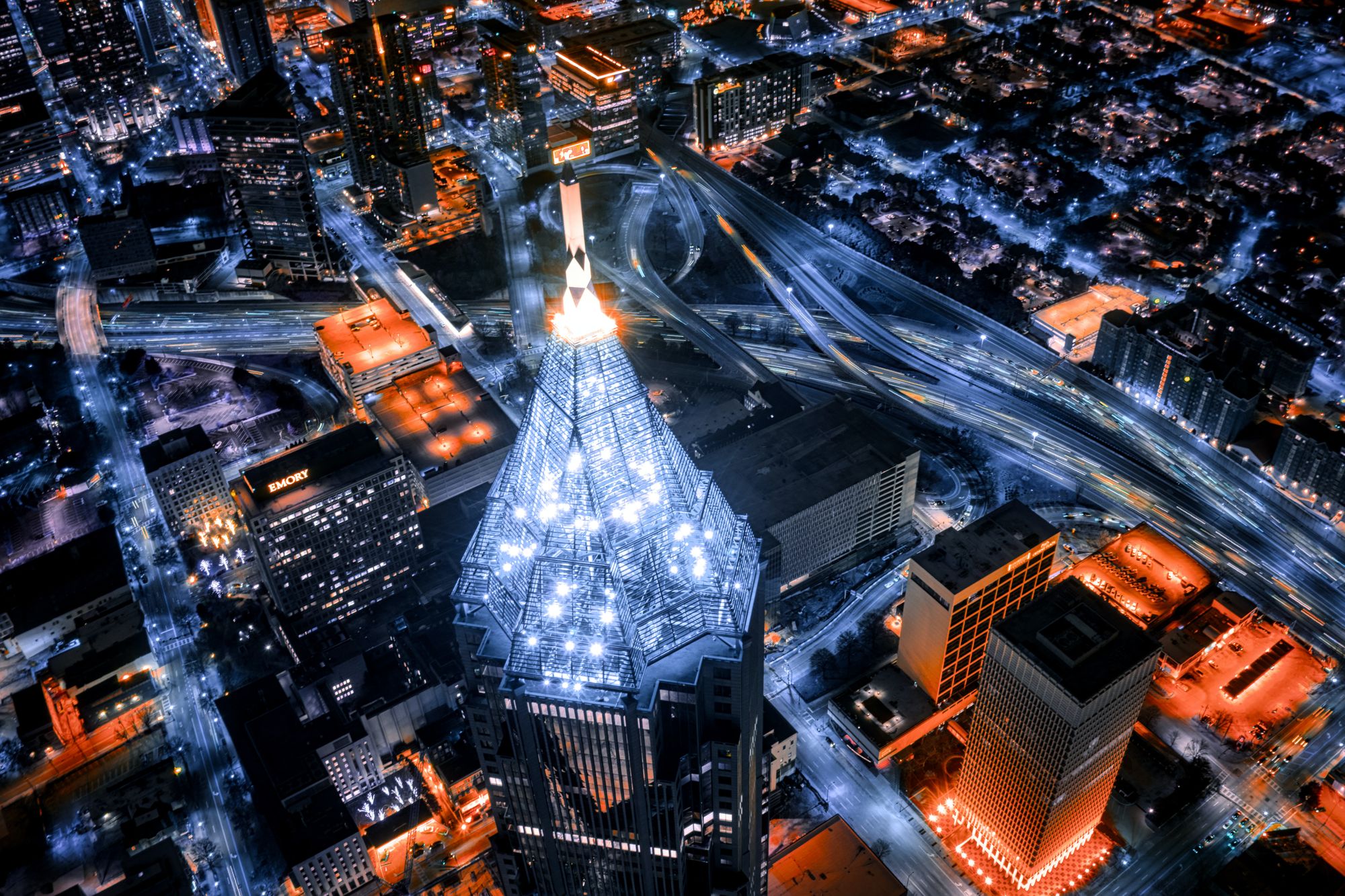 Looking for the best route planning app for your delivery drivers? Read on.
No matter how many stops along your route, all delivery businesses can reap major benefits from a delivery route planner app.  After all, the more optimized your route, the more efficient it'll be—meaning your drivers will spend less time on the road, and the more efficient your overall operations will be.
But there are a lot of options out there. Just which delivery route planner is right for your business? Which factors should be at the forefront of your decision-making process when shopping around?
In this post, we're going to help you answer these questions so you can determine your next stop (pun intended).
Keep reading to learn:
What a delivery route planner is
Key features to look for in route planning software
The 6 best routing apps for delivery drivers
---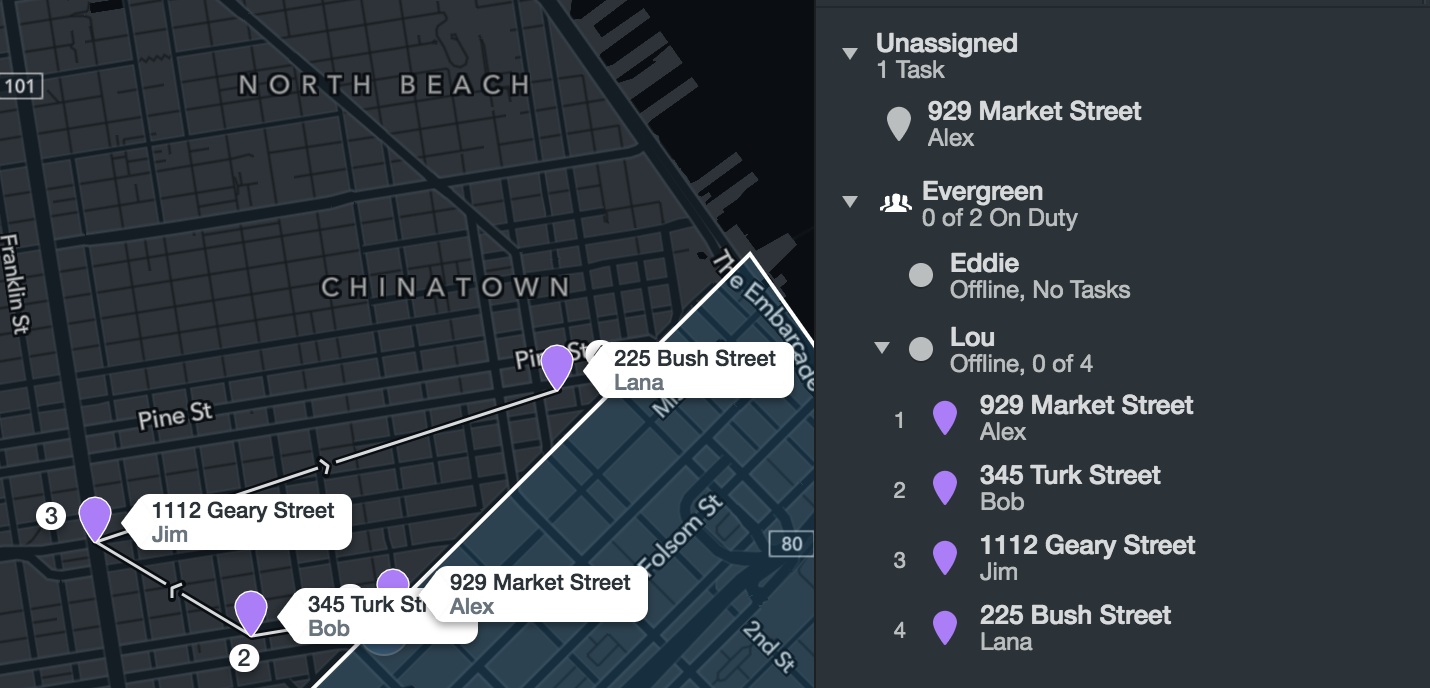 What is a Delivery Route Planner?
A delivery route planner is a software that schedules stops for fleets delivering goods and services. In addition to scheduling, a delivery route planner might also offer features like real-time route optimization, GPS tracking, and on-demand dispatch.
A delivery route planner helps businesses operate more precisely by creating more efficient routes. Many also include machine learning and capture feedback that can be used to make enhancements to the overall delivery process, like improving the driver and/or customer experience.
---
Key Features to Look for in Delivery Route Planner Apps
You want to know your business will see the return on investment both in terms of money and time that you spend on whatever platform you end up going with. This pressure can make shopping around a stressful experience, especially when you don't know where to start.  
We hear you. That's why, to help get you started, we've listed the key capabilities that you should look out for when you're weighing your options for route planning software:
Route optimization
Driver tracking
Delivery status
Customer communications
Proof of delivery
---
Route optimization
Hands down, the most important thing that you can have in a delivery route planning app is route optimization capabilities. This means that your software can provide an optimized route, regardless of the number of stops or drivers.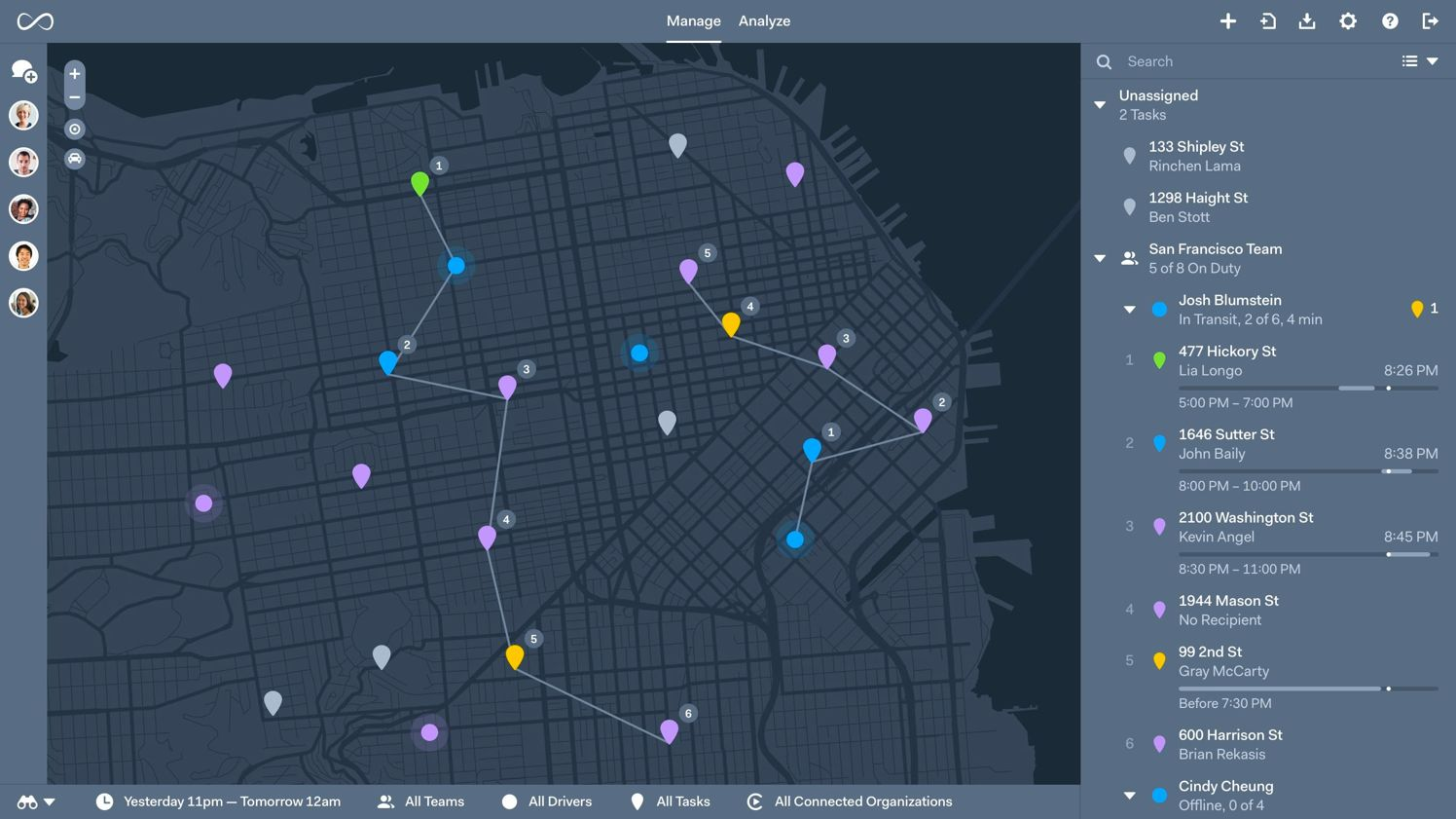 Driver tracking
Driver tracking is another important tool that benefits not only your business but also your customers when you extend this visibility to them. It lets you see where your drivers are at any given time and, in parallel, your customers can see where their parcel is resulting in positive experiences all around.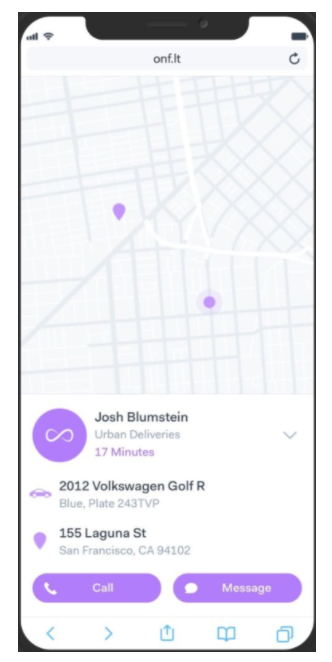 Delivery status
Designated delivery route planning software helps you plan routes that factor in constraints such as vehicle size, capacity, and delivery time windows into your routes to ensure everything is captured and prioritized accurately.
Customer communications
We touched on how driver tracking helps create a positive customer experience as it provides visibility into the status and location of their parcel. Look for a route planner that facilitates this communication, updating customers on the estimated arrival time of their delivery either through email or text.
Some apps (including Onfleet) even allow two-way communication between customer and driver.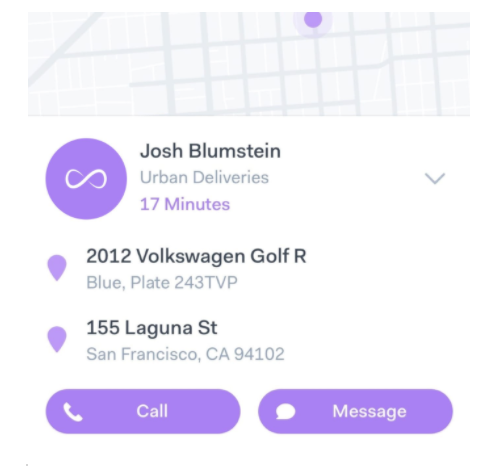 Proof of delivery
Last but certainly not least, you want an app that allows drivers to collect proof of delivery. Proof of delivery usually involves a driver taking a photo of the parcel and where it was left for the recipient (e.g. at their doorstep) and/or collecting their signature.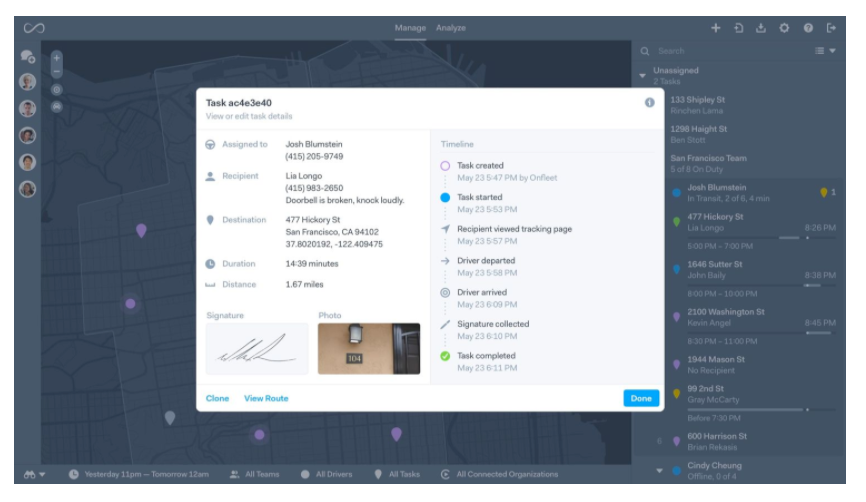 Proof of delivery is another example of a feature that benefits both your business and the customer. It protects your business by recording the specifics regarding a delivery and a way to backtrack if problems arise. It benefits the customer because they can validate that their item was delivered successfully, even when they're not home.
---
6 Best Routing Apps for Delivery Drivers in 2023
Here, we're going to look at 6 different delivery routing apps to see how they help businesses in the delivery space and help you make a decision on which one is best for your own business.
1. Onfleet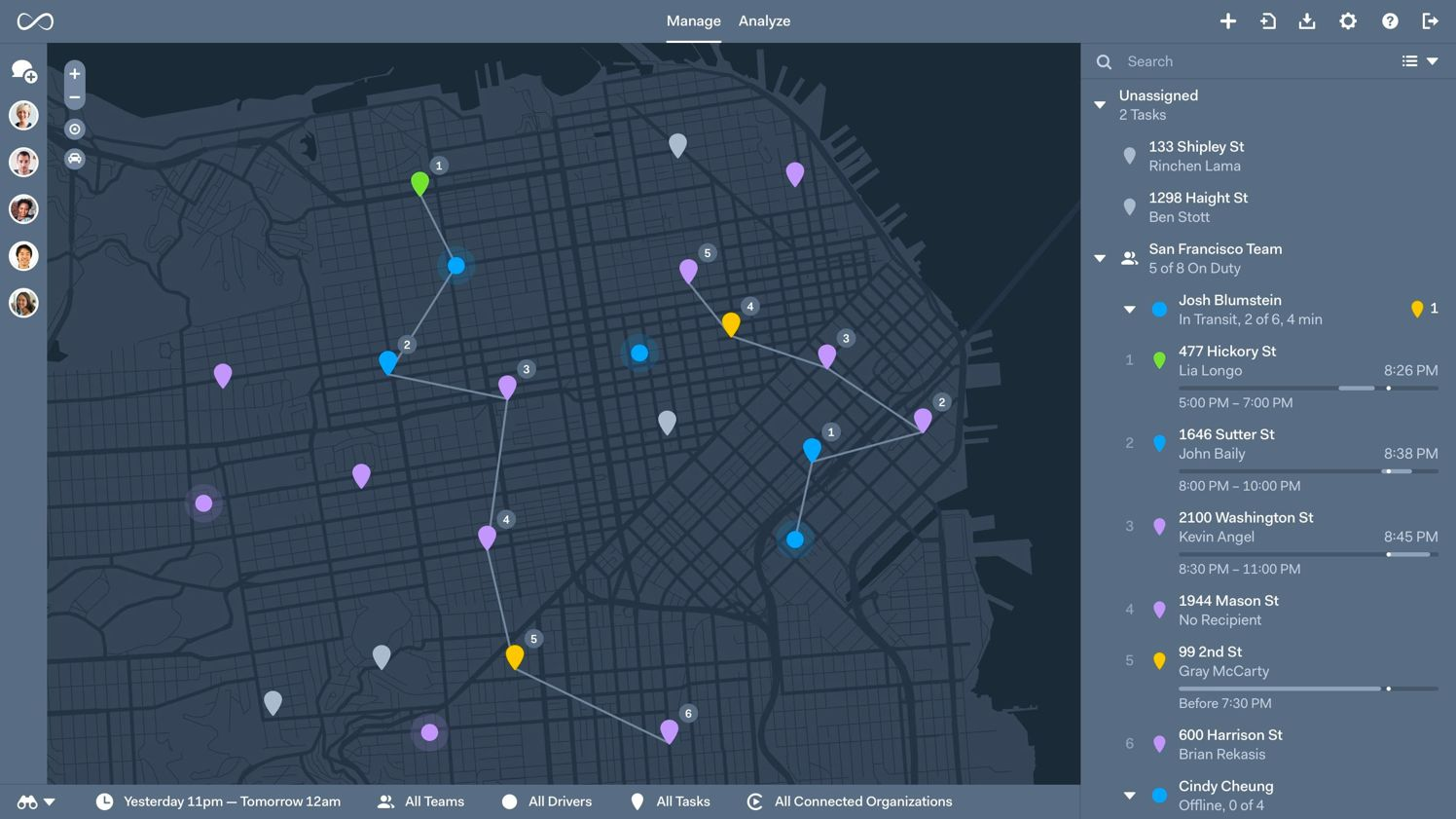 Onfleet is the trusted last mile delivery solution for companies across dozens of industries including food and beverage, retail, grocery, construction, pharmacy, and more.
Of all the last mile delivery platforms, Onfleet has the most advanced route planning feature set, promising leaner operations, smarter decisions, and a delightful customer experience.
One thing that sets Onfleet apart from competitors is the ability to create individual driver profiles, each with their own start and end location and shift schedules as well as their vehicle capacity. This is crucial for larger, multi-driver fleets as well as smaller businesses looking for a scalable solution that can grow with them.
Once your driver details are in, Onfleet will optimize your routes so you can dispatch your drivers. Drivers will have access to the Onfleet app on their mobile device while you can track their progress from the web dashboard.
Pricing: The basic plan starts at $349/month and supports unlimited users and unlimited drivers. Take Onfleet for a spin with a 14-day free trial.
Key route planning features:

Route optimization
Onfleet's integrated route optimization engine considers time, location, capacity, and traffic to produce the most efficient route. If you need to make a change or re-optimize, updates are sent automatically to your drivers in real-time.
Predictive ETAs
Onfleet lets you identify potential problems before they have a chance to happen with predictive arrival times and real-time alerts powered by machine learning.
GPS tracking
You and your customers can have visibility into live driver locations with accurate ETAs in a beautiful, branded, and responsive web tracking experience.
Automatic status updates
Let customers know when a delivery has started, when it should be expected, and when it's arriving with automatic SMS notifications.
Proof of delivery
Enforce completion requirements through the in-app collection of photos, signatures, barcodes, and notes. Onfleet is the best route planner app for collecting photos, signatures, and barcodes in the field.
Integrated customer communications
Allow customers to call or message their driver, dispatcher, or call center with a single tap. Calls can be anonymized to safeguard customer data.
---
2. RouteXL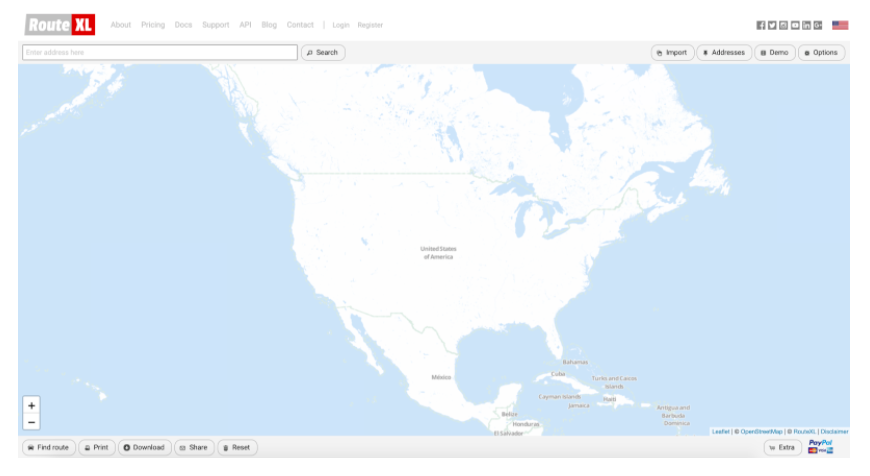 RouteXL is a route planner that works by finding the best multi-stop route for deliveries, pickups, and services. These optimized routes are generated with the help of smart algorithms that sort addresses to minimize their duration.    
All you need to do is add your departure location and all the destinations that you wish to hit on the map, press the button, and the route will be calculated. You can then email the route to your drivers or print them out.
Unlike some of the other tools on this list, RouteXL doesn't support real-time optimization or automatic updates, so if any changes do happen on the road, your drivers will need to be reactive rather than proactive. There are also no customer updates, mobile app, or proof of delivery features.
Frankly, RouteXL isn't the most robust tool out there, but if you're a smaller single-driver company making less than 20 stops a month looking for a minimalist solution, this free app could be all you need.
Pricing: RouteXL is free to use for up to 20 stops per route. To increase to 100 or 200 stops per route costs $39 or $77 per month, respectively.
Key route planning features:
GPS tracking
Addresses can be imported from a spreadsheet or through copy/paste
Routes can be sent to drivers via email or a hard copy can be printed
WEBFLEET integration allows drivers to load the route directly into their TomTom Pro devices.
---
3. Mappr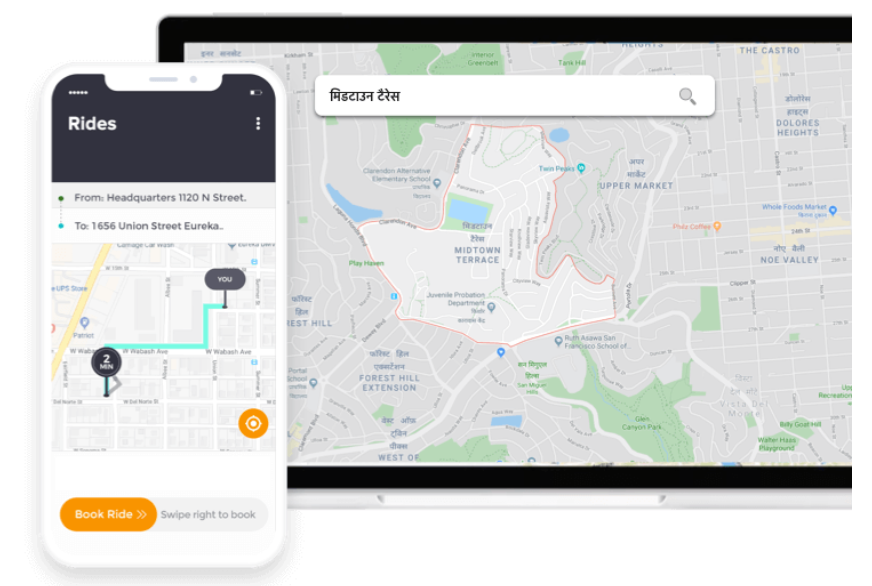 Mappr is another basic route planning option. It works similar to RouteXL, by generating the shortest possible route based on the addresses inputted and optimization settings such as the maximum tasks per vehicle and trip duration limit.
Mappr integrates directly with Tookan, a delivery management solution offered by the same parent company. This integration does come at an additional monthly charge, though.
Pricing: Mappr is free for up to 50,000 transactions. If this isn't enough, you can upgrade to 1 million transactions for $209/month, or 2 million transactions for $375/month.
Key route planning features:
Optimize your fleet based on vehicle type and its volume, speed, and fuel efficiency—whether it's a bike or a car
Interactive drag-and-drop interface
API integration
Integrates with Tookan, Junglework's delivery management solution
---
4. Google Maps Route Planner
You may already be using Google Maps when you need to find the best route to your favorite restaurant, but it can also serve as a route planner. Google Maps is easy to use, and you set up routes from scratch, or create routes based on your saved Google Places.
Unlike some of the other delivery route planner apps on our list, Google Maps functions only for a single user, so it's not an effective tool for managing delivery fleets. It also doesn't account for factors such as guaranteed delivery times, vehicle capacity, or fuel efficiency.
Including the start and end point, a Google Maps route can include only 10 points, which may be adequate for small companies that have few daily deliveries.
Pricing:
Google Maps Route Planner is free to use.
Key route planning features:

Ability to add lines and shapes to maps
Each map can include up to 10,000 lines, shapes, or places
Find locations by business type
Share maps with others
Clickable map pins with location details
5. MapQuest Route Planner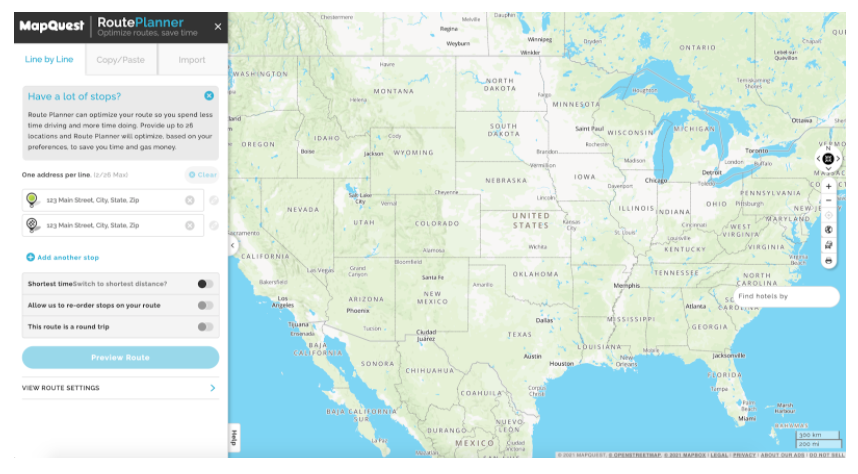 MapQuest is like Google Maps except with a higher number of addresses you can input. Similar to other options on this list, you can upload addresses through copy/paste or a spreadsheet upload. Your route is then optimized for free and stops will be reordered to make your route as efficient as possible, giving you the option to choose between the shortest time or shortest distance traveled.
What makes MapQuest unique is it has the option to set your route as a round trip, accounting for the time it takes your driver to return to the warehouse. Routes can be sent to your drivers through an SMS link.
The biggest downside to this app is probably the pop-up ads, which can get annoying. Otherwise, MapQuest is a good free option if you only have a single driver and no more than 26 addresses to deliver to.
Pricing: MapQuest is free to use.
Key route planning features:

Option to optimize route based on the shortest time or shortest distance traveled
Option to create a round trip
Ability to import routes from a spreadsheet or through copy/paste
Customize the most efficient routes by avoiding toll roads, highways, ferries, seasonal roads, time-restricted roads, and country borders
---
6. Route4Me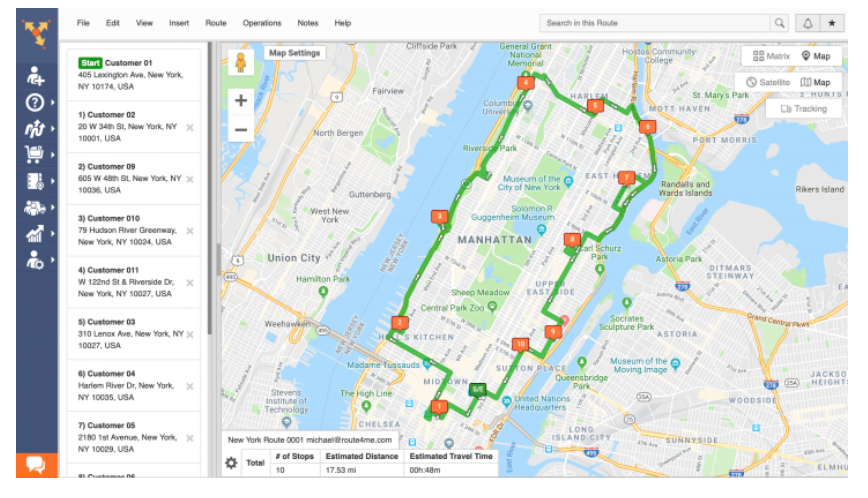 Route4Me is second on this list after Onfleet in terms of customization and add-on capabilities.  It offers optimized routes, route monitoring, customer communications, and proof of delivery.
Route4Me's customization support, known as its marketplace catalog, makes it popular among larger delivery operations, particularly in the service tech industry.
A downside to this, however, is some things that come readily available with other programs such as Onfleet come at an additional fee. For example, real-time driver tracking is not included in any of the regular plans.
Like Onfleet, Route4Me can support both single-driver and multi-driver routes. It also lets you optimize your roots with specific constraints in mind,  like avoiding highways and tolls. It also offers GPS tracking and collects driver data,  putting it all front-and-center in a dashboard for you to view predicted travel times vs. actual travel times and whether any deviations were made from the planned route.
Pricing: Route4Me's Route Optimization Plus plan is their tier that offers both route optimization and multi-driver routes and costs $299 per month. Add-on features from the marketplace catalog (like real-time driver tracking) come with additional fees.
Key route planning features:
Promises the ability to produce the best routes in fewer than 60 seconds per day
Cross-platform functionality syncs it across your iPhone, iPad, and Android devices
Mobile app offers turn-by-turn directions and works automatically with Google Maps and Waze
Supports route customization for multiple drivers
---
Start Planning Better Delivery Routes Today
You should now have a good idea of which features to look for in your future delivery route planner app, and just how sophisticated of a tool your business needs.
A demo or free trial can be invaluable in the decision-making process. Check out the websites of any of the apps we mentioned in this article to see if they offer one.

Want to see what Onfleet can do for you? Start a free trial or get in touch with our sales team.
---
Thanks for reading! Can we ask you a quick question to improve our content?
*Don't worry, this optional survey will not trigger a sales call* 💜