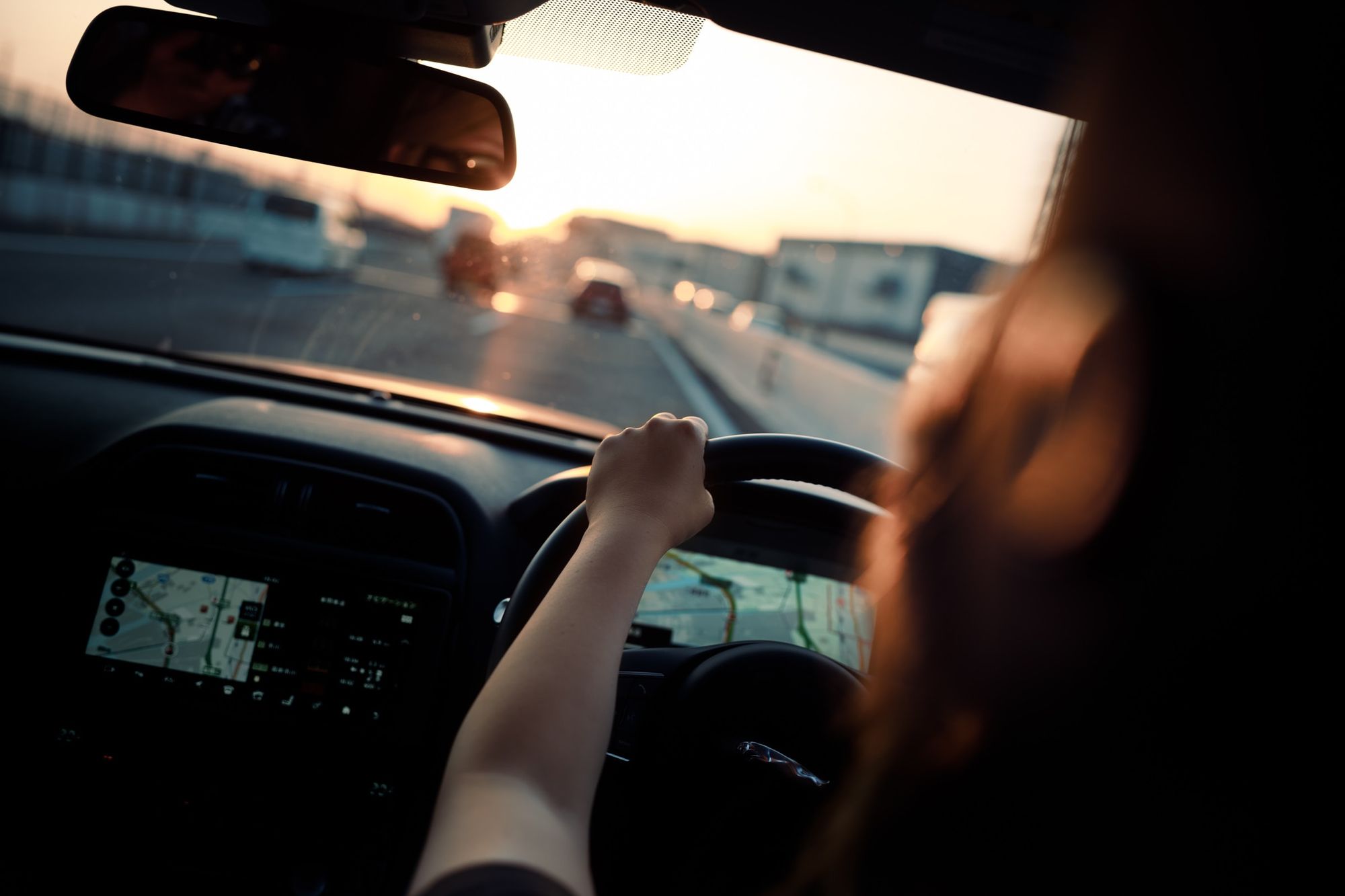 As a delivery manager, you know that when a client calls you to complete a service, that is only the beginning. The process is a lot more complicated than simply sending a delivery truck to pick up the parcel they'd like to deliver. Questions that immediately come to mind may be:
How is the delivery scheduled?
How do you know who the driver is going to be? Who is even available?
How do you know which vehicle is available and whether it has the capacity to take on that client's request?
Which route should be taken? What happens if there's unexpected traffic on that route? How will you know if your driver gets stuck in that traffic?
How will you measure and track progress to completion?
All of these questions can arise from just one client call — what if you're getting hundreds if not thousands of these requests every day?
This is the challenge of dispatch management — as it's impossible to handle deliveries manually with any kind of scale. Which is exactly why companies turn to delivery dispatch management software.
Delivery dispatch management software helps businesses optimize their dispatch processes, increase their fleet's capacity, and ultimately complete smoother deliveries.
Keep reading to get insights on these topics:
What is dispatch management?
Why is dispatch management management important?
Benefits of efficient dispatch management
Dispatch management case study
What to look for in a delivery dispatch management software
---
What is Dispatch Management?
Dispatch management is the process of organizing deliveries to satisfy both your customers and your own business needs. It does this by matching customer requests and equipment required with the appropriate field service workers and delivery drivers to complete those requests.
The right delivery dispatch management tool will make all the difference in optimizing your routes and schedules, while maximizing efficiency and minimizing unnecessary costs to the company. These costs can be measured in time and monetary savings, fuel efficiency, increases in driver and customer satisfaction, and a decrease in headaches at the dispatch level!
---
Why is Dispatch Management Important?
Dispatch management is important because delivery businesses literally couldn't function without it. To effectively manage your fleet and deliveries, you'll need dispatch management software.
Here's why:
1. An increase in companies that offer same-day delivery
51% of retailers offer same-day delivery and 65% plan to offer it within the next two years. Similarly, 49% of online shoppers say that knowing a retailer offers same-day delivery makes them more likely to shop there. Amazon has taught all of us to expect this level of fast delivery and companies like Uber showed us that we like to able to track the progress.
To compete in today's market, you need to be able to get those deliveries to your customers' doors ASAP, and to do that you need an effective delivery dispatch management solution at your disposal.
2. Higher customer expectations
According to a survey conducted by Retail Touchpoints, 63% of consumers expect an order placed online to be delivered within three days. Another study found that 84% of consumers probably wouldn't shop with a brand again after a poor delivery experience.
Knowing this, delivery companies cannot afford any disruption in the delivery process, and that includes a lack of or poor dispatch management.
3. Pricing pressures
Competitors are putting on the pressure when it comes to pricing. Their ability to compare costs further reduces profit margins in the shipping and delivery industries. According to Inbound Logistics' exclusive survey, 38% of shipping companies list price pressure as their main challenge.
Dispatch management software can help you maintain healthy margins by maximizing your resources, ensuring you get as many deliveries done per day as possible without having to hire more drivers.
---
Benefits of Efficient Dispatch Management
According to ABI Research, the cost savings from having a dispatch management system in place could be well over 12% in profitability and 13% in vehicle utilization, with a 15% decrease in travel time.
These are some of the other benefits of dispatch management software:
Better delivery routes
A dispatch management platform helps you instantly and automatically generate optimal travel routes.
You can choose to factor in the number of stops, vehicle capacity, available drivers, and the different delivery time windows that have been promised to customers — factors that would be virtually impossible to optimize routes around manually.
Dispatch management software like Onfleet will also adjust these routes based on real-time conditions such as traffic or weather changes, and inform drivers and dispatch centers right away by sending notifications to all stakeholders.
Reduced service costs
Effective dispatch management not only saves time by planning routes that are as efficient as possible, it also saves money. That's because properly optimized routes mean that drivers spend less time on the road, resulting in reduced fuel usage.
An optimized delivery route can save you 20% to 40% on fuel and drive time.
For example, with Onfleet's powerful auto-dispatch features, delivery managers can set rules to automatically assign deliveries to the right drivers at the right times. Upon being dispatched, drivers will have a clear set of instructions telling them exactly where to go and when, a visual route, and any other instructions they'll need along the way.
Increased delivery speed
Optimized routes are going to be faster routes. But what happens when something unexpected happens on the road? Like dangerous weather conditions, vehicle breakdown, or blocked roads?
Well, you really only have two choices: be reactive or proactive.
Effective dispatch management favors the latter.
A dispatch management platform will quickly whip up an alternative route based on the most up-to-date conditions and alert your drivers of any changes in real-time.
This could mean sending out a service unit in case of vehicle breakdown, coming up with a new route if a road becomes blocked, and so on, meaning your delivery speed will be very minimally impacted — if at all — by these unforeseen circumstances.
Increased delivery count
Dispatch management software lets you make more deliveries by coming up with routes that are optimized to be as efficient as possible without over-scheduling your drivers and risking burnout, or annoying customers with inaccurate or late delivery times.
In the event where your service time could be impacted, dispatch management software will notify you to dispatch more drivers in order to complete the desired amount of deliveries.
Improved customer satisfaction
You want to know where your delivery drivers are while they're on the road. Similarly, customers want to know where their deliveries are once they're on the way.
According to a report by Eyefortransport, "full visibility" is the top demand customers have for deliveries.
Dispatch management software can provide both you and your customers with real-time updates on drivers' whereabouts. This means you can check on individual drivers with ease, while customers can get accurate estimated delivery time windows.
For example, if one of your drivers gets delayed for whatever reason, this will be visible in real-time to both your company and the affected customers. The delay time will be added to the original estimated delivery time, which helps manage customer expectations and can reduce the number of support calls to your contact center. Customers can get self-serve access to the information they need.
---
Dispatch Management Case Study: Flowers, Delivery, and Onfleet customer, BloomNation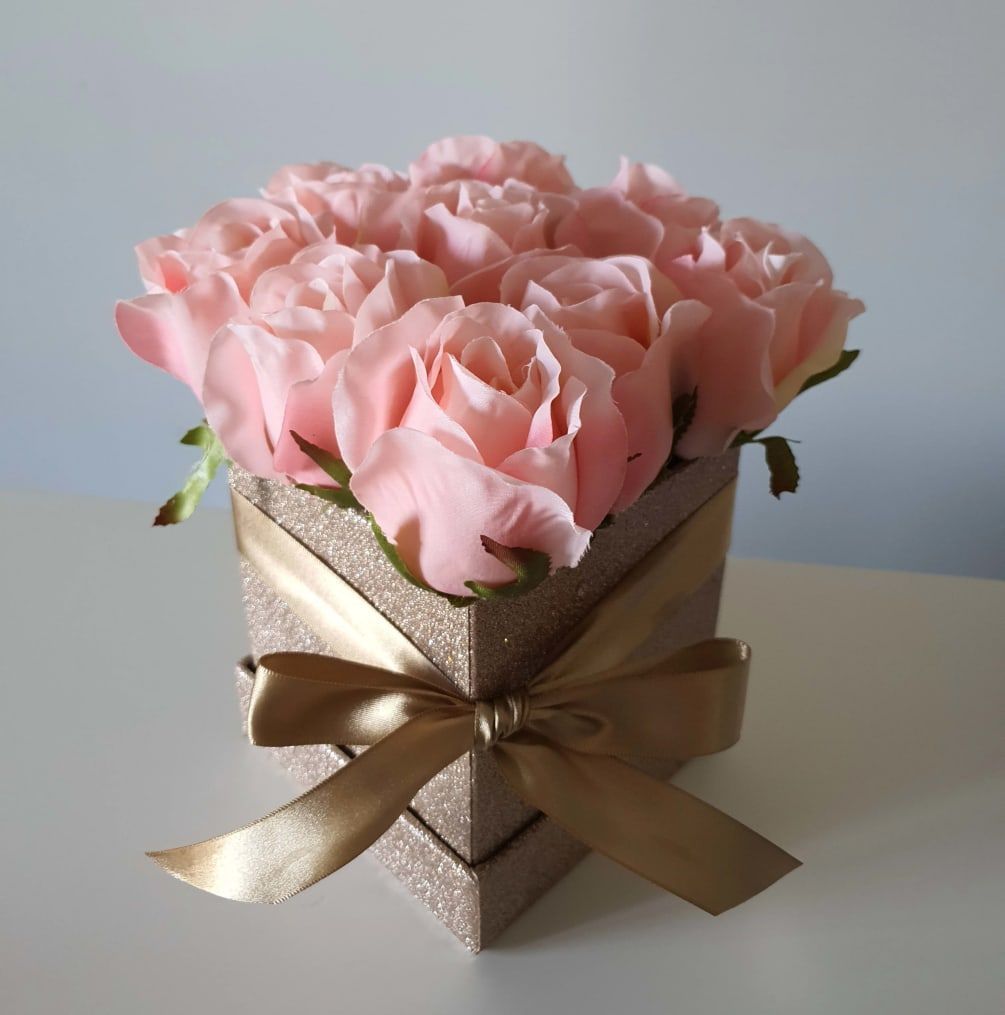 BloomNation and Onfleet helps bring florists new customers,
Most of us associate florists with some element of delivery already in place, especially when we imagine key holidays such as Valentine's Day or Mother's Day. Many of us may even have a local favorite flower shop. And, many florists are in fact, sole proprietors who cater to local tastes, offerings, and seasonal availability. However, when sending flowers as a gift out of town, most of us search online and find the "wire-services," such as FTD, Teleflora, or 1-800-Flowers. These services contract with our local flower stores who, originally, appreciated the additional business. As the emphasis on digital and delivery has escalated, many of these businesses have sought help through the right technology partner.
From the beginning, Onfleet customer BloomNation was an ecommerce platform at heart, rather than a traditional "florist," though the founders came from a family background in this space. BloomNation's service emerged to help florists grow by connecting them with local customers via modern digital tools such as SEO for search engines, email marketing, social media, and more.
"BloomNation developed a marketplace that serves these 'mom and pop,' or, single-store owner flower shops. We help them become findable, functional, and convertible for both local and faraway customers seeking a better, more beautiful choice. With BloomNation, they have access to smart ecommerce and site design, SEO, and we charge a much lower fee than the wire-services," said Sean Ogino, Director of Marketing.
As business grew with these new customers and delivery accelerated dramatically during the pandemic, the need for a smart dashboard extended beyond customers to the florists' dispatchers themselves as they managed multiple and variable deliveries. By adopting Onfleet's delivery management software, floral admins who partnered with BloomNation's ecommerce tools were able to efficiently dispatch during peak periods, gain full visibility on analytics, driver performance, and harness the power of route optimization.
"We also offer best practices and owner education. They now have access to a dashboard, can evaluate what customers like best, and which areas of their business are most profitable, so they can make their own informed decisions about where to invest and how to adapt," noted Josh River, BloomNation, Director of Partnerships.
---
What to Look for in Delivery Dispatch Management Software
You'll find plenty of dispatch management platforms on the internet. Before choosing a solution, here's what you need to look for in delivery dispatch management software:
Route optimization
Route optimization is the process of finding the best route for delivery drivers to get a parcel from the transportation hub or warehouse to the end customer, as quickly and cost-effectively as possible.
It isn't just about finding the shortest route. It's about minimizing the total driving time when making any number of stops, factoring in variables such as:
Delivery time windows
Vehicle load capacity
Driver's schedule
Driver proximity and/or hub location
Traffic congestion
Traffic accidents
How far the different stops are from one another
Planning a route that accounts for all these variables would be extremely tedious to do manually. Think about it: Even if you have just a few delivery vehicles with 10 stops each, there can be an almost infinite number of different routes.
With dispatch management software, you can calculate the best routes in a matter of seconds, maximizing the number of deliveries your drivers can make (and therefore the amount of revenue your business can generate).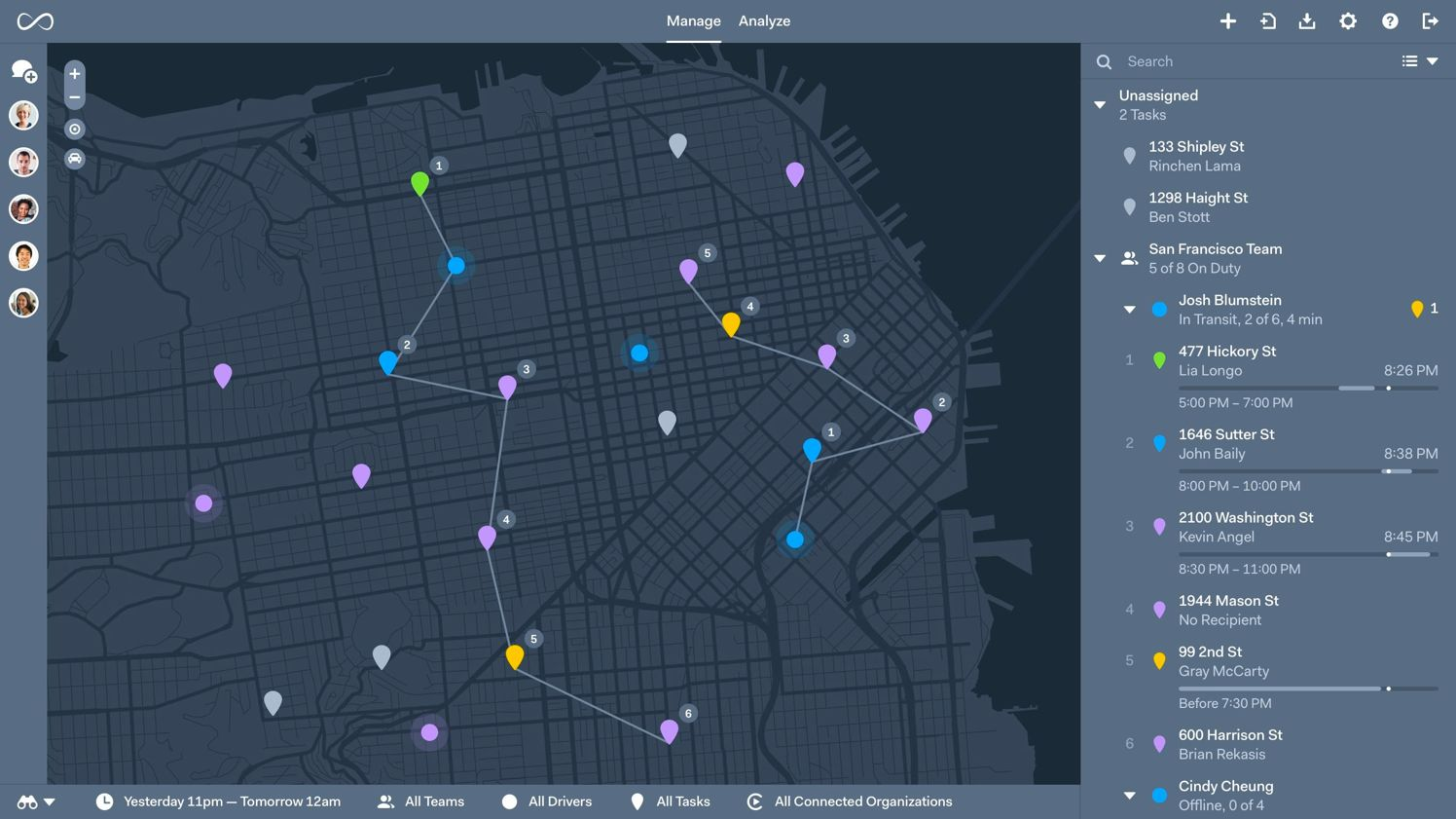 Auto-dispatch
With dispatch management software, delivery managers can set rules to automatically assign deliveries based on proximity and route distance. Upon dispatch, drivers will be notified exactly where to go and when and receive a map of their route along with any other instructions they'll need right on their mobile device.
Just think of how much time this saves when compared to manual dispatching!
Onfleet takes the experience a step further, allowing drivers to collect proof of delivery — photos, signatures, and barcodes — right from their mobile device.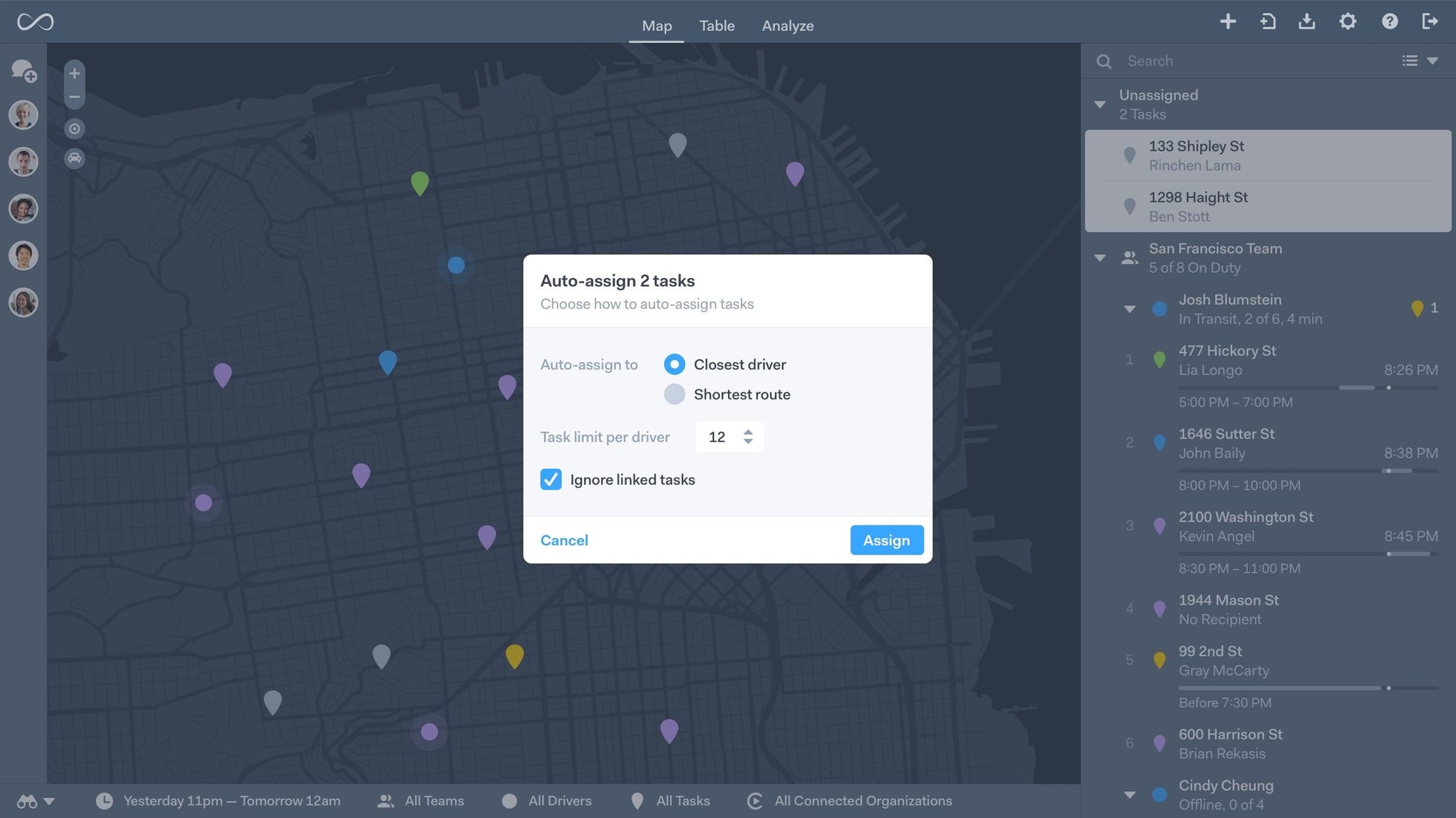 Search and filtering
The dispatch management software you use should be user-friendly and let you find the information you need quickly and easily. One thing to look out for is the search and filtering capabilities.
Being able to filter by time, team, and status will let you focus on what matters most. You should also be able to search these categories to find specific drivers, customers, or pick-up/delivery tasks.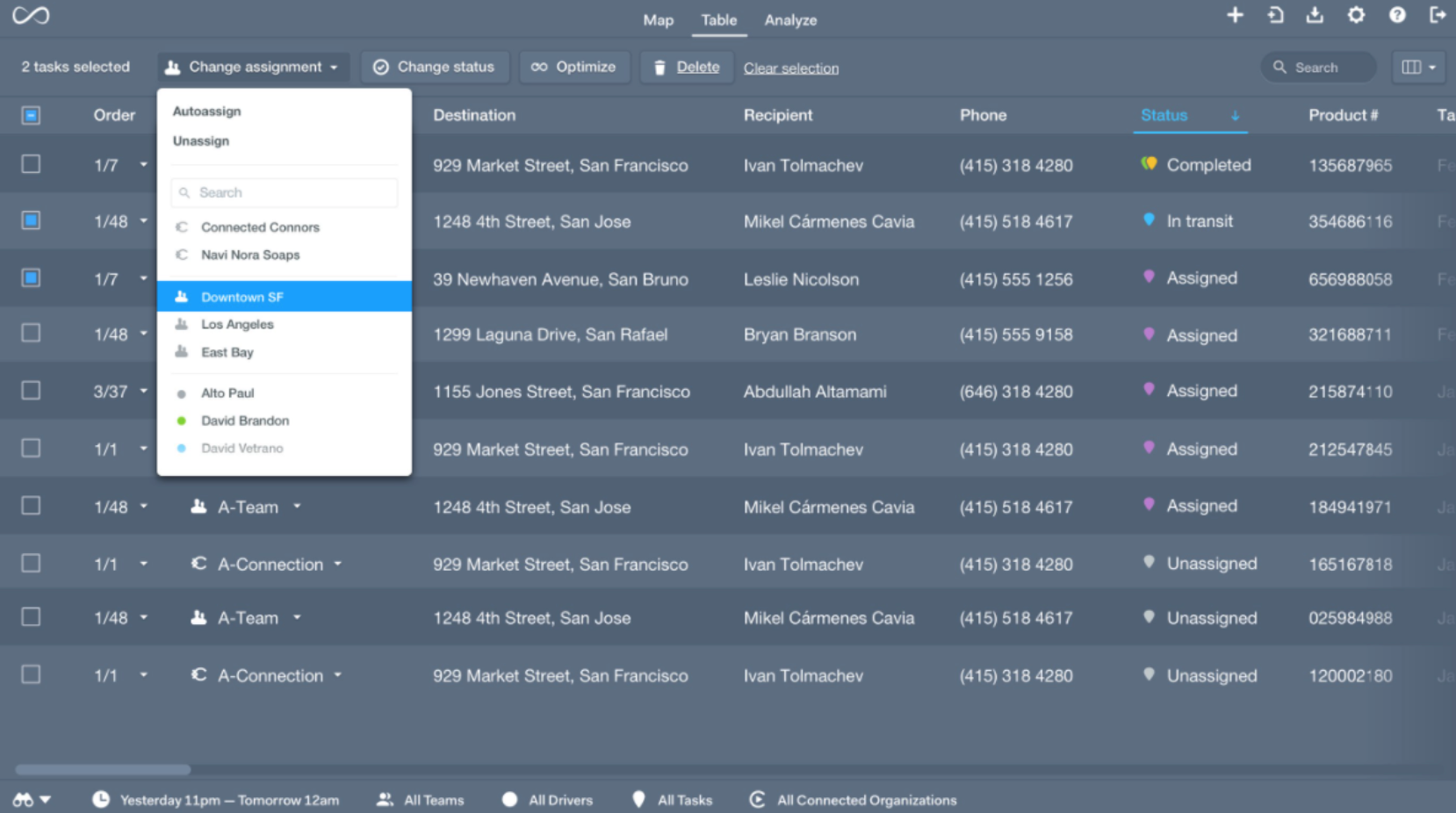 Real-time driver tracking
You and your customers have at least one thing in common: You both want to know where your delivery drivers and vehicles are!
For you, it's about driver-tracking, whereas for customers, it's about when they'll receive their delivery. Dispatch management software satisfies both needs by providing live driver locations with accurate ETAs.
Here's an example of Onfleet's tracking interface. Beautiful, branded, and responsive: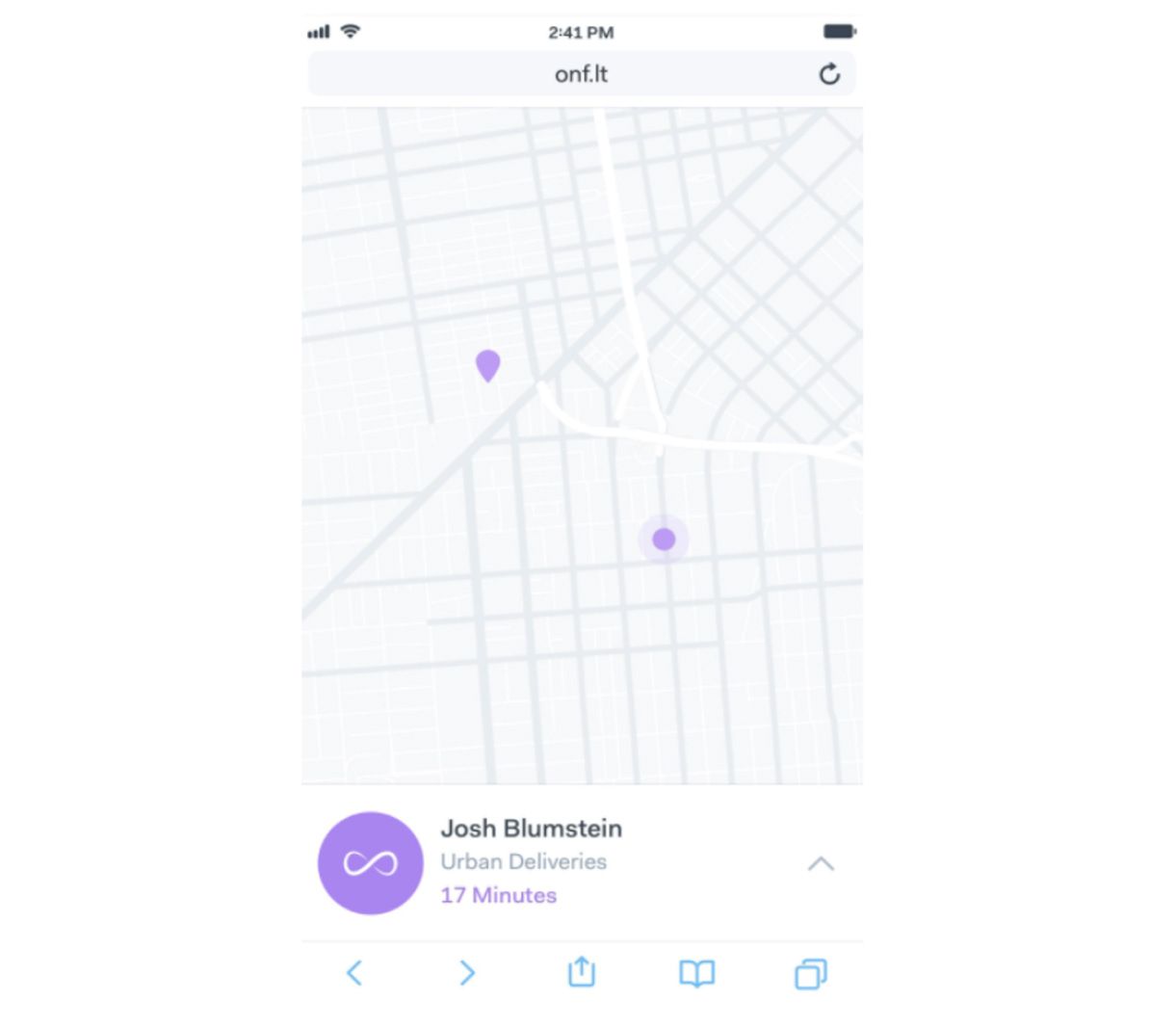 Predictive ETAs
As we mentioned in the previous point, dispatch management software has the power to let your customers know exactly where their deliveries are and when to expect them.
With Onfleet, you can send your customers automatic status updates when their delivery has started, as well as delivery ETAs, through text messages, branded in your own preferred language.
You also have the option to allow your customers to communicate with drivers, dispatchers, and call centers, empowering your team to problem-solve in real-time.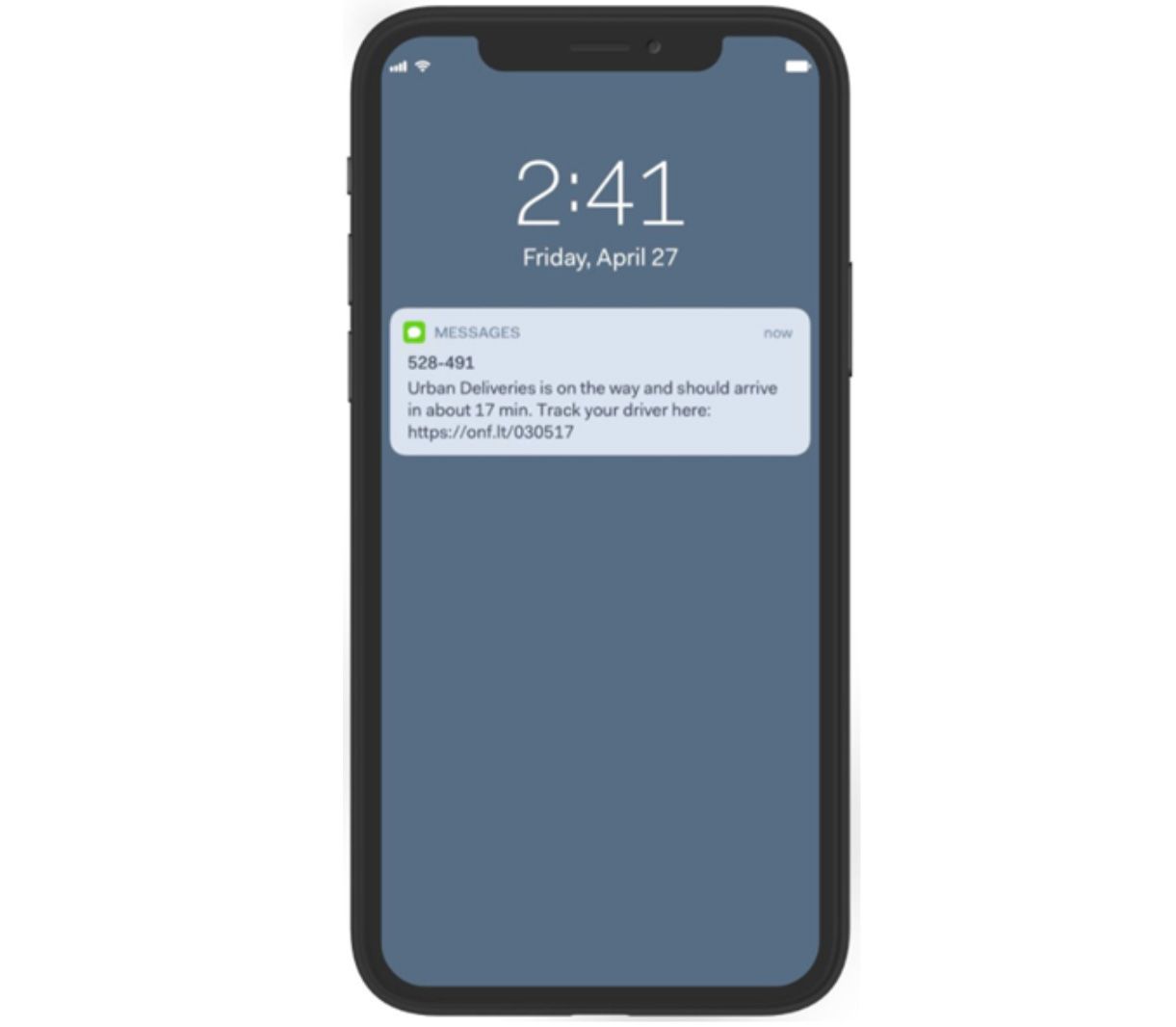 Team communications
Consumer apps weren't designed for business communications, so make sure the dispatch management software you choose has an internal communication feature.
With Onfleet, your entire team can communicate inside a private, secure, designated chat platform.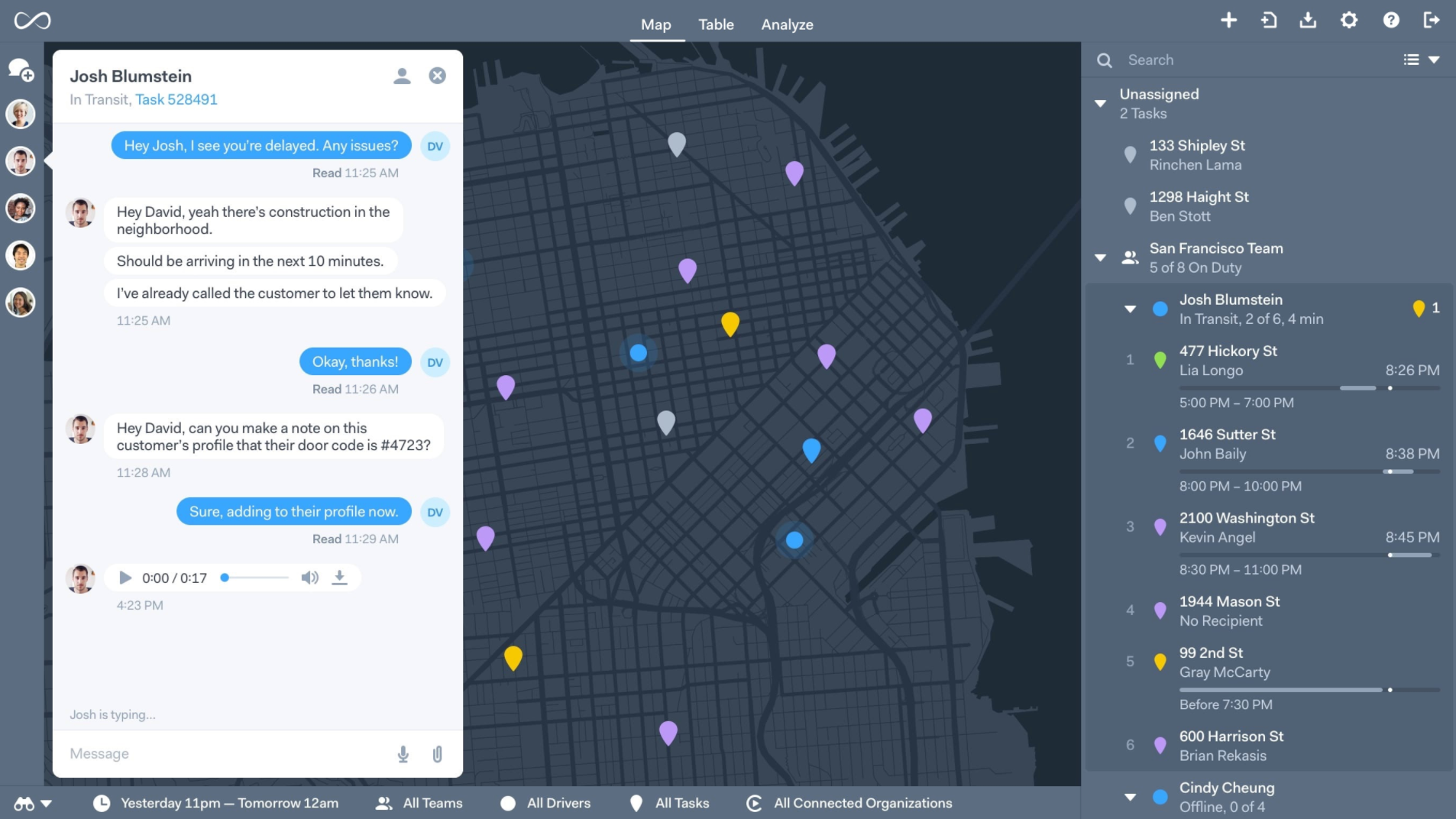 Driver reporting
A good dispatch management system will give you metrics you can use to continuously improve your operations and ensure they're as efficient as possible.
Most dispatch optimization software comes with built-in reporting capabilities, so you can see precisely which areas need to be improved to lower costs and increase profits.
For example, every delivery operation should be tracking these KPIs:
On-time rates
Service times
Successful deliveries
Customer feedback ratings
Idle time
Drop-offs per pickup
With Onfleet, managers and drivers can view these KPIs and segment the data by team, driver, day, week, and hour of the day. This level of insight makes it easier to identify costly bottlenecks in the delivery process.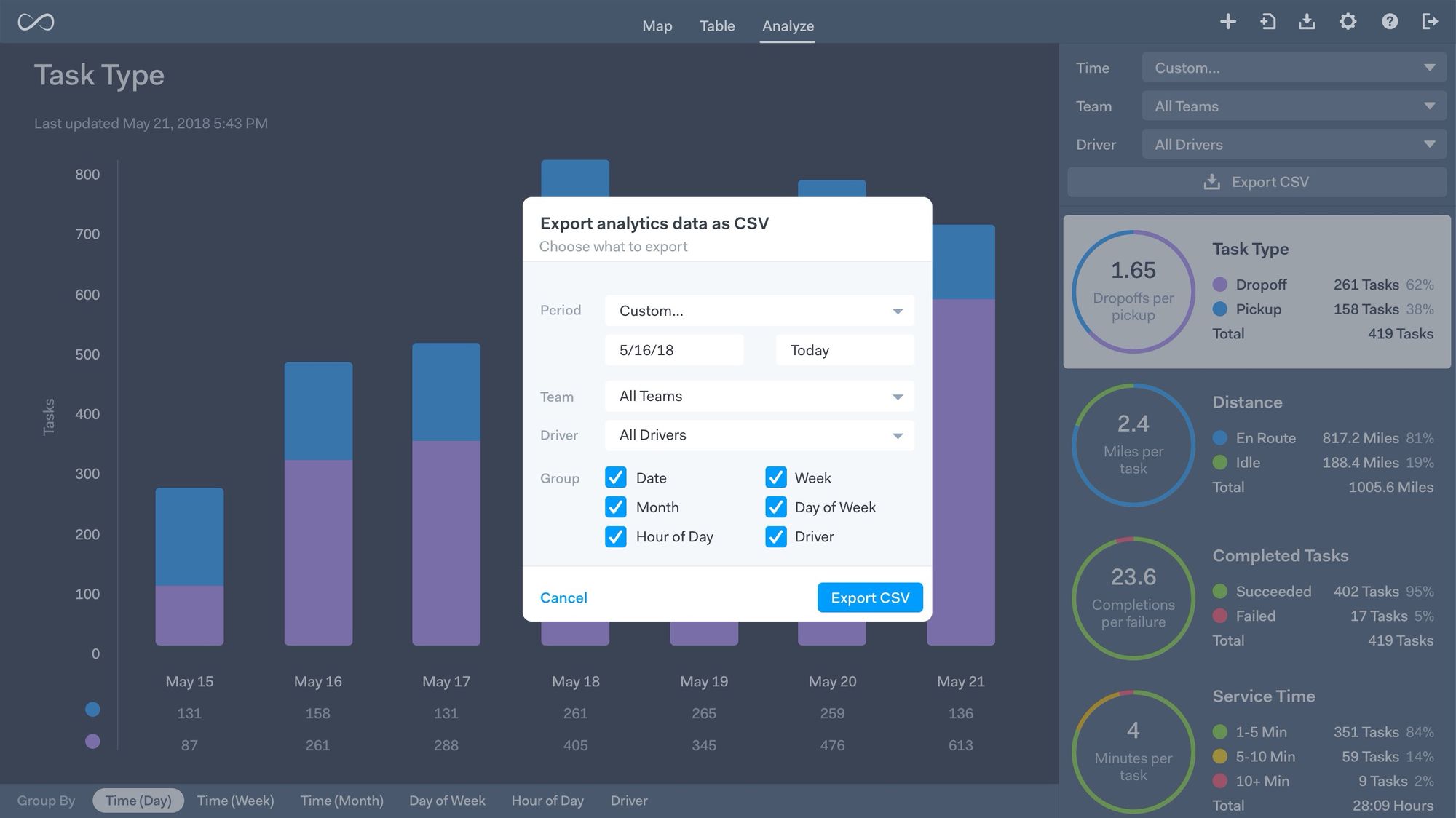 Improve Your Dispatch Management Today
With the right delivery dispatch management software system in place, teams will be empowered to maximize productivity — and customer satisfaction. It will put you in the "driver seat" of your own business to dispatch with confidence.
Want to learn how Onfleet can help? Get in touch with our sales team or start your 14-day free trial today!
---