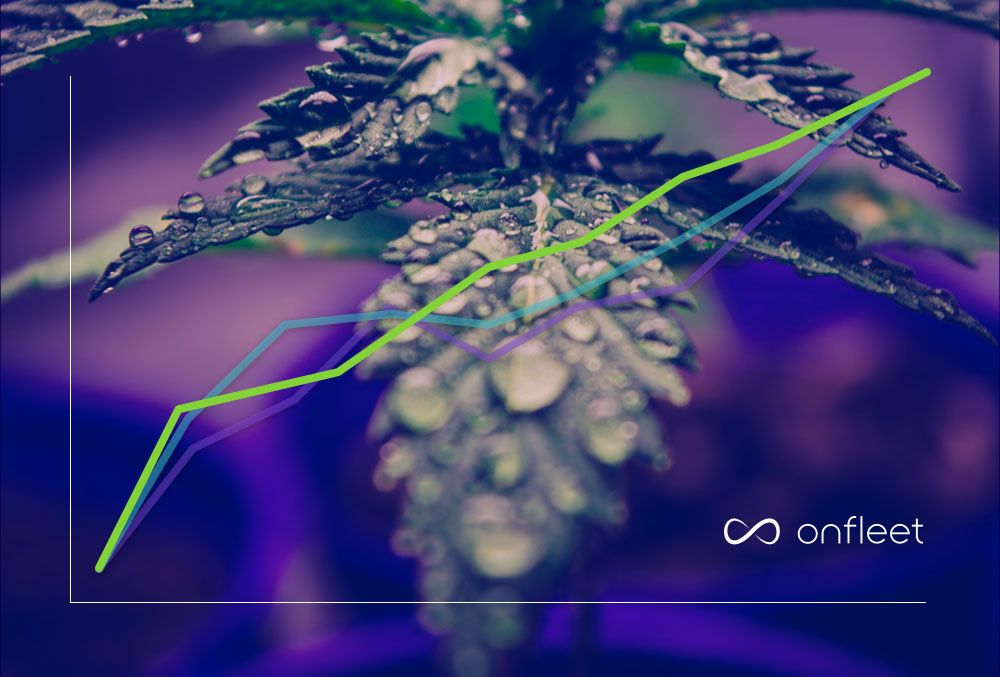 With 4/20 fast approaching, we decided to take a look back at how the Super Bowl of cannabis has impacted the industry — specifically the delivery of cannabis — over the past couple of years.
If you're in the industry, we hope this guide will help you prepare for the big day. If you're a consumer, we hope our analysis ensures you successfully get all of your favorite goodies delivered in time for the festivities! By the way, if you've ever been curious how these festivities even came to be in the first place, check out this Time article from last year.
In 2017, we took a retrospective look at delivery data from what was, at the time, an impressive list of dispensaries delivering a high volume of goods on 4/20. We then published our after action report a day later on 4/21.
This year, we've decided to do something a bit different. With the data from the now hundreds of cannabis dispensaries and delivery only services utilizing Onfleet's last mile delivery software to manage their fleet, we've put together a predictive guide to help inform you about the upcoming 4/20 delivery madness.
Without further ado, Onfleet would like to formally present The 2019 Onfleet Guide to 4/20 Delivery!
---
Where is cannabis now legal?
It has been hard to keep up with the flurry of cannabis legislature sweeping the nation over the past couple of years, so here's a quick recap. The legalization of cannabis varies by state, and sometimes the delivery legislation even varies by municipality. California recently legalized delivery across the state, but on 4/20 last year there were some cities in California where cannabis delivery wasn't entirely legal. So, it's complicated.
Currently 10 states — including the District of Columbia — allow recreational cannabis, with another 24 having legalized medicinal cannabis with proper recommendations. That includes New Mexico which, just a few weeks ago, decriminalized cannabis consumption. Additionally, the Connecticut Judiciary Committee provisionally approved a general legalization bill last week. Today, a whopping 25% of the US population has access to recreational cannabis, and less than 33% has no legal access to it. That number is shrinking rapidly.
---
What delivery trends to expect on 4/20?
Based on the data compiled from the millions of cannabis deliveries Onfleet has powered over the years, these are some of the volume and ordering trends to expect on the upcoming holiday:
In summary, our predictions show a more nuanced consumer influencing delivery spikes during the days leading up to 4/20. Customers are no longer waiting until the last minute to order their holiday treats. Expect across the board volume spikes starting a couple of days prior to the holiday.
Additionally, we're predicting similar hourly ordering spikes not just late in the day on 4/20. Based on our data, expect significant spikes early in the day, with elevated volume continuing until late in the evening.
Bad news, it's going to be a long day. Good news, this should be a record week for order volume!
---
What ordering trends to expect on 4/20?
Just as we predict a more prepared customer base will influence volume spikes starting the days leading up to 4/20, we also predict that this experienced customer base will also influence a decreased average basket size on 4/20. This holiday attracts many casual and first time customers, which will actually decrease the average order size during the big day.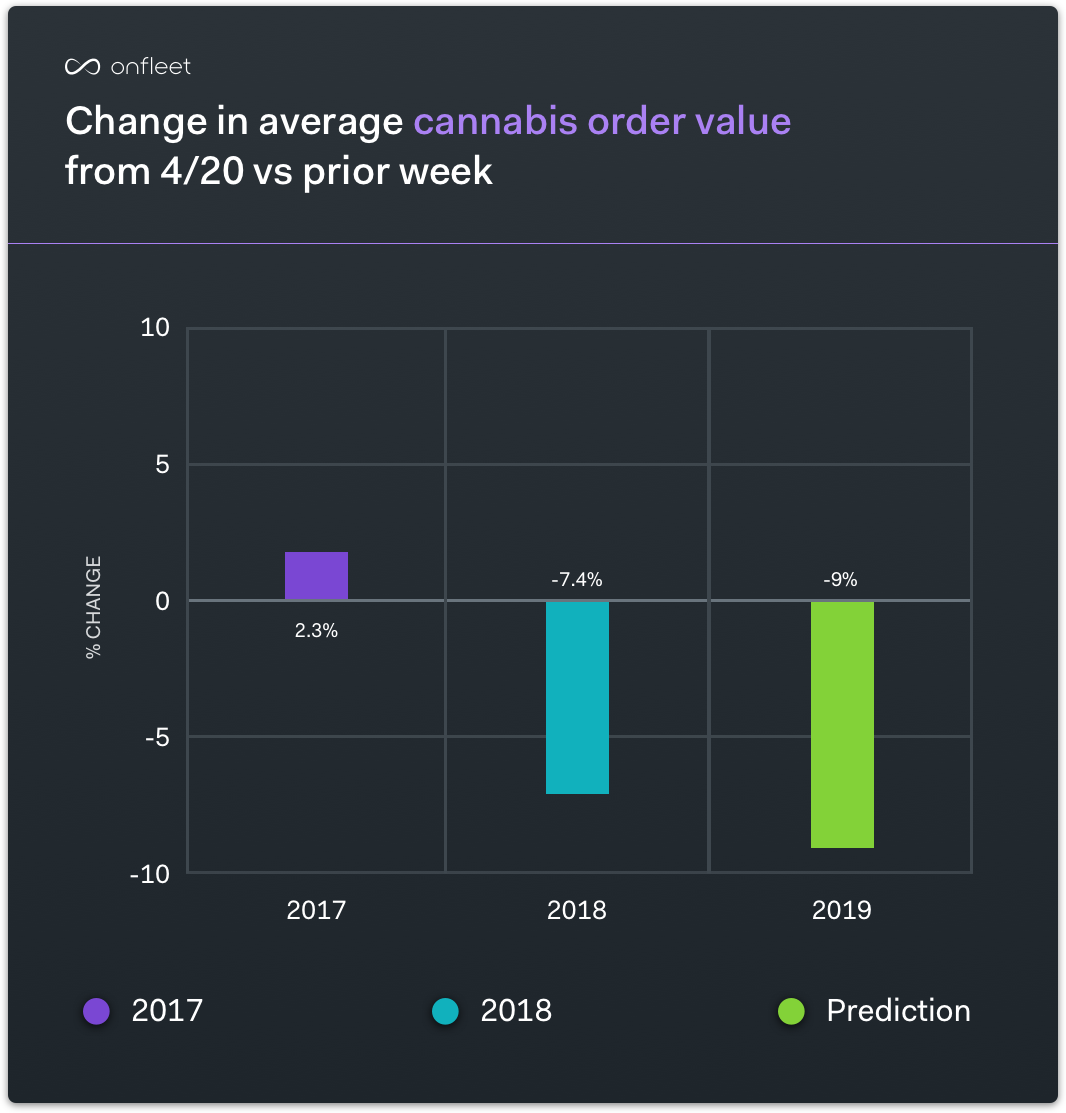 Having said that, coupled with the elevated order volume, be sure to have plenty of stock on hand because the customers, new and old, will be placing their orders!
---
What staffing and delivery trends to expect on 4/20?
Knowing how to staff for the holiday can make all the difference when dealing with the aforementioned volume increases. It's obvious that you're going to need extra staff to handle the crazy day, but it can be difficult to predict exactly how many extra people you'll need to cover everything.
Take a look at some of these interesting data points that can help you and your team nail that number and knock this holiday out of the park:
---
We would like to thank all of the Onfleet users that made this data driven guide possible. We'd also like to share a special shout out to our longtime partners, Caliva and Nugg. As a special offer, use the code "ONFLEET420" when checking out to receive a discount on your orders between 4/19 and 4/20!
Are you a cannabis dispensary or delivery service that wants to improve your delivery efficiency and provide a delightful customer experience? Learn more about how Onfleet can power your operations or contact our sales team for a demo.
Lastly, we would like to wish everyone a happy, profitable and, most importantly, safe 4/20!