---
Blame it on Amazon, but your e-commerce logistics must be seamless, predictable, and lightning-fast if you want to stay in the game.
Today's customers take "fast and free" shipping as a given and expect online retailers to offer the same experiences as big name brands.
Fortunately,  brands of all sizes now have access to technology that allows them to streamline the entire logistics chain--from inventory planning to the last mile.
In this article, we'll break down everything you need to know about e-commerce logistics and what to look for when sizing up solutions.
---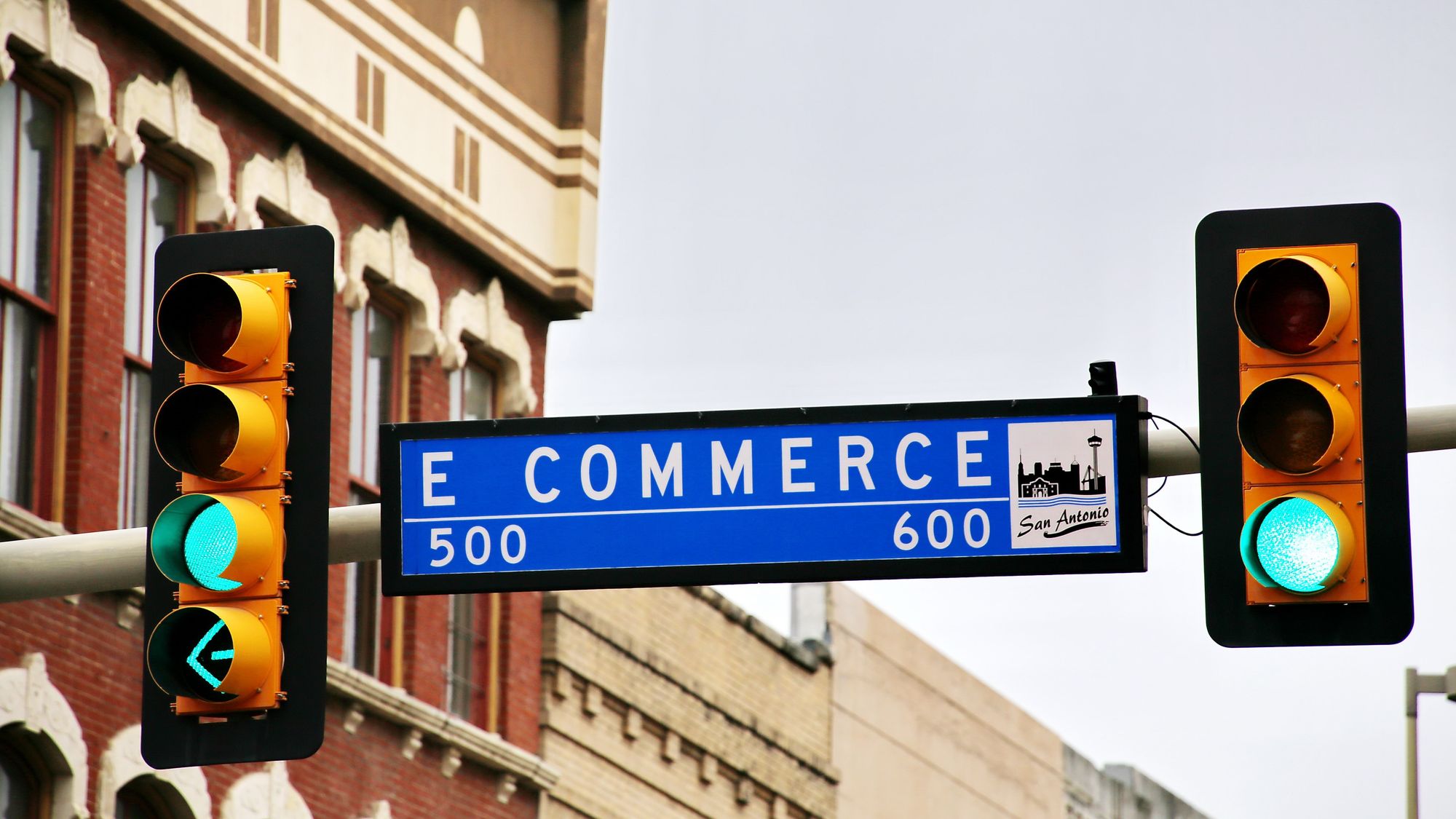 What is Ecommerce Logistics?

E-commerce logistics is an end-to-end process that ensures online retailers can efficiently and reliably deliver packages to customers.
As online shopping continues to explode, millions of packages are shipped across the country each day—as evidenced by the number of Amazon boxes (and vans) you'll see walking around any neighborhood in the US.
For online retailers, it's critical to have a system that ensures every order lands in the arms of customers right on-time.  
To make that happen, businesses rely on integrated systems that allow them to manage all activities in one place, as well as AI, automation, and robots that help them keep up with otherwise impossible demands.
E-commerce logistics must be embedded in every aspect of the business--not just digital fulfillment (inventory management, storage, and order processing).
It needs to be integrated with all internal (customer-facing and back-office) and external operations. That includes the full network of vendors, carriers and warehouses you rely on to run your business.
---
From Click to Customer: 5 Key Logistical Components

Your logistics stack depends on several factors. Think: size, business model, distribution channels, locations, carriers, and so on.
That said, every e-commerce logistics system must include the following five components:
Suppliers
The first component is the suppliers you buy from.  They might be manufacturers who make your products or vendors that provide raw materials, packaging, or parts. Suppliers ship items to your warehouse or distribution center when you place an order.
While it's a pretty straightforward idea, it's important to understand that supplier management plays a key role in any e-commerce logistics strategy.
Business leaders need to negotiate the best rates, bundle orders, and meet minimums. They also need to time their orders based on factors like customer demand, market conditions, and global events that could impact the supply chain.
Fulfillment centers
Fulfillment centers are large warehouses that allow retailers to store inventory close to end-consumers. Rather than operating out of one central location, fulfillment centers make it easy to pick, pack, and ship orders to ensure fast delivery times.
Fulfillment centers may be owned by the e-commerce business itself (think Amazon or Walmart) or a third-party logistics (3PL) service that performs warehousing and fulfillment services for several brands.
Distribution centers
Unlike fulfillment centers, which focus on getting orders to end-consumers, distribution centers receive, store, and distribute inventory to retail stores.
If you sell to B2B accounts, distribution centers allow you to manage those orders in a separate location than your direct-to -consumer (DTC) orders. This is important because B2B orders require different fulfillment processes - they're typically much larger, require different packaging, shipping arrangements, and warehousing.
This separation allows brands to get orders to consumers faster and streamline operations on both sides of the business.
Warehouse facilities
Warehouses are used for storing and sorting finished goods. Unlike distribution and fulfillment centers, warehouses don't typically handle order fulfillment, packaging, and delivery.
Instead, e-commerce companies use warehouses to manage and control their inventory. Warehouses help companies match supply to consumer demand, store extra goods in case of emergency, and keep items secure and organized until it's time to send them to distribution channels.
Delivery operations
Delivery operations refer to the methods you'll use to transport orders. That includes trucking companies that move inventory from warehouses to fulfillment centers, in-house fleets, and large carriers like FedEx or UPS.
Increasingly, we're starting to see more companies embrace last mile operations like USPS handling, ad hoc delivery via gig economy apps, and even delivery drones/bots.
With more ways to transport goods, brands need a system for managing different legs of the journey and choosing the carriers/methods based on factors like speed, costs, and impact on the environment.
---
6 Ways to Improve Ecommerce Logistics
Improving e-commerce logistics is an ongoing process that involves the entire supply chain.
Here are six high-impact areas to work on:
1. Distribute your inventory

Storing all inventory in a single location might yield short-term savings, however, as you grow, it can have the opposite effect.
If you're shipping everything from one location, you'll either waste money on shipping or lose customers because they don't want to wait 7-10 days for economy shipping.
If you can't afford to lease and staff more warehouse space or don't have the expertise, you can cut costs and improve delivery times one option is using a third-party logistics (3PL) service.
3PLs manage shipments, track inventory, and handle a wide range of fulfillment tasks. Plus, they often can negotiate better rates with carriers than individual retailers.
2. Manage your inventory
Inventory management is a complex strategy. It's not just about ordering, storing, and shipping products, it's about looking at the big picture and balancing a bunch of different variables.
Inventory management starts with complete visibility. That means, making sure that every location, department, and channel can communicate with one another and is working from the same set of data.
This becomes especially important as your company grows and adds warehouses and fulfillment centers to keep pace with new demand.
Avoid incorporating new elements on an ad-hoc basis. This can cause a disconnect between locations, departments, and functions. For instance, you might end up selling out-of-stock items or lose track of orders. Neither of which bode well for the customer experience.
3. Optimize the last mile

Solving the "last mile problem" goes a long way when it comes to improving e-commerce logistics overall. The last mile represents the final stretch of the journey that an order must travel to reach its destination.  
It's the most expensive and time-consuming part of the logistics process and it also has a direct impact on the customer experience.
Companies must invest in technology that increases efficiency and elevates the delivery experience to cut costs, increase margins, and capture a competitive edge.
Here's a quick look at some of the ways you can streamline the process:
---
Reduce delivery times

Improving delivery efficiency starts with good data.
It's about making sure you have complete visibility into the entire logistics system. That includes driver and fleet availability, pending orders, where shipped orders are in-transit, etc.
Make sure all data sources are synced and can exchange information in real-time. This makes it easy to adapt to last minute changes without causing bottlenecks or delays.
Last mile software allows you to automate route planning.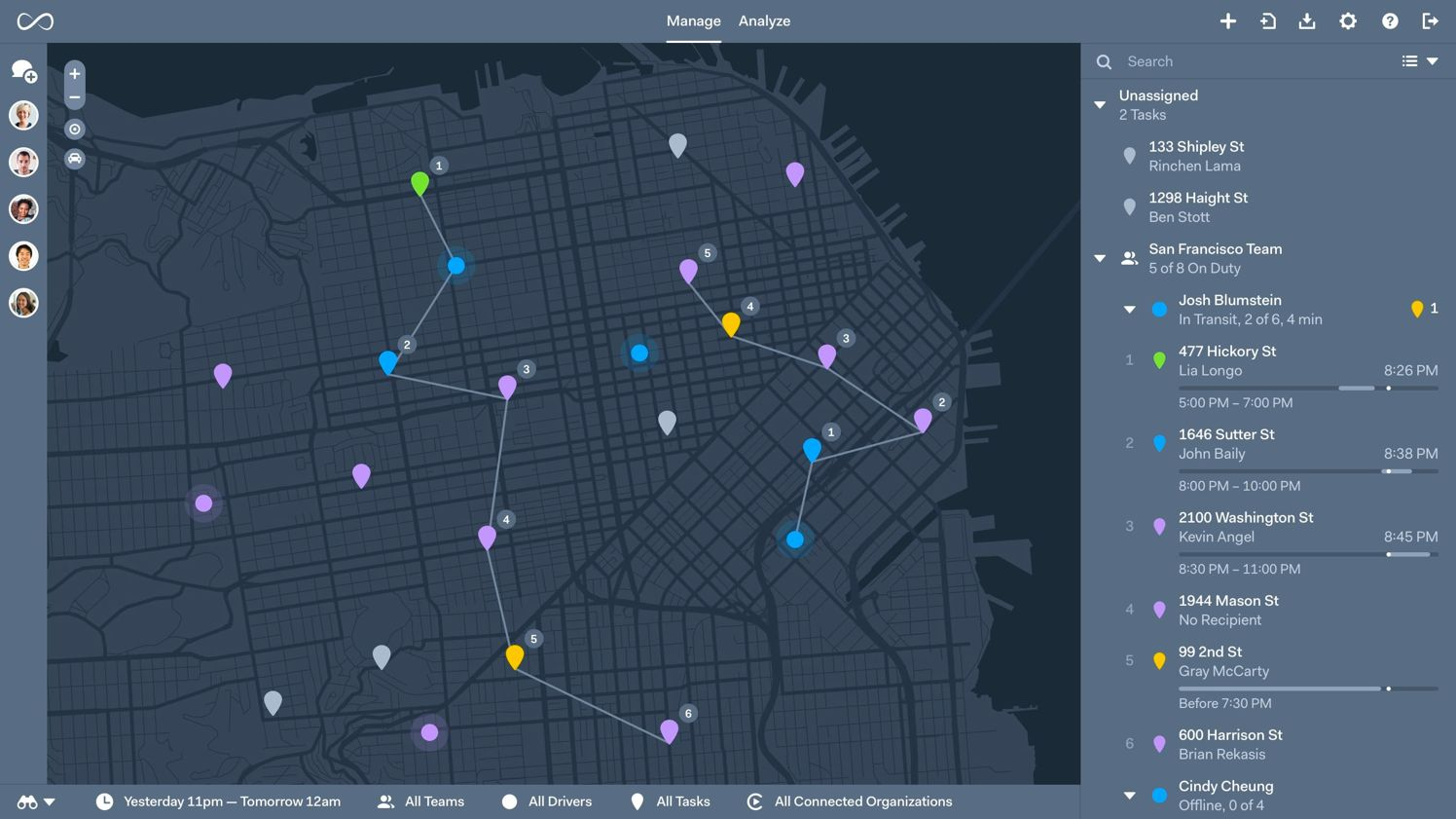 If you're using Onfleet, the platform analyzes factors like time, location, and traffic conditions against historical data to generate the most efficient route possible. What's more, if there's an accident, traffic jam, or a surprise storm, it automatically updates the route and alerts the driver.
Onfleet also allows you to monitor driver performance and filter by team, driver, or a specific time.
Capture and analyze customer feedback scores, success rate, distance, and the number of deliveries. These insights can then be used to help drivers improve—and further optimize route planning.
Beyond that, it's also about enabling drivers to move faster.
Onfleet makes it easy for drivers to connect with customers, capture signatures, and document drop-offs--all from a single interface.
---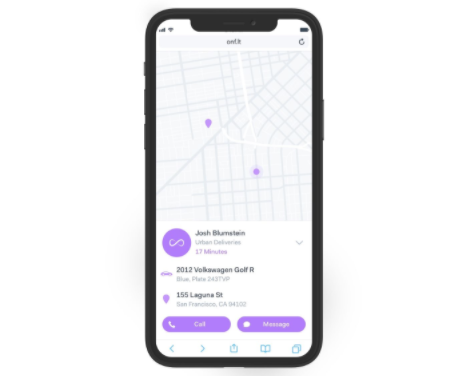 Reduce dispatch costs
Automated dispatch can help you save money by reducing labor costs, service time, and inefficiencies.
If you're using a variety of carriers and last-mile solutions, automation can also ensure that you always use the most cost-effective delivery method.
Onfleet allows you to set custom rules based on distance, driver availability, etc.  Or, you can opt to have the platform do the work for you—optimizing routes, tasks, and speeds based on current conditions and historical data.
---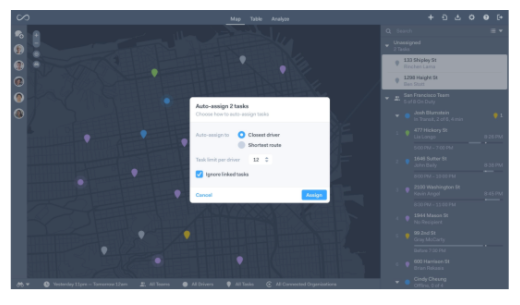 ---
Improve the customer experience
On the customer side, the "last mile" describes what happens behind the scenes when a package is "out for delivery." Unfortunately, that doesn't tell customers when the driver will arrive. This moves from an inconvenience to a more complex problem when a package requires a signature or ID verification.
---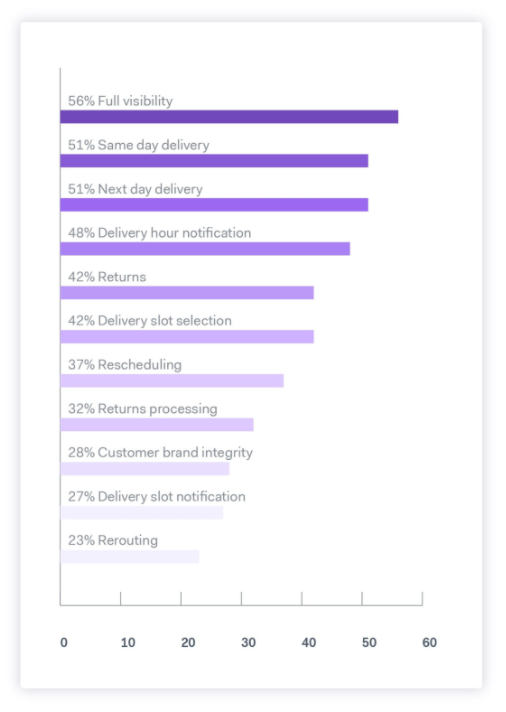 Onfleet brings more transparency to customers with features like automatic status updates, real-time driver tracking, and integrated customer communication that connects end-consumers with drivers and dispatchers with a single tap.
The platform also allows organizations to capture feedback from individual customers and track performance against metrics like on-time rates, distance, success rates, and more.
That way, brands can pinpoint exactly what areas they need to work on to improve the customer experience.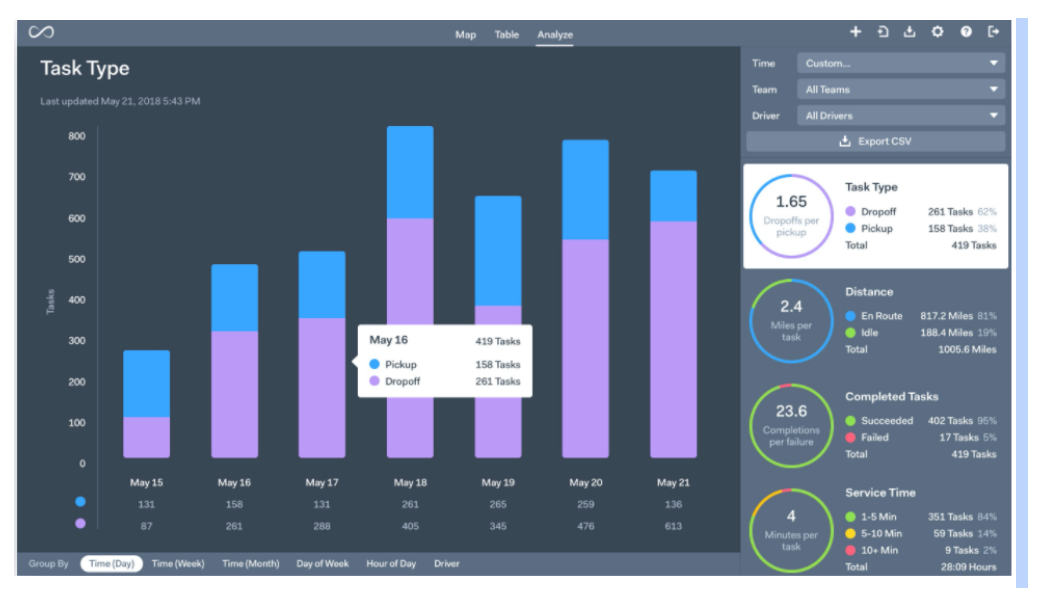 ---
Onfleet's Contactless Signatures is a new feature, launched in 2020 to keep drivers and recipients safe during COVID lockdowns.
Customers and drivers can communicate via SMS, while real-time tracking lets recipients know when the driver is outside.
Customers receive a link to a signature page, allowing drivers to complete the delivery without requiring the customer to come outside.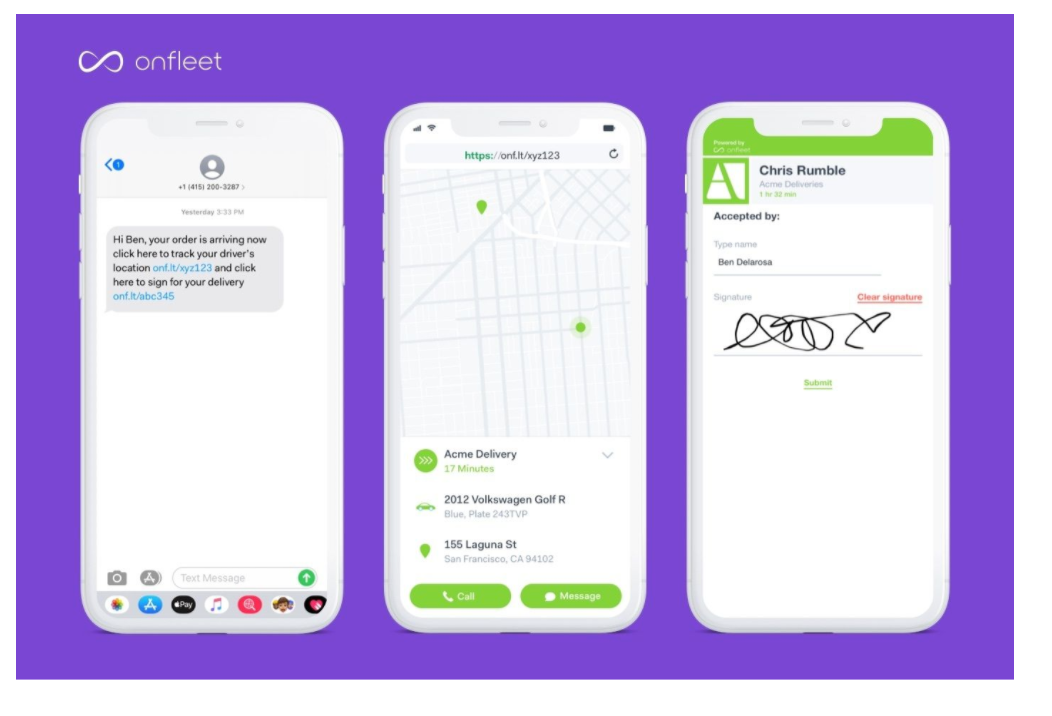 ---
Provide proof of delivery

Proof of delivery is a binding agreement between sender and recipient. It confirms the order reached its final destination in good condition, with all pieces present.
Traditionally, proof of delivery was a manual process where the customer signed a form to confirm the delivery. Today, electronic proof-of-delivery is becoming the norm.
Onfleet includes proof of delivery features that allow drivers to capture the information they need to complete the job.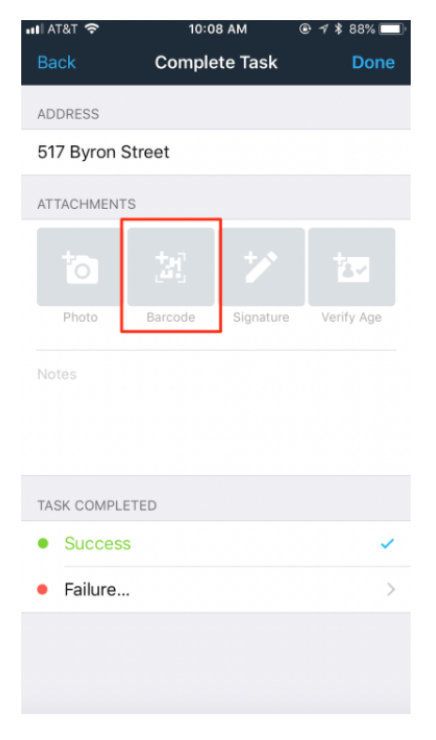 Barcode scanning can confirm that the right package was delivered, while photo capture shows that the item was delivered to the right place.
Drivers can also capture ID verification and electronic signatures, if needed.
Ultimately, these features help brands protect themselves from false claims and legal liabilities without causing delays.
---
4. Offer free (and fast) shipping

Customers not only want fast and free shipping, they expect it.
Fast delivery requires retailers to have the right technology and processes in place. Think automating order routing and dispatching and using robotic process automation in the warehouse.
It also means, you'll need to build a data ecosystem that unifies all locations, departments, and activities involved in the process.
The other half of the equation comes down to proximity. One of the key reasons Amazon can promise two-day turn-arounds is because they have distribution centers all over the world.
---
5. Decentralized warehousing

Rather than fulfilling orders from a handful of regional distribution centers, retailers are looking toward smaller facilities located closer to population centers.
Some brands convert physical retail space into shipping centers, while others set up dedicated mini-warehouses or fulfillment centers.
Decentralized warehousing allows retailers to increase delivery speed and reduce costs. According to one recent study, decentralizing warehousing can reduce shipping costs by an estimated 25%.
What's more, it also reduces dependency on large 3PL companies, allowing you to work with regional carriers who can help you further reduce costs.
---
6. Improve reverse logistics

More orders means more returns and you'll need to get them picked up and processed as quickly as possible.
That means, you'll need to streamline your process for managing returns--often called "reverse logistics." The idea there is, returns should be treated like a purchase in reverse--and approach the transaction with the same speed, accuracy, and care that goes into managing the actual purchase.
Reverse logistics matter because they build customer confidence. You want to assure them that they won't be stuck with a product that doesn't meet their needs--and that they don't need to jump through a bunch of hoops or pay hidden fees to make it happen.
To improve this process, you'll need to understand it. Make sure you can answer the following questions:
What are the costs?
How many times does the package change hands?
Will you resell the items?
Liquidate them?
Do you charge restocking fees?

You'll also want to separate returns from order fulfillment to get them processed ASAP.
---
4 Ecommerce Logistics Trends That Will Shape 2022
The trends shaping the future of e-commerce logistics builds on what's been happening over the past decade, combined with the many ways COVID changed the game.
Consumers will expect faster delivery times
According to Invespcro, 56% of customers between 18 and 35 expect same-day delivery.
Faster delivery times can help brands improve loyalty, reduce cart abandonment,  and increase upsells. But, in order to pull off the fast turn-around times customers expect, they'll need to invest in upgrading their fulfillment strategies.
In 2022, expect to see more companies embrace micro-warehousing solutions in urban areas. This will help e-commerce brands store products closer to end-users, speed up delivery times, and potentially, cut back on carbon emissions.
Additionally, demand for 3PL services is expected to rise, as brands look for ways to streamline the logistics process without taking on more costs than they can handle.  
---
More companies will invest in last mile delivery

Investments in the global last mile delivery market are continuing to rise - with a projected 20% growth rate between 2020 and 2030.  The explosion in last mile investment tracks with some of the broader e-commerce trends we've seen in recent years. Most notably, the increased pressure for brands to adapt to customer needs/market conditions in near real-time. But also, the fact that brands now compete on experience more than factors like price or product.
And then of course, the pandemic placed a huge amount of pressure on the last mile delivery system.
According to McKinsey, the US saw 10 years' worth of growth within three months of the March 2020 outbreak—creating bottlenecks, delays, and higher delivery costs.
---
Sustainability will have bigger impact on purchase decisions

Sustainability may seem at odds with the demand for fast delivery times and the continued rise of e-commerce. However, brands need to adapt more climate-friendly packaging and logistics solutions if they want to stick around for the long-haul.
According to Capgemini research, 79% of customers are changing purchasing habits because of sustainability. Yet, 36% organizations say they believe customers will change habits based on environmental or social impact. Analysts warn that retailers that don't address this gap could lose roughly 6% of revenue.
E-commerce companies can improve their environmental impact in several different ways. Here are a few that come to mind:
Embracing circular economy practices
Planting trees to offset carbon emissions
Investing in electric vehicles
Developing a program for reselling/recycling used merchandise
Reducing packaging
Selling products that support sustainability
Partnering with vendors/carriers that support sustainability
---
Consumers will demand greater transparency during the delivery process

The June 2021 Edelman Trust Barometer declared that trust is the "New Brand Equity." Researchers found that 68% of consumers say it's more important that they can trust the brands they use today than in the past.
While the trust conversation often centers on how brands use consumer data, transparency matters in the context of the supply chain, too.  
According to MIT Sloan, organizations should focus on the areas their customers care about most. The article uses the example of an organic grocery chain vs. a discount grocer. The organic chain might opt to disclose the individual farms they get their food from, as well as how that produce makes its way into stores.
The discount retailer, by contrast, might be better off not sharing that information. Still, if there's an e-coli outbreak, both chains need to be able to identify the source and share that information with customers.
Transparency also needs to happen at the individual level. It's no longer enough to send a shipping confirmation and vague status updates.
Customers want more control over the delivery experience. Think: up-to-the-minute ETAs and the ability to reroute packages or correct a wrong address. This helps reduce the chances of a failed delivery attempt and improve the customer experience.
---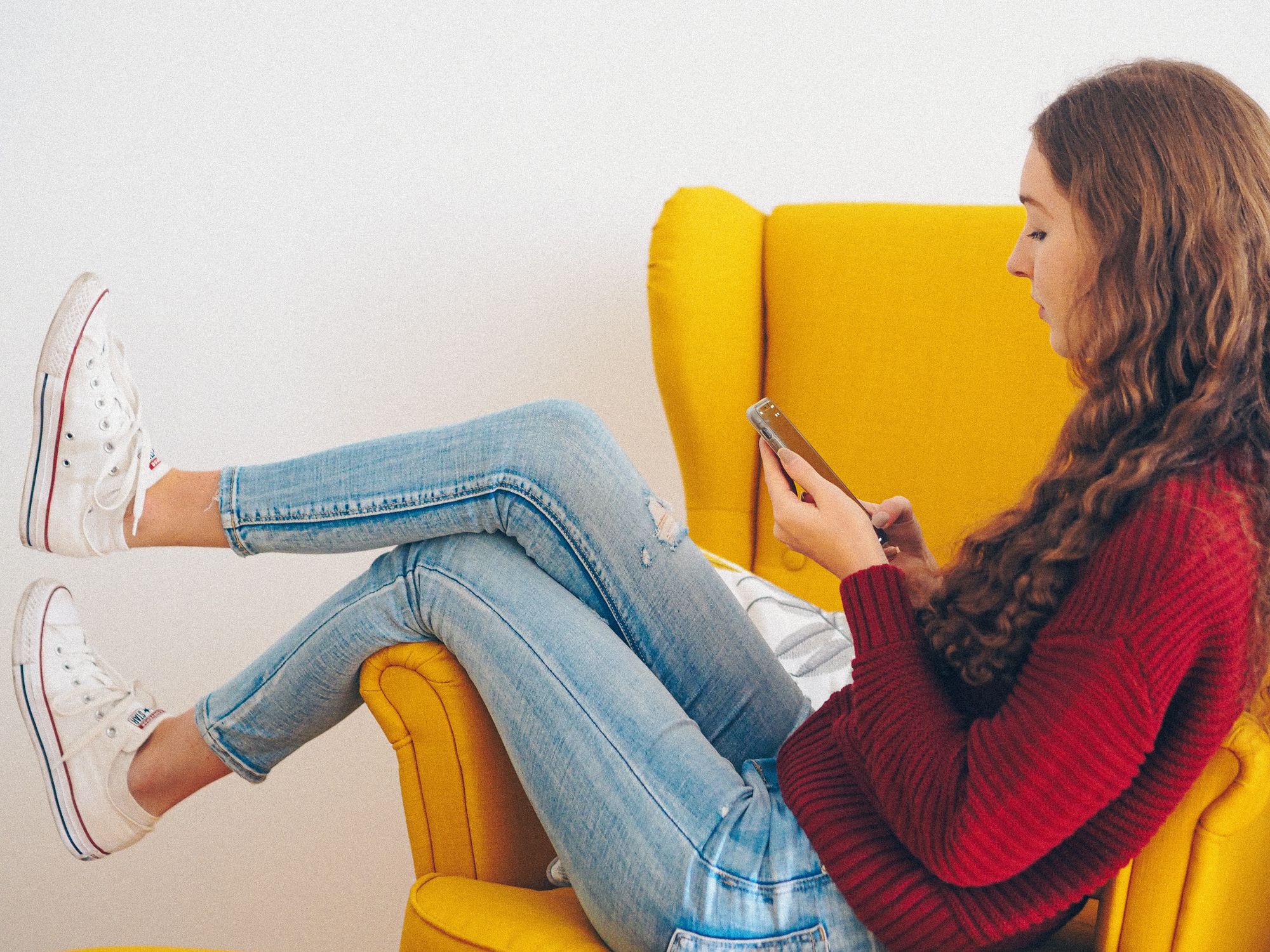 Final Thoughts

If e-commerce logistics isn't a top priority, the odds your business will survive are pretty grim. Customers don't care if you're a digital mom-and-pop or a massive enterprise. If they can't count on you to deliver their order on-time, they'll ditch you for someone who can.
But it doesn't have to be that way.
Last mile solutions allow retailers to streamline operations, reduce costs, and enhance the customer experience with fast turnaround times and more transparency.
Onfleet has helped thousands of brands transform their last mile delivery operations with features like real-time fleet tracking, automated dispatch, route optimization and deep insights into the metrics that matter most.

Sign up for the 14-day trial to get started.