Climate change is the greatest challenge of our time.
In less than nine years, by 2030, the worst impacts of climate change will become irreversible. We will have warmed our atmosphere to more than 1.5°C above pre-industrial levels, leading to extreme weather events, mass extinction of millions of species, sea-level rise, acidification of our oceans, mass migration, and disease. Nine years.
We are, in fact, already experiencing many of these changes today, on a global scale, and yet our emissions continue to rise. Just a couple of weeks ago, we hit a new record level of CO2 concentration in our atmosphere: 420 parts per million. We need to cut global emissions by around 50% this decade if we are to limit global heating to under 1.5°C, and yet they are expected to rise by 5% in 2021 and even more in 2022.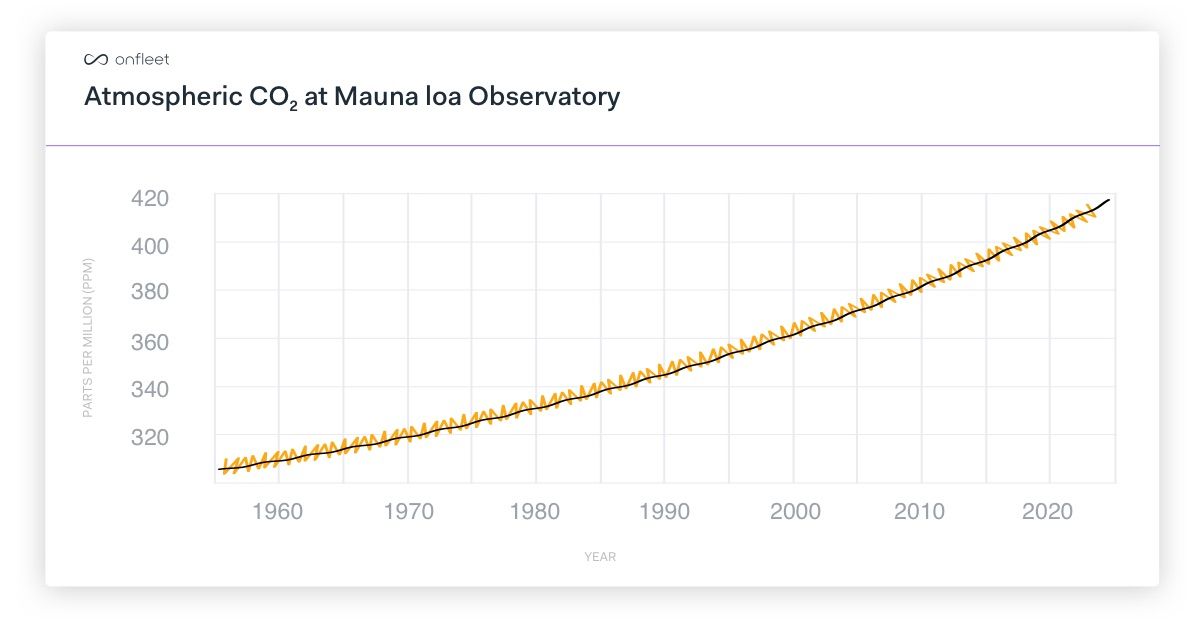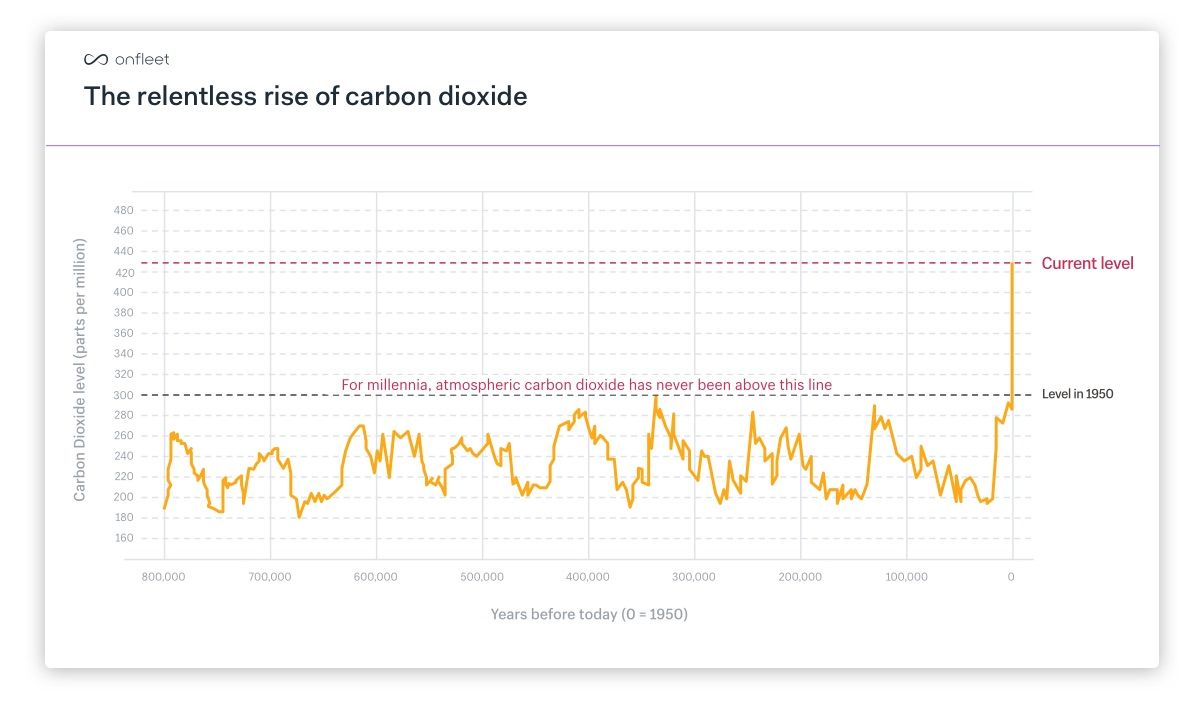 This is scary stuff. It is a matter of urgency. And it is most certainly cause for alarm.
But it's not too late to act.
We must act fast (like, today), and we must act together. Given the magnitude and urgency of this problem, it is incumbent upon all of us to come together and develop solutions collectively. By each of us playing a role, large or small, this is a challenge we can surmount. We may do this as individuals through our habits or as organizations through building innovative programs and products.
---
Deliveries have a carbon footprint

It's no surprise that deliveries create emissions. Moving anything around in the physical world requires energy, and in this modern age most of that energy unfortunately still comes from fossil fuels.
It's also no surprise that deliveries exploded over the past year. Safe and convenient deliveries have been an increasingly critical part of our daily lives during the pandemic. More than ever before, we rely on delivery to get our medicines, procure our food and groceries, and send gifts to our loved ones.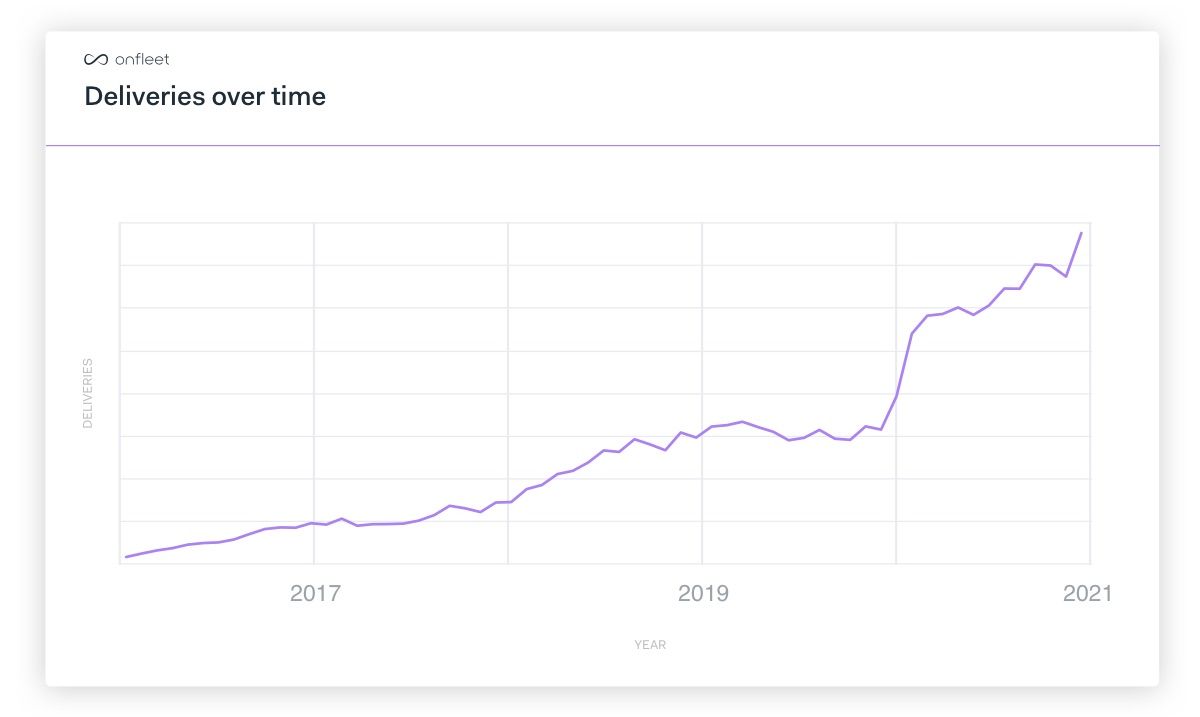 At Onfleet, we have witnessed this explosive growth first hand. We have experienced a sharp increase in delivery volume over the past year and now power millions of deliveries every week for thousands of businesses around the world. We will soon power our 100,000,000th delivery. Drivers on Onfleet move around 20 million miles every month. That's 25 trips around the Earth every day.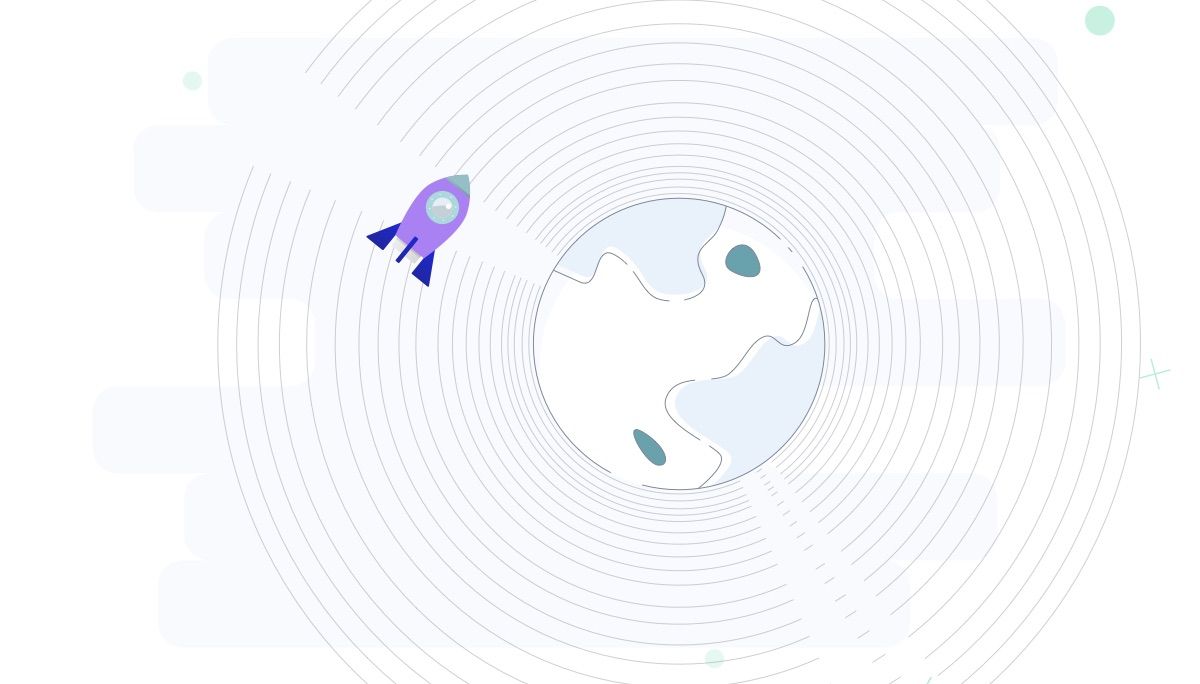 It's a very exciting time for us, and I'm proud to be in a position where we have the capacity and the resources to take a step back and think more about how we can play an active role in helping with some of the biggest challenges facing our world today. Over the past year, we donated our service to power hundreds of thousands of deliveries to those most in need during the pandemic. We are now shifting our focus to curbing carbon emissions and restoring nature. Deliveries are here to stay, but that doesn't mean we need to accept the environmental impact that often comes along with them.
Today, on Earth Day 2021, we are excited to announce Onfleet Offset.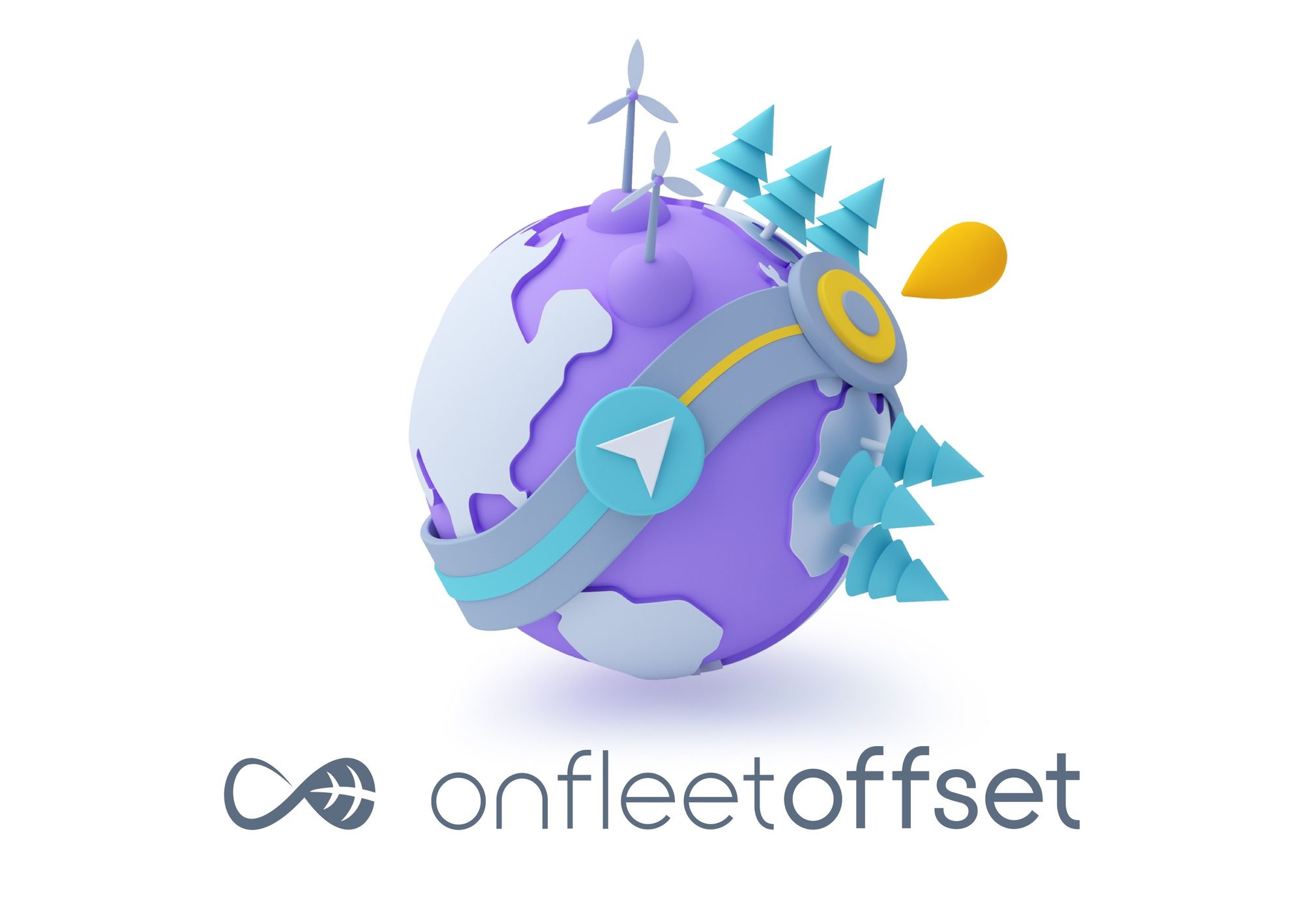 Let's make it easy to offset the impact

Starting May 1st, all Onfleet-powered delivery businesses will be able to offset the carbon emissions of their delivery operations with the click of a button.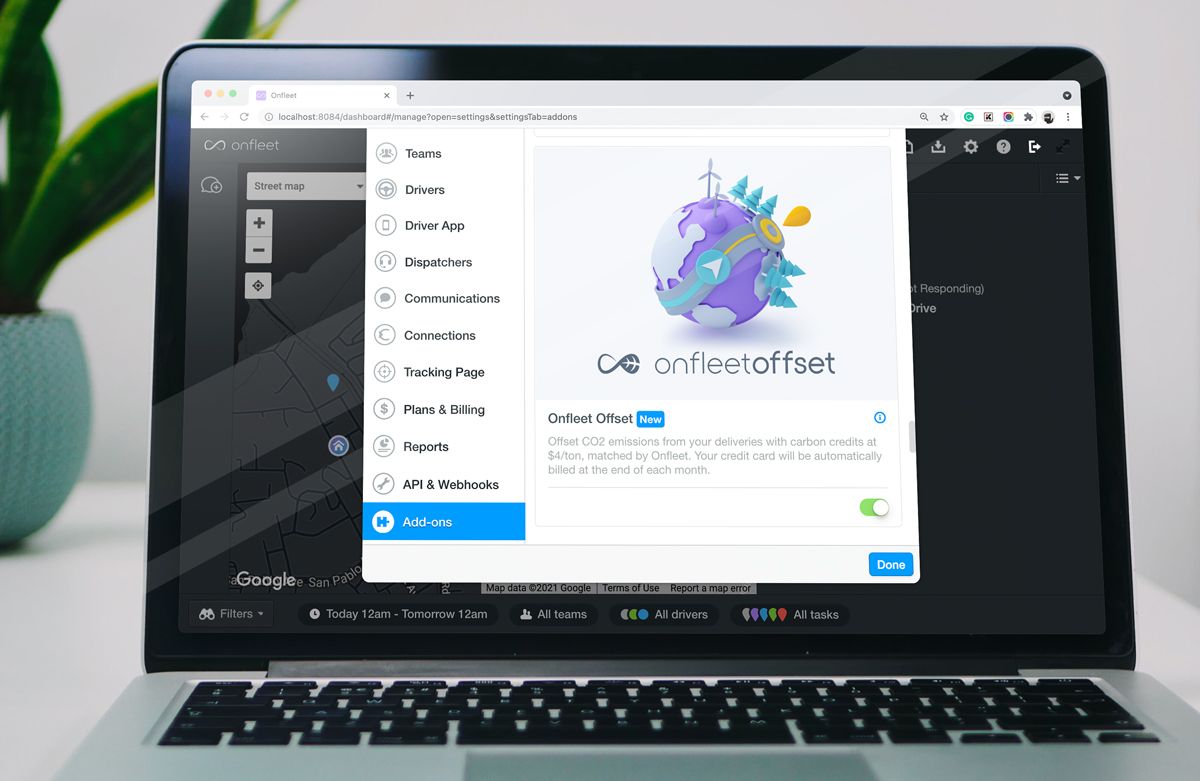 The way it works is simple. We calculate the total CO2 emissions of each customer's operations by multiplying their monthly mileage by standard EPA GHG coefficients based on vehicle type. We sum it up and purchase carbon offsets at $15 per tonne, with $7.5 coming from our customer and $7.5 coming from Onfleet. We charge the customer at the end of the month and send the funds to our sustainability partner, Pachama, who then distributes them to our portfolio of ACR and VCS verified forestry projects. Customers that opt into this program will get this nifty banner on their Onfleet tracking page so their customers know they're environmentally conscious.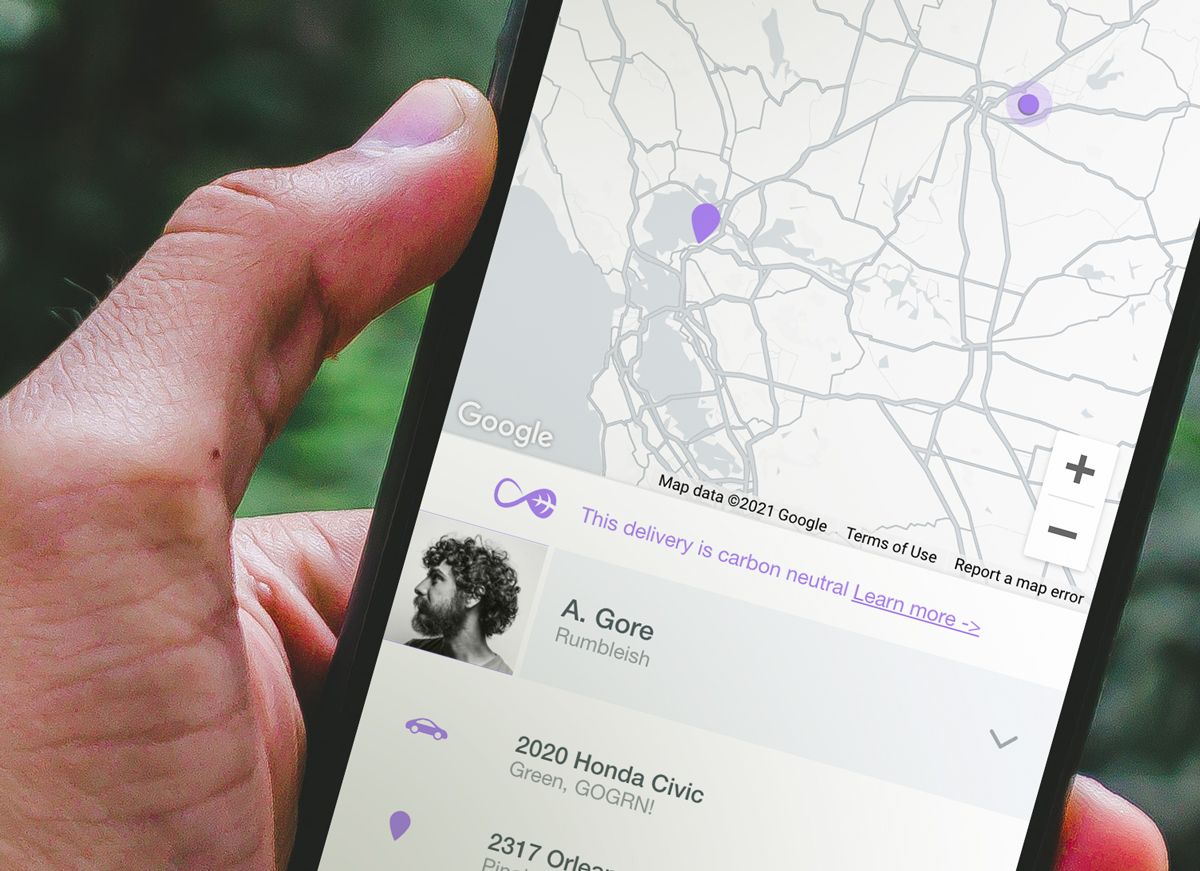 Onfleet's software platform helps companies improve the efficiency of their delivery operations through tools like advanced route optimization, auto-dispatching tasks to the right driver at the right time, and machine learning. Through these efficiency improvements, we estimate that we help avoid thousands of tons of CO2 from entering the atmosphere every month. Onfleet Offset takes things a step further and allows our customers to neutralize their emissions completely.
Through this program, and with the support of our customers and partners, our goal is to offset 5,000 metric tons of CO2 per month by the end of this year. By the end of 2022, we hope to have offset 100,000 tonnes by protecting 113,430,000 trees. That's the equivalent of taking 20,000 cars off the road for a year. You will be able to track our progress on this journey here.
Protecting and restoring nature
Why forests? Forests have many benefits, including but not limited to, sequestration of carbon dioxide, generation of oxygen, providing habitats for millions of diverse species of wildlife, and protecting ecologically intact communities. Forests are currently the most cost-effective and scalable means of drawing down carbon. New methods are being developed, but we're not quite there yet. Since we need to act today, forests make the most sense. And, as essential as they are, they are being cleared at an alarming rate. It's estimated that we lose an entire soccer field of primary rainforest every six seconds. More than half of the world's tropical forests have been destroyed since the 1960s. Last week Google released a new version of Google Earth which shows a timelapse of the impact of deforestation due to soybean farming (largely to feed livestock). Check it out here.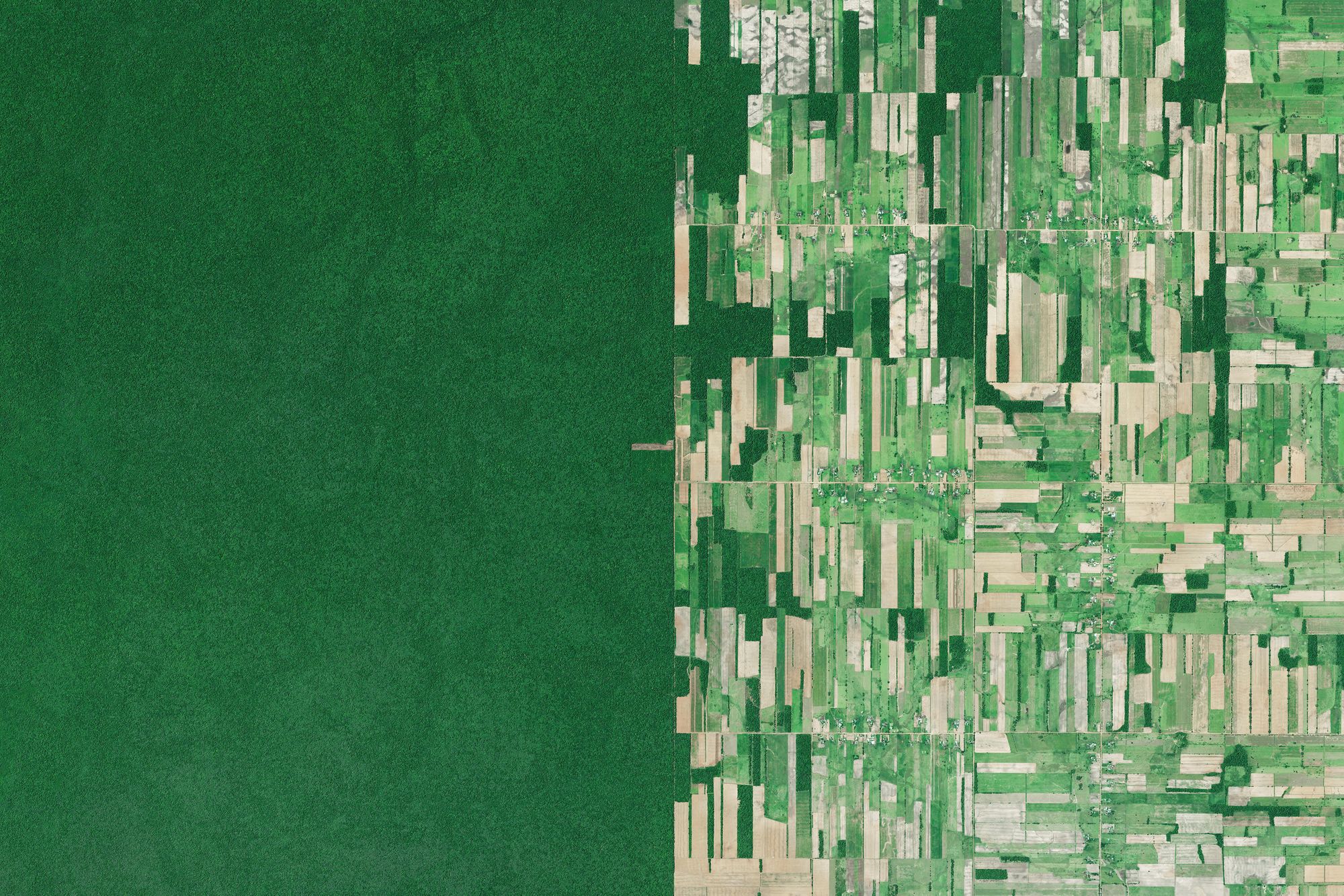 There has been some criticism of forestry carbon credits, calling out the bogus "protection" of forests that weren't under threat to begin with. This is why we chose Pachama as our partner. They verify the effectiveness of the projects in our portfolio through technology such as LiDAR, machine learning, and satellite imagery. This provides Onfleet, and our customers, with an elevated standard of assurance in the impact of these investments that could not have been achieved in the past. This assurance has earned them the trust of companies like Microsoft and Shopify, who also work with Pachama for their offset programs.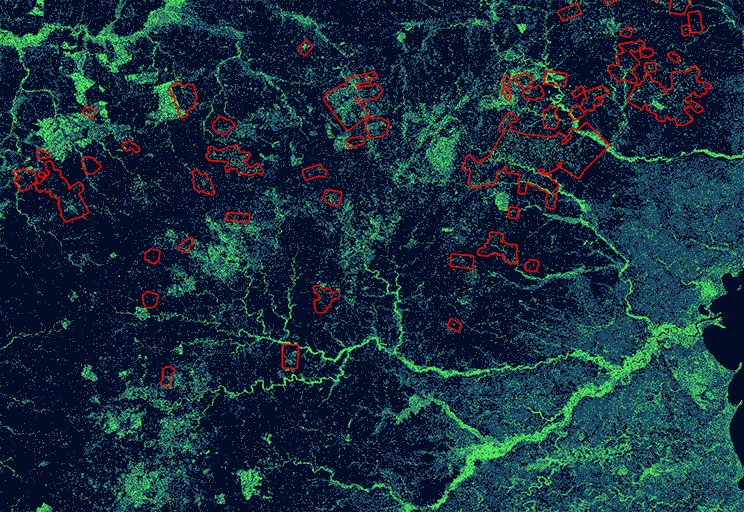 ---
Onfleet Offset Portfolio
Pachama offers a broad range of forestry projects through their platform. Onfleet has chosen the following three projects for the launch of Onfleet Offset.
The Bajo Calima y Bahía Málaga (BCBM) project protects and restores an area of land as big as the city of Austin. It exists close to a major urban area so this protection is essential, and is one of the cloudiest and rainiest portions of the world, receiving over seven meters of rain per year, which also makes it a very unique ecosystem with rich flora and fauna. incredibly biodiverse with 831 bird species, 195 amphibians, 167 mammals, 210 reptiles, and 5124 plant species. The project estimates that there are a further 18 mammal, 9 amphibians, and 5 reptile species threatened or endangered within the project.

The Kootznoowoo Project in Alaska offers significant community and wildlife co-benefits. The surrounding region was previously heavily harvested for exports to overseas markets, but this project creates long-term protection and management by native communities who have lived there for hundreds of years. The project's substantial old-growth forest – 43% of the project area – provides essential habitat to Sitka black-tailed deer, black bears, mountain goats, moose, beavers, weasels, land otters, red foxes, and several species of salmon. The protected forest also has wide flora diversity - boasting many berry species like red elderberry, salmonberry, thimbleberry, blueberry, and huckleberry. As compared to the surrounding area, the Kootznoowoo area stores significantly more carbon and exhibits a high conservation value.

The Brazil Nut Concessions project prevents deforestation and protects biodiversity on 500,000 acres in the Peruvian Amazon. The project is a collaboration between the project developer and a conglomeration of over 300 small concessioner landowners aimed at refocusing the local economy towards the passive harvest of Brazil Nuts – a valuable commodity that can only be found in old-growth rainforests such as that protected in the project – and providing community members with sustainable income through carbon finance. The forest, in addition to being a vital resource to local communities, is also a precious habitat to countless threatened and endangered species.
You can learn more about these projects here.
---
Sign me up
For all of our customers that want to opt in to this program on May 1st, you can learn how to do so here. That link also contains additional information about the program, including a detailed breakdown of fees and projects. If you have any questions about the program, email offset@onfleet.com.
Thank you to dozens of Onfleet customers, including Thistle, Territory Foods, BoxKnight, Medly, and Foxtrot, for your early commitments to this program. Thank you also to our many other customers, including sweetgreen and Imperfect Foods, who already have their own impressive and admirable sustainability programs in place.
We admire and salute all individuals, communities, and companies that have invested the energy and leadership to solve this massive challenge. Just last week, Apple and Facebook made some big announcements on this front. Climate change cannot be solved by one company, one person, or one country alone. While I believe we're the first company in the delivery software industry to create a program of this kind, I certainly hope we're not the last. I hope that this program will be replicated by others in our space and that a broader spectrum of software-as-a-service businesses will be inspired to create similar programs, as Shopify has done, over the coming months and years. The magic of being a platform business is that we can reach thousands of other companies, and the millions of customers around the world that purchase from them, and make carbon offsetting as easy as clicking a button.
Carbon offsets aren't the solution to climate change, but they're a start. Climate change is an incredibly complex issue for so many reasons. However, I'm optimistic about our collective ability as human beings to rise to the challenge.
This is just the beginning. It's the first step for us at Onfleet and we look forward to sharing more with you on this front as we expand the program and launch new projects over the coming years.
Onwards!
– Khaled Naim, Co-Founder & CEO
P.S. I recently spoke with Diego Saez Gil, Pachama's CEO & Co-Founder, about Onfleet Offset, carbon credits, forestry projects, and more. Check it out below:
---
Thanks for reading! Can we ask you a quick question to improve our content?
*Don't worry, this optional survey will not trigger a sales call* 💜