Businesses can opt to work with internal couriers or external couriers.
While external couriers might provide more convenience, using internal couriers is a better bet when it comes to cost savings and customer experience.  
As when you manage your own delivery fleet, you'll have total control over your operations.
You can also provide a branded experience with your trucks, uniforms, and quality of service.  
That said, if you're using internal couriers, you'll need a way to manage and optimize operations to unlock the benefits they can provide. In this article, we'll look at the benefits of using courier management software and what features to look for when making a selection.
---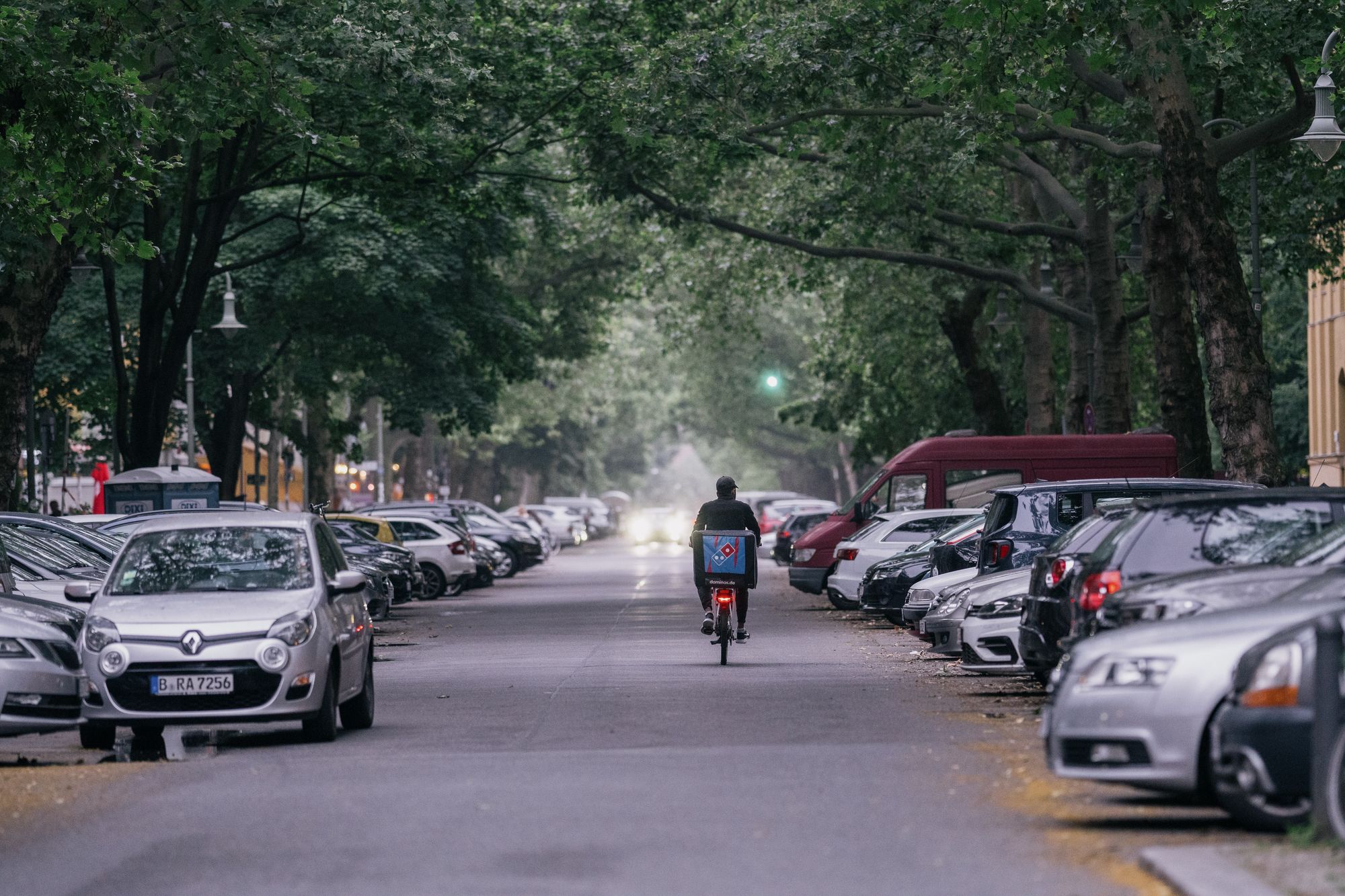 What Is Courier Management?
Courier management is the process of coordinating last mile delivery operations.
Depending on your business model, size, and other factors, it might involve activities like scheduling deliveries and assigning them to drivers, fleet management, route optimization, expense tracking, and fuel management.
Courier management software allows companies to manage these types of activities in a central location. Some platforms include GPS tracking, driver dispatching, and provide routing information to delivery drivers in real-time. Most modern options integrate with CRMs, accounting software, ERPs, and the other tools you might use to run your business.
What Are the Benefits of a Courier Management System?
Using a courier management system makes it easier for companies to manage and optimize all of the steps involved with getting a package from the warehouse and into the customer's arms.
---
Here's a quick look at the biggest benefits these tools bring to the table.
Greater efficiency
Courier management systems help organizations drive more efficiently and consistently deliver packages on or before the estimated delivery date.
Unlike say, Waze or Google Maps, courier management software allows companies to plan and generate complex, multi-stop routes, accounting for factors like fleet capacity, driver availability, number of stops, and so on. This eliminates the mistakes that occur when planning routes manually and ensures drivers get to their destinations on time.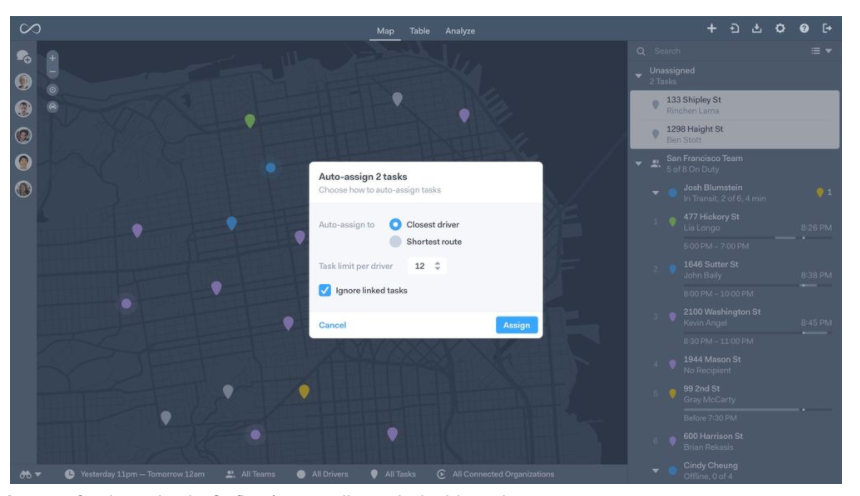 If you're using Onfleet, the platform's dispatch management feature automatically adjusts routes based on real-time traffic or weather conditions. Drivers are then notified right away and the new route will appear in their navigation. Managers can also set rules to automatically assign deliveries based on proximity and route distance.
Reduced costs
Route management features optimize routes to reduce fuel costs and driver overtime, while auto-dispatch ensures the right driver is dispatched at the right time. Additionally, your dispatch team can respond to changes in real-time, allowing drivers to adapt to changing circumstances without adding extra time to their route.
Automation also reduces the potential for human error - saving organizations from expenses associated with rework, replacement orders, and wasted fuel.
Improved customer service
Courier management software helps organizations improve the customer experience with features like predictive ETAs, driver chat, and real-time tracking - which keeps customers in the loop regarding when their order will arrive.
Built-in customer communication tools allow customers to call or text drivers and dispatch centers in case they need to get in touch.
Additionally, built-in feedback capture and analytics can help you improve the delivery experience by focusing on the touchpoints that need attention.
Actionable data
Any good piece of software should provide actionable data - presented in a way that's easy to understand and put to good use. With Onfleet, users can monitor team and individual performance against key metrics like on-time rate, distance traveled, or feedback scores.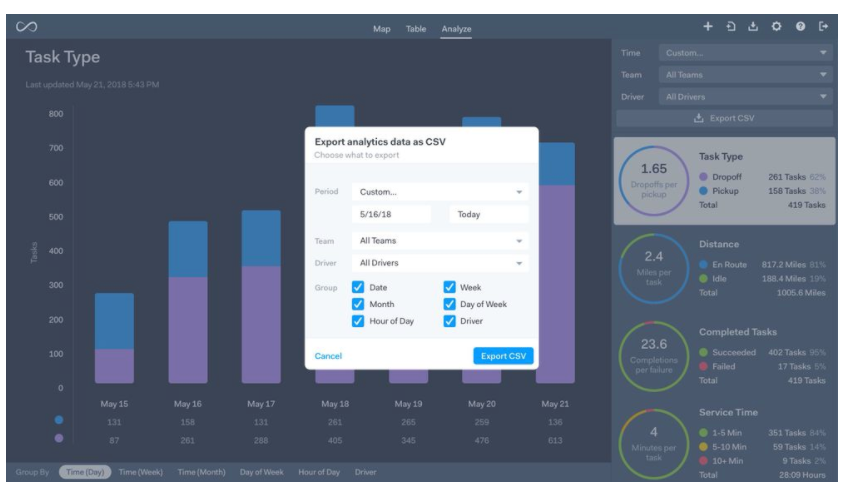 You can track performance over time or see how scores change by time of day or individual driver. Or, you might sync your courier management solution to your CRM to better understand the link between delivery KPIs and revenue, churn rates, or loyalty.
Increased driver safety
With automatic rerouting and a live link that connects drivers directly to the dispatch center, drivers can keep their eyes on the road without worrying about manually updating their routes to avoid traffic, road closures, or other obstacles.
Greater control
Courier management systems put you in control of the entire dispatch and delivery process. You can manage scheduling, driver assignments, route planning, handle customer service requests, and ensure that packages arrive on time and in perfect condition.
---
Case Study: NYC-based MetroSpeedy hustles as business demand grows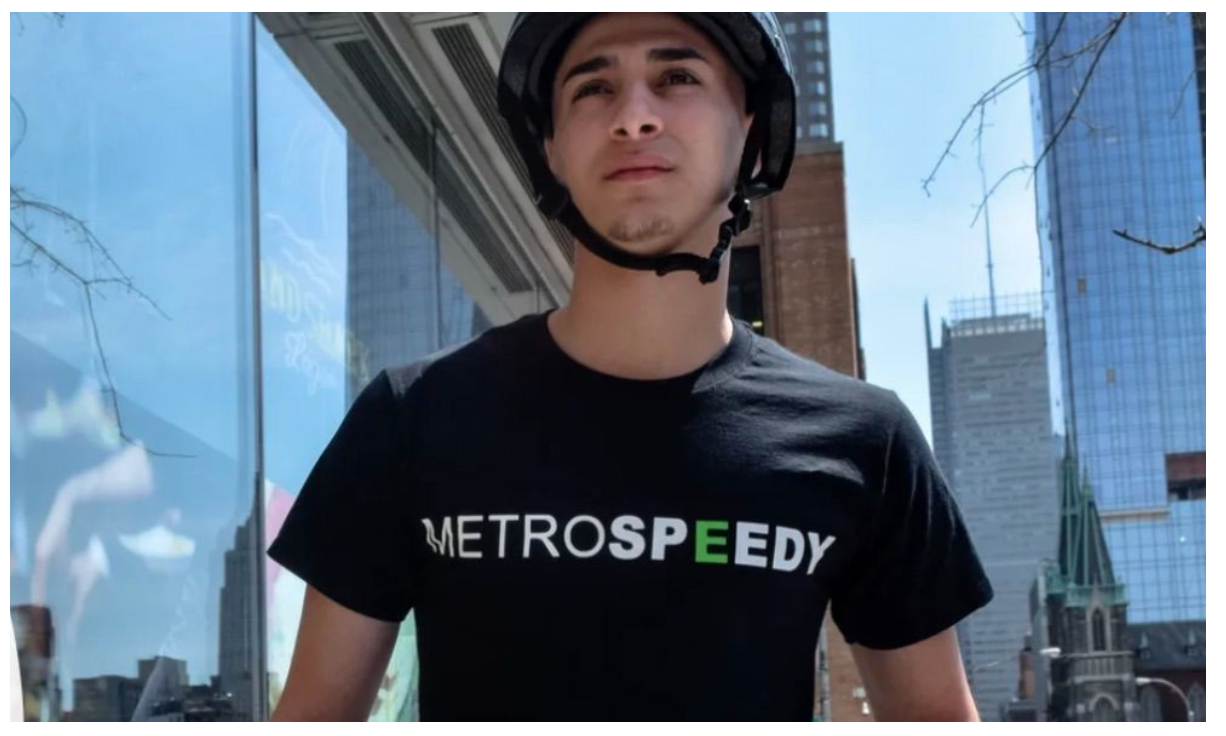 "Delivery is here to stay, and we, along with Onfleet, are last mile logistics veterans. We look forward to expanding our expertise and business operations. I see autonomous delivery bots in our future, continued investment in our technology, efficiency upgrades, and the continued ability for micro-targeted advertising for our customers. And of course, very speedy deliveries! That's our name and that's our game."
— Nancy Korayim, CEO, MetroSpeedy
Read the full case study here.
---
How to Choose the Best Courier Management System
We've gone over the key benefits a courier management system brings to the table - from customer satisfaction and cost savings to improved efficiency and driver safety.
Let's shift gears a bit and dig into the specs.
Choosing the best platform for your organization depends on several things.
There's the feature suite, of course. But, you'll also want to look for something that was designed with your use case in mind, works with your existing tech stack, and can scale alongside your business.
Here are some of the most important things to look for when sizing up your options.
Ease of use
It doesn't matter how impressive the technology is, if you can't convince your team to use it, it's basically worthless. As such, your first priority is finding a platform that's easy for drivers to use on the smartphones they already have.
Make sure it's compatible with both Android and iOS and offers a simple onboarding experience.
For dispatchers, you'll want to make sure you choose a platform that fits seamlessly into existing workflows. If it's disruptive or adds friction to their day-to-day tasks, it'll be hard to drive adoption.
Integrations
Integrations take "ease of use" to the next level. For example, a standalone app might be easy-to-use, but it'll create extra work and data integrity issues if it doesn't sync with your existing processes.
Before you commit to a solution, you'll want to find out whether it works with the tools you use every day. Keep in mind, this extends beyond delivery and dispatch operations - you'll want to connect your entire business. That includes your e-commerce store, CRM, CMS, payment management system, accounting platform, inventory management software, and anything else your team uses on the job.
For even more flexibility, look for a courier management system that offers API integration. Onfleet provides API wrappers that make it easy to build your own integrations in Python or JavaScript, as well as an open-source repository for developers.
Use cases
Look at what other brands are using the platform, and how they're using it.
As an example, if you look at our customers, you'll notice that we work with a lot of different companies, from e-commerce and cannabis brands to laundromats and restaurants. So, if you're looking for a courier management platform for your meal kit brand, you might then read some case studies to find out what features stand to provide the most value.
Alternatively, if you work in healthcare or specialize in hauling hazardous materials, you might look for a platform that includes features that address the specific challenges within your industry.
Pricing/value
How much will this platform cost you? Can you get all of the features you need within your budget? How does pricing scale as your team and delivery count increases?
And finally, find out if a free trial is available. It's always a good idea to test drive a new platform before you buy--some software looks impressive on paper, but you/your team doesn't like how it handles workflows or organizes information.
Feature set
Does the platform also offer dispatchers and admins the functionality they need? Think sort and search functions, bulk actions, automations.
Here are some examples of features you should look for:
Auto-dispatch
Automated dispatch provides on-demand driver assignments, reducing service times and labor costs by routing deliveries to the right driver at the right time.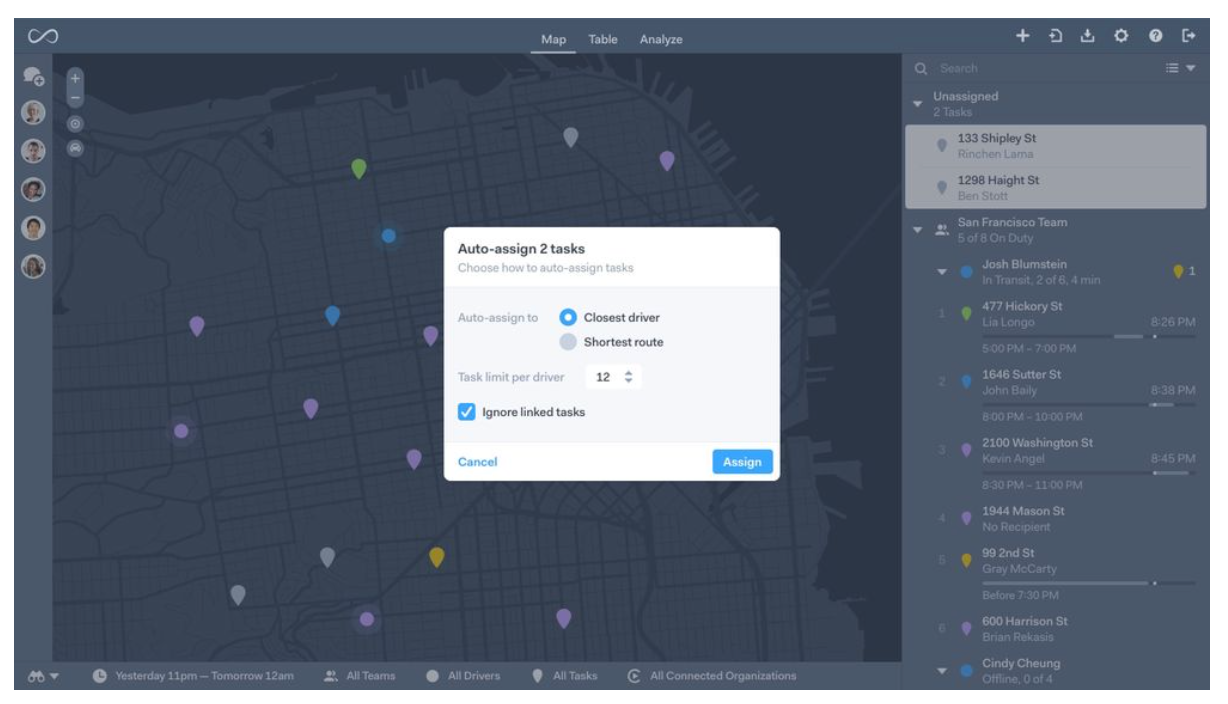 Route optimization
Route optimization eliminates manual route planning - a time-consuming, error-prone process involving a lot of variables, including vehicle capacity, available drivers, service area, delivery windows, and so on.
What's more, route planning gets more complicated as more stops are added. Courier management software streamlines the process and instantly generates routes - no matter how complex.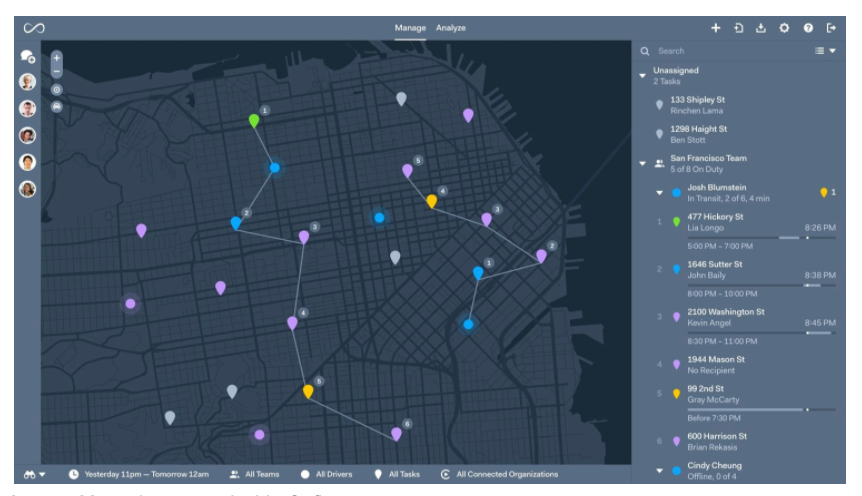 Predictive ETAs
Unlike traditional "out for delivery" updates, predictive ETAs give customers accurate delivery estimates using machine learning to predict arrival times based on driver location, performance history, traffic, and more.
Status updates
Status updates keep customers informed about their in-progress order.
With Onfleet, you can set it up so that customers receive automatic updates when orders ship, reach a specific destination, or are out for delivery.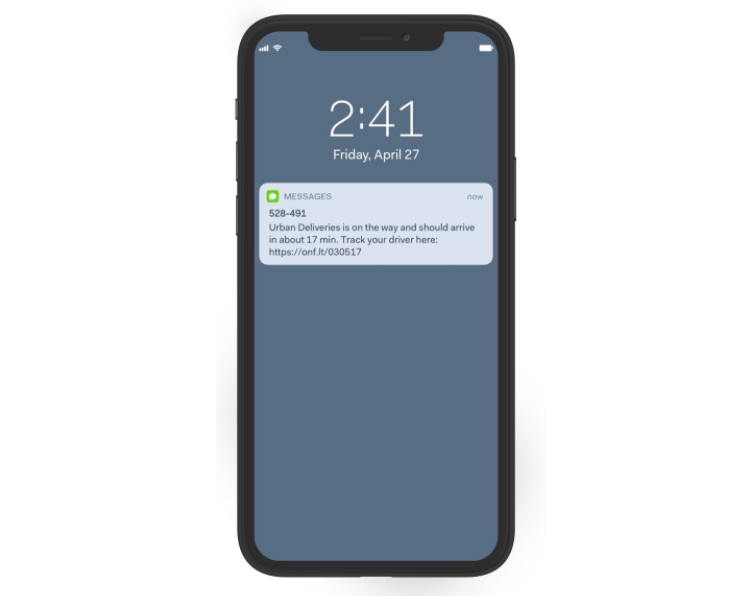 Real-time tracking
Real-time tracking ensures that customers always have up-to-date delivery information, including driver location and ETAs.
Proof of delivery
Proof of delivery adds a layer of accountability to the delivery process by communicating data like time and location of delivery, customer comments, or even a photo showing where the package was left.
Electronic proof-of-delivery helps build trust with consumers, eliminates paperwork & manual data entry, and protects brands from false claims regarding "missing" packages.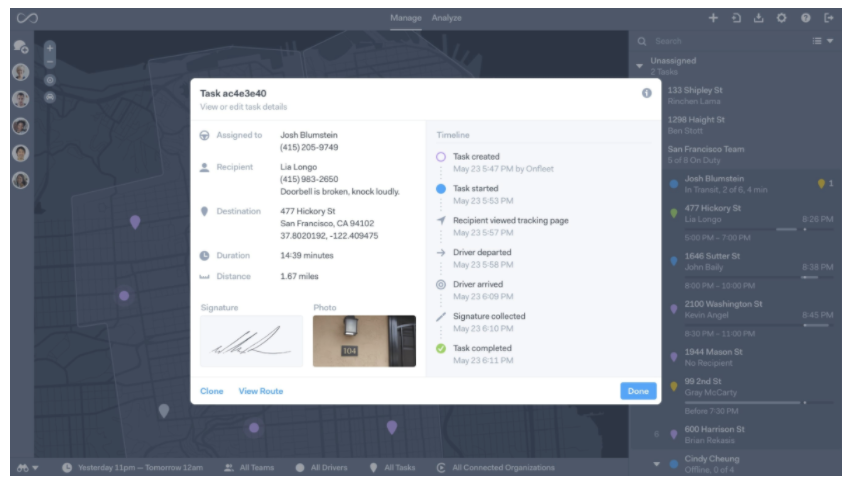 Onfleet even features a barcode scanner that ensures the right package was delivered, ID verification for alcohol purchases or high-value orders, and electronic signature capture.
Contactless signatures
Speaking of signatures, providing a contactless option is a must-have for COVID-era deliveries, eliminating the face-to-face signature capture and hand-off that takes place between driver and recipient.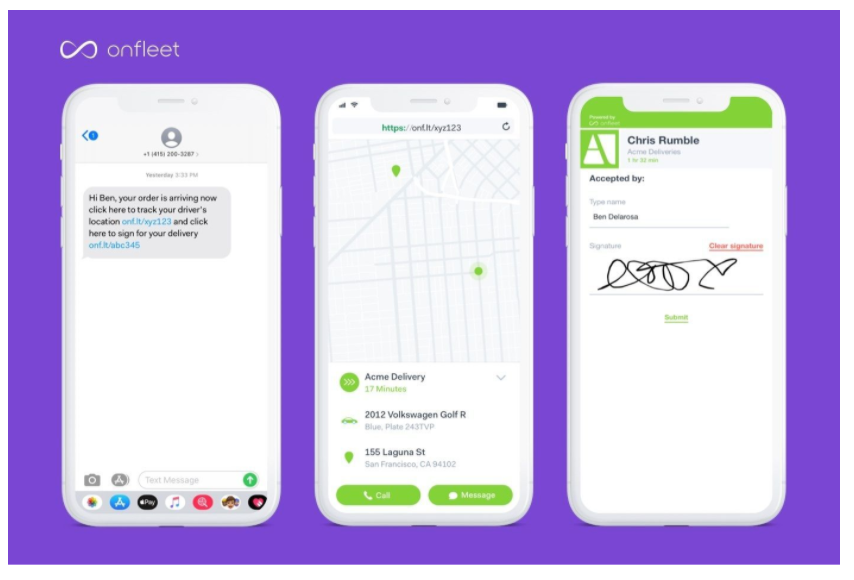 Contactless signatures can be collected and verified ahead of the delivery, which not only saves time but ensures that more sensitive deliveries that include alcohol, cannabis or prescription drugs make it to the right person.
Delivery metrics
Your courier management software should provide total visibility into delivery metrics, driver performance, and customer satisfaction scores, as well as other factors like weather and traffic patterns.
Onfleet users can track success rates, service times, distance traveled, and more. They can even segment data by team, individuals, or track performance within a specific time frame, all using Onfleet's visual reporting tools.
Scalability
You'll want to make sure that the solution you choose can support your operation as it grows and expands into new service areas. Onfleet allows you to add routes, regions, drivers, and vehicles with little effort, and is designed to grow along with your business.
Uptime monitoring
You want a platform that's working for you 24/7. Outages and availability issues can cause real problems for drivers, dispatchers, and the business in general. Look for a courier management tool that offers transparency around system status.
For example, Onfleet provides system performance metrics, availability, and an incident history log on its website. As you can see below, it's broken down by features, making it easy to find out about maintenance or performance issues (though we try our best to avoid them).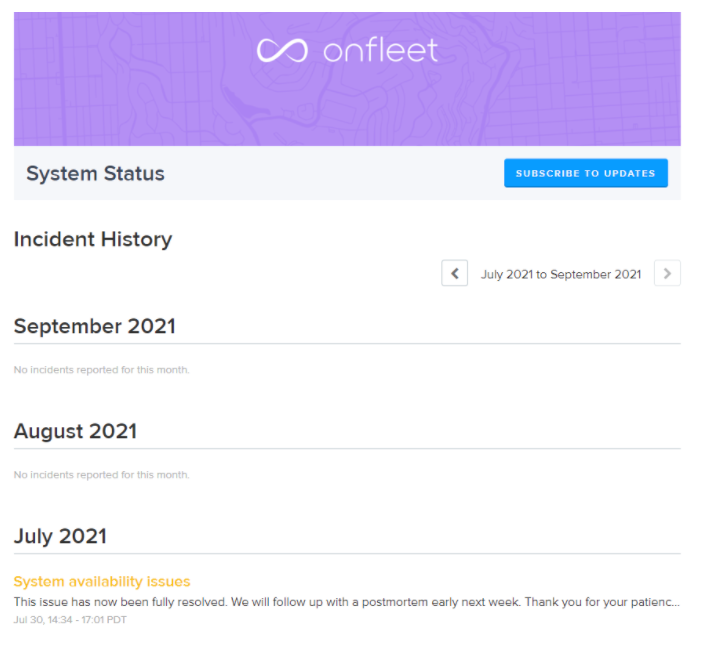 Support
Finally, you'll want to check the level of support that is available.
Does the company offer phone support? Email? Chat? Knowledge base content? What about guided demos, training, and onboarding?
---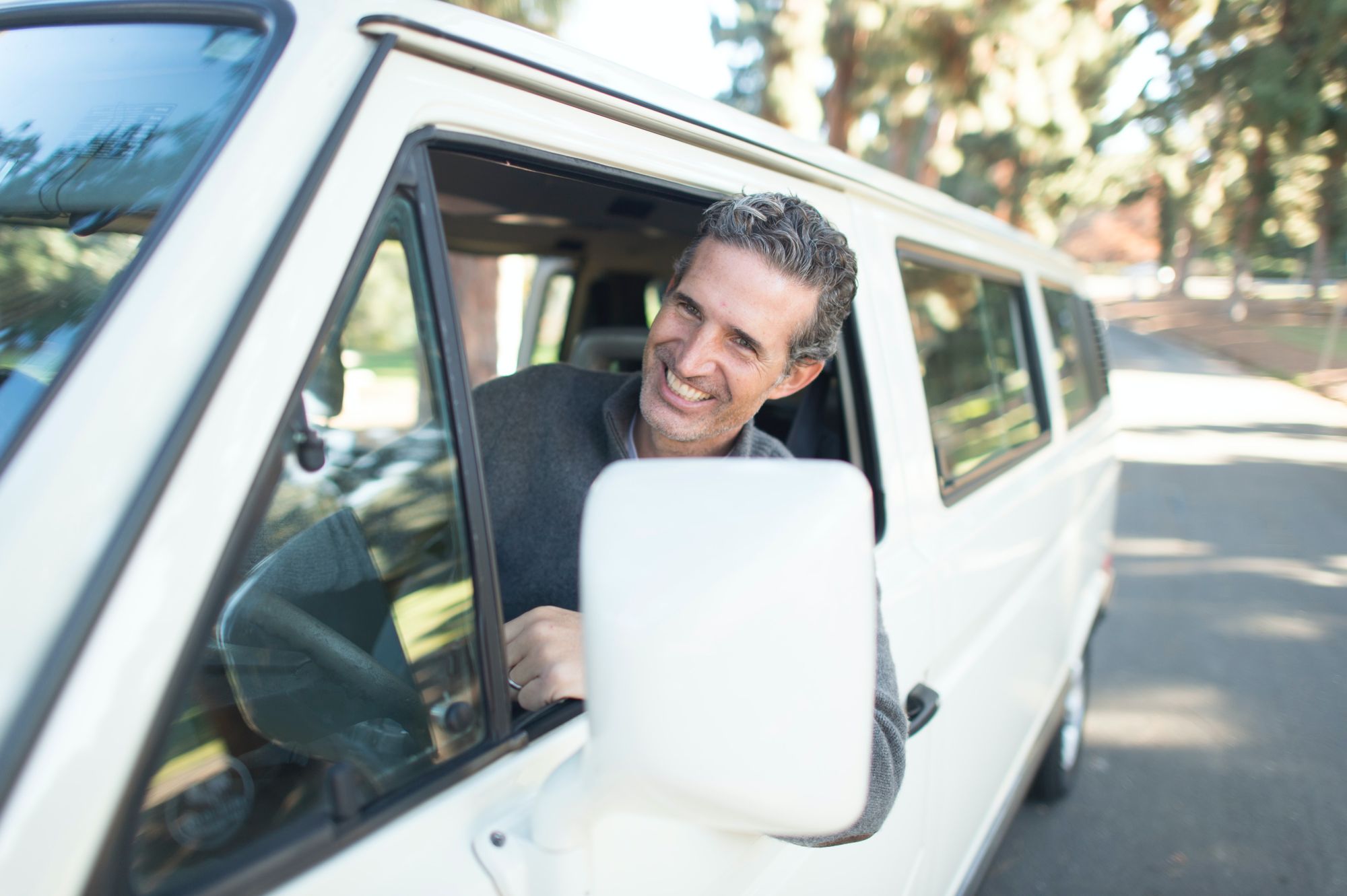 Are You Ready for a Better Approach to Courier Management?
Onfleet has powered over 100 million deliveries and has helped grocers, retailers, and direct-to-consumer brands streamline the last mile and provide a winning delivery experience.
Our courier management system is easy-to-use, supports a long list of integrations, and boasts a robust feature set designed to drive efficiency, customer satisfaction, and cost savings.
Sign up for a free trial to see them in action.