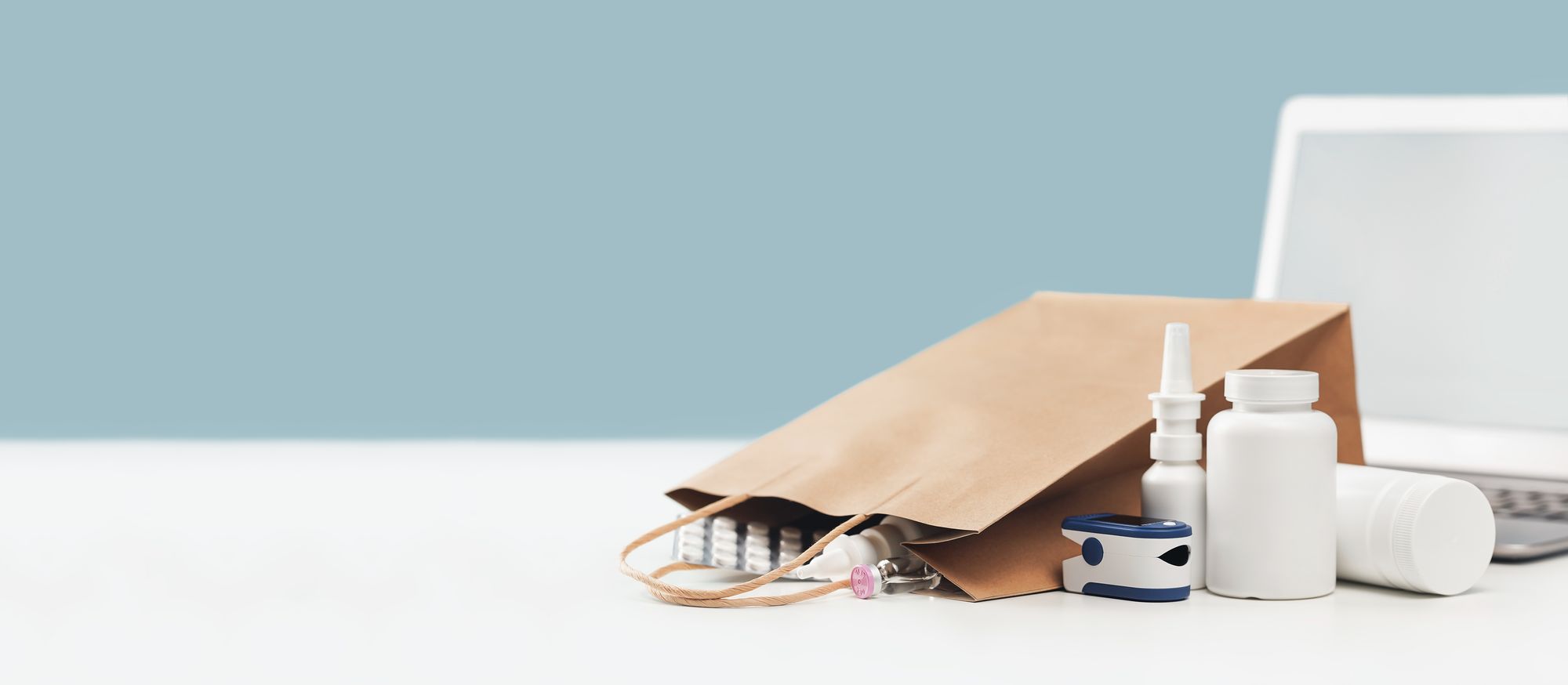 A survey of 1,000 patients in 2020 revealed that half received medications by pharmacy delivery instead of at a retail pharmacy location. That's not surprising, considering 2020 was also the year that social distancing became the norm.
According to the Centers for Disease Control and Prevention, 4 in 10 Americans have two or more chronic conditions — conditions that require prescription medications. When you consider that fact, paired with the reality that by 2035, Americans aged 65 and older will outnumber the 18-and-younger population, it's easy to see how demand for prescription medications is likely to increase. Pharmacy delivery companies could benefit tremendously from this trend.  
It's not just prescription medications that are fueling the growth of pharmacy delivery. Customers are increasingly purchasing other pharmacy items, such as OTC medications, personal care products, and wellness products, from online stores for home delivery.
In this guide, we'll look at pharmacy delivery trends, challenges for this sector, and how pharmacy delivery software can help companies remain competitive.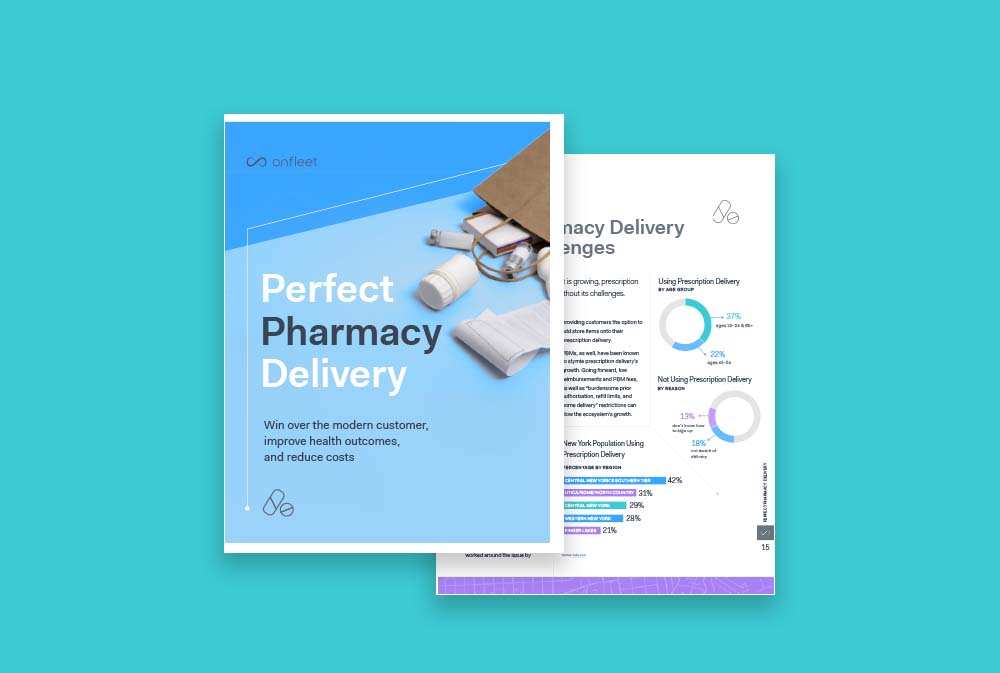 Table of Contents
The Growth of the Pharmacy Delivery Sector
Challenges for Pharmacy Delivery Operators
The In-person Trust Factor
Scattered Supply Chain
Inaccurate Order Allocations
Benefits of Pharmacy Delivery Software
Route Optimization and Auto-Dispatch
Predictive ETAs
Proof of Delivery
Compliance
Analytics
A Better Way to Approach Pharmacy Delivery
---
The Growth of the Pharmacy Delivery Sector
In September 2020, Future Market Insights projected that prescription delivery would see a CAGR of 18.4% through 2030, reaching a value of $434.3 million. In 2021, this sector was dominated mostly by large retailers and drug store chains, independent pharmacy delivery companies, and mail-order-only prescription services through health insurance providers.
Here's a look at some key players in the pharmacy delivery sector:
ZipDrug — This company (now part of the IngenioRx portfolio) helps Medicare Advantage patients get the best deals on medications, by matching them with participating in-network pharmacies. ZipDrug earns a modest monthly fee from health plans for each patient that continues to use the ZipDrug pharmacy network to fill medications. As of March 2022, ZipDrug partner pharmacies were operating in 31 states.
CVS Pharmacy Delivery — In 2020, CVS waived home delivery fees for prescriptions, and in the first quarter of the year, its prescription deliveries were up 1,000% compared to the same quarter in 2019. An increase in 90-day prescription fills contributed to strong revenue growth for CVS.
Walmart Pharmacy Delivery — In 2021, Walmart rolled out a new members-only prescription savings program called Walmart+ Rx for less, with some medications available at no cost to Walmart+ members. The program offers free delivery (the same day, in some cases), with no minimum order required.  
Express Scripts — Acquired by Cigna in 2008, Express Scripts holds 10.9% of the prescription revenue market.
PillPack — This Amazon-owned company is a direct-to-patient pharmacy that allows patients to pay for medication out-of-pocket or with an FSA/HSA card. Most major insurance carriers also cover PillPack medications.
DivvyDose — UnitedHealth Group acquired DivvyDose — a key competitor for PillPack — in September 2020. DivvyDose sorts patient medications into packets with individual labels, so its services are especially helpful for patients taking multiple medications to manage chronic conditions.
Challenges for Pharmacy Delivery Operators
In 2020, new policies intended to reduce overtime at U.S. post offices created significant mail backlogs nationwide. Some prescription drug providers told U.S. senators that the backlogs delayed delivery of medications and led to angry calls from customers.
Concerns about postal delays is just one challenge that pharmacy delivery operators face. Other challenges that impact pharmacy delivery companies include:
The In-Person Trust Factor
Public Policy Polling surveyed 1,390 adults in February of 2021 and found that 85% of respondents prefer to get their prescription medication from a local pharmacist. Of those respondents, 36% said their local pharmacist knows them better than a mail-order company; 15% said they worried mail-order medications could be stolen, damaged, or lost.
In order to compete with in-person pharmacists and overcome concerns about delivery, pharmacy delivery companies will need to offer an exceptional user experience and a transparent, reliable delivery service.
Scattered Supply Chain
The pharmaceutical supply chain includes — at a minimum — five steps:
Product manufacturing
Wholesale distribution
Stocking at pharmacies
Price negotiations by pharmacy benefit management companies
Medications dispensed/delivered to patients
Any hiccup in the supply chain can result in a negative experience for customers. That's why many key players in pharmacy delivery — CVS Health, Pfizer, and Oscar Health, for example — are investing in last-mile delivery solutions to improve service.
Inaccurate Order Allocations
The many steps in the pharmaceutical supply chain could increase the risk of inaccurate order allocations — incomplete orders, incorrect dosages, or the wrong medication.
Benefits of Pharmacy Delivery Software
Independent pharmacies and pharmacy delivery startups would be wise to take note of what the major players are doing to improve their delivery experience. Pharmacy delivery software can help pharmacy delivery operators of any size improve the customer experience, identify weak points in their processes, and stay ahead of the competition.
Route Optimization and Auto-Dispatch
Pharmacy delivery software can ensure your routes are optimized, reduce fuel consumption by up to 40%, and eliminate the need to manually plan routes.
Delivery management software monitors driver locations in real time and can reassign deliveries based on which drivers can fulfill orders quickly. Drivers don't need to waste time mapping their routes — the software will set the most efficient routes and designate the order of stops.
Predictive ETAs
People awaiting the delivery of medication need to know when it will arrive. Pharmacy delivery software gives customers predictive ETAs — first, by providing an estimated delivery time and telling customers how many delivery stops are ahead of theirs (a feature based on historical data and machine learning). The second step is a real-time ETA that shows the customer the driver's movement on a map.
Predictive, dynamic ETAs also help drivers and dispatchers improve the customer experience. For example, if drivers see that an ETA has changed while en route to a delivery, they (or dispatchers) can notify the customer through the pharmacy delivery software application. This secure, two-way communication feature is also helpful when drivers need to confirm a delivery location or when customers need to update delivery instructions.
Proof of Delivery
With pharmacy delivery software, drivers can record proof of delivery with their smartphones. Drivers can scan medication barcodes, photograph delivered packages, and collect signatures remotely.
Compliance
A key point for any pharmacy delivery software should be extensive security compliance features. The most notable among them should be HIPAA compliance, ensuring that your patient data is as secure during and after deliveries as in person. Another must-have feature is ID-scanning to verify a customer's age and identity, as shown below.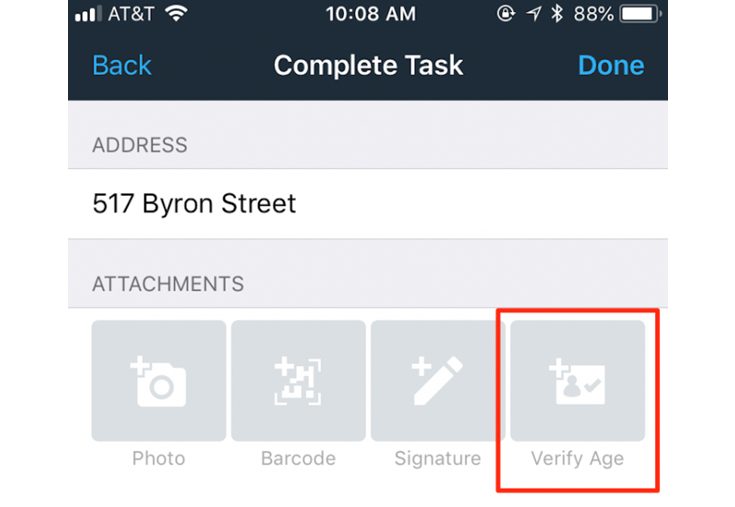 Analytics
Managers can review analytics to evaluate delivery efficiency, agility, margins, customer interactions, and other factors.

---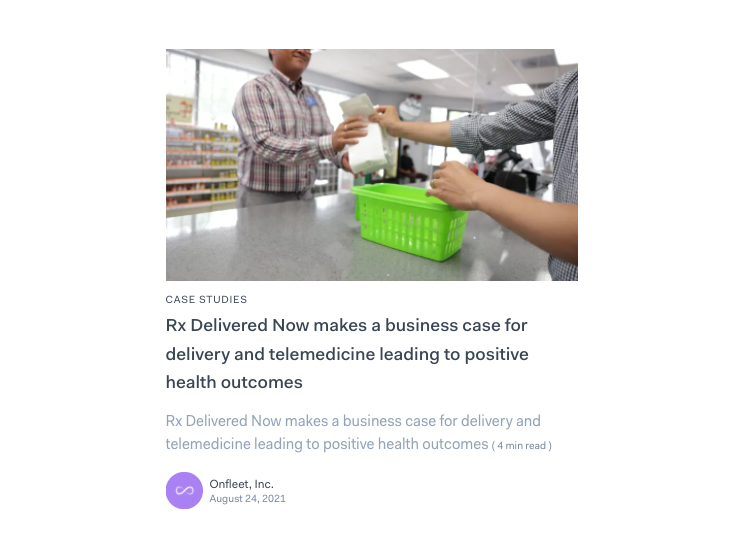 ---
A Better Way to Approach Pharmacy Delivery

Onfleet has the features that pharmacy delivery companies need, such as:
Route optimization — Onfleet's simple route management interface helps you optimize deliveries.
Predictive delivery times — When you use Onfleet, customers get real-time ETAs and can see a map view that shows where drivers are.
Simple onboarding — Your drivers don't need extensive training to use Onfleet. It integrates with smartphones, and they can begin using it right away.
Delivery notifications — Onfleet alerts customers when their pharmacy products have been delivered.
No-contact signatures — Health and safety is always important, especially when customers awaiting deliveries have compromised immune systems. With Onfleet, drivers can collect contactless signatures for deliveries.
Driver monitoring — Keep track of drivers with Onfleet's map view.
Integrations — Onfleet connects with the systems you use for managing pharmacy delivery orders.
Find out how Onfleet can help your business streamline pharmacy operations and delight your customers. Contact us today.