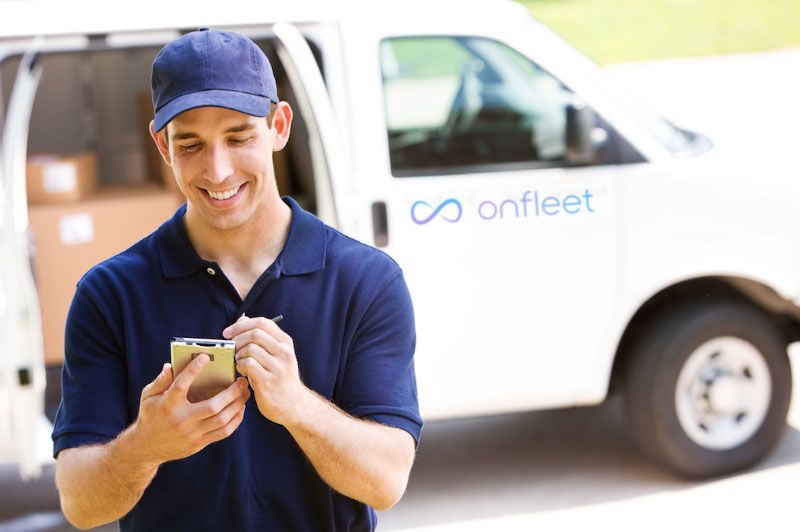 If you do a quick Google search, you'll find that a number of "Delivery as a Service" companies have popped up in recent months, all vying to take over your last-mile delivery operations. Tread cautiously. With promises of enhanced transparency, lower overhead, and the ability to pay as you go, come costs which often fail to scale.
When deciding between building a driver fleet in-house or outsourcing deliveries to a third party, there are many aspects a company entering the On-Demand space must first consider. If not carefully weighed, questions surrounding anticipated delivery volumes, access to steady capital and labor, and future plans for expansion, can derail a new venture before its first paleo meal kit is even delivered.
Ridesharing service Sidecar was one of the first B2C companies to pivot into the local delivery space before ceasing operations at the end of 2015. Announcing this move as People + Packages: The Future of Same-Day Delivery, Sidecar priced deliveries within a 3-mile radius at an average of $10.66 a pop — $15.83 for distances between 3 and 8 miles. Though customers received discounts for forecasting their delivery needs ahead of time and reserving driver capacity, these rates were far from making them the "the fastest, most affordable, seamless and scalable same-day delivery solution."
When the average meal on Sprig, Munchery, and Caviar costs around $15, there's just no way these companies are sinking over 70% of that price into delivery fulfillment alone. Yet, surprisingly, Sidecar's rates are in line with the pricing scales published by UberRush and Postmates.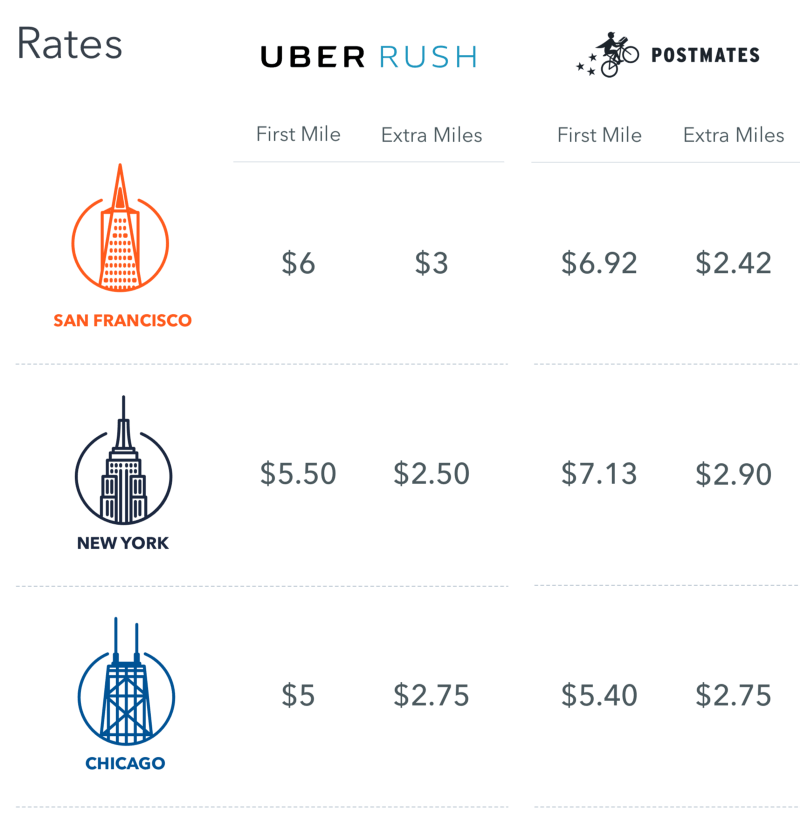 If you haven't heard, Uber and Postmates both now offer the ability to outsource your deliveries to their existing fleets of drivers. It's a win-win for them, enabling the further monetization and incentivization of an existing labor force hungry for volume. Each service promises to bring the "Uber experience" to any business offering on-demand delivery. This includes real-time driver tracking, flexible usage-based payment plans, and the ability to pre-plan and optimize delivery routes.
Some newcomers in the space, including Din, have opted to leverage third-party couriers and driver networks rather than build their own private fleets. By leveraging existing on-demand infrastructure, upfront recruiting and training costs can be deferred while a company iterates on its core product to achieve product-market fit. This strategy allows for increased flexibility and rapid market expansion, but does it make financial sense for the majority of delivery-reliant companies?
To answer this question, we crunched the numbers from a dataset of over two million Onfleet-powered deliveries completed over the past 12 months.
Assuming an average delivery distance of 3.16 miles and duration of 12.4 minutes, the unit economics show that the adoption of such services is cost prohibitive at scale. Pulling rates directly from Uber and Postmates' websites, and focusing on UberRUSH's pilot cities — San Francisco, New York, and Chicago — we've priced their average delivery costs at higher than what was being offered by Sidecar.
In fact, when compared to the cost of simply keeping delivery operations in-house, the gap widens even further. To calculate the cost of maintaining a private fleet plus the driver tracking functionality consumers have come to expect, we took into account each city's minimum wage (inflated by 50% to cover fuel and vehicle costs), and ancillary software costs (using Onfleet's average per-delivery fee).
Here's what we found.
On average, an in-house fleet is 46% cheaper than UberRush and 50% cheaper than Postmates. On the low end, assuming a modest 2,000 deliveries each month, this translates to an average monthly savings of $6,292 over UberRush and $7,785 over Postmates — much needed funds that a growing startup or established business can use to: 1) add another engineer to payroll, 2) buy a state of the art cappuccino machine for the office, or 3) reserve a half dozen Tesla Model 3's. Of course, total cost savings only compound as delivery volumes increase.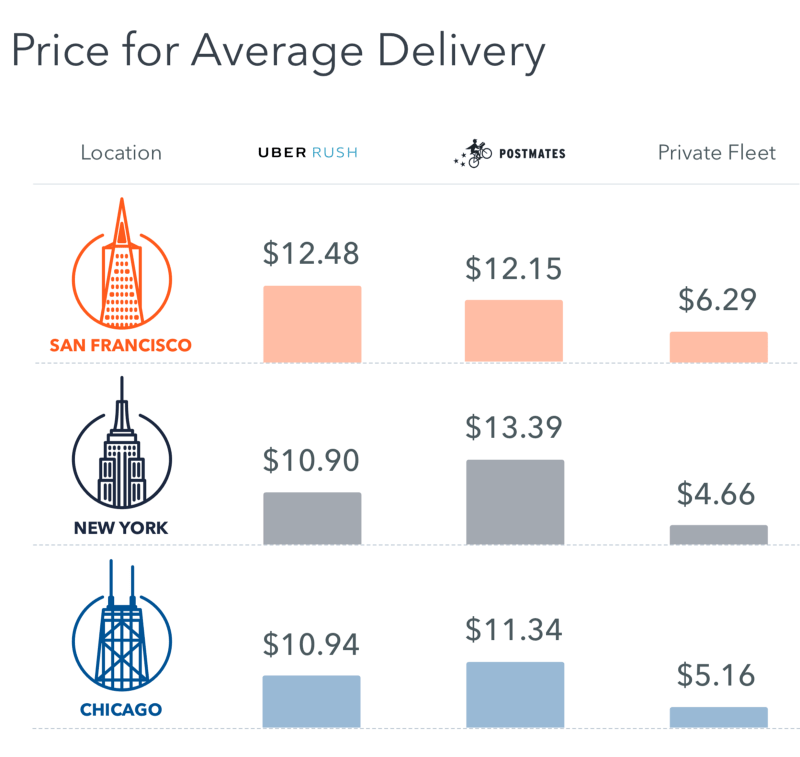 All kidding aside, due to the relative infancy of Uber and Postmates' B2B side projects, service is still limited to major US metro areas. And as with all non-core offerings, there's a chance they will ultimately decide to halt further investment and support in these ventures. When Sidecar closed up shop, customers who had relied on their short-lived delivery fulfillment service were forced to scramble for another solution. Many went dark for weeks, or permanently, unable to keep up with customer demand in the absence of a mission critical component of their logistics operations.
Beyond the inherent cost savings, making the choice to recruit, train, and brand your own drivers enables a level of quality, control, and consistency that's virtually absent from the current alternatives out there. For many in the On-Demand space — who exist in app stores, not storefronts — the delivery experience is often the only point of direct contact with the end customer. To outsource the face of your company to a revolving door of Uber or Postmates contractors is to squander an invaluable channel and touchpoint.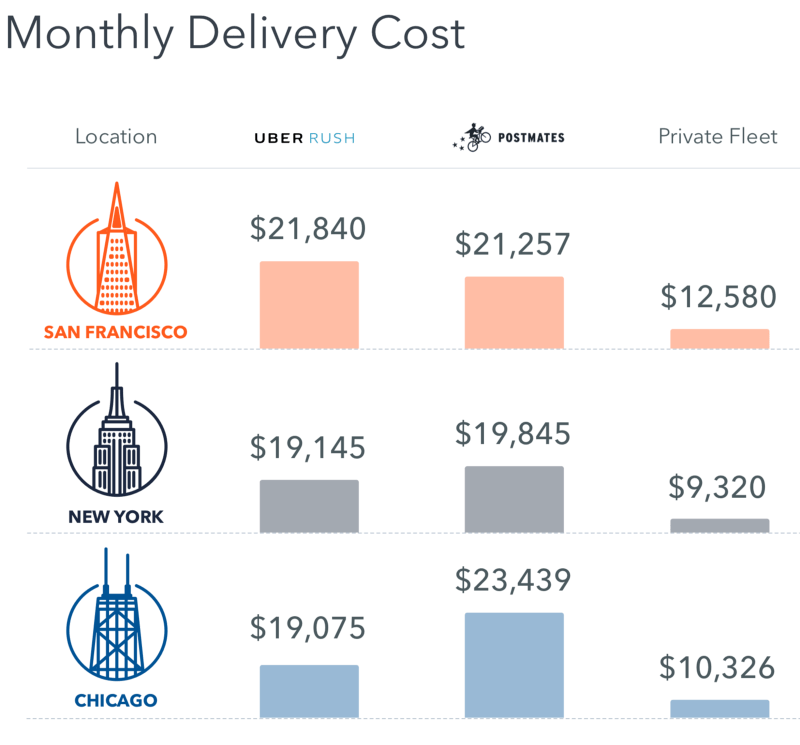 Furthermore, investing in an in-house model affords the freedom to define your own business model and product offering. According to UberRush FAQ's, the following goods are expressly prohibited from inclusion: people, animals, alcohol (or any goods that require ID), drug paraphernalia, illegal or dangerous items, and items "for which you do not have permission to send."
While the rationale behind some of these restrictions is obvious (live tiger deliveries are so 2015), if you're one of the many On-Demand startups delivering cannabis, alcohol, or In-N-Out, you'll have to look elsewhere for your delivery fulfillment needs.
Regularly send large items, or group many items together? If so, you won't be able to count on UberRush drivers who are capped at 50lbs for cars and 30lbs for bikes. Everyone's favorite boba shop is cash-only? Tough luck. Uber couriers are not authorized to purchase items for delivery, meaning you'll need to find a way to prepay any restaurant or grocery pickup before the driver even arrives. Customer running late to meet your delivery person? Uber messengers will wait a maximum of 5 minutes at a given stop before marking it as undeliverable and returning the package to the pickup location — all at your expense.
One can't forget that Uber, Postmates, and other third-party delivery services must maintain a profit margin on the delivery itself — that is their product after all. In stark contrast, deliveries fulfilled by in-house fleets can operate with zero — or even negative — margins, as the product being sold is not the delivery itself, but rather the goods being delivered.
In today's tepid fundraising climate, startups can no longer afford to sustain user acquisition models based on indiscriminate spending alone. For large and growing enterprise businesses, improving profit margins is of the essence. It goes without saying that minimizing the operational costs that go into each fulfilled order has a direct impact on profitability, and thus, a company's long-term survival and success.
In certain cases, you will find that it makes sense to outsource at least initially to avoid needless investment while testing out new markets or meeting overflow demand during peak times. However, as soon as volume (and predictability) permits, moving your operations in-house appears to be the only way to profitably scale.
Fortunately, it's never been easier to manage a delivery fleet. With companies like Onfido handling background checks, Zendrive analyzing driver safety, and Onfleet providing end-to-end delivery tracking — you'll never be alone in the field.