Every week, we take a look at the best news stories related to all things last-mile delivery in our Last-Mile Industry Roundup.
---
Feature Story - December 27, 2019
NBC | Americans are ordering more deliveries than ever before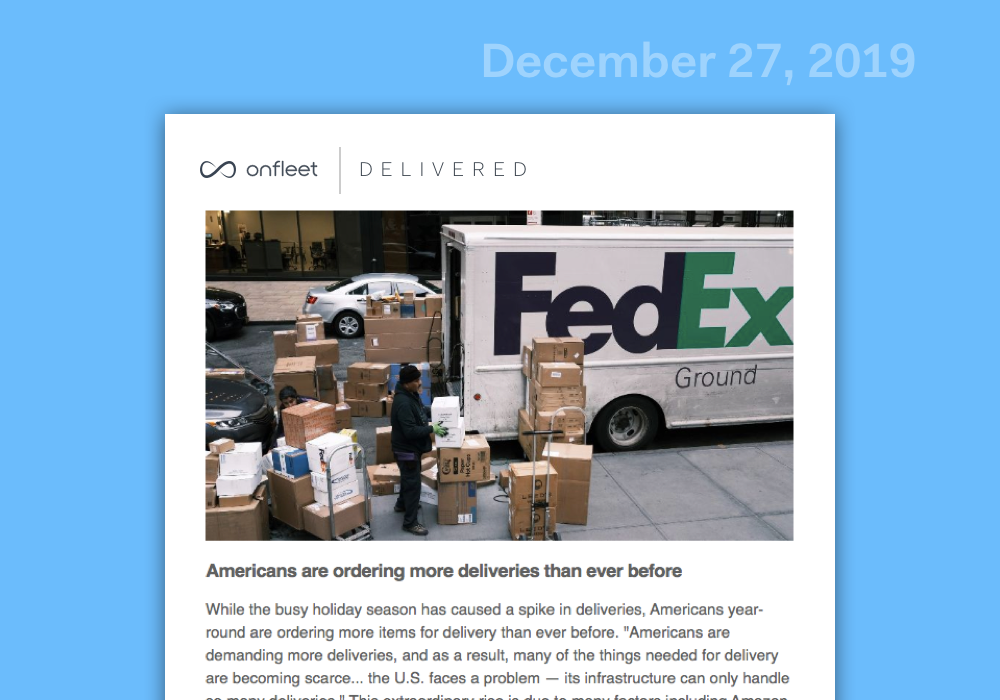 Overview
While the busy holiday season has caused a spike in deliveries, Americans year-round are ordering more items for delivery than ever before. "Americans are demanding more deliveries, and as a result, many of the things needed for delivery are becoming scarce... the U.S. faces a problem — its infrastructure can only handle so many deliveries." This extraordinary rise is due to many factors including Amazon and others raising customer expectations, new delivery technology/aggregators and new labor pools.
Read the full report here.
---
Other stories from this week

MEL Magazine | Really How Accurate is the Domino's Pizza Tracker
Supply Chain Dive | 2019 Holiday Returns Could Reach $41.6B: CBRE
TechCrunch | Uber Founder Travis Kalanick Selling All Stock, Leaving Board
Emergence Capital | Software Is Being Built for the 'Deskless' Workforce in 2020
Want to get stories like these right to your inbox? Subscribe to our weekly newsletter