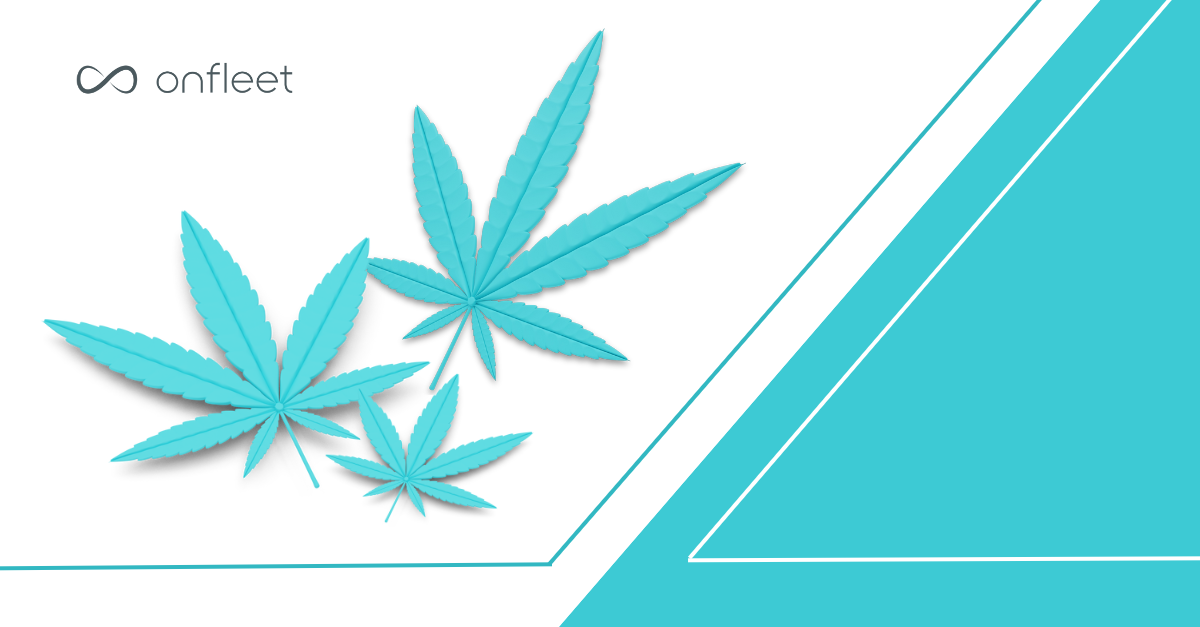 Happy 4/20, everyone! In celebration of our unofficial cannabis holiday, we're excited to shine a light on two Onfleet customers equally invested in customer satisfaction and sustainability.
But first, let's take a look at some data. We love peeking at the numbers behind cannabis delivery on 4/20; this year is no exception!
We focused on last year (2022), specifically 4/14 through 4/21. The goal was to see a rise in 4/20 cannabis deliveries compared to other industries, with an extra day to account for any lingering demand. From there, our team sifted through the millions of delivery tasks done in Onfleet and organized the data.
The result shows the top 5 industries for those 7 days - take a look:
As you can see, there was a sharp increase in deliveries on 4/20 compared to days leading up to the "holiday." 4/21 had the second-most deliveries for our cannabis customers, showing the lingering demand that we anticipated. Overall, it was a great look at the health of cannabis delivery on the most important day for cannabis consumers (or is it?).
With that peek behind the curtain out of the way, let's learn more about our two eco-minded customers: JARS Cannabis and bud.com.
JARS Cannabis Puts the Customer First with Cannabis Delivery Powered by Onfleet
Founded in 2020, JARS Cannabis is a cannabis retailer operating in Arizona, Colorado, and Michigan, with 17 locations in Michigan that offer home delivery. At the time of JARS' initial launch of delivery services, its operations were not automated or optimized. The margins for cannabis delivery were already razor-thin due to strict state compliance.
The pandemic shaped consumer purchasing habits, proliferating express delivery from shuttered storefronts scrambling to make a profit in the short term. Coming out of 2020, retailers recognized that express delivery is unsustainable without additional costs. As a growing company in cannabis delivery, JARS needed a way to shift consumer expectations away from express delivery - both for regulatory compliance and its bottom line - while still providing value for its customers.
Bringing a wealth of experience from launching cannabis delivery services for other companies, Branden Howe joined the company in 2021 as JARS Cannabis' first Logistics Manager. As he discovered, errors in inventory or compliance could trigger a series of time-consuming tasks that would disrupt their ability to meet delivery windows.
The solution was building an automated process that encourages pre-scheduled deliveries, reduces errors, and minimizes delays for customers to support pre-scheduled deliveries – eliminating the potential for errors delaying an order for any customer.
"We're building a value chain similar to Amazon Subscribe and Save, training customers to get on a schedule so we can reduce our costs and provide them savings in the form of stackable discounts," says Howe. "We are reducing carbon emissions in the form of monthly carbon offsets and really raising the standard for what cannabis delivery could be as an industry for Michigan."
Onfleet seamlessly integrates with JARS' point-of-sale system, helping Howe automate cannabis compliance tasks. In Michigan, this includes customer ID tracking, inventory ledgers, and delivery logs. With automated routing and optimization, the company can operate a large-scale delivery operation, optimizing routes across 17 locations and several dispatchers within minutes.
"Automation is so crucial for us [...] [we] could see how that domino effect could get very logistically complicated," says Howe. "If we weren't able to use the level of automation and optimization tools that Onfleet offers, it would quite literally cripple the success of our operation. Those tools allow us to make meaningful, long-lasting customer connections but also operate in a lean, scalable, and profitable manner."
JARS now has an average customer rating of 4.9 stars or higher month after month. To track ratings, the company sends all customers a post-delivery feedback link via Onfleet's SMS feature. The customers' most loved delivery features - both provided through Onfleet - include automated tracking links (44%) and the ability to provide feedback on their delivery (8.3%).
"We don't go out fishing for online Google reviews," says Howe. "We ask for real authentic feedback. But when we do get that constructive criticism from our customers, they're able to provide that privately, and we're able to act on that."
JARS plans to continue to focus on its transparent, value-oriented business model rather than return to express delivery. By removing the focus on immediate deliveries and incentivizing customers to choose a more sustainable delivery method, Howe believes that JARS is raising the standards for the cannabis industry.
"We're not going to be that express delivery service," says Howe. "But whenever you place an order with JARS delivery, you can rest assured that whether you place it a week out or same-day for a delivery window, you're going to get your order in a timely manner."
Bud.com Simplifies Cannabis Retail with a Nationwide Network for Pick-up & Delivery
Headquartered in the San Francisco Bay Area of California, bud.com is a California benefit corporation and technology company offering digital marketing services to cannabis dispensaries and brands since 2017.
bud.com's online cannabis store locator and delivery service finder aggregate a nationwide network of cannabis providers, allowing customers to place online cannabis orders for delivery or in-store pick-up with local dispensaries. Legal hemp-derived products can also be shipped nationwide.
Upon starting up in 2017, bud.com quickly realized dispensaries were not yet digitally literate or ready to launch an embedded suite of software services to provide customers with an e-commerce experience or end-to-end delivery and communications.
What began as an effort to connect customers to cannabis evolved into an in-depth offering of digital marketing and delivery management services.
Justin Hall, Chief Technology Officer at bud.com, says, "We formed ourselves in October 2017,  and in November, we signed up to Onfleet. We realized we could help a lot of dispensaries, and Onfleet made it easy to plug in the last part of the solution."
That last part of the solution — automated delivery management — drew Hall to Onfleet and allowed bud.com to expand its footprint.
After integrating with Onfleet and experimenting with dispensaries, Hall says there wasn't as much to supervise with delivery, "Onfleet's system can run smoothly between our point-of-sale on the web and what the dispensaries need for batching tasks, and so we decided to expand to a whole bunch of cities."
Expanding Sustainability in Cannabis with Onfleet Offset
JARS and bud.com enjoy the benefits of Onfleet's cannabis delivery software, but it doesn't end there. Both companies are proud proponents of our Onfleet Offset program, which has helped offset over 7,500 metric tons of CO2 emissions.
JARS
"Doing our part to minimize the impact on the environment is important to the future of carbon neutrality and key for our delivery customers," says Howe.
JARS has taken additional steps to make operations sustainable by digitizing all customer compliance paperwork through Onfleet, creating a paperless experience. The company also made a sustainability push to shift consumer expectations from express delivery to environmentally friendly scheduled delivery windows.
"You're ordering sustainably," says Howe. "Instead of getting an order 3 times a week, you're getting it every Tuesday in one box."
JARS provides a stackable discount for all customers that want to order in advance for a scheduled delivery window.
"Not only is it better for your wallet to order in advance, it's better for the environment," says Howe. "What we're trying to do is get customers on a schedule to minimize the carbon impact when we deliver goods, and save customers money while they're doing it."
Roughly 70% of JARS' business comes from 29% of its customers.
"We still get new customers, and we do a very good job of keeping them," says Howe. "But the customers that are with us are staying with us, and they don't seem to be going anywhere."
Sustainability adds value to customers too. Our recent survey found that over 50% of Millennial/Gen Z consumers are willing to pay to support carbon offsetting programs.
JARS' customer loyalty did not waiver, and in fact, was boosted when JARS made the switch from express delivery to sustainable delivery in May 2022.
"We actually had our biggest month of growth," says Howe. "We had our biggest spike in reviews, and all of the reviews were basically championing the transparency of the setup."
bud.com
When reflecting on bud.com signing up for the Offset program, Hall says, "When [Onfleet] launched Offset, I thought, 'All I gotta do is flip a switch, and then this whole thing we would want to do is covered by you guys? That's great!'"
Through the Onfleet Offset program, bud.com can track the total miles driven for cannabis deliveries and offset the carbon emissions from those deliveries by purchasing carbon credits. Onfleet and bud.com split the cost of the carbon credits purchased through Pachama, an investor in forest restoration.
"We were just so grateful when you launched Onfleet Offset because we had formed as a benefit company with the intention of measuring our supply chain and trying to be ecologically neutral," says Hall. "The driven mile is a very easy, measurable metric for dispensaries working through bud.com, so let's get our miles counted and pay the earth."
By early 2023, bud.com has contributed to removing 50 tons of carbon from the atmosphere. As a California benefit corporation, bud.com plans to continue serving cannabis customers nationwide with help from Onfleet while making further steps toward carbon neutrality.
"Fifty tons sounds like a lot. Is it enough?" says Hall. "I should do more next year. Higher is better, but 50 feels like a good start."
Results and Next Steps
Combined with JARS Cannabis and our other Offset partners, we continue to hit new milestones. Our latest goal was 7,500 metric tons which, according to the EPA, is equivalent to the following:
Greenhouse gas emissions from:
1,669 gasoline-powered passenger vehicles driven for one year
19,226,616 miles driven by an average gasoline-powered passenger vehicle
Carbon dioxide emissions from:
843,929 gallons of gasoline consumed
736,739 gallons of diesel consumed
99.3 tanker trucks' worth of gasoline
8,401,151 pounds of coal burned
1,459 homes' energy use for one year
945 homes' electricity use for one year
41.3 railcars' worth of coal burned
17,347 barrels of oil consumed
344,543 propane cylinders used for home barbeques
912,319,847 smartphones charged
Greenhouse gas emissions avoided by:
2,595 tons of waste recycled instead of landfilled
371 garbage trucks of waste recycled instead of landfilled
324,642 trash bags of waste recycled instead of landfilled
284,258 incandescent lamps switched to LEDs
Carbon sequestered by:
124,013 tree seedlings grown for 10 years
8,944 acres of U.S. forests in one year
We're eager to see the program keep growing in the face of climate change, with great companies like bud.com and JARS helping lead the way for the cannabis industry.