Customers who signed up last Earth Day have stayed committed to the program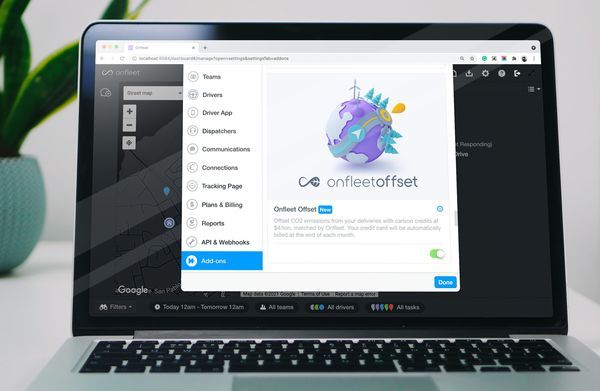 Last Earth Day, we launched Onfleet Offset. This project reflects Onfleet's commitment to curbing carbon emissions, promoting sustainable business practices, and restoring nature. Over the past year, together with our customers, we have offset nearly 5,000 tons of CO2 by protecting thousands of trees.

Onfleet Offset is a climate action program that offsets the carbon emissions from deliveries by supporting carbon-removal forestry projects across the globe. Our customers can commit to reducing their carbon footprint with just the click of a button.

On Earth Day 2022, we are pleased to showcase some of our customers who have prioritized a climate-neutral world and joined Onfleet Offset. All four of these companies signed up for the program last year. Since then, we've calculated the carbon emissions of their delivery operations each month and offset those emissions via carbon credits.

Tonic Blooms  – Toronto, Canada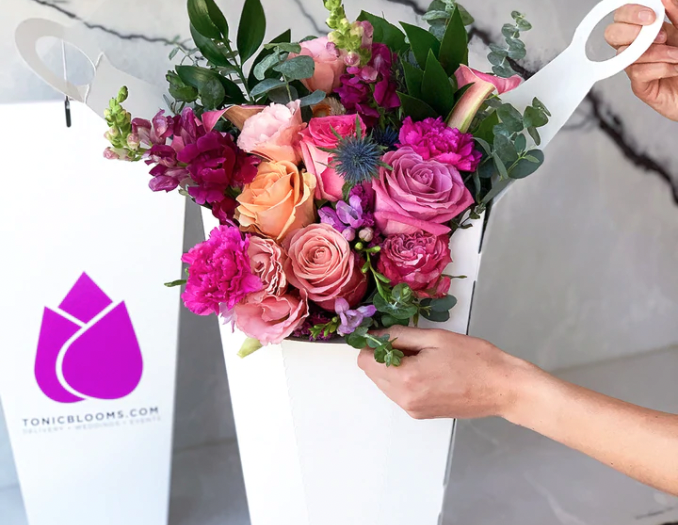 Tonic Blooms is a flower delivery business committed to the environment, with a particular focus on sustainability in the floral industry. The company is a delivery-only operation based in Toronto, without a retail store front. Initially, Tonic Blooms began its journey in 2015 making all its deliveries by bicycle. As the demand for flowers grew outside Toronto's core, Tonic Blooms started considering new delivery methods that could also be sustainable.

Tonic Blooms opted into the Onfleet Offset initiative last Earth Day. "We have sustainability at the core of our business so when I saw Onfleet was doing this, it was a no-brainer for us," said Michael Smaye, Tonic Blooms co-founder. He also stated that Tonic Blooms' customers send supportive text messages and post glowing reviews on Google to show their appreciation for the company's dedication to the environment.

In addition to joining Onfleet Offset, Tonic Blooms supports environmental sustainability through supporting local farmers and their sustainable growing practices and a commitment to a low-waste business model. Thanks to this commitment, the company has achieved less than 2% waste throughout its operations. Smaye explained how the company managed to accomplish this. "We have a curated selection of designs, and we only buy the flowers that we need specifically for those bouquets. Because of that, we're able to manage our inventory," he said, adding that "I also think we have a strong understanding of who our customer is and what their preferences are. With all of these factors grouped together, we're able to minimize waste."

Patty's Cakes & Desserts – Fullerton, California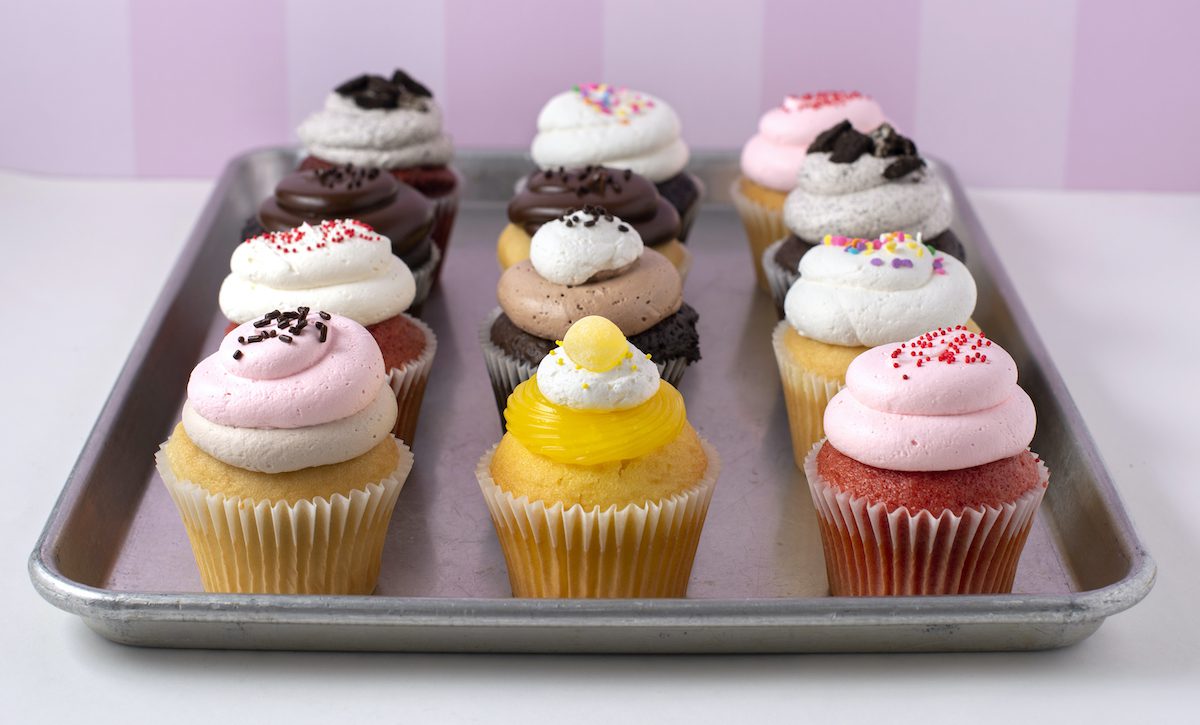 Patty's Cakes and Desserts had been doing deliveries for a couple of years before COVID hit. The pandemic saw the volume of its delivery business expand enormously. "In times of stress, people like to eat, and the last two years have been stressful," Philip Gomez, Co-Partner of Patty's Cakes and Desserts said. The company's deliveries surged by 400% during the pandemic. It now does an average of 360 deliveries a month.

Gomez signed up for Onfleet Offset because he felt it was the right thing to do. "Whether we do a little or a lot, I feel like offsetting is the proper thing to do," Gomez said, adding "As a small business, we don't generate the same environmental damage as large companies, but that doesn't excuse us from offsetting the part we create. To me, it's common sense. I follow the Golden Rule – do unto others as you'd do unto yourself. Do unto the earth as you would do unto yourself. If you want the whole world to be polluted, go on as you've been doing, but if you like it to be clean and green around you, you have to be willing to change."

Gomez enjoys spending time in nature. An avid cyclist, he believes people who enjoy the outdoors have a heightened responsibility to protect the planet and combat climate change. He says this means changing many of the habits and policies that have led our society to its current environmental predicament. "If we continue to do the same thing we've always done for the last 10, 20, 50 years, we will continue down a negative path," he said. "In order to change that trajectory, we've got to do something different. This is one of the small things, it's not the end all be all, but it's a step in the right direction."

Carry Delivery – New York

Jason Ovryn from Carry Delivery is another Onfleet customer who has joined Onfleet Offset, calling the decision a "no brainer."
Ovryn has built a sustainability ethos into his business. "It's a small part but if I can change a little bit of the narrative around delivery, all the better," he said.
Carry Delivery began by delivering apparel and shoes in New York City. It has since expanded its portfolio, delivering coffee, accessories, and home goods. Ovryn said the company plans to expand to other big cities such as LA and Miami.
In addition to Onfleet Offset, Carry Delivery already has a number of sustainability initiatives in place, including:
Using local inventory for local delivery
Switching to electric delivery vans
Having an internal offset program through The Gold Standard
Ovryn said that delivering local inventory shortens transit distance and times, reducing the company's carbon emissions and energy use. This policy also results in faster and cheaper delivery, making it a win-win proposition for customers and the environment.
"The planet's warming, it's our fault and we've got to do something about it," he said. "We have to do it as a society." Being part of Onfleet Offset is a good start, Ovryn believes. "We do tell our customers that we do offsets," Ovryn said.
One of Carry Delivery's largest customers is a high-level European apparel company with a sustainability clause in its contract. Carry Delivery would not have been able to do business with the company had they not been able to show a tangible commitment to sustainability initiatives through programs such as Onfleet Offset.
AptDeco - New York / Bay Area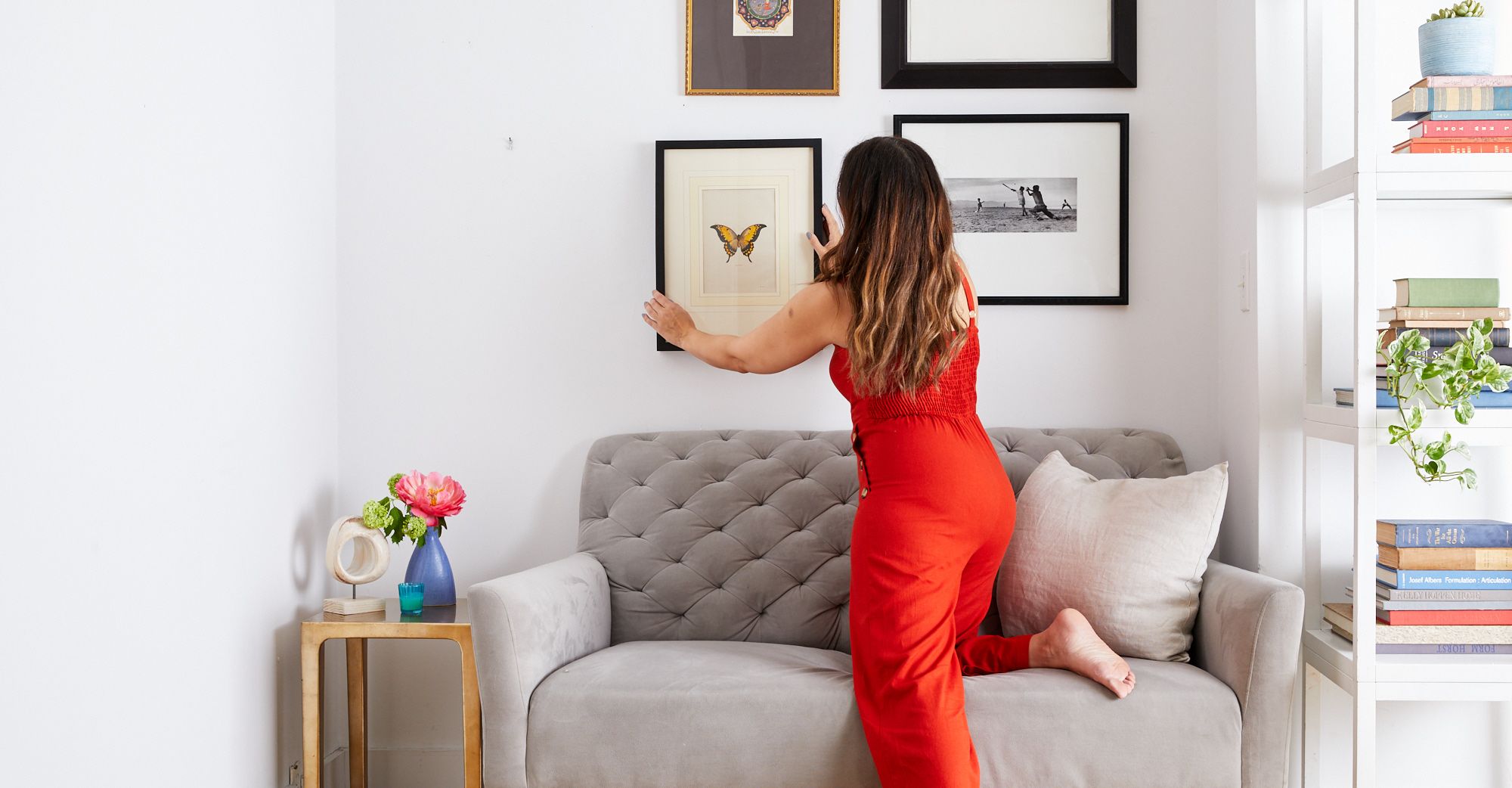 Over 80% of furniture is landfilled. AptDeco, a pre-owned furniture delivery service and marketplace is trying to remedy this by making the furniture industry circular. Traditionally, the use of furniture is linear. Furniture is used, loved, lived with, and then disposed of. Instead of ending the life cycle at one use, AptDeco has created a platform where furniture can continue to stay in circulation.
CEO and Co-Founder Reham Fagiri joined Onfleet Offset, stating "We joined the Onfleet Offset program because as a sustainably-focused company we're always looking for ways to further offset emissions produced by our delivery service."
When AptDeco first launched, its focus was on reducing furniture waste and lowering the emissions created by buying new furniture. As they evolved, they looked to find ways to be sustainable in more areas of the company, and delivering furniture to customers was an area where they could make an immediate difference with Onfleet Offset.
AptDeco has also been working on a smaller scale to reduce their environmental footprint with initiatives such as:
Switching out delivery supplies for reusable alternatives such as switching out tape for wrapping furniture and instead using reusable rubber bands
Planting trees for every listing or purchase on Earth Day
Since its inception, AptDeco has planted over 1 million trees and removed the equivalent of 4.5 million cars' emissions from the road by buying and selling furniture and giving it a second life. Fagiri stated customers choose AptDeco because the platform makes it easy to buy and sell gently used furniture. Customers stay with AptDeco because they trust the company is always looking to better serve the environment. This makes Onfleet Offset a perfect fit for the business, ideology, and benefits AptDeco's customers. Customers like that their sustainability-minded furniture delivery doesn't harm the environment.
Conclusion
In a recent Onfleet survey conducted by the Harris Poll, we found nearly half of Americans (45%) would be willing to pay higher delivery fees to a company with a carbon offset program. It's encouraging to to see that there is consumer support driving company sustainability initiatives.
Onfleet Offset is a commitment to a sustainable future. Through the program, we have been able to offset over 11,000,000 pounds of carbon emissions. We are proud of these numbers, but we know there is still much more work left to do. Together, we can help mitigate the effects of climate change and preserve our planet for future generations.

Happy Earth Day!