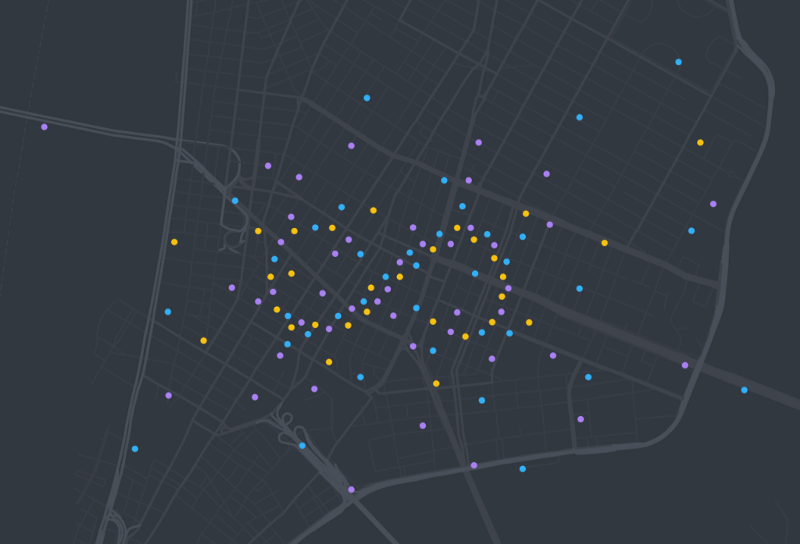 What is Onfleet?
Onfleet is a leading delivery management solution that helps businesses around the world assign and track their local deliveries, communicate with their drivers and customers, and optimize routes automatically. Onfleet includes a powerful web-based dispatcher and reporting dashboard, intuitive iOS/Android mobile apps for drivers, automatic customer notifications with real-time tracking, and robust APIs to support any type of integration.
What's the difference between Onfleet and GPS navigation?
GPS navigation is effective if you're planning a trip with just a single start and end point. But it's not the right tool for planning delivery routes with multiple stops.
Onfleet lets you create optimized routes based on driver availability, delivery locations, and other factors. It also offers detailed analytics to track on-time delivery rates, time per task, and distance per task.
We'd be happy to show you! Contact us to schedule a demo.
Who uses Onfleet?
Onfleet works for companies of all sizes, but most of our customers are considered "mid-sized" (51-1,000 employees) and have medium to large delivery volumes.
Will Onfleet work well for my business?
If your business involves making deliveries and managing a fleet of drivers (whether in-house or contracted), we can help streamline your operations. Onfleet is optimized specifically for high-volume, high-velocity operations and excels in both on-demand and scheduled deliveries.
How much does Onfleet cost?
We believe you should only pay for the value you derive from our software. Because of this, we don't charge for setup, training, or integrations, and we don't limit the number of drivers or dispatchers associated with your account. Instead, we bill based on the number of pickup and delivery tasks you complete each month.
We also scale with you. As your delivery volume increases, you can look forward to a decreased per-task rate to reduce your marginal costs. See our full pricing table and interactive sliding cost estimator on our pricing page.
Can I try Onfleet before purchasing it?
Yes! We offer a 14-day free trial.
Do you have drivers that I can use?
At this time, we don't provide drivers. However, there are a number of courier and delivery providers on the Onfleet platform that would love to hear from you! Contact us for an introduction.
How many people can use Onfleet at a time?
As many as you need! Since we bill on a per-task basis, feel free to add as many drivers and dispatchers as you need at no additional cost.
How do you calculate ETAs?
We calculate ETAs (or estimated times of arrival) by using a variety of inputs including: speed limits, recommended speeds, historical speeds, traffic data, and a worker's real-time workload and location. By comparing predictions with what's actually happening in the field, we're able to estimate arrival times with a high degree of precision.
Are you a white label solution?
The delivery tracking page, which allows your customers to track their driver, can be fully branded with your company's logo and custom color scheme. We maintain our brand across the dashboard and mobile applications to ensure a consistent and delightful user experience.
Do you work outside of the US?
Yes. We have customers in over 20 countries around the world.
Will my drivers need their own phones?
Yes, drivers will need Android or iOS phones with active data plans in order to use Onfleet. Some of our clients supply their drivers with smartphones, and others reimburse their drivers for data usage. Let us know if you need help determining the best option for your business.
How do you drive on Onfleet?
Once a company starts using Onfleet, drivers will receive an SMS message with a link to download the Onfleet app. Drivers can start driving with Onfleet as soon as they install the app.
Can I collect signatures upon delivery?
Absolutely! Signature and photo capture are available within the driver app to make proof of delivery a breeze.
Do you track drivers when they're offline?
Onfleet does not access, collect, or store any information about drivers when they are off-duty or offline. To learn more about how we manage user data, please see our Privacy Policy.
Do you have an API?
Yes, the Onfleet API lets you perform common dashboard actions, such as creating and assigning tasks to drivers via secure HTTP request. Check out our API documentation for more information.
What technology do I need to use Onfleet?
Onfleet only requires web connectivity and the ability to send out SMS notifications. Therefore, it works best in areas where telecommunications networks are robust and reliable. If you're unsure whether Onfleet will work for you, send us an email!
Can I integrate without developers?
Onfleet was designed to be used out of the box by non-technical people. Technical integration isn't required and is not a barrier to getting up and running.
If you're looking for a tighter integration or a way to rapidly deploy a pilot, our private Zapier integration can help. In just a few minutes, and without a single line of code, you can push new tasks into Onfleet from your existing websites, apps, and back-end fulfillment systems. We can also connect you with our third-party developer partner, who can help you build a custom Onfleet integration. Contact us to learn more.
Is my company or customer data ever shared with any third parties?
No, Onfleet will never share your data with anyone. For more information on how we protect sensitive user data, please feel free to review our Privacy Policy.
What support does Onfleet offer?
Our support options include onboarding, knowledge base, chat and email help, and phone support.