Flowers for Dreams makes flowers more affordable and accessible with its delivery operation, which has expanded to 8 states with Onfleet delivery management software deployed in 4 of those states.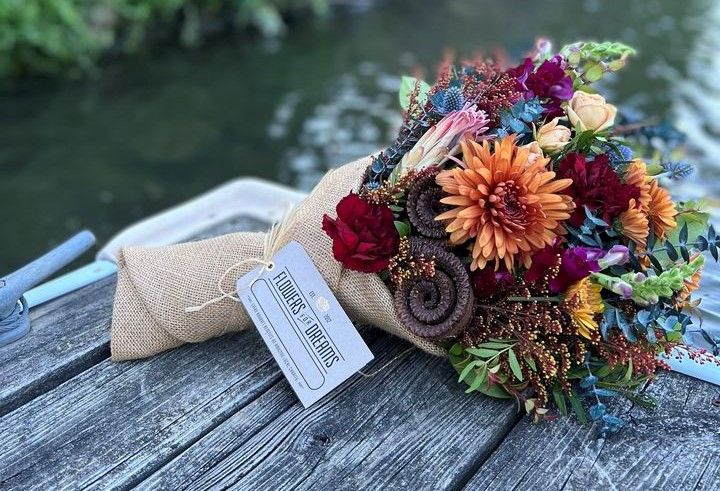 Customer Introduction
Flowers for Dreams provides same-day and next-day delivery of locally crafted, hand-curated flowers in Chicago, Milwaukee, and Detroit, with shipping across the Midwest. Founded in 2012, Flowers for Dreams has spent the past decade making flowers more accessible and affordable while inspiring customers with its unique business model focused on philanthropy.
"We thought there was a gap that needed to be bridged in the flower delivery space," says Co-Founder Joseph Dickstein of Flowers for Dreams, who position themselves as the first socially conscious flower company. "So, we decided to use flowers to improve causes of justice and charity in the communities we serve."
With 25% of all bouquet profits going to charity and over $1M donated to date, Flowers for Dreams makes a significant impact on some of today's pressing social issues, including housing and homelessness, mental health, BIPOC communities, and women and girls.
---
Problem
While making a positive impact came easily for Flowers for Dreams, routing and logistics were a different story.
"For the first four years, we spent countless time, money, stress, and energy developing our own very basic routing and logistics software, which became extraordinarily expensive," Dickstein remembers. "We started to focus a lot of our time on logistics rather than what we do best—flowers."
After the rudimentary software broke on Valentine's Day - their largest volume holiday - with hundreds of bouquets undelivered, Flowers for Dreams had to reassess and refocus the future of their software and logistics.
"We figured there's probably someone out there that specialized in this," says Dickstein. "We took a few months to figure it out, and that's when we found Onfleet."
---
Solution
In 2016, Flowers for Dreams integrated Onfleet delivery management software to improve logistics operations and ultimately scale its business.
Driver Tracking
In the floral industry, businesses deal with two different clients, the purchaser and the recipient.
"The purchase is a surprise for the recipient 99% of the time," says Dickstein. "Because of that excitement, the purchaser contacts our call center multiple times a day asking where the flowers are."
Before implementing Onfleet delivery management software, Flowers for Dreams didn't have an answer for their customers as they had no way of tracking their drivers.
"Now, we are able to give very specific timing to all of our purchasers and even provide tracking for when flowers will be delivered," says Dickstein.
Utilizing Onfleet's driver tracking, Flowers for Dreams can circumvent driver issues in real-time.
Daniel Hogan, who oversees 100+ drivers as Head of Logistics, says he reaches out to those with visible delays, "There might be flat tires, stalls, accidents—all the factors that are out of our control—and we're able to send another driver to go pick up the flowers and actually complete the route."
Delivery Confirmation
Before Onfleet, Flowers for Dreams was not able to track deliveries or digitally record signatures, photos, or notes upon delivery.
"Now we can send real-time delivery confirmation communications to purchasers letting them know their bouquets have arrived, and that's been huge for us," says Dickstein.
Routing Efficiency
In order to scale operations across several locations or during peak periods, routing and dispatch operations have to be efficient and intuitive.
"If we're going to continue to do not just hundreds of routes but thousands, we need the routing process to be optimized and automatic," says Dickstein. "So, Onfleet's route optimization and dispatch features have been huge for us—just how user-friendly and quick it is to be able to get our deliveries into our drivers' hands minutes later."
Hogan says, "On Valentine's Day or Mother's Day, when we are dealing with a massive amount of routes, Onfleet is a very simple tool that gets them squared away."
Data Analysis
As Flowers for Dreams continues to grow, data analysis will be vital to improving the business.
"How fast deliveries are going; specific analytics on drivers; how many deliveries they've been doing; how fast they've been able to do it; what's been holding them up," Dickstein lists. "The analysis that we have on this from Onfleet has been one of the greatest features we weren't able to gather before."
---
Results
#1: Rapidly Scaled Delivery from Chicago to the Entire Midwest
The decision to implement Onfleet's delivery management software in 2016 has played a crucial role in Flowers for Dreams' expansion from Chicago and its ability to take on more deliveries in more locations.
"Onfleet was one of the many reasons that we were able to scale and go to other cities," says Dickstein. "It helped with the way we were able to configure deliveries, making it more efficient. It made it easier for us to scale because we didn't have to hire more people and create more processes or new technology. We were able to use our existing platform and personnel with Onfleet and were still able to grow."
Operations rapidly scaled to store locations and fulfillment centers in Milwaukee, Detroit, and Minneapolis, with local delivery across Illinois, Wisconsin, Michigan, and overnight shipping to Minnesota, Iowa, Indiana, Ohio, and Missouri. All delivery operations are managed from the Chicago headquarters.
Dickstein says, "Onfleet made it very easy for us to be able to see where our drivers are in real time. It has given us the opportunity to have someone like Dan Hogan sit at a computer and be able to route deliveries for numerous drivers and numerous different cities in the U.S."
#2: Saved Dispatch 25 Hours of Labor per Week
Onfleet delivery management software saves Flowers for Dreams hundreds of dispatch hours each year. On busy days, Flowers for Dreams configures over 100 routes per day.
"Beforehand, it would take 5, 10, 15 minutes maybe to make a route. Now it's done within seconds," says Dickstein.
#3: Improved the Customer Experience
Onfleet provides timely tracking, pictures for delivery confirmation, and digital signatures, so Flowers for Dreams knows who received the flowers and much more.
"The experience that the customer is able to receive has been dramatically improved," says Dickstein. "Onfleet has helped what matters the most, and that's our customer."
---
Next Steps
Overall, Dickstein says, "Onfleet has made our business a lot more profitable, a lot more efficient, and a lot more scalable," which allows Flowers for Dreams to focus on improving causes of justice and charity in the communities it serves.
"Our goal is to continue to be able to do this in multiple different cities," says Dickstein, referring to its Flower for Dreams Foundation, where employees pick the causes and a quarter of profits go to charity. "We want to be able to do this not only for this space that we currently serve but well beyond."
As Flower for Dreams continues to make flowers more affordable and accessible to its growing list of cities across the U.S., they can expect a reliable, cost-effective delivery management solution from Onfleet - enabling them to reinvest in their local communities.