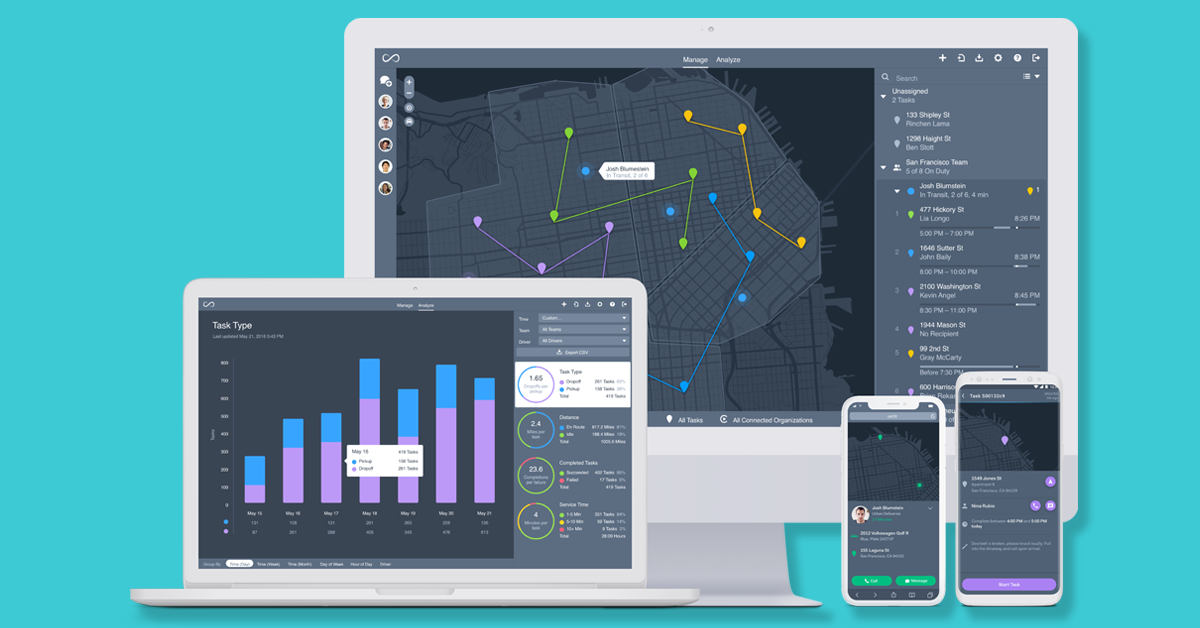 Reduced travel times, optimized route planning, and automated dispatching — these are all crucial features that help businesses save time and money when moving products and equipment. Dispatch routing software can help fleet managers and dispatchers achieve greater efficiency by providing real-time delivery updates, improving planning, and streamlining communication.
Your dispatch routing software should be able to handle many deliveries and optimize them for the shortest or most efficient route, and help drivers avoid unexpected delays.
While there are a lot of routing and dispatch software platforms to choose from, each has a unique focus with different tools and capabilities. We've compiled a list of the top dispatch routing software options below.
In this post, we'll:
Define dispatch routing software
Highlight some routing and delivery tools
Provide an overview of each technology, including its focus and key features
---
What Is Dispatch Routing Software?
Dispatch routing software is technology that helps delivery companies manage their fleets and improve the delivery process. Features typically include route optimization, automation capabilities, mobile apps, and real-time data to streamline communication between drivers and the back-end operations team.
The technology eliminates the cumbersome manual process of planning routes and communicating with customers by automating many tasks that would otherwise fall on the dispatch team. As a result, businesses using the software can reduce their delivery times and improve customer satisfaction.
---
Common Features of Dispatch Routing Software
Routing and Dispatch: Optimizes incoming orders for the shortest or most efficient route while factoring in traffic conditions, construction, weather, etc.
Automation: Automating tasks like optimized route planning and driver or customer alerts reduce the workload on dispatch teams.
Mobile applications: Mobile apps for both drivers and customers to track deliveries and provide updates in real time.
Real-time data: Data about driver location, availability, and status streamlines communication and ensures timely deliveries.
Reporting and analysis: Detailed task histories and driver performance metrics help improve driver productivity and accountability.
Proof of delivery: Dispatch routing apps allow fleets to easily record proof of delivery via the collection of signatures, barcodes, and photos.
Driver management: Driver chat, proof of delivery, and accurate ETA predictions help you manage and monitor your drivers.
---
1. Onfleet
Best for: Small, mid-size and enterprise last-mile delivery companies.
Overview
Onfleet is a cloud-based dispatch routing solution that offers a suite of features for optimizing last-mile deliveries, including route optimization, real-time tracking, and performance analysis.
It works well across many delivery categories, including retail, grocery, restaurant, pharmacy, floral, and e-commerce. With a focus on fuel efficiency, great customer service, and API integrations, Onfleet is easy to use and completely scalable.
Key Features
Dashboard interface that fleet managers can use to oversee daily operations and monitor performance.
Automated dispatch of orders based on driver location, traffic conditions, and delivery priority.
Chat features for easy communication between fleet managers and drivers.
Mobile app for driver delivery instructions, navigation, and real-time customer notifications.
API integration allows customers to track their deliveries in real-time from their phone.
Detailed performance reports help improve operational efficiency.
2. Salesforce Field Service
Best for: Field service management for SMBs and enterprises.
Overview
Salesforce Field Service is a cloud-based customer service solution that helps businesses manage field service operations. It offers job scheduling, case management, and mobile apps to help field service reps, clients, and field service managers coordinate and communicate.
The platform serves industries that rely on field service teams, like IT/tech, construction, manufacturing, and healthcare/life sciences. Its primary use is for deploying and managing field service workers, but dispatch teams can use it as well to manage fleets.
Key features:
Work order management.
Mobile field service app lets workers access job details, customer information, and GPS directions.
Real-time job status notifications for customers.
Automated job scheduling based on worker skills, location, and availability.
Field activity analytics help businesses track job completion rates and average first-time fix rates.
3. Axon Trucking Software
Best for:  Dispatch management for trucking and transportation businesses.
Overview
Axon Trucking Software helps trucking and transportation businesses manage their operations with features like GPS tracking, load management, driver management, and field ticketing.
The platform serves trucking and transportation businesses across industries that rely on trucking fleets (e.g., freight hauling, waste management, oilfield trucking, and automotive transport).
Key features:
Fleet management feature for tracking and managing trucks, trailers, and other vehicles in the fleet.
Track driver hours, schedules, pay, and performance.
GPS location tracking follows trucks in real-time and tracks driver routes, speeds, and idle times.
Field ticketing feature lets you issue hundreds or thousands of field tickets a day.
Automated IFTA fuel tax reporting.
4. Intellishift
Best for: Businesses with heavy equipment fleets and large field operations (50+ vehicles).
Overview
IntelliShift is a fleet intelligence platform that helps businesses with 50 or more vehicles or assets manage and track their fleets. It primarily serves businesses in the building materials, construction, transportation/trucking, and civil engineering industries.
The platform bundles a variety of features that can help with fuel management, compliance, safety, maintenance, and analytics.
Key features:
Vehicle telematics that provide real-time tracking and diagnostics of vehicles in the field.
Asset/vehicle tracking.
Automated HOS and DVIR compliance to help fleets comply with regulations and manage driver logs.
AI dash cam feeds show driving speed and lower insurance premiums by improving safety.
Fleet intelligence/analytics to help improve performance and optimize operations.
5. Degama DTMS
Best for:  Medium-to-large dispatch teams managing local, long-haul, or dedicated fleets.
Overview
Degama's cloud-based dispatch trucking management software (DTMS) helps transportation businesses manage their fleets. It includes accounting and operations management capabilities for quoting, rating, costing, billing, and claims management.
The solution serves a variety of transportation needs including management of full-truckload, less-than-truckload, and flat deck/heavy haul deliveries.
Key features:
Order management, load tracking, and load tendering.
Optimizes schedules and routes.
Performance tracking, payroll integration, HOS compliance, and driver retention tools.
Automated assignment of loads, real-time tracking, freight allocation, multi-trailer support, and load optimization.
Billing and invoicing features.
Analytics, operational reports, and historical data.
6. Vizzn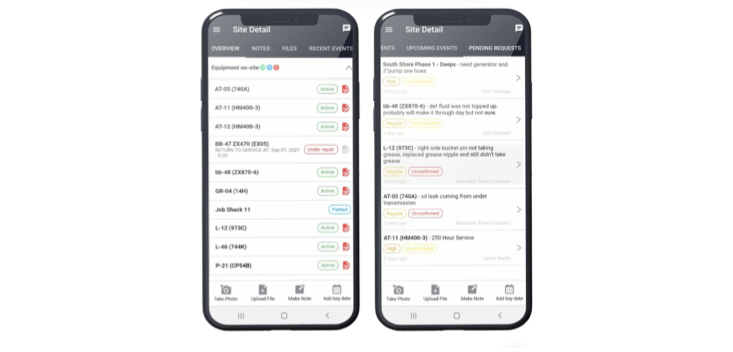 Best for: Construction companies.
Overview
Vizzn is a construction management software solution that helps businesses with workforce dispatch and scheduling, project management, equipment tracking, and vehicle fleet management.
The solution serves general contractors, construction businesses, concrete companies, and service technicians. As such, there are dispatch and scheduling tools for transporting equipment and people to job sites. But there are also jobsite management features specific to construction.
Key features:
Dispatch and scheduling: dispatching built for heavy civil contractors includes getting the status of equipment on job sites and seeing where your crews are in real-time.
Project scheduling features help you see what equipment is available for each project and adjust the schedule to avoid disruptions.
Remote job site view shows you where equipment is, who is working on what, and where materials are.
Onfleet for Seamless Last-Mile Delivery
Dispatch routing software helps businesses manage their fleets by creating efficient routes, optimizing schedules, and tracking driver progress. With features that typically include order management, driver management, dispatch management, billing and invoicing, and reporting, a dispatch routing platform can help you increase efficiency and visibility across your business.
Onfleet's last-mile delivery platform helps businesses like United Supermarkets, Total Wine & More, and MetroSpeedy manage local delivery operations. Learn how our customers use Onfleet to improve delivery operations and customer service.