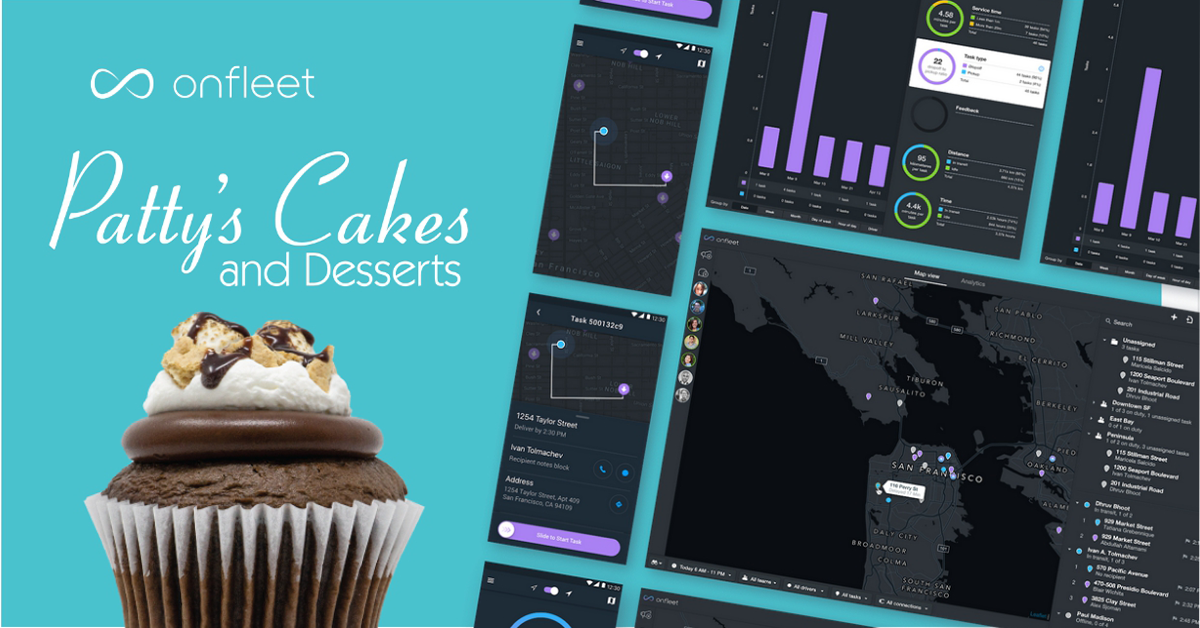 With online ordering and delivery becoming more ubiquitous for retail businesses, it can be crucial to lean on experts and their valuable experience to get your delivery operation off the ground. That inspired our Customer Highlight webinar series, which kicked off on September 22 to shine a spotlight on some of our Onfleet power users.
Our first session featured Philip Gomez, Co-Owner of Patty's Cakes in Fullerton, California. If you didn't know, Patty's Cakes has grown from one woman's passion for baking to a beloved local staple for baked-to-order treats. Philip has owned the business operation and marketing, including introducing local delivery up to 23 miles away. He turned to Onfleet when he needed quality delivery software to ensure the customer experience was to Patty's standard.
Since 2020, Patty's Cakes has generated a 400% increase in demand due to its successful delivery operation. Onfleet's Director of Customer Success, Mary Lee, spoke with Philip about how he manages his deliveries with Onfleet, including deep dives into his integrations with Airtable and Zapier to keep things running smoothly.
Missed this session? Check out the summary below or click here to watch the on-demand recording.
Simplifying Operations with Automation
If you're offering delivery via your website, then you likely use one or more pieces of software to make that side of your business function. You may use Shopify to maintain your online store while Onfleet streamlines the delegation and completion of delivery tasks. As a result, you likely spend more time managing the process through your combination of software, also known as a technology stack.
Tech jargon can be pervasive and hard to translate, but Zapier helps to keep things simple. Philip compared it to Google Translate: it offers simple connections between different apps, similar to how you can translate a sentence from one language to any other provided by Google. As Philip put it, the end result is "automation within everybody's reach."
For Patty's Cakes, automation helps validate new addresses and phone numbers, which helps delivery drivers ensure they're going to the correct location and can get a hold of customers if something goes wrong. It also allows Philip to bring all of his order data into Airtable for more in-depth management than he could get from Excel spreadsheets.
Philip's Four Go-To Zapier Connections
As a made-to-order bakery, Philip's top goal is to ensure orders are delivered promptly and in good quality. With his current stack of integrations, he can take in new orders and begin work on them while Zapier moves the order from Shopify to Onfleet and into Airtable.
Here's what that process looks like, step by step:
Philip employs a set of four Zapier connections, or Zaps, to achieve this process:
Task Updated and Driver Assigned
Task Cloned
Task Deleted
Driver Unassigned
The process starts with a trigger known as a webhook, like a URL, and filters its way down a series of actions to confirm order and customer details. From there, the destination is brought into Onfleet, where Philip can assign drivers based on availability or start and end times. All of this is recorded in Airtable for reference.
Here's what the chain of commands for this Zap looks like for a typical order:
Philip's other three Zaps help with cloned tasks, deleted tasks, and unassigning drivers from delivery shifts and keep data funneling through to Airtable. "The reason for these four [Zaps] is to keep Airtable mimicking what's happening on foot. [...] All we've done is create the proper steps to make sure that everything is synced up."
Daily Route Tricks with Onfleet
With two vans and four delivery windows between 10 am and 7 pm, Philip wanted to route his drivers with a consistent flow for each day. "From start to end, we waterfall the timeline. That way, we can make sure that everything is going to be on time through the entire day."
His flow kicks off with a task called "Starter" which uses preset data to designate when their vehicles will head out for deliveries. From there, he optimizes the route between delivery tasks until the end of their three-hour window.
A task called "Return" takes into account the time needed to load the van and come back to the store, then automatically routes the vehicle back for the next delivery or lunch break.
Finally, a "Lunch" task accounts for 30-minute lunch breaks and kicks off the next delivery window.
Here's what that workflow looks like from Philip's view:
---
We're grateful to have had Philip participate in this webinar session and dig into what has helped drive such incredible success to his beloved bakery business. There were many more details and excellent Q&A questions that this article couldn't cover, so be sure to check out the full recording and learn more!
Our Customer Highlight webinar series continues on into 2023, so be sure to subscribe to our newsletter below to stay tuned for new session announcements!