I'm excited to announce that Onfleet has raised a $14 million Series A round of funding! We will use these resources to grow our team and expand our last mile logistics platform to meet the changing needs of retailers and delivery businesses around the world. This funding round was led by Kennet Partners and comes at a pivotal time for Onfleet and the industry as a whole.
Last mile delivery has never been more critical to commerce than it is today. The pandemic has rapidly accelerated retail's digital transformation from in store to online, home delivery. Whether for food or flowers, liquor or laundry, delivery is here to stay. As the fastest growing provider of delivery management software, we are no longer just helping companies modernize and enhance their delivery operations – we are helping businesses around the globe innovate, survive, and thrive in this new environment.
Since launching Onfleet in 2015, our software has powered nearly 100 million deliveries for thousands of businesses around the world including Kroger, Imperfect Foods, Alto Pharmacy, Sweetgreen, Drizly, and more, tracking over 200 million miles in the process (that's a round trip to the Sun!). Our clients range from local restaurant and supermarket chains exploring delivery for the first time to global retailers and logistics providers.
Onfleet has been recognized as one of the top 150 fastest growing companies in the US by Inc. Magazine and one of the top 15 fastest growing companies in San Francisco by SF Business Times. We've helped eliminate around 20,000 tons of CO2 emissions by optimizing drivers' routes. We've helped tens of thousands of those drivers save time and make more money with intuitive, user-friendly driver apps. We've helped many of them find work. We've supported a wide range of organizations on the front lines of the COVID-19 pandemic free of charge, helping manage hundreds of thousands of deliveries of PPE, testing supplies, food bank and grocery donations, and more.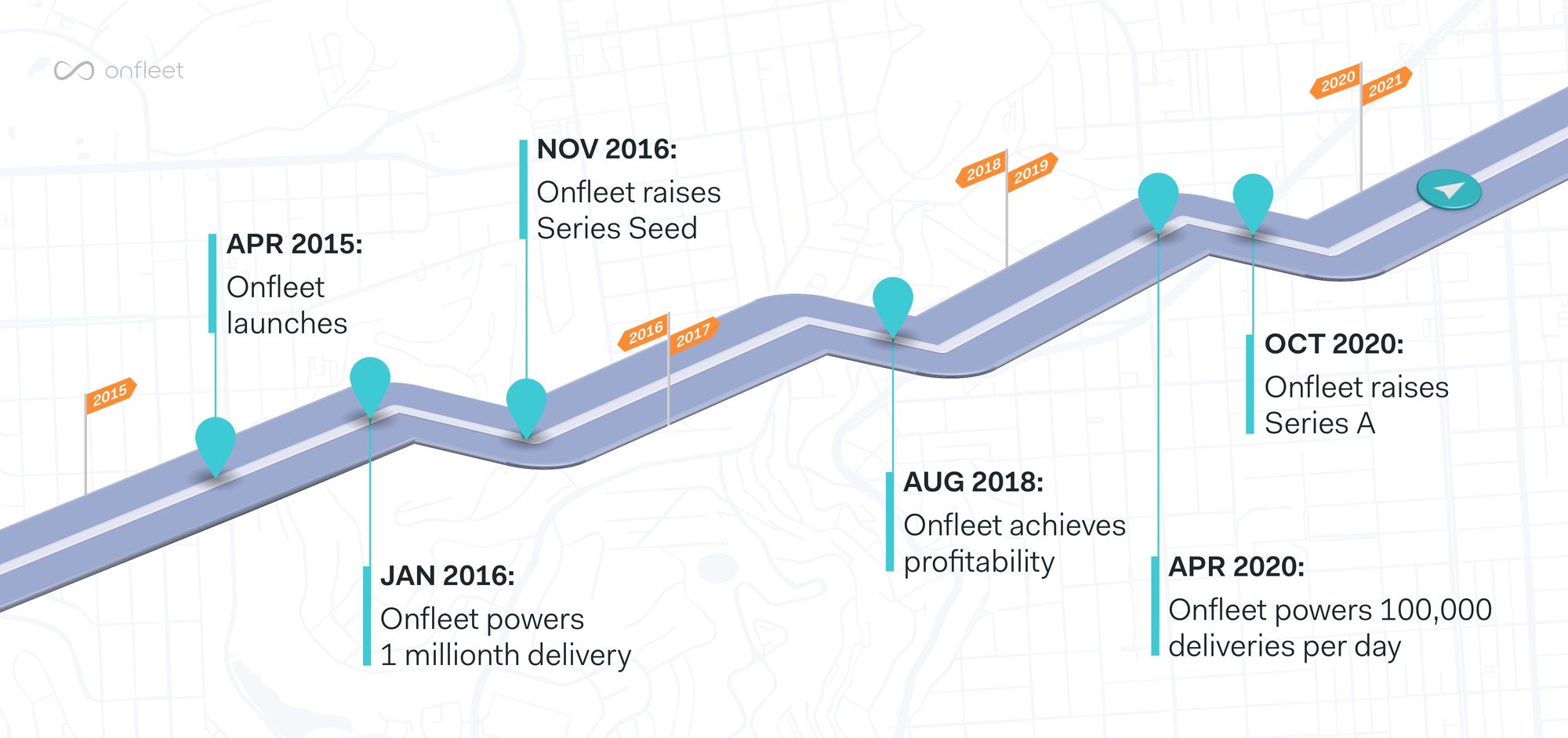 And we're just getting started…
We are fortunate to have earned the trust of thousands of happy customers and have operated Onfleet profitably for over two years now while on a healthy growth trajectory. We didn't need to raise additional funding. However, as it became clear to us that the shift to delivery-centric business models had been accelerated by several years, we felt that it was the right time to bring on a new partner. This funding, which brings our total raised to date to $20 million, will allow us to grow the team more rapidly, enhance our product offerings for both in-house and outsourced delivery models, support our international expansion efforts, and solidify our position as the leader in the last mile delivery technology space.
We're thrilled to be partnering with Kennet and are excited to welcome Javier Rojas to our board. Javier and his team bring decades of experience building successful global SaaS businesses and truly share our vision to build the operating system for last mile delivery. Kennet and Onfleet are committed to our mission of making it easy for every retailer to offer fast, affordable, and delightful delivery to their customers.
Thank you to all of our customers for trusting Onfleet to power your deliveries. We look forward to supporting your growing businesses and bringing you more innovative and delightful delivery management products for years to come.
Onwards!
Cheers,
Khaled Naim, Co-Founder & CEO
P.S. We're hiring! If you're passionate about delivery logistics, solving complex problems, or you just think what we're doing is cool and you'd like to be a part of it, check out our careers page to learn more.

---