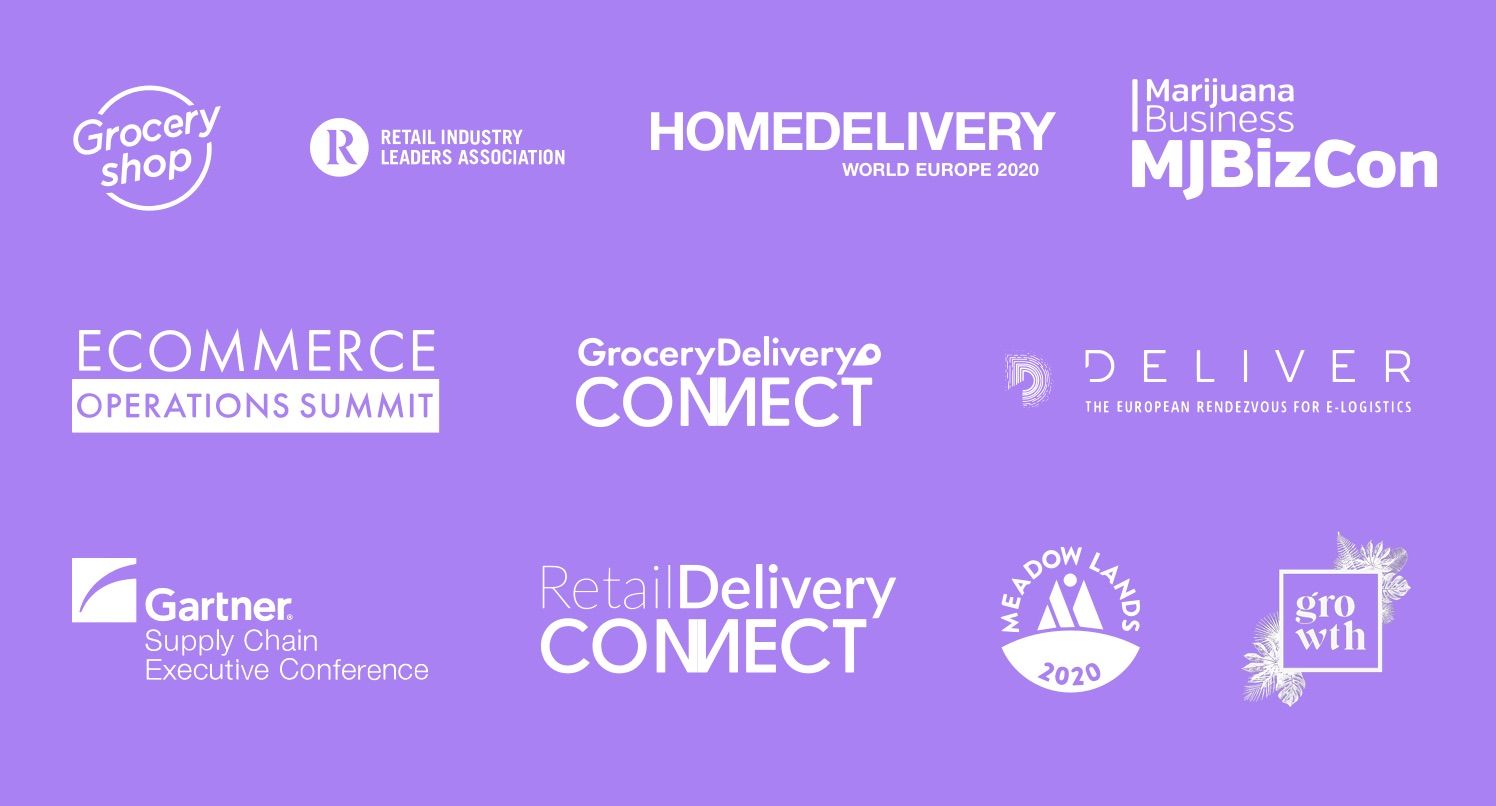 As we look forward to a year filled with innovation, new partnerships and lots of new features, it only makes sense that we hit the road again in 2020 to show the world what Onfleet has to offer.
Last year we attended a dozen or so conferences with stops in New York, Las Vegas, Orlando, and all the way out to Lisbon, Portugal. We are even more excited to announce our 2020 conference schedule with just as much global reach, and a few more European dates added to the calendar.
We will be debuting an all-new feature set including our table view, advanced routing capabilities, and an expanded partner ecosystem. In addition to a powerful new feature set, we will be speaking and hosting panels at a number of shows. Join us!
Below is a list of upcoming conferences we'll be sponsoring over the coming months. We'd love to meet if you'll be there! Get in touch to let us know you'll be around and we'll schedule some time to connect.
Feel free to also reach out if you're interested in learning more about each conference — we have special discounts for our customers and other retailers.
.  .  .
RILA Retail Supply Chain Conference 2020: LINK
February 23 – 26 | Gaylord Convention Center | Dallas, Texas

Booth #216
Kicking off the first conference of the year the team will be at the RILA LINK conference in Dallas. Last year Onfleet was awarded First place in the RILA Supply Chain Innovation awards so we are excited to return to show the industry what we have been up to.
.  .  .
March 19 - 20 | RAI Amsterdam | Amsterdam

Booth #D40
Onfleet will be a Platinum Sponsor at Home Delivery World Europe — our first international conference of the year. With customers in 90 countries globally we are excited to reconnect with our European partners and forge new relationships! Onfleet will be delivering a keynote on Day 2 of the show alongside a Grocery presentation and will be featured as panel moderators.
Register to attend using our VIP Registration Link or Schedule a Meeting.
.  .  .
April 14 - 16 | Marriott Orlando World Center | Orlando, FL

Onfleet CEO Khaled Naim will be speaking on the future of last mile alongside a panel of industry experts. The show will focus on omnichannel and DTC operations & fulfillment, including routing, dispatching and delivering a seamless customer experience.
.  .  .
May 16 | Walt Disney World Swan & Dolphin Resort | Orlando, FL

We return again to Orlando with an elite group of executives to focus on important supply chain topics. Gartner has organized an agenda of relevant topics including how to win during disruption, building agility into systems, processes and decision making. We are excited to be invited to attend this event.
Schedule a Meeting

.  .  .
June 9 - 10 | TAETS Art and Event Park | Amsterdam

The team is back in Amsterdam again for DELIVER, the largest powerhouse in e-commerce and logistics ever gathered, brings together the international elite in e-commerce and operations from the world's biggest and most iconic retailers to foster meaningful relationships.
.  .  .
Aug 9 - Aug 11 | JW Marriott Marquis Miami |  Miami, FL


An Invite-Only Event For Senior Level Supply Chain & Logistics Executives in Retail.
.  .  .
September 14-17 | Mandalay Bay | Las Vegas, NV

We are excited to return to Groceryshop for our third year. This conference is the leading event for innovation in grocery and CPG. The incredibly rapid growth of home delivery in the Grocery space makes this one of our favorite shows of the year.
.  .  .
September 21-24 | Wynn | Las Vegas, NV

An exciting new show in the rapidly growing Cannabis industry. Join us in Las Vegas for what looks to be a major industry event.
.  .  .
October 7 - 9 | Phoenix, AZ

Meet us in Phoenix for the invite only event for Senior Operations & Supply Chain Executives fro Grocers, Specialty Retailers and F&B Brands. We are excited to discuss the rapidly changing industry focused on customer satisfaction and an ever evolving landscape.

Schedule a Meeting

.  .  .
June 11-14 | Camp Navarro | Navarro, CA

This industry focused gathering brings together like-minded entrepreneurs, decision-makers, state regulators and industry professionals. Come share knowledge, build valuable alliances across the supply chain, and participate in educational, interactive, and wellness programming under the stars.
Schedule a Meeting

.  .  .
December 2-4 |  Las Vegas Convention Center | Las Vegas, NV

Join us in Las Vegas for the world's largest cannabis industry B2B event. The show keeps getting bigger and better each year as a result of MJBizCon's increase in global recognition, rapid-expanding attendance and significant impact beyond the convention center walls.

Schedule a Meeting