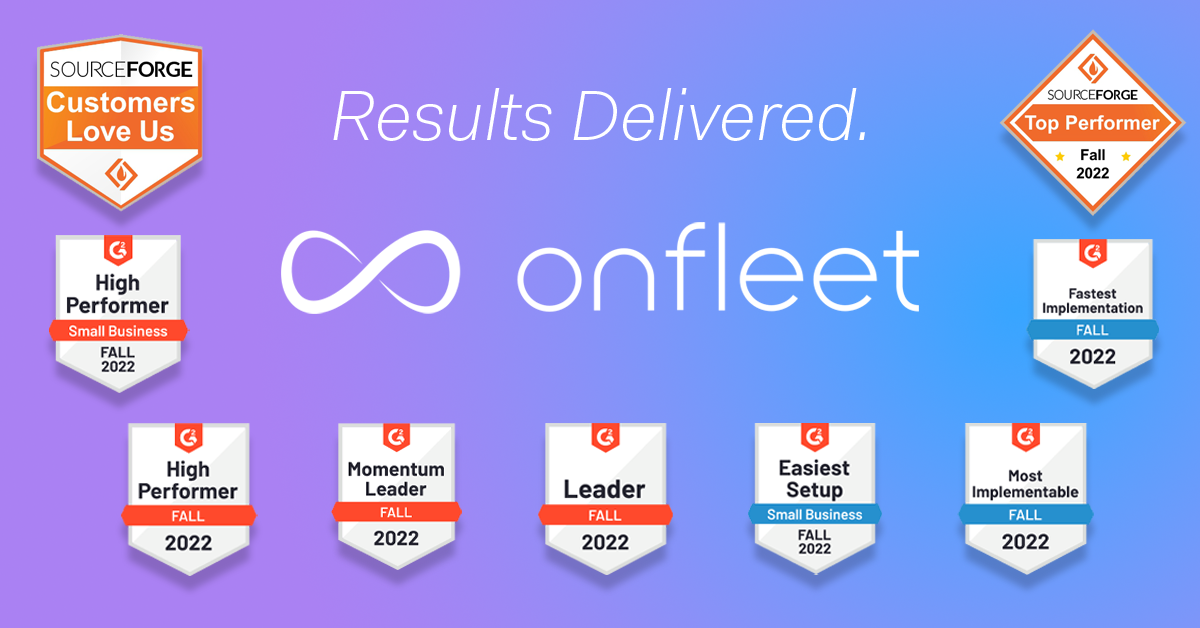 When companies look to implement or optimize their last mile delivery operations, they want an easy-to-use software solution that can scale with their business and keep customers happy. Those who turn to Onfleet have come to expect mission-critical features like route optimization, real-time delivery status updates, and proof of delivery - plus updates and improvements as consumer behavior evolves.
With customer satisfaction central to everything we do at Onfleet, we're excited to share that we've once again been recognized as a category leader by G2 and SourceForge!
---
Fall 2022 G2 Badge Holder
G2 is one of the largest peer-to-peer review websites for business software, making it a valuable tool for individuals and businesses to review products and gain customer insights. Onfleet earned several badges for product performance relative to our competitors for G2's Fall 2022 cycle, including:
Fastest Implementation: Route Planning – shortest go-live time in the category
Most Implementable: Route Planning – highest Implementation rating in the category
Momentum Leader: Route Planning – ranked in the top 25% of the category's products
Leader: Route Planning – rated highly by G2 users and have substantial Satisfaction and Market Presence scores
Easiest Setup: Small Business Fleet Management – earned the highest Ease of Setup rating in the category
High Performer: Small Business Fleet Management – earned high customer satisfaction scores and low Market Presence scores compared to the rest of the category
High Performer: Fleet Management
---
Fall 2022 Top Performer Award From SourceForge
Onfleet has been awarded a Fall 2022 Top Performer Award by SourceForge, a community resource for open-source projects and business software research. We were also honored with a "Customers Love Us" badge for maintaining an average review score of 4.5 or higher.
The Top Performer award recognizes companies and products with outstanding user reviews that put them in the top fifth percentile of highly reviewed products on SourceForge. To qualify for and win this award, each winner had to receive enough high-rated user reviews to place the winning product in the top 10% of favorably reviewed products on SourceForge, which reflects the high standard of quality Onfleet delivers to our customers.
---
It's a privilege to gain recognition, especially when it comes from user reviews and customer feedback. Our team is continuously focused on providing a well-designed and user-friendly product, and these awards reinforce our efforts to build the ideal last mile delivery software.
Curious to see how Onfleet can be a top performer for your business? Check out the features that set us apart from other delivery management solutions.