Rockery App is able to radically transform its business model using Onfleet delivery management software, making buying heavy delivery materials easier for everyone.
Customer Introduction
Rockery uses technology to provide on-demand access to heavy building materials like rock and sand, making the buying and delivery process easy for construction contractors and business owners.
"In the United States alone, there are about $50 billion of these materials sold every year and for contractors and business owners in construction, they're just an incredible pain to buy because it's a fragmented business," says James Wicker, CTO of Rockery and former iOS developer and tech lead at Twitter.
Rockery aims to simplify the construction industry by providing contractors with a simple app experience that allows them to source materials without having to worry about supply or delivery.
"We probably took away 4 phone calls per order and 3 days of waiting, and replaced that with a button press," says Wicker about the Rockery app experience versus the traditional way contractors source and receive building materials.
Wicker and his friend and business partner, CEO Marcelo Barajas, launched Rockery in 2017. Rockery is based in the California Bay Area with additional operations in San Diego, California and plans to expand to San Antonio, Texas in the near future.
Problem
Once a contractor places an order through the Rockery app, Rockery sends a truck to the source of the building material, typically a rock quarry, and delivers the material to the contractor's job site. For the first few years, Rockery got by on ad hoc dispatching using Slack channels, but by March of 2019, Rockery knew they needed to either build or buy a solution that would allow them to rapidly scale their business.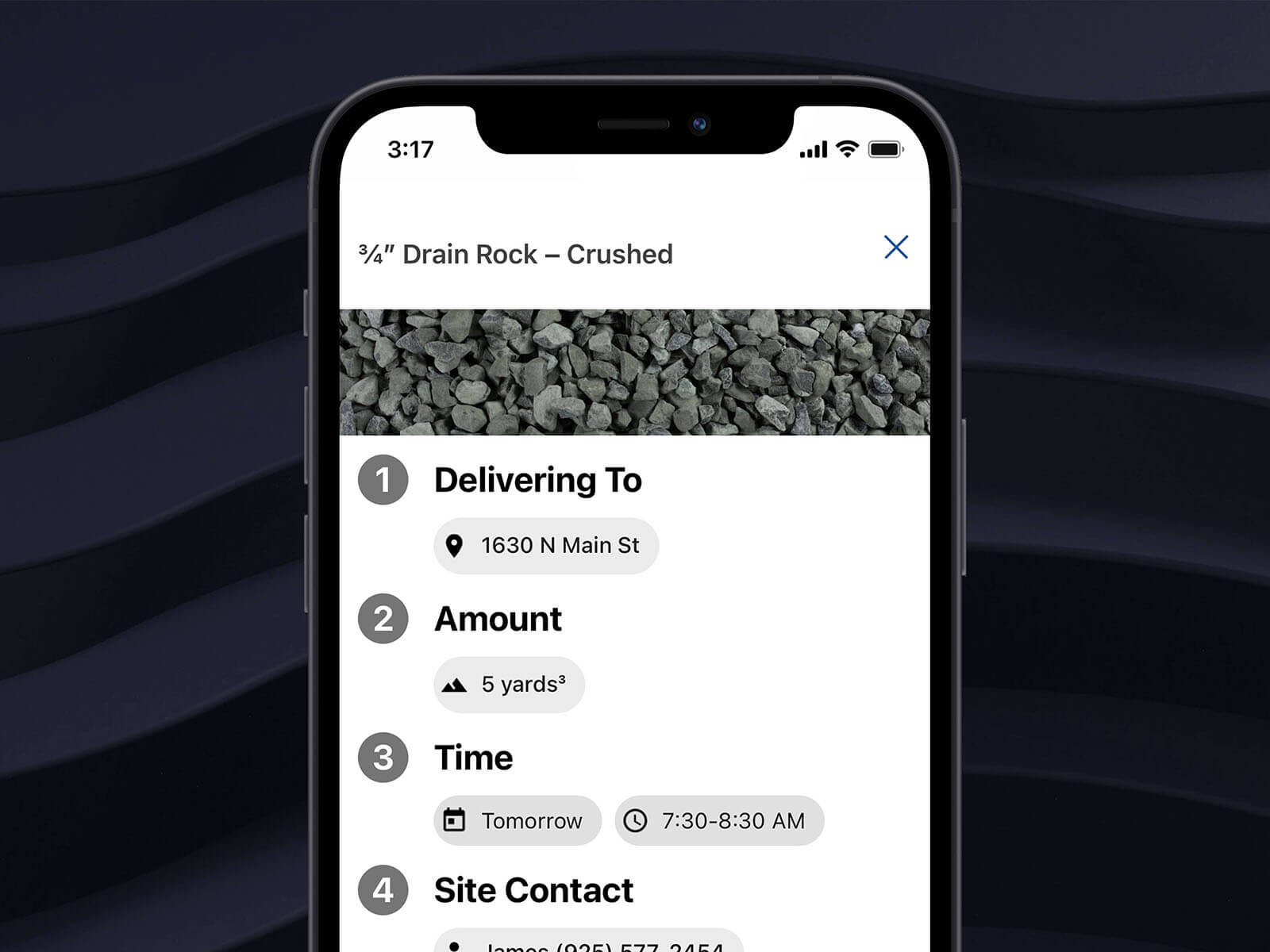 Solution
In 2019, Rockery integrated Onfleet delivery management software in order to scale its business.
"I was talking to Marcelo about this yesterday, and the consensus between us is that it's probably one of the top two best decisions we've made in the company," says Wicker. "It's just such a powerful tool for us. We started using it and within a month, everything was better. I'm a software developer by trade, so I work with lots of platforms and that's pretty rare. Usually, you might get a 10% improvement from something, but you don't often get radical transformation."
Onfleet's dynamic routing system allows Rockery to have exceptional operating profit. Using just one dispatcher for one thousand builders in one market, Rockery is able to plan the routes and cost of materials throughout the day.

"We have really efficient real-time logistics, and obviously, we use Onfleet to make that happen. I think we're the only company in the business that does this, and probably we're the most profitable at it," says Wicker.
Results
Scalable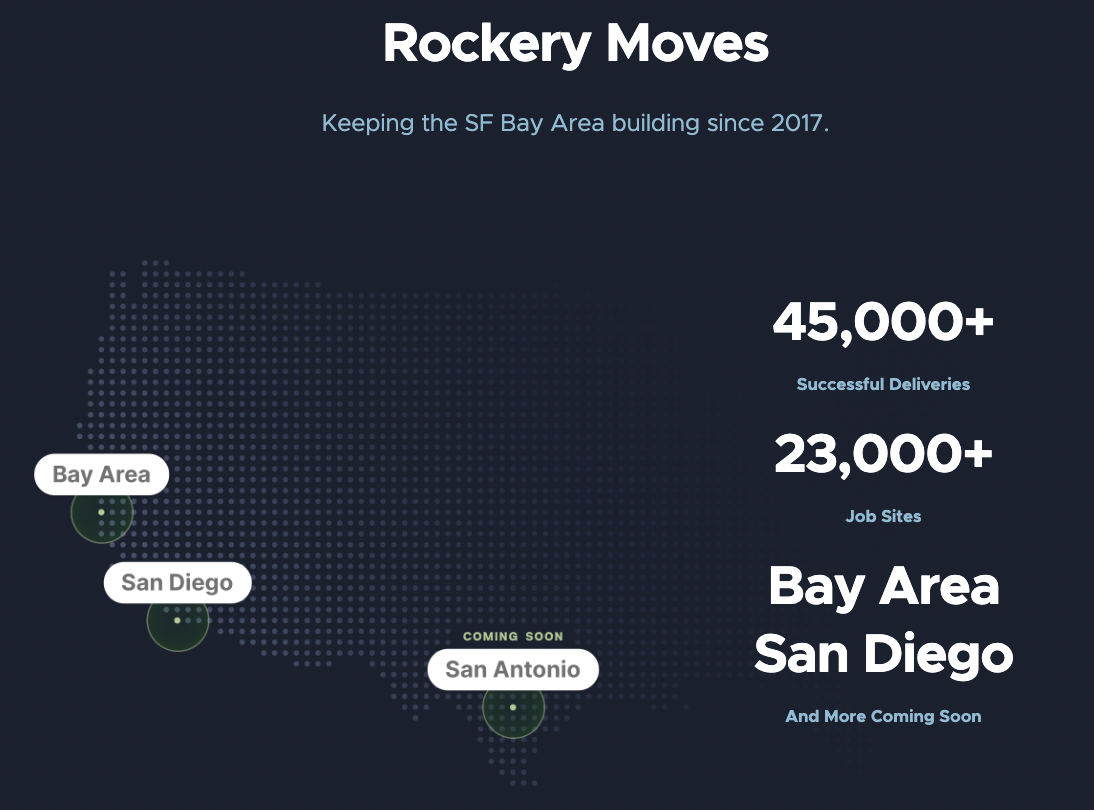 Now with Onfleet's help, Rockery is able to take on jobs of any size — from one yard to one thousand. For instance, if Rockery's fleet of trucks doesn't have the capacity for a job, Rockery can outsource truckers and onboard them to Onfleet in minutes.
"One of the real advantages of Onfleet is that it's so simple a trucker we've just met can be onboarded within 5 minutes and start using it, which has benefits for us and for our customers," says Wicker.
Another way Rockery scales its business is through a partnership model with a trucking company in San Diego. The company owns 80 trucks with drivers all onboarded to Onfleet. In this model, Rockery takes orders from the front end while the trucking company does dispatching and deliveries using Onfleet.
"The platform has just been incredibly scalable for us," says Wicker. "So, we have been pursuing this partnership model in San Antonio. We may buy some of our own trucks just to jumpstart the market, but down the road, our scaling model is really just to start finding bigger truckers throughout the nation, and of course, have them all use Onfleet."
Improved Operations
According to Wicker, one of the most common customer problems in the construction industry is understanding ETA for building materials. Before Onfleet, Rockery would receive constant phone calls for ETA updates, but bringing customers the Uber-like experience of tracking links and ETAs through Onfleet, made the phone calls go away overnight.

"We knew that our business had value, and we had proved it out. We knew people wanted to buy heavy materials with an app, but Onfleet kind of filled out the whole experience," says Wicker who was drawn to Onfleet for its custom integrations.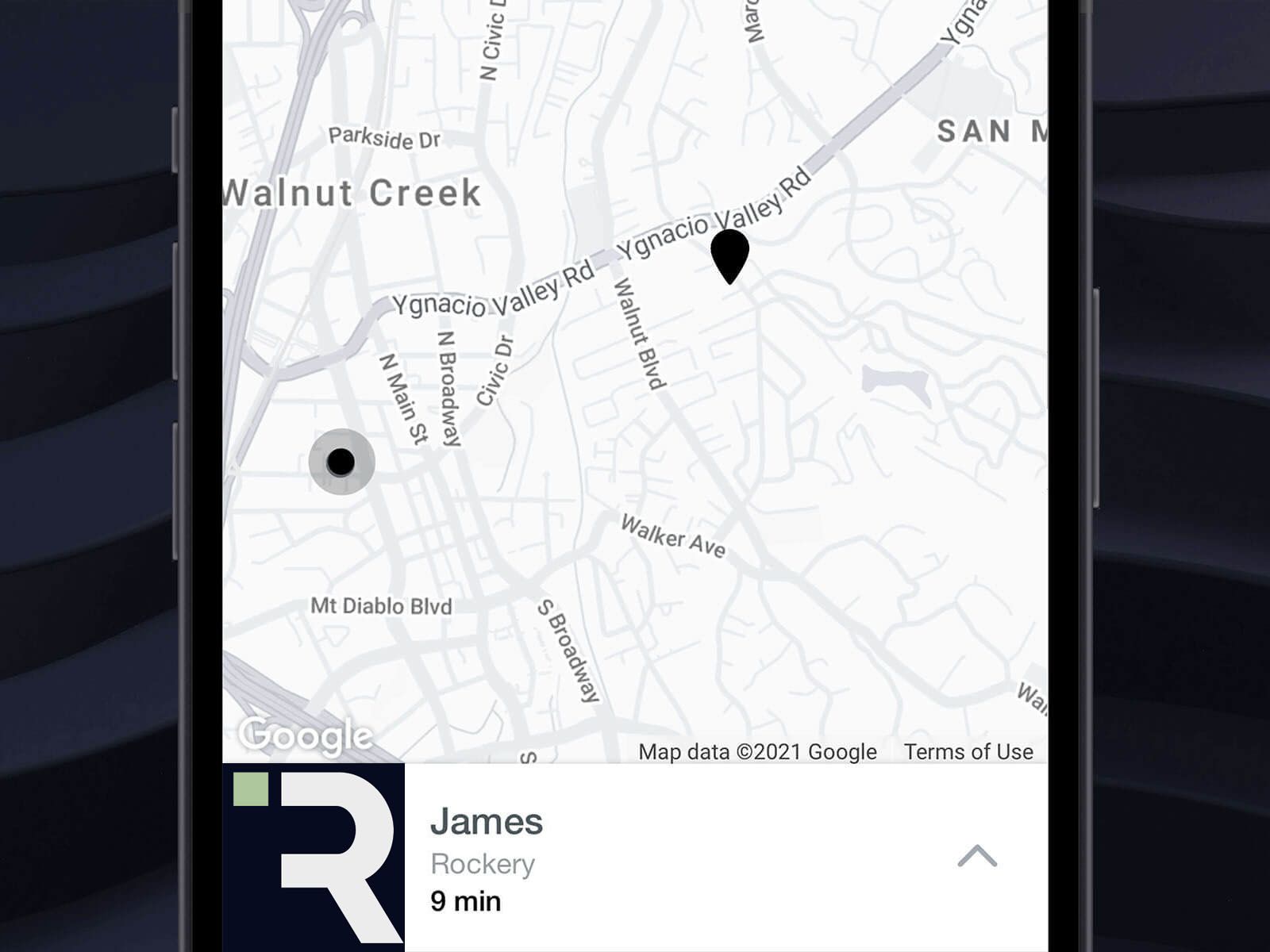 "One of the big things that drew me to it is that it's programmable," says Wicker who was previously stymied by their back-office app, but that all changed with the integration of Onfleet. "We could be anywhere and start dispatching or getting insights to what's going on in the field. It was like a 180."
Conclusions and Next Steps
"I've always been extremely pleased with Onfleet. I was super thrilled when they raised their big round of funding, and I knew that they were going to be around forever," says Wicker. "I really look forward to growing with them."
Within the next two years, Rockery is looking at major expansion throughout the entire United States.
"We want to bring this to everybody. Thanks to Onfleet we have the model, the skills, and the technology platform that can scale to the whole country," says Wicker. "People need to be able to get rock without a headache, and we have sort of the magic solution to the problem."