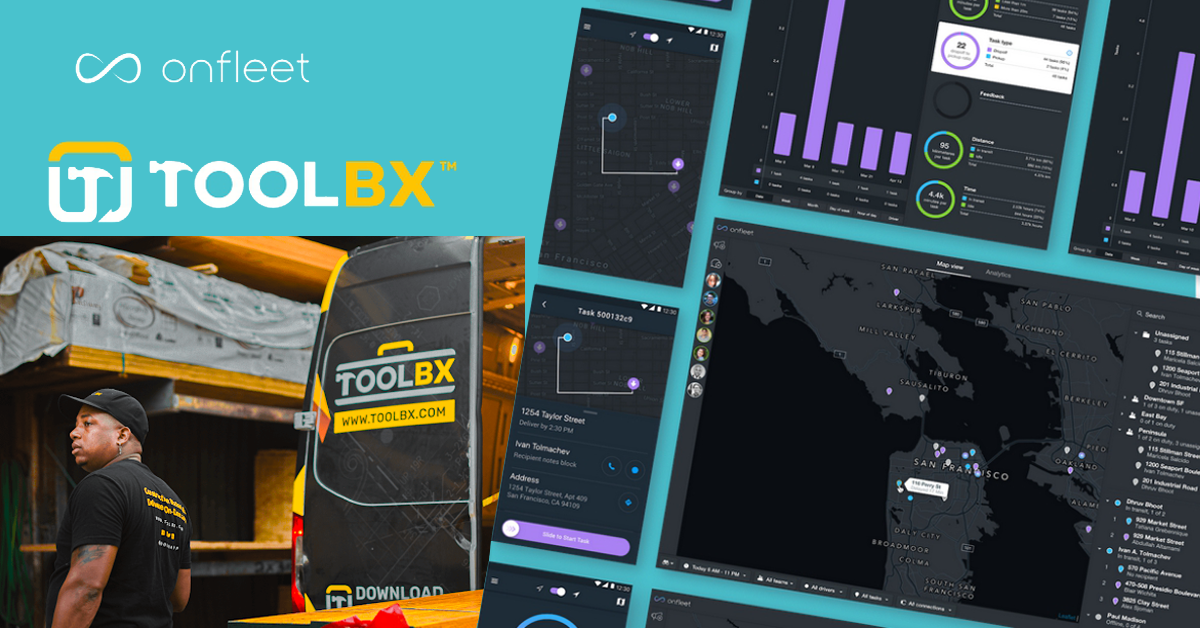 Customer demand continues to drive growth for e-commerce businesses, which have expanded beyond online retail orders and into a new expectation for same or next-day delivery across many industries.
Look no further than Toolbx, North America's largest construction delivery network, to see how ordering and delivery have evolved. With 60% of the company's construction material orders happening the night before, it's essential to automate as much of the process as possible to provide consistent fulfillment and customer satisfaction.
We continued our Customer Highlight webinar series with Ben Whittle, Head of Delivery Operations at Toolbx, to learn more about how Onfleet supports its mission to connect contractors, suppliers, and logistic providers across Canada with the building materials they need. Our Director of Customer Success, Mary Lee, spoke with Ben about how he manages routing for same-day deliveries, the importance of metadata for tracking orders, and more!
Missed this session? Check out the summary below or click here to watch the on-demand recording.
---
Balancing Satisfaction Between Contractors and Owner-Operators
Managing delivery can be challenging on its own, but as Ben notes in our webinar, adding construction materials to the mix only increases the challenge. The average Toolbx delivery involves large, heavy items that take up space and offer logistical hurdles for the Delivery Operations team, especially with same-day deliveries.
Ben focuses on optimizing routes to meet delivery windows and pushing high fleet utilization by stacking multiple orders from each pick-up location to keep contractors happy. These practices require multiple vehicle categories to support different-sized orders, from large Sprinter vans to smaller cargo vans.
As for third-party logistic (3PL) businesses, Ben can share access to Toolbx's Onfleet account for complete transparency: "They can either see everything or we can limit that, and they can see just their drivers and sort of control, 'Hey, this is how I want it routed.' In one portion of our business, we actually offload that to our [3PLs] for them to route as efficiently as possible [based on their needs]."
The shared sense of control between Toolbx and its 3PL partners ensures same-day or overnight orders consistently meet their delivery windows, eliminating wasted time for on-site contractors waiting for supplies to get started.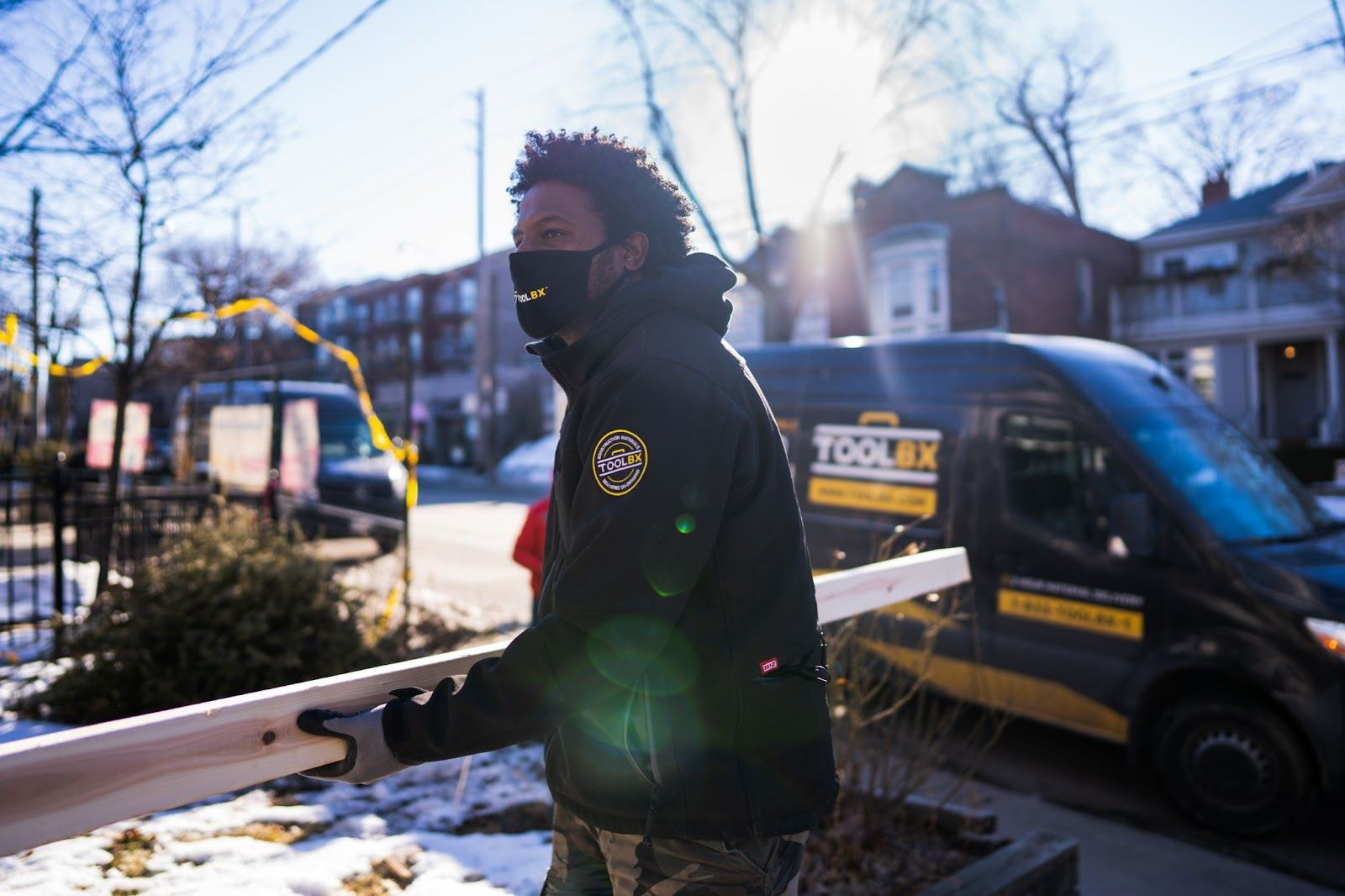 How Integrations Power Routing, Invoicing, and Reporting
Once an order is placed with Toolbx, it is brought through an automated process that captures the exact order details and pushes it through a revolving cycle between Salesforce and Onfleet. Historical order information is connected to each customer in Salesforce, and a task for each order is created in Onfleet for future route optimization.
When each order is delivered, the metadata from Onfleet (more on that below) gets synced with Salesforce, allowing Ben to track metrics like on-time percentage by driver and customer.
Here's what that process looks like, step by step:
In Ben's experience with Onfleet, this process wouldn't be so simple without seamless integrations between each component: "I can quickly run reports based off of whatever I really need, and that connection between Onfleet and Salesforce makes it very simple. [...] For us, the Salesforce and Onfleet integration has been tremendous ever since we first used it, and the possibilities are seemingly endless."
Closing the Loop with Accurate, Detailed Metadata
As Toolbx has continued to grow since 2017, its Engineering team has worked to automate its approach to order details and metadata. Most recently, they've expanded the information they gather from customers and offer drivers immediate access to order updates via a Driver Portal connected to each Onfleet task. As a result, Ben and his team don't have to communicate last-minute changes to drivers, freeing up time to drive on-time performance and fleet utilization.
All information gathered from order placement to task completion is consolidated and connected to Salesforce and Onfleet for future reference or reporting. The end result looks like this:
From Ben's position, he can see the company-wide impacts of the automated metadata that Onfleet helps provide: "Our drivers aren't getting frustrated because they're technically getting paid to wait there if it's necessary. That's where it's become super helpful to have the metadata, and utilizing that as much as possible has been tremendous for us and really helped us to ensure that we're providing a good customer experience for our customers, our suppliers, their customers, and then also our 3PLs are making sure they're not wasting their time."
---
Thank you to Ben for joining us in this informative session. If you're interested in the full webinar, click here to check out the entire recording.
Our Customer Highlight webinar series will pick back up in January, so subscribe to our newsletter below to stay tuned for new session announcements!