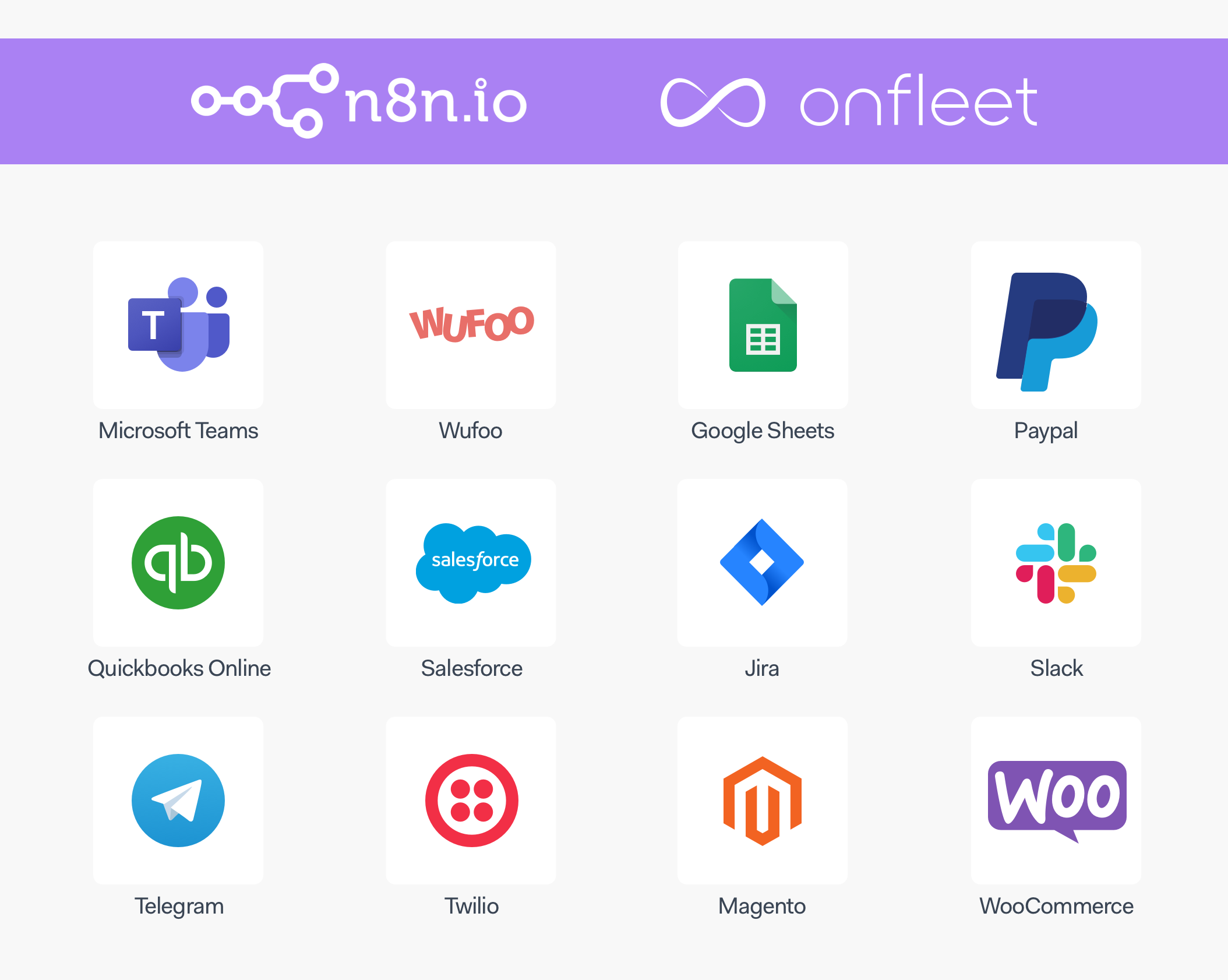 We are excited to offer n8n to our Onfleet users, making it easier for your business to integrate with other software systems.
What is n8n?
n8n is a workflow automation tool that allows you to interconnect any apps that provide an API. It's a low-code solution with an intuitive, visually-aided user interface that allows for quick and easy creation of any custom workflow.
What can n8n do, and what are the benefits of using n8n with Onfleet?
With Onfleet's native connector (aka Onfleet node) available in n8n, you can easily interact with Onfleet's API and webhooks through a drag-and-drop interface. As a result, integrations with other software systems have never been simpler!
Here are some benefits when using n8n with Onfleet:
Full support for API and webhooks
All Onfleet API entities are up-to-date and supported in n8n. Onfleet webhook validation is automatically included within the Onfleet node.

High expandability
Using Onfleet with n8n allows you to connect with hundreds of software systems, including AWS, Box, Customer.io, Github, Google Suites, Intercom, Salesforce, Segment, Shopify, Slack, Stripe, Zendesk—you name it! You can contact the Developer team in n8n and the open-source community that assists with creating new nodes.

High flexibility
Control your setup based on your business needs. You can choose to host n8n on your servers and get complete control of your data, or use n8n cloud and get your operation up and running with just a few clicks! While n8n cloud and n8n are the same in terms of UI features, n8n cloud provides certain conveniences like:
No setup or maintenance of your n8n instance
Managed OAuth for authentication
Easy upgrades to newer n8n versions
How much does it cost to use n8n?
To use n8n with Onfleet, you will need a basic plan or above, which includes access to Onfleet's API. You are also required to either host your own n8n instance (free of charge) or sign up with n8n cloud.
How to enable and set up n8n?
You can enable and set up your instance with n8n's cloud offering. Alternatively, you can host n8n on your server by following these instructions. Please note that hosting your own n8n instance gives you full control over your data, but you may incur server-related operational costs. By using n8n cloud, your data may be passed through n8n. You can always find more information by visiting our Support Center!