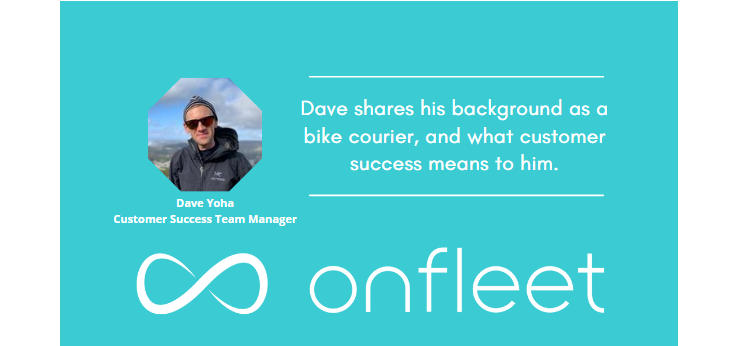 Meet Dave! He's one of our longest-serving employees with a fascinating background in the delivery business. He uses his experience as a former bike courier to ensure our partners get real solutions for their specific and individual needs.
Dave describes his background and how he came to work for Onfleet.
Dave has a fascinating background in the delivery business in part as he spent many years as a bike courier and running his own bike courier business.
When Dave says he's been in the delivery driver or dispatcher's shoes, he really knows what he's talking about.
"Running a delivery business is hard. It's always challenging, and depending on specifically what kind of industry segment you are in, you have your own set of unique challenges. Sometimes, it helps to have someone who knows what's going on and has a slightly outside perspective." Dave explains about the unique position he is in and what he offers customers he works closely with.
Dave's day-to-day work includes working with our biggest and brightest customers helping them perfect their use of the software and optimize their delivery operations. Dave also helps customers determine how to continue to drive efficiency and deal with challenges as they scale their business.
Customer success is about understanding the customer's business and how Onfleet will help. One of the key differences for Onfleet is its focus on the customer and their individual needs. From beginning to end, a big part of what Dave does is help customers on their journey from deciding to join Onfleet to growing business with Onfleet.
Listen to the full podcast here: https://youtu.be/x-DcGg745yU