Using Onfleet delivery management software, Swyft developed a unique and scalable partnership model with delivery service providers (DSPs) across the United States and Canada. Swyft's model maximizes operational efficiency to create a B2B marketplace with fast, cost-effective delivery.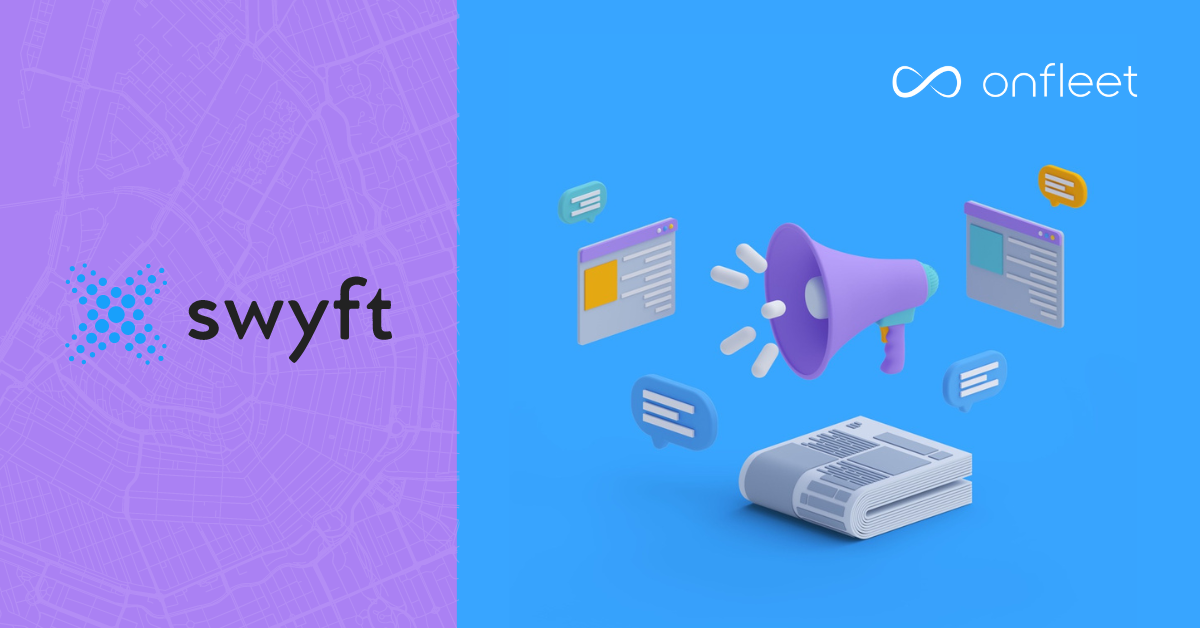 Customer Introduction
Swyft is a mid-market, software-enabled B2B marketplace that connects retail or eCommerce merchants with its network of local and regional courier partners, enabling merchants to provide customers with express delivery at cost-effective ground shipping rates.
"We essentially take merchant volume and distribute that to delivery partners in order to maximize efficiency and provide next-day and same-day delivery," says Matthew Crawley, Director of Operations at Swyft. "Onfleet is a big part of us being able to do this."
Swyft launched its technology and logistics platform in April 2020 and integrated Onfleet delivery management software from day one. Swyft uses Onfleet as its logistics and routing arm to manage the operations of its delivery service partners (DSPs). Swyft gives DSPs access to their Onfleet instance in order to gather DSP data and tracking events. Swyft then either optimizes the DSP's routing or shuffles volume among different DSPs to provide merchants with guaranteed on-time delivery.
"We're using it as an extension of our operation in order for us to delegate volume to different partners," says Crawley. "So really, what Onfleet is, is our entire day-to-day ground operations."
Swyft currently operates in 6 major metro areas in Canada and the U.S., with plans to expand to several other major metro areas in the future.
Problem
Not all courier partnerships are equal. Swyft discovered that operational flexibility and scalability are hindered when a DSP uses a lesser logistics software or is unwilling to connect with Swyft's Onfleet instance.
Crawley explains one situation with a new partner that didn't use Onfleet, "We built an integration with them for a different program [...], which was a much worse experience for customers and our support team. We weren't able to get as much information as quickly as possible on what was happening with deliveries and failures. It just wasn't as robust to give us the information we needed."
Without the right delivery data points, Swyft is unable to maximize routing efficiency and deliver on guaranteed shipping timelines fulfillment for its merchants. This causes a ripple effect of dissatisfaction that reaches beyond Swyft's internal team to the merchants and their customers.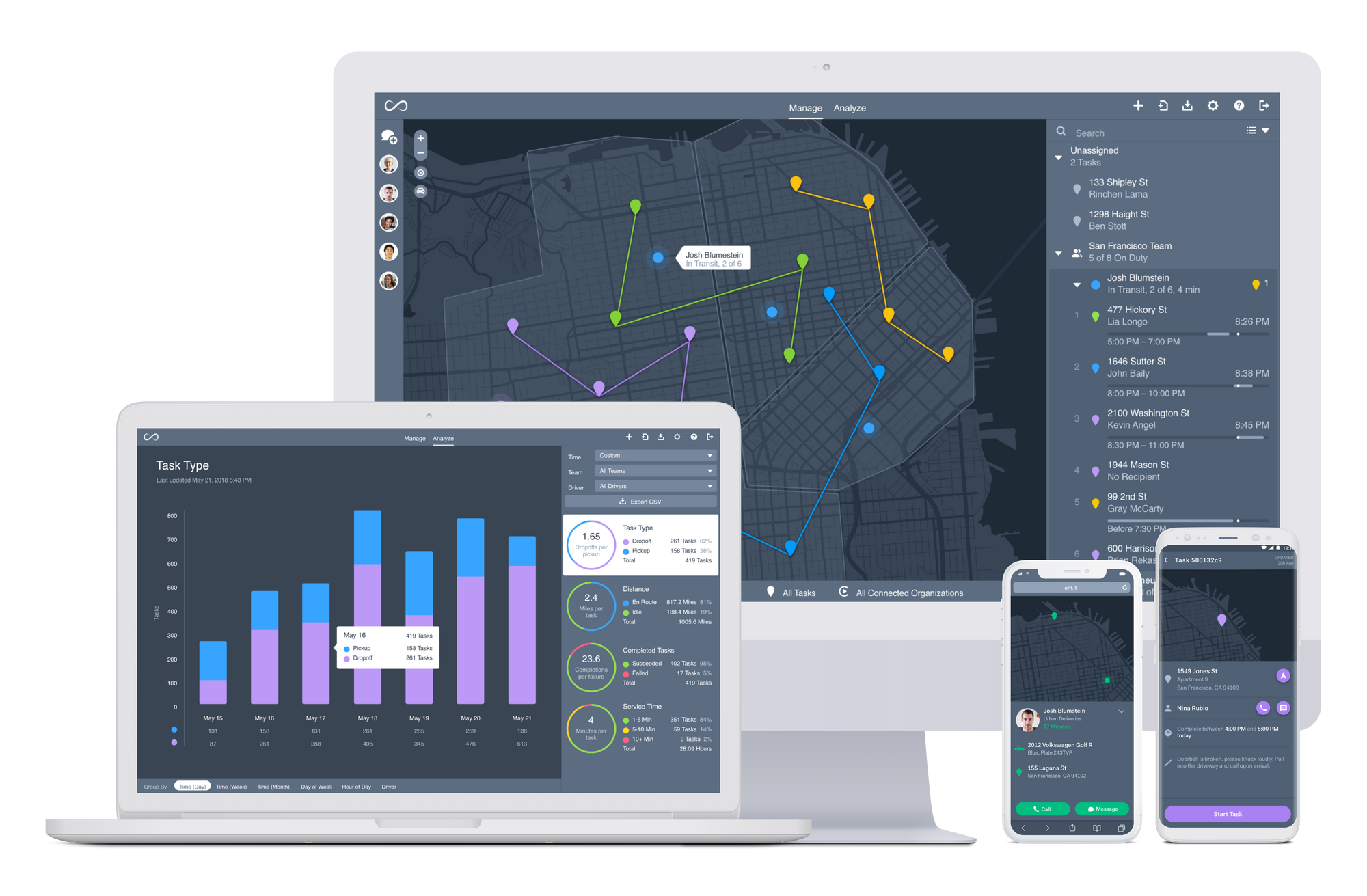 Solution
What's the solution? Partner with DSPs integrated with Onfleet or similar delivery management software.
"When I had the option to bring on a new delivery partner that uses Onfleet, I got a lot of internal buy-in from our support team," says Crawley. "Onfleet gives us a lot more dynamic ability to deliver and know why things worked or didn't work."
With Onfleet delivery management software, Swyft receives the delivery data points needed to solve problems quickly for each and every DSP delivery task within its system. It also provides merchants with a seamless and transparent experience.
Crawley says, "The Onfleet integration allows us to pull live updates on tasks and show if a delivery was made or failed and will be reattempted tomorrow. We push that information into our software through the Onfleet integration, which then feeds back to the merchants, so they can get updates on their packages and know if their customers received their shipments."
Results
Swyft's operational efficiency improves when a DSP uses Onfleet delivery management software, creating automation within the partnership. With automation comes reduced time, effort, and cost for Swyft's internal team, along with increased employee satisfaction as the support team can more efficiently perform tasks.
"It's essentially like we have an [reliable] partner that does their own job," says Crawley. "But by using our Onfleet instance, we can get all the live updates, tracking, and information."
With Onfleet integration, Swyft is able to provide a DSP with access to Onfleet. Onboarding takes minutes, and the driver delivery app is easy to navigate.
Crawley adds, "DSPs do the work we expect them to, and we don't need to touch it."
In addition, partnership automation flexes its muscles by providing merchants with a smooth, consistent delivery experience each and every time. This not only increases merchant satisfaction but delights their customers as well.
Conclusions and Next Steps
In the near future, Swyft plans to expand delivery operations to several other major metro areas. With Onfleet's help, Swyft can scale its business, automating more DSPs to serve more merchants across the U.S., Canada, and beyond.
"The future of Swyft and Onfleet is entirely in partners," says Crawley, who believes Onfleet's integration works so well that providing partners with access will make the most impact on Swyft's future growth.