This story was originally posted back in February 2016. We're so excited about the Niners playing in the Super Bowl this weekend, we decided to repost it! Enjoy.
---
Super Bowl 50 was a week-long party for those of us lucky enough to call the City by the Bay home. Tourists from all corners of the country started flocking in early last week, choosing to spend their hard earned money at the biggest event of the year. Denver and Carolina fans alike enjoyed fireworks, free concerts, pop-up bars, and countless NFL events across San Francisco.
But after the confetti rained down on the Broncos last Sunday evening, who was the real winner of Super Bowl 50? From where we're standing, while Peyton Manning and Von Miller may have been the undisputed heroes of the night, the unsung victor was actually the On-Demand Economy.
Here at Onfleet we power deliveries across a diverse set of industries, from laundry to libations. The delivery traffic we saw on Sunday led us to some interesting findings — particularly for three of our hottest segments: Food, Alcohol, and Cannabis.
---
Here's what we saw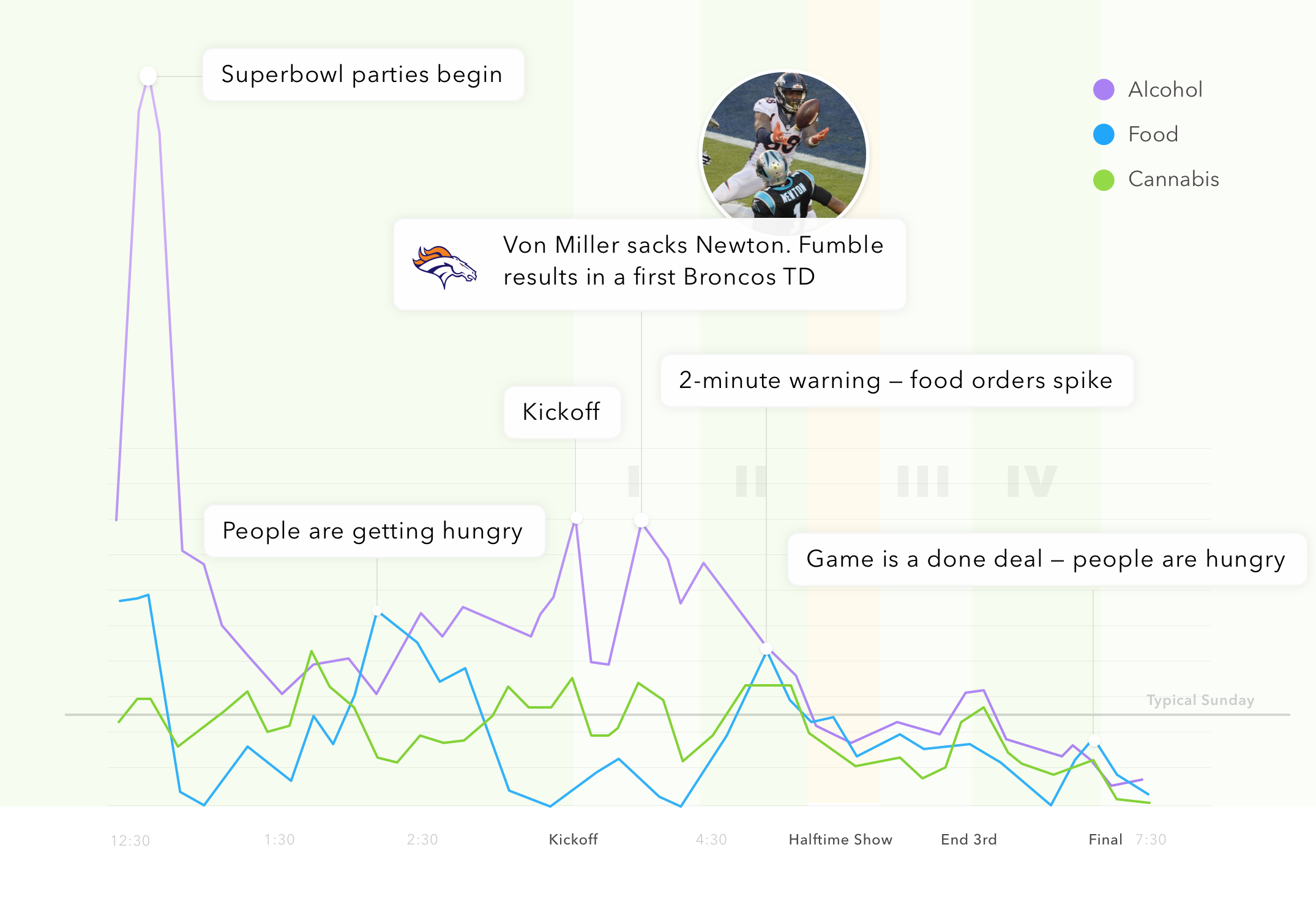 There was a huge spike — 7X the amount usually ordered on your typical Sunday — in alcohol deliveries at 12:30 pm PST, right around the time people were gathering for the big event.
Evidently, people do still care about the game, as alcohol deliveries peaked right after the national anthem by Lady Gaga and right before kickoff but were down for the majority of 1st quarter.
The biggest play of the night — Von Miller's strip and sack resulting in Denver's defensive touchdown — was big for the economy too, resulting in a spike in volume right after the PAT around 4:10 pm PST.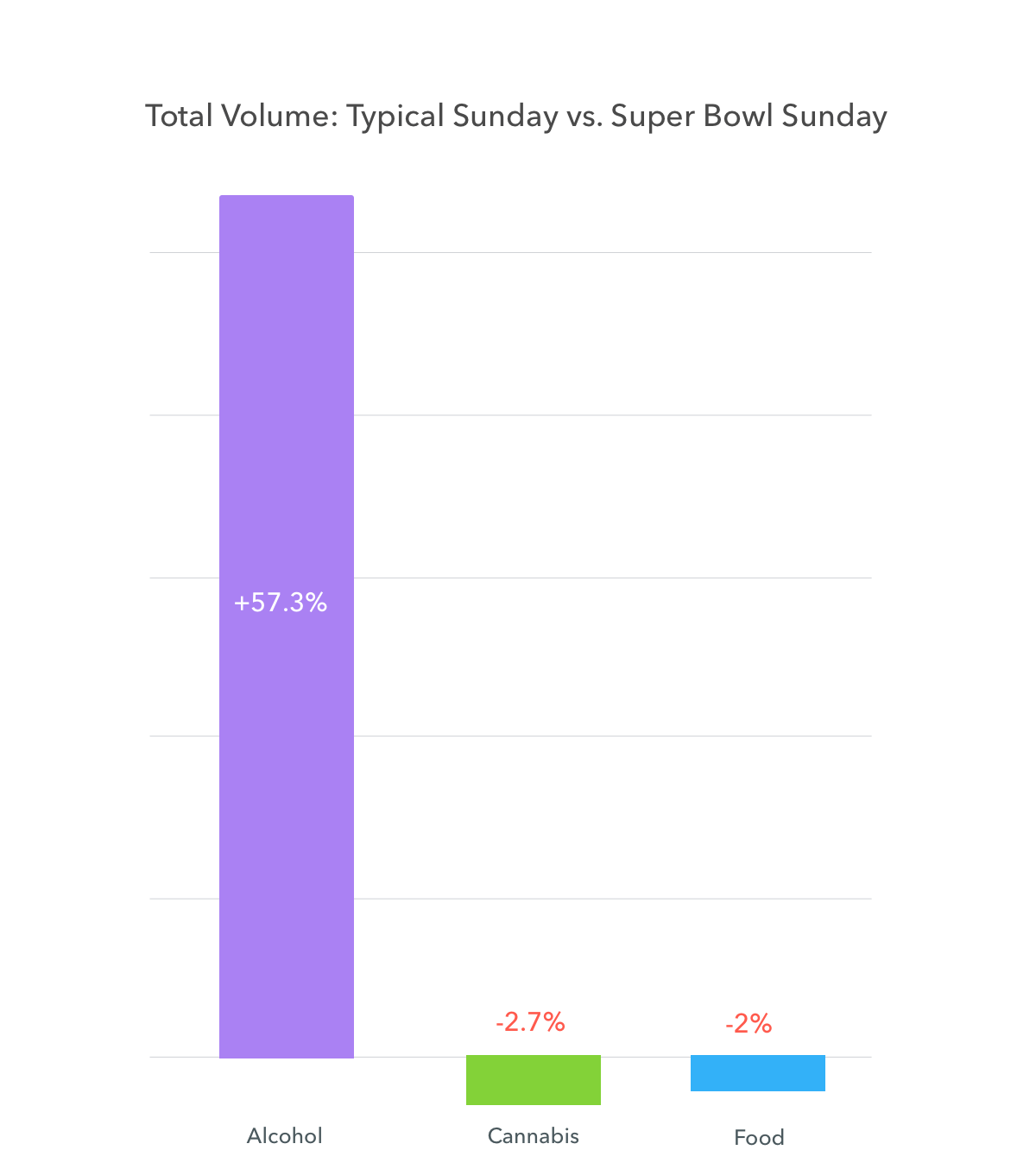 Food deliveries saw a slight decline as compared to your typical Sunday, reminding us that people may still prefer homemade hot wings and 7-layer bean dip. For those who did order food, the most popular time to order was at the 2-minute warning, right before Coldplay, Bruno Mars, and Beyoncé took the stage.
Overall deliveries went down significantly after the Halftime show, and while the final moments of the game had little effect on volume (most likely because the game was out of reach earlier than expected), a couple of spikes at the end of the 3rd quarter and right before the final whistle remind us that there's nothing quite like ordering in on Super Bowl Sunday.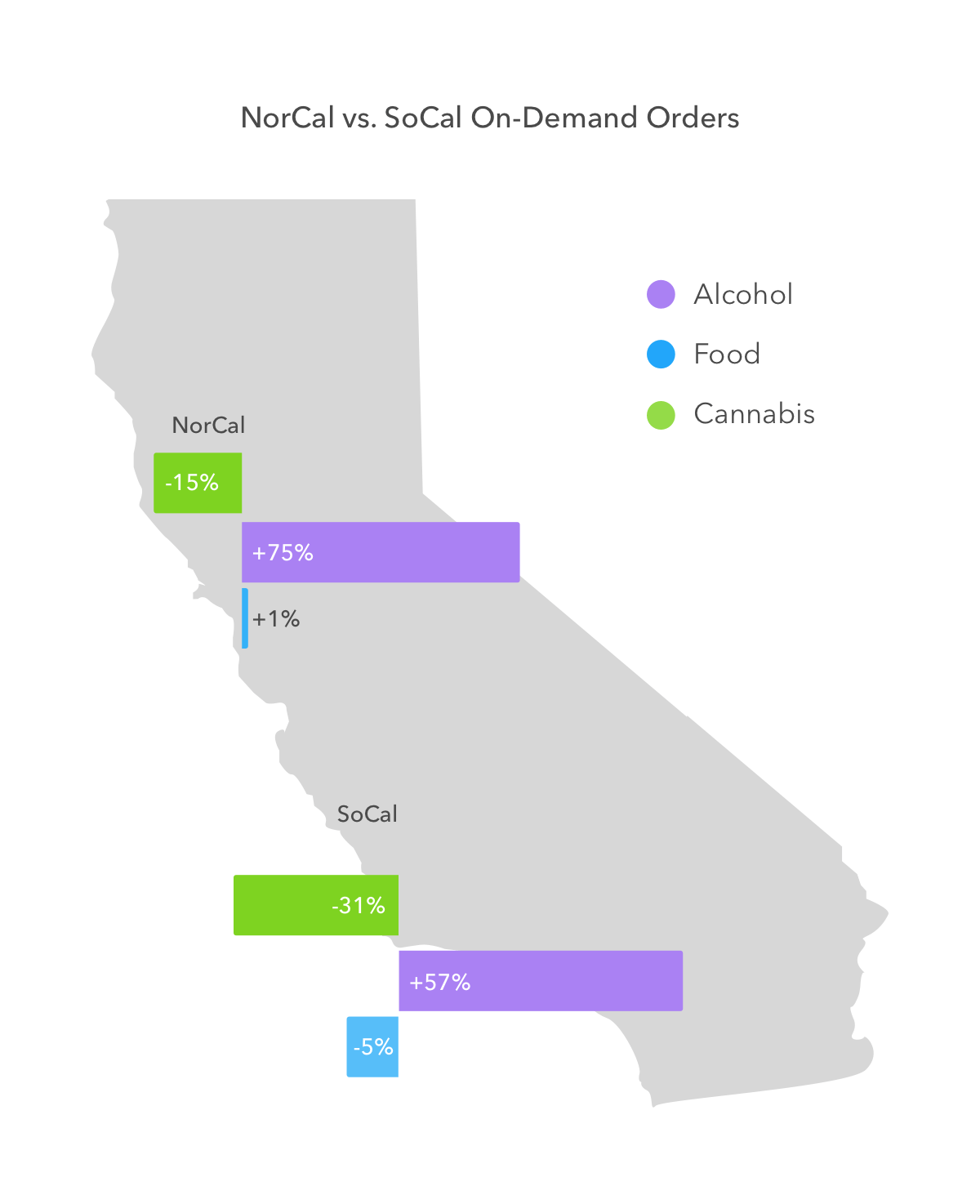 ---
Final Score
Alcohol deliveries were up by 57.3% while Food and Medical Cannabis numbers were down slightly. Comparing delivery data from Northern and Southern California, we found that northerners like to party more, with an impressive 75% increase in alcohol deliveries in NorCal, compared to a 57% increase in SoCal.