Furniture provider EQ3 leveled up its delivery operations with Onfleet's software, significantly boosting customer experience and overall satisfaction.
Customer Introduction
Founded in 2001, EQ3 is a furniture and home goods designer, manufacturer, and retailer headquartered in Winnipeg, Canada, with a wholesale and e-commerce presence as well as retail locations in Canada and the U.S. To serve its customers, the company offers furniture delivery through a fleet of in-house drivers and third-party delivery partners.
Problem
By 2021, EQ3 was offering a top-notch, in-person retail customer experience. However, delivery operations were lacking: dispatch was inefficient and delivery communications, such as text messages and delivery windows, were inconsistent. Negative experiences led to upset customers and the added costs of failed deliveries.
EQ3's Director of Retail Logistics, Joseph Evangelista, knew a pre-built solution could improve their delivery operations and decided to take a "trial and error" approach to select a delivery management platform. To begin, he researched and ran free trials across several different platforms.
Solution
"In one of our warehouses, we were doing trials for all of the platforms, and finally, when we got to Onfleet, it fit our needs the most," says Evangelista.
Evangelista says many factors influenced his decision to choose Onfleet delivery management software but noted the flexibility, user-friendly interface, and ease of use as top features that helped make their jobs easier.
"Everybody was super happy with how it was working," says Evangelista. "And it really saved us a ton, a ton of time, so it made us much more efficient."
Results
Improved Efficiency with Routing Optimization Tools
Before turning to last-mile delivery software, EQ3 used a physical paper map and pins to plan delivery routes. They eventually moved on to plotting routes using Google Maps. While a common solution for creating small routes, it didn't scale with their business.
"It was taking them a really long time," says Evangelista. "It often took them half a day to route our deliveries."
In business, time is money. Taking on the manual task of delivery routing is a part- to full-time endeavor, but the process repeats itself daily and is an inefficient use of employee bandwidth.
With Onfleet, EQ3 began to automate the day-to-day routing task while adding advanced optimization. Instead of spending 4 hours daily in Google Maps, they could optimize delivery routes within seconds. This saves Joseph and the customer service team significantly more time and overall bandwidth, which can be focused on making their customers' experiences even better.
Improved Customer Service Response Time with Digital Transformation
Before using Onfleet, EQ3's team of roughly 50 customer service representatives struggled to assist customers with information related to their delivery. For instance, if a customer's home or purchase was damaged during delivery, customer service representatives could not quickly access photos or notes taken by the delivery drivers.
EQ3 needed a system that could digitally aggregate all delivery information in one place, including proof of delivery photos and notes. Onfleet's easy-to-use dashboard allowed the customer service team to access this important information within seconds, improving first-touch response metrics and speed to resolution.
"With Onfleet, customer service puts in an order number and finds all the information," says Evangelista. "So that [is] very helpful for us."
Improved Customer Experience with Increased Communication
Failed delivery was a pain point for EQ3 because it often led to negative experiences beyond the fact that customers were disappointed by the delay. A delivery can fail if a customer is not home, there's a missing part upon delivery, or there is a problem with assembly. Some failed deliveries left customers wondering where their order was or why they were only notified about their delivery window after missing it.
"The delivery would fail, and drivers wouldn't always report it to us right away," says Evangelista. "It would be a day gap, and the customers just didn't know what was going on—that would be very frustrating for them."
With Onfleet, EQ3 customers also receive automated messages 30 minutes before delivery, upon arrival, and after delivery completion. If the delivery fails, an automated message prompts them to call customer service for the next steps, eliminating the previous communication breakdown.
"It's been really helpful for us using Onfleet," says Evangelista regarding Onfleet's automated text messaging feature. "When the driver goes online, the customer gets a text message with ETA on delivery. Customers really appreciate that."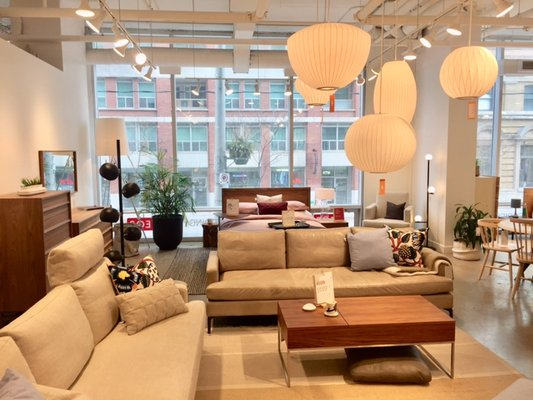 Conclusions and Next Steps
When EQ3 signed up for Onfleet, "one of our goals was to improve our quality of delivery and raise customer satisfaction," says Evangelista.
By digitally transforming its delivery operations with Onfleet's delivery management software, EQ3 has done just that. Its clear, consistent communication around the delivery process keeps customers more informed. The result is a dramatically improved customer experience and increased satisfaction.
Due to its mix of in-house and third-party delivery drivers, EQ3 loses some control over the delivery process, which has led to issues in quality in the past. But with features like automated text message notifications and a platform for accessing photos and delivery notes, EQ3 has taken steps toward bridging the delivery quality gap and improving its customer service capabilities.
EQ3 plans to improve customer satisfaction further by implementing Onfleet's driver rating feature at delivery completion. The goal is to use this accountability tool to incentivize drivers to boost their quality of service.
"Onfleet does have a function where you can rate the delivery, so we're actually in the works of creating a ratings compensation plan that we're going to use so that we can incentivize the drivers to go that extra mile for the customer," says Evangelista. "So that function in Onfleet is definitely going to be helpful."