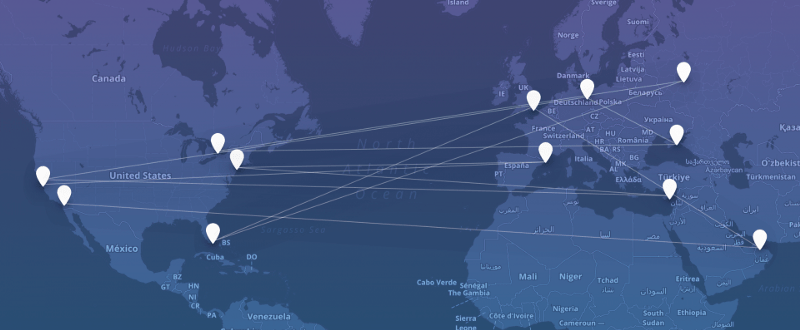 With the holiday season upon us, people are traveling home to their families and a lot of us at Onfleet are taking work home with us. The Onfleet team will be visiting their friends and families in Moscow, Hamburg, Dubai, Toronto, New Jersey, and other cities around the world over the next few weeks. Working remotely is at its highest during the holiday season, so how does one keep the productivity up?
It takes self-discipline to execute effectively when your colleagues are scattered across the globe. Communication is a challenge, and getting your point across is particularly difficult when it needs to travel across the world.
Here are the biggest problems when working remotely:
Communication
Most people working in an office take effortless discussions for granted. Going over pressing issues is slow over email and setting up conference calls is time consuming.
At Onfleet (and seemingly nearly every other startup out there) we use Slackfor communication, be it work- or not so work-related. Longer pieces, like reviewing customer feedback, are done in Google Docs. It's great for marrying detailed scope and higher-level discussions.
One thing that can also help improve communication is knowing where conversations have ended and where they are developing. Getting used to waking up in the morning to check where things are in the office can help tremendously. Coffee is not the first thing you do, you check your Slack channels and your email.
Collaboration
Maintaining a product remotely is relatively easy. Building new things is where it gets hard. Building a product involves wireframing, scoping, prioritizing and lots of discussions and debates. Having a productive back-and-forth on Slack is harder than it seems, and much can be left open to misinterpretation.
Instead, we ensure that the scoping is out of the way, wireframes framed and laminated, so everyone can go their separate ways knowing that the team is on the same page and no lingering questions remain unanswered.
InvisionApp is the industry standard tool for prototyping and building high fidelity workflows and I can't recommend it enough. My personal favorite tool for remote pair-programming is Screenhero. It gives you all the tools a typical conference app has, but its seamless control transfer, that allows your collaborator to take control of your machine, is incredibly powerful.
Accountability
Keeping the same productivity level across your team is hard, especially when team members are spread out. To make sure our product is evolving, Onfleet's product team holds weekly sprint-meetings, where completed tasks are signed off and new tasks are assigned. Any conference call software can be used to join these remotely.
Daily standups are great if you can be efficient with your time. At Onfleet we use automated scrum apps like Jell or Astroscrum that integrate with Slack so team members can provide a quick update independently.
Ideally your team would have a Project Manager whose job is to update Trello, Target Process, Pivotal Tracker or other project management tools. Updating your task statuses takes time, but is even more important when working remotely.
---
Working remotely can sometimes feel lonely, especially when you're working on your own on the other other side of the globe. Having people work across different timezones and checking in with one another — be it from Moscow, Hamburg, London, Dubai, New Jersey or San Francisco — can make remote work a more enjoyable and productive experience for all.
What are the problems you've come across when working or having someone work remotely on your team? How do you solve them? Let us know in the comments.
Happy Holidays from everyone here at Onfleet!