Benefits of Cannabis Delivery Software
With competition increasing, cannabis delivery operators must provide an outstanding experience for customers. Cannabis delivery software can help companies do that.
In an Onfleet study, 72% of cannabis delivery operators said a delivery management tool was "critical to running delivery operations." These are some of the benefits of cannabis delivery software:
Route management
Route management is the process of optimizing routes and maximizing driver efficiency. Cannabis delivery software gives dispatchers an eagle's-eye view of delivery areas and provides real-time driver tracking, and it automatically adjusts routes for drivers based on traffic flow and other factors.
Optimized delivery routes can reduce fuel consumption and drive time by 20% to 40%. And delivery management software automatically plans multi-stop deliveries, based on driver availability and projected delivery times. That eliminates the need to manually plan routes, and ensures drivers can focus on driving, instead of logistics.
Auto-dispatch
An auto-dispatch engine can reassign drivers based on availability and proximity, ensuring hot-shot deliveries arrive as scheduled.
Customer satisfaction
Customers want to know when to expect their delivery. Cannabis delivery software gives customers real-time updates on last mile deliveries, showing them exactly where their delivery driver is and when they will arrive.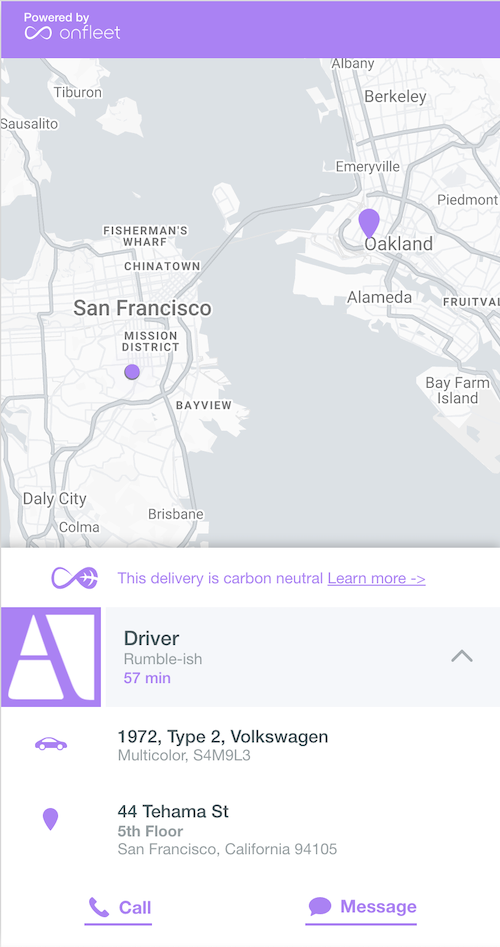 Drivers and customers can message each other through the software, which is an important feature when a customer needs to expand delivery instructions, or a driver is attempting to verify a delivery location. This level of transparency and communication can greatly improve customer satisfaction.
Compliance
Cannabis delivery software helps companies prove compliance with delivery laws. It can capture images of a state-issued ID for age verification and record customer signatures (even remotely).
Analytics
Managers can review analytics to evaluate driver performance, problem routes, average delivery times, and other factors that influence operations. This data is essential for continuing to improve the delivery experience for customers, and for maximizing the use of resources.
Scalability
Cannabis delivery software is a scalable solution that works for small businesses as well as multi-site operations with large fleets.
Case Study: Caliva
Robert Braun, senior manager for retail delivery at Caliva, said the company needed dispatch management software that was designed for cannabis delivery. "Because of all the regulations, off-the-shelf logistics software that isn't tailored to our industry really wouldn't work for us," he said.
Caliva now uses Onfleet to manage routes and orders, track drivers, and record compliance data. Caliva also reviews Onfleet data on deliveries per day and on-time deliveries, to ensure the business is operating at peak efficiency.

The Future of Cannabis Delivery
The cannabis delivery sector shows no signs of slowing down, although its future is largely dependent on local, state, and federal laws. Should marijuana become legal at the federal level, that could open the door for large corporations like Uber (which recently acquired the alcohol delivery platform Drizly) to enter the field. An open market, some people claim, could allow large companies to put smaller operations out of business.
Anyone with an interest in cannabis delivery operations will surely be keeping a close eye on rule-making in the coming years.
A Better Way to Approach Cannabis Delivery
Onfleet is the top delivery management software for the cannabis industry. Our customers include leaders in their field — Amuse, dutchie, Jane, Meadow, and other brands that know smart and efficient delivery can put them ahead of their competition.
Onfleet has the features that cannabis delivery companies need, such as:
Route management — Get the most out of your fleet with a simple route management interface that optimizes deliveries.
Auto-dispatch — Count on AI-powered auto-dispatching to keep operations running smoothly 24/7.
Predictive ETAs — Reduce customer delivery inquiries with predictive ETAs.
Easy driver onboarding — Onfleet integrates with your drivers' smartphones, so they can begin using it right away.
Customer notifications — Onfleet automatically alerts customers when their product is on the way, and when it's been delivered.
Age verification — Drivers can use Onfleet to capture images of IDs that verify the age of the customer.
Contactless signatures — Onfleet includes a contactless signature feature that attaches to each delivery record for quick audit-ready access.
Proof of delivery — Record and store proof of delivery within Onfleet.
Driver tracking — Track drivers wherever they are and review driver data at a glance.
Reporting — Easily run reports with supporting documentation, so you can demonstrate compliance.
Integrations — Onfleet connects with the software and systems you use every day: Google Sheets, Shopify, Square, and more.
Find out how Onfleet can help your business streamline operations and delight your customers. Contact us today.
Missed the beginning of this series? Go back to part one here.